Sicilian Aubergine Caponata {Vegan+GF}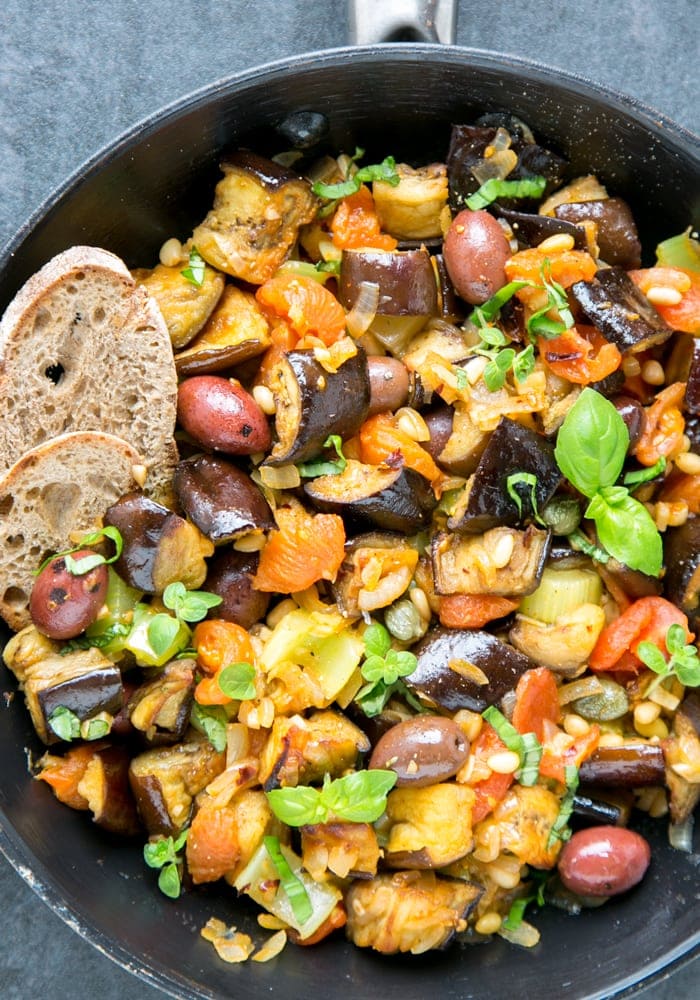 2 large aubergines
2 tbsp Mazola Corn Oil
2 large celery stalks, diced
2 tbsp extra-virgin olive oil
1 red onion, finely sliced
2 garlic cloves, finely minced
200gr cherry tomatoes, halved (or 4 large ripe tomatoes , roughly chopped)
1-2 tbsp salted capers , rinsed, soaked and drained
handful green or black olives, stones removed (I used Kalamata olives)
2 tbsp toasted pine nuts
1 tsp double concentrate tomato paste
1 tbsp brown sugar
1 tbsp apple vinegar
handful fresh basil leaves
handful fresh oregano leaves
sea salt and black pepper to taste
Preheat oven to 180C and arrange a baking tray into the middle shelf.
Cut the aubergine evenly into medium-sized chunks, sprinkle with coarse salt and leave to rest in a colander for at least 30 min, then quickly wash under running water and pat dry on a kitchen cloth.
Place the aubergine chunks in a large bowl and coat with Mazola oil. Season with salt and pepper, and arrange on a baking tray. Roast in the oven until crispy and cooked through, about 30 minutes.
Place the diced celery in a pot of boiling water with a little salt and blanch for 1-2 minutes. Drain and transfer to a sieve covered with a kitchen cloth.
Heat a large pan with the olive oil over medium-low heat. Add in chopped onion, garlic and halved tomatoes. Cook over low-heat until the onion is nicely caramelized and tomatoes are soft, about 5 minutes.
Throw in capers, olives, toasted pine nuts, and roasted aubergine. Add in the tomato paste and one tablespoon of water, if you feel it's getting too dry.
Sprinkle with sugar and drizzle with vinegar. Simmer until all vinegar has evaporated, then cover with a lid and cook for 10 minutes over low-heat, until all ingredients are cooked through.
Top your caponata with teared basil leaves and oregano, drizzle with extra-virgin olive oil and serve with toasted rustic bread.
Recipe by
The Petite Cook
at https://www.thepetitecook.com/sicilian-caponata/