Carrot and Ginger Soup {Vegan+GF}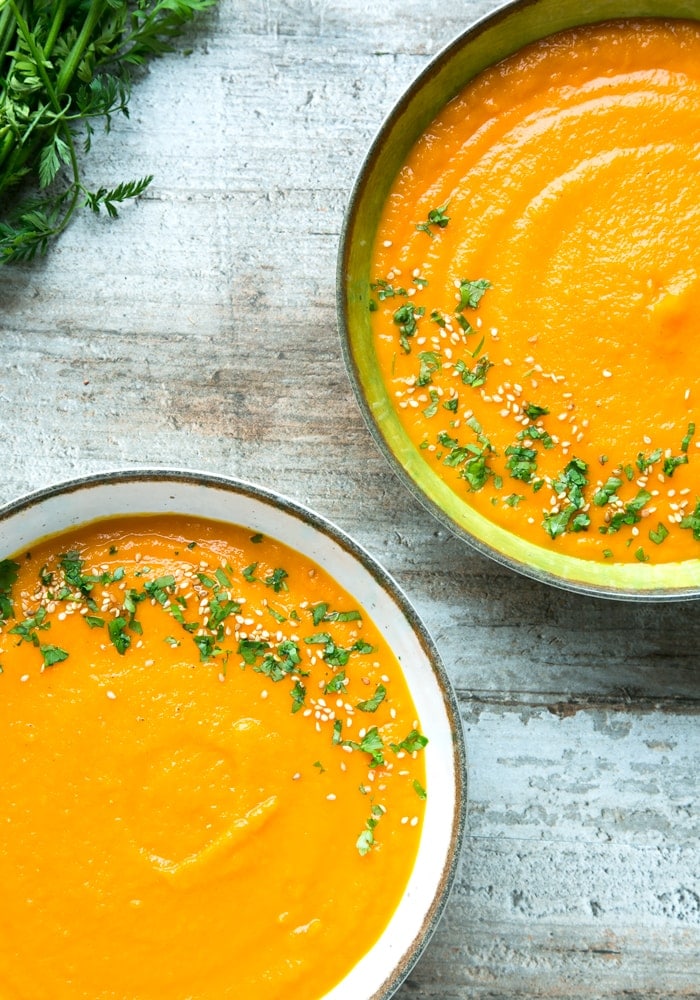 2 tablespoons extra-virgin olive oil
2 medium onions, chopped
1 garlic clove, grated
1 tablespoon fresh ginger, grated
700gr medium carrots, peeled, chopped
1 small floury potato, peeled, chopped
750ml vegetable stock
¼ teaspoon cumin
¼ teaspoon turmeric
¼ teaspoon paprika
½ teaspoon sumac (optional)
sea salt & freshly ground white pepper
fresh parsley, chopped
sesame seeds
Add a generous glug of olive oil in heavy large pot over medium-high heat. Add onion and sauté until translucent, about 4 minutes.
Add grated ginger and garlic, and sauté for 1 more minute.
Add chopped carrots, finely cubed potato and spices and sauté 1 minute. Season with a little bit of salt & pepper.
Pour the stock in, cover with a lid and bring to boil.
Reduce heat, cover partially and simmer until carrots are very tender, about 15 minutes.
Remove 1 or 2 cups of stock and set aside. Using a hand-blender or a large blender, blend the soup, whilst pouring the stock until reaching a creamy velvety texture.
Season to taste with salt and pepper, drizzle with a little bit of oil and top with extra spices if you like.
Serve with chopped parsley, sesame seeds, and toasted rustic bread if you like.
Recipe by
The Petite Cook
at https://www.thepetitecook.com/carrot-and-ginger-soup/