Carrot Cake Baked Donuts {Dairy-free}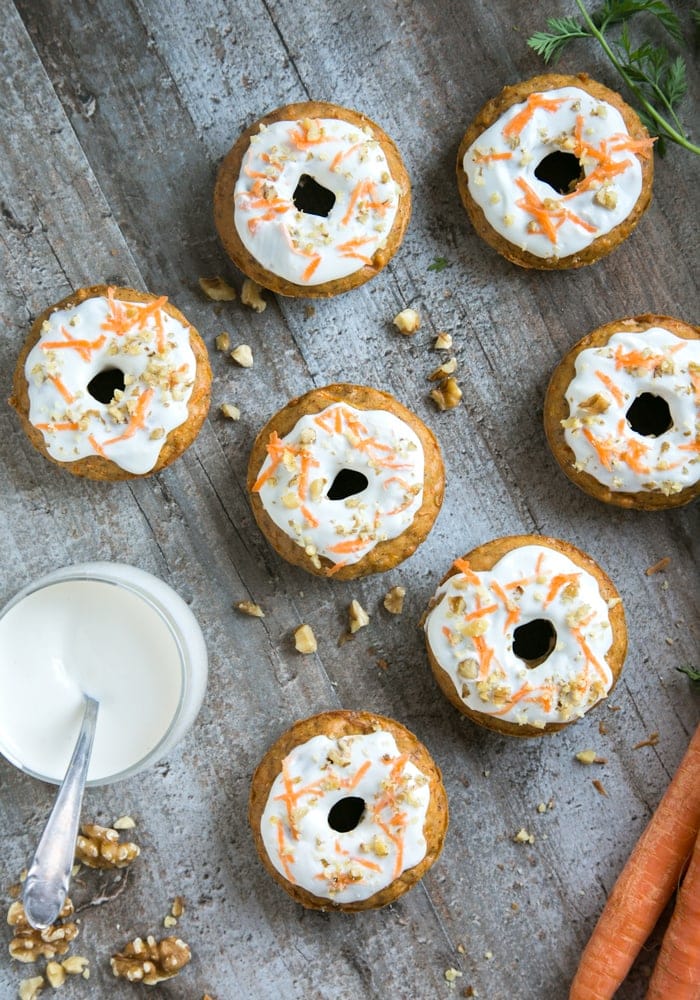 For the ricotta or dairy-free yogurt cream frosting:
300gr fresh ricotta cheese (or dairy-free thick yogurt)
2 tbsp runny honey
1 tbsp orange zest
1 tsp vanilla extract
For the cupcakes:
180gr all-purpose flour, sifted
40gr almond flour (optional, substitute with same amount of all-purpose flour)
½ tsp baking powder
½ tsp baking soda
1 tsp ground cinnamon
a pinch grated nutmeg
a pinch of sea salt
100g fine demerara sugar
4 medium free-range eggs
2 tbsp light extra-virgin olive oil
juice of 1 orange
1 tbsp orange zest
1 tsp vanilla extract
1 tsp freshly grated orange zest
300gr finely grated carrots + extra for decorating
4 tbsp chopped walnuts + extra for decorating
For the frosting: Put the ricotta in a cheesecloth inside a sieve over a bowl, and tie up the cloth in a bundle. Store in the fridge for 2 hours to drain.
In a large bowl, whisk together drained ricotta, honey, orange zest and vanilla until smooth and creamy. Refrigerate until ready to use.
Preheat oven to 180C and arrange the baking rack in the middle shelf.
In a large mixing bowl mix together sifted flour, almond flour, baking powder, baking soda, spices and salt.
In another bowl, whisk together the eggs and sugar until pale and lightly foamy. Pour in fresh orange juice and zest, olive oil and vanilla extract. Mix well until combined.
Gently fold the dry ingredients into the wet ones, mixing until you have a smooth batter, but make sure to not overmix it.
Fold in grated carrots and chopped walnuts and stir all ingredients together.
Fill each cup ½ full with the carrot cake mixture, so the batter doesn't rise too much. The batter should be enough to fill 10 donut molds.
Bake for about 15-20 minutes, or until a toothpick inserted in the center comes out clean. Remove from the oven and allow the donuts to cool completely before removing them from the molds.
Frost the donuts with the ricotta cream just before serving, to preserve the cream freshness.
Top with chopped walnuts and grated carrot, and serve.
Store leftover donuts unfrosted in an airtight container in the fridge for up to 2 days. You may also freeze them, thaw overnight in the refrigerator and frost just before serving.
Recipe by
The Petite Cook
at https://www.thepetitecook.com/carrot-cake-baked-donuts/