Hasselback Potatoes are almost an art piece, very precise and beautiful to look at. And immensely tasty too.
This Swedish recipe was created by the stylish Hasselbacken restaurant in Stockholm, and is more about the technique of cutting the potatoes rather than a specific recipe itself. Sometimes they're also called Accordion Potatoes, however you call them the result is the name: a delicious roasted potato cut into a neat way, making a side dish so beautiful it deserves to become a main course.
The Hasselback potato is cut into thin slices across almost right through, but not entirely. To make the cutting easier, you can lie the potato horizontally next to a wooden spoon, and start cutting into thin strips, just until the knife blade hits the wooden spoon.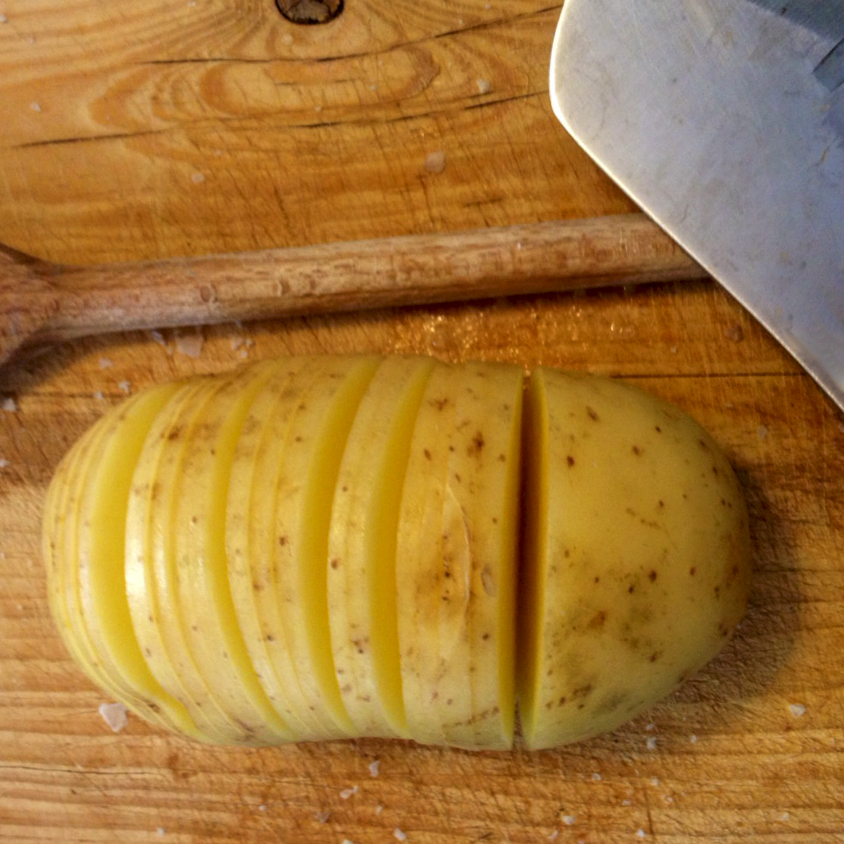 Once you're done with the "hardest" part of the job, all you have to do is seasoning the potato as you would do with the boring, common roasted version. Drizzle with Extravirgin oil, sprinkle with sea salt and freshly cracked black pepper, a little thyme or any other aromatic herb you have at hand, and bake in the oven until golden and roasted through.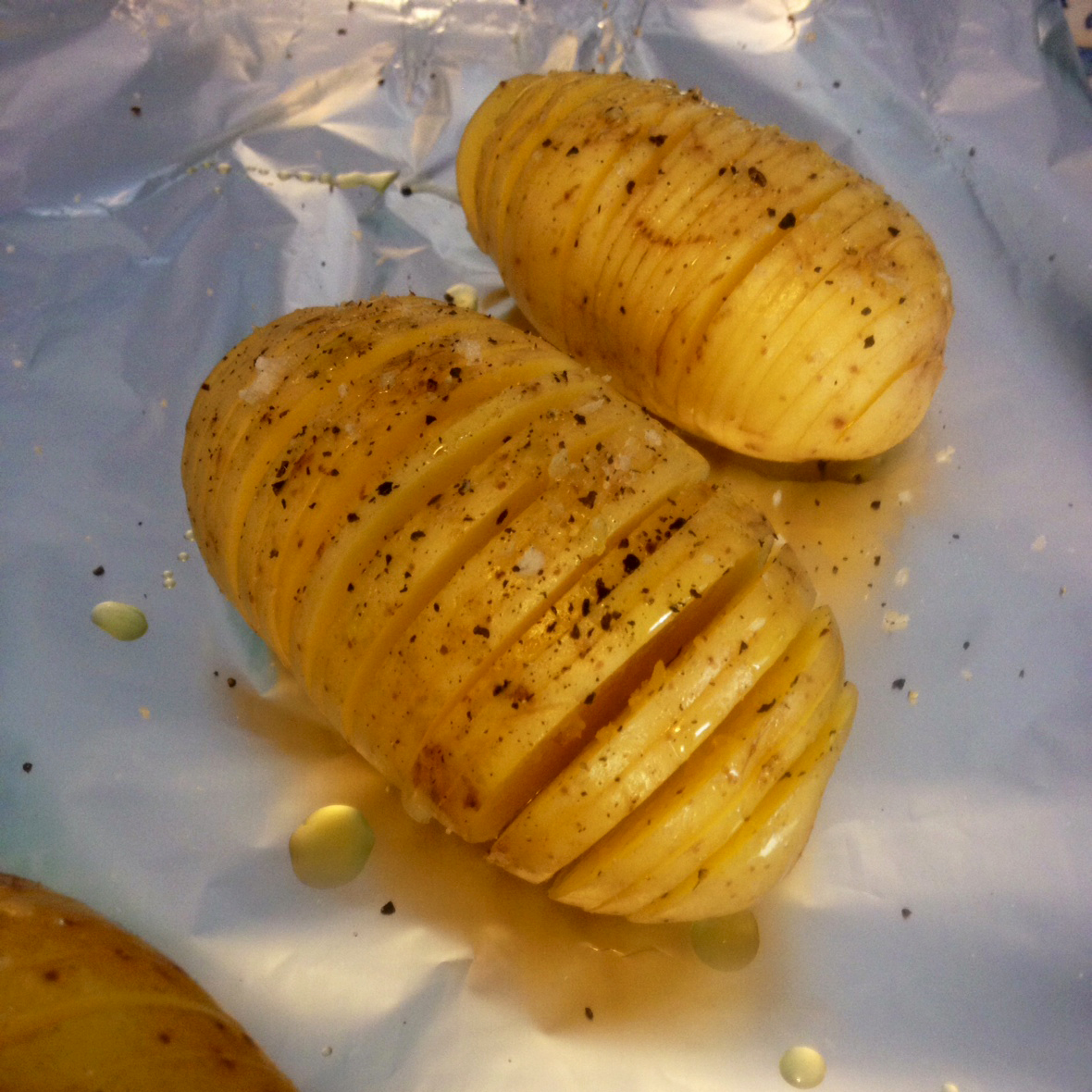 Although the Hasselback potatoes are fantastic just simple and natural, you can customize it and create a new different topping for every day of the week/month/year! Think about sour cream, bacon bits, chicken salad, salmon flakes, combinations are endless - and they're all darn good.
The best potatoes for this kind of dish are either Russets or Yukon Golds. You can also use Charlotte potatoes to make  cute mini Hasselbacks to impress your guests at the next party. Some people like to peel them, but for this recipe is not necessary ( and in my opinion it's almost heretic to do it), just brush the potatoes very well, the skin becomes crispy and tasty through out cooking time and adds the perfect level of yumminess to the final dish!
Fancy Hasselback Potatoes with Bacon and Greek Yogurt Dip
Stylish Hasselback potatoes are an upgraded version of the boring roasted potato, made to impress your guest at your next dinner party!
Ingredients
2

Large Yukon Golds or Russet potatoes

Extravirgin olive oil to drizzle

Sea salt & freshy cracked black pepper

,

to season

1

tablespoon

fresh thyme leaves

a pinch of paprika
For the topping:
2

tablespoon

roasted crumbled bacon bits

2

spring onion

,

finely chopped

½

cup

Greek Yogurt

½

teaspoon

lemon juice

1

pinch

chili pepper flakes

salt & pepper to taste
Instructions
Heat the oven to 425F/210C. Wash and pat dry the potatoes.

Lie a potato horizontally next to a wooden spoon. Start cutting into thin strip almost all the way through the potato, just until the knife blade hits the wooden spoon. This way you will avoid cute the potato completely.

Repet the method with the remaining potatoes.

Arrange them on a baking tray and drizzle or brush with olive oil. Season with sea salt and black pepper and sprinkle with thyme leaves.

Bake in the oven for about 1h and 10m, or until golden and crisp on top and cooked through.

Remove from the oven and allow to cool down a little.

In the meantime prepare the topping. In a bowl mix together all the ingredients and taste, adjusting for salt&pepper.

Serve the Hasselback potatoes on a large serving dish and top with the Greek yogurt and bacon dip.

Enjoy!
The information shown is an estimate provided by an online nutrition calculator. It should not be considered a substitute for a professional nutritionist's advice.