Oreo Cookies, either you love them or hate them. If you're reading this, we both know the answer. Did you ever realize you can make your very own Oreos? Oh yes, you can!
Since Valentine's day is just a few days away, if you're an Oreo aficionado, there is no better way to say I Love You to your sweetheart, than baking a big batch of these Homemade Love Oreo Cookies for her/him.
Making Homemade Oreo cookies is so much better than buying them! They taste just like the original ones ( if not even better!), but without all the chemical rubbish; you know exactly what's inside your cookies, and that's the most important thing. Also, making your own Oreo cookies means you can adjust some of the flavors to meet your taste, whether you like more cocoa in it, or double cream filling, or  simply more vanilla flavor.
My recipe recalls for Dutch cocoa powder, the "really good stuff" to be clear, making the cookie dough the star in this homemade version.  Did you ever wish to taste more cocoa in your Oreos? I did, that's why I've opted for the best cocoa in town.
What about the cream? Ohhh, the cream is so darn good, right? I know people who buy Oreos just to lick that delicious cream in-between the cookies. The cream I used in the recipe doesn't require shortening, which is one of those not-so-healthy ingredients in the original recipe. Instead, go for half & half, a good compromise that will upgrade your cream stuffing to the next level.
How to make Homemade Oreo Cookies? This recipe is absolutely no-brainer. You only need a bunch of ingredients, 3 bowls, some cute heart-shaped cookie cutters and the patience to wait until the cookies are baked ( which I didn't have, so I tasted the raw dough and it took loads of self-control to stop myself  from eating the whole thing).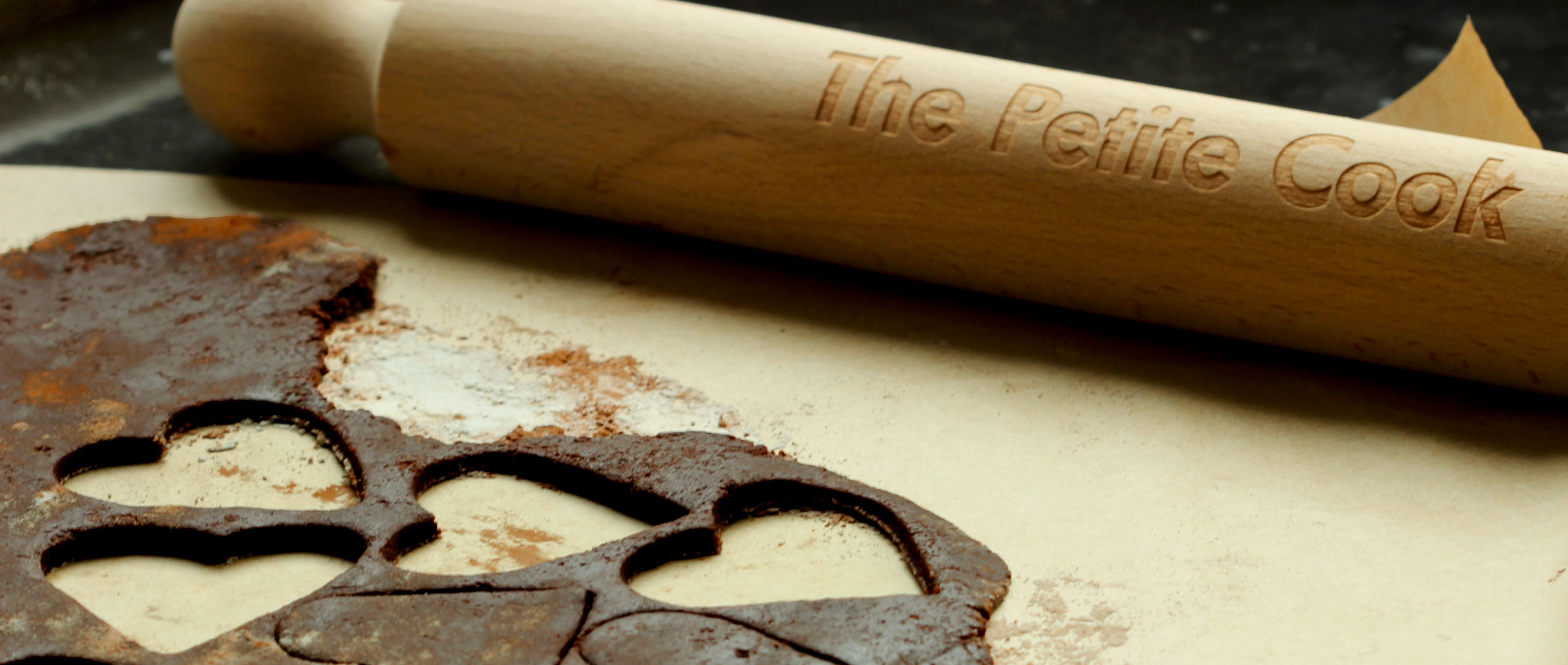 I recommend you chill the cookie dough through out the preparation.
After you mix all the ingredients, divide the dough in two and chill in the fridge for 20 min.Next, roll the two dough into 1/4 inch rectangular sheets and chill for another 10 mins. Finally, cut the hearts out of the cookie dough and arrange them over a baking tray. Again, refrigerate for at least 10 min, before baking.
Chilling the dough will help  your cookies retain their shape and have just the perfect texture, so don't skip it!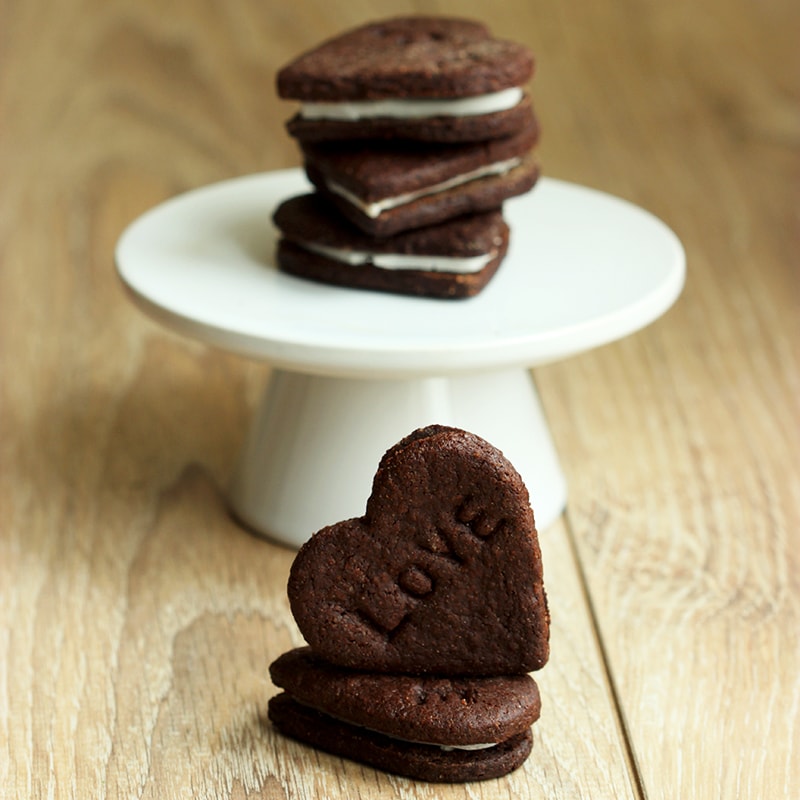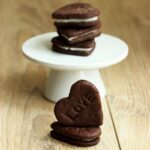 Print Recipe
Homemade Love Oreo Cookies
There's no better way to say I Love You than with these cute homemade Oreo cookies!
Ingredients
2

sticks/ 228gr unsalted butter

softened

2

cups/ 400gr granulated sugar

1

tsp

vanilla extract

1

large egg

1¼

cups/160gr Dutch cocoa powder

1½

cups/190g all-purposeflour

1/2

tsp

instant coffee

1/2

tsp

baking powder

a pinch of salt
For the cream filling:
1

stick/114gr unsalted butter

softened

2

tbsp

half&half

or 1 tbsp butter + 1tbsp vegetable spread

1

tsp

vanilla extract

A pinch of salt

3

cups

powdered sugar
Instructions
In a large bowl, whisk together butter and sugar until light and fluffly. Add in the egg and vanilla, and beat until well incorporated.

In another bowl mix together the dry ingredients: all-purpose flour, instant coffee, cocoa powder, baking powder and salt.

Gradually fold the dry ingredients into the wet ones. Mix until just combined.

Divide the dough in half, shape into 2 circles and wrap in cling film. Refrigerate for 20 min.

Arrange the dough between 2 sheets of parchment paper lightly dusted with flour, and roll into a rectangular, 1/4 inch high.

Repeat with the other dough, and refrigerate both cookie sheets for 10 min.

With the help of a heart-shaped (or any shape you prefer) cookie cutter, start making your cookies.

Once all the cookies are ready and arranged on a baking tray covered with parchment, refrigerate them for another 10 mins.

Heat the oven to 350°F/175C. Bake the cookies for 12 minutes, then transfer to a wire rack to cool completely.

In the meantime, prepare the cream filling: in a bowl, whisk together softened butter, half and half, vanilla, and salt and beat until combined.

Gradually add the powdered sugar, 1/2 cup at a time, and mix until the cream comes together.

Transfer the filling into a piping bag. Pipe the cream onto half of the cookies and top with the remaining ones to make your yummy homemade Oreos. Enjoy!