Christmas is all about love, sharing and above all fun! I take the fun part very seriously over here, and that's why I make this The Petite Gingerbread House to wish you all a Merry Christmas!
Let' face the fact, no matter how Pinterest makes it look easy, making your homemade Gingerbread house is not a simple task - at least for me-. But with the right equipment, a couple of hours and a bunch of colorful sweets you can make a gingerbread house out from scratch.
Start by choosing & printing your favorite gingerbread house template, if you have those architectural skills I was talking earlier,  it's time to show it off! You can also buy gingerbread cookie cutters in most department stores during the festive period, or save yourself the hassle and look up online. I browsed around and then I've chosen both the recipe and the template offered by BBC Good.
I slightly changed the original recipe, implementing fresh orange zest to add an extra wintery and rich flavour and I also used a vegetarian alternative instead of butter.
Start by measuring accurately all ingredients, when it comes to baking there is no such thing as "too accurate", so make sure you follow the recipe by the gram. Heat up muscovado sugar, honey, orange zest and spread/butter until melted.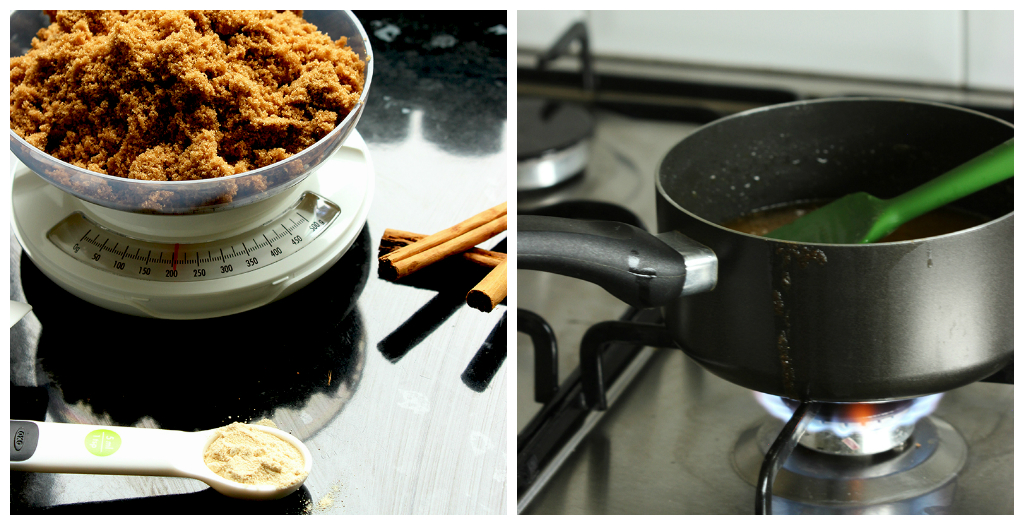 In a large bowl mix together the remaining ingredients,  pour the syrup mixture slowly in and mix until the dough comes together, then divide into 2-3 large slightly flatten balls.
Refrigerate for ½ h before rolling it out. Once nice and set it's easier to roll the dough between two sheet of parchment paper. Place your template on top and cut the "house" out of it. I made a cute heart door with a cookie cutter for the back entrance of my house - which in every foodie dream house leads you straight to the kitchen-.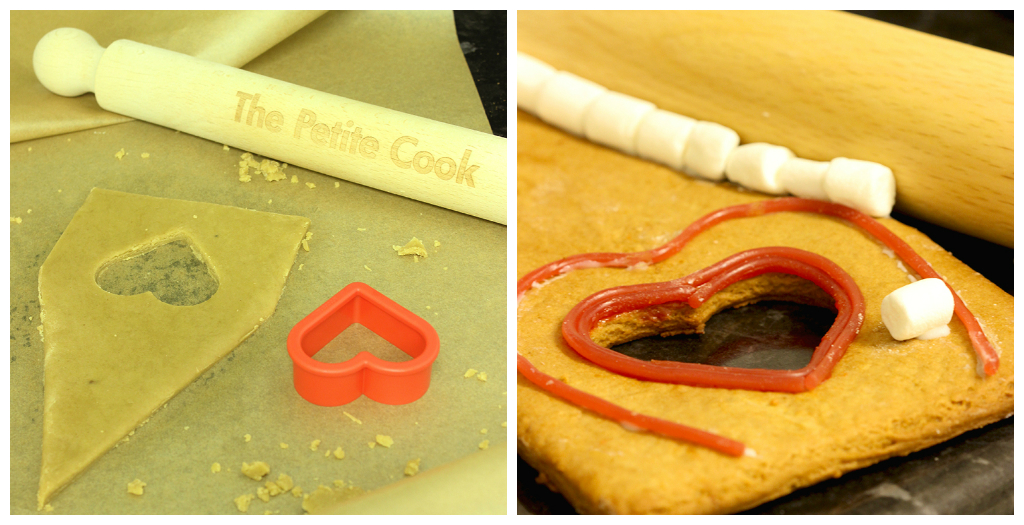 After cutting the gingerbread house out of the dough, bake the components in a prehated oven to 350F/180C for about 12 mins.
Now that you have all the components start with the fun part, decorate your gingerbread house! Knowing I'm not much of a decorator , I did a simple icing by whisking egg whites and icing sugar until smooth & thick. You can pipe the icing through all the ends to glue the house together (I've also used it to stick the sweets on), and use the remaining one to decorate the house ( windows, roof and door if you like).
I did my Petite Gingerbread House from start to finish in less than 3 hours. I did cheat a little, by popping both the dough and later the house cookies into the freezer, to cool it down faster. The thought of making my first gingerbread house was quite scary, but with a little organization it all went beyond my expectations.
You have still plenty of time to make your own Gingerbread House, get the help of everyone at home to make it more fun and be creative with the decorations,  sky is the limit!
The Petite Gingerbread House
Making your own homemade Gingerbread House couldn't be any easier!
Ingredients
250

g

unsalted butter /margarine /vegan alternative

200

g

dark muscovado sugar

7

tbsp

golden syrup

600

g

plain flour

2

tsp

bicarbonate of soda

4

tsp

ground ginger

zest of 1 orange
To Decorate:
2

egg whites

500

gr

icing sugar

sweets and marshmallows to decorate
Instructions
Melt the butter, sugar and syrup in a pan, over low heat.

Mix the flour, bicarbonate of soda and ground ginger into a large bowl, then stir in the butter mixture to make a stiff dough.

Divide the dough into 2-3 balls and refrigerate for half an hour.

Roll the dough between 2 sheets of parchment paper, arrange the template on top ad cut the house out of it.

Arrange on a baking tray covered with parchment paper. Bake in a preheated oven to 350F/180C for about 12 min, or until lightly brown.

Allow the cookies to cool, in the meantime prepare the icing.

Put the egg whites in a large bowl, sift in the icing sugar, then stir to make a thick, smooth icing. Spoon into a piping bag with a medium nozzle. Pipe generous snakes of icing along the wall edges, one by one, to join the walls together. Use a small bowl to support the walls from the inside, then allow to dry, ideally for a few hours.

Once the gingerbread house is set, decorate with your favorite sweets, marshmallows, chocolate.Use the remaining icing to glue your decorations on top.

Use coconut to make the snow base and arrange the house on top.

Merry Christmas!
The information shown is an estimate provided by an online nutrition calculator. It should not be considered a substitute for a professional nutritionist's advice.