If you're looking for a savory gluten-free snack, look no further, try these yummy Purple Brussels Sprout & Ricotta Muffins.
Brussels sprouts are one of the best vegetables you can find on the market during winter season, they are a good source of protein, iron and potassium. Did you know Brussels sprouts are also high in vitamin C? A 1/2-cup serving of Brussels sprouts contains 48.4 milligrams of vitamin C, which is about 50 percent of what men need each day and about 65 percent of what women need on a daily basis.
It's a shame they don't have many fans (mainly because of their smell), that's why turning them into savory muffins is a fantastic way to convince even the hardest Brussels sprouts haters!
These Purple Brussels Sprouts Muffins are super easy and quick to make, it takes about 20 mins from start to finish, so they're perfect if you have little time and a hungry belly. Don't forget they're totally gluten-free, so if you're allergic to gluten these cuties will rescue you from muffin cravings – Is it just me or everyone has it every now and then? .
I've also added some fresh ricotta, which is one of the healthiest cheese around, light and slightly sweet in flavor and very low-fat and low cal.
Making these muffins couldn't be any easier, they're ready in 3 simple steps.
First, you need to slightly steam the sprouts, I recommend you avoid boiling them otherwise will lose most of their healthy benefits. Steam them for about 10 mins, until soft but not mushy, I use a steamer microwave that makes the job even quicker, but any steamer would do.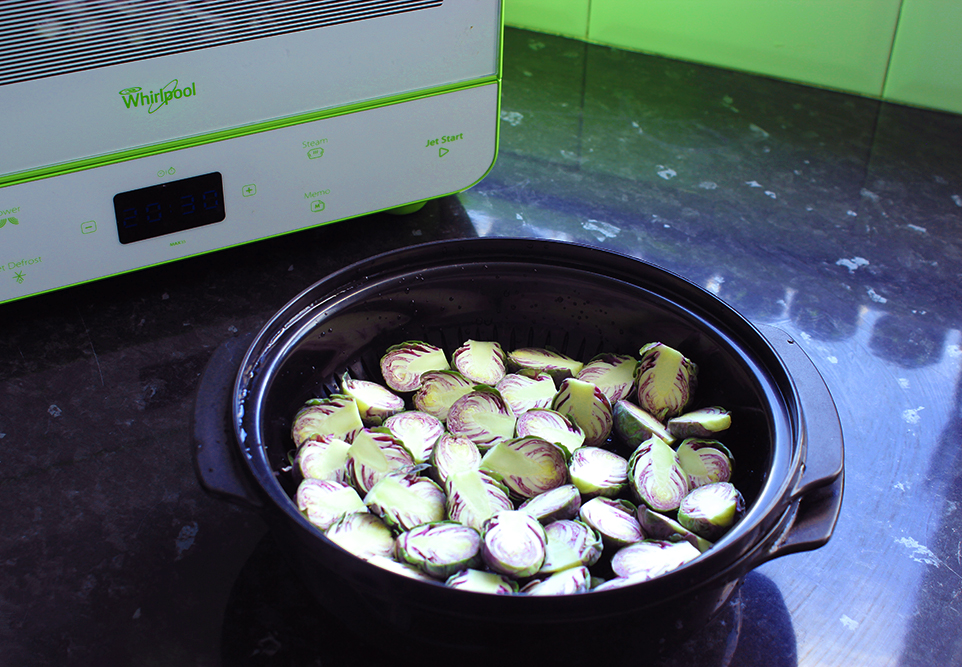 Once they're ready, take 8 sprout halves aside so you can top each muffin with those. Finely chop the rest ( you can also give them a quick pulse in the food processor) and mix together with the wet ingredients.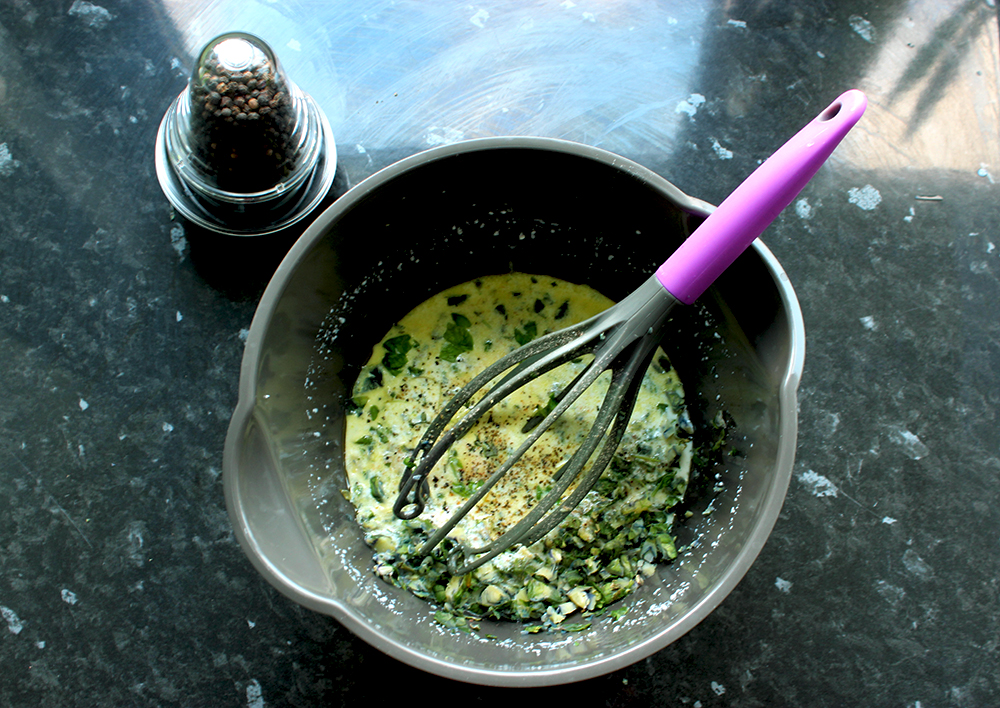 Now, gradually add the dry ingredients, mix just until combined et-voila', the muffins batter is ready! Simply pour the batter into a muffin tin, the recipe makes 8 regular muffins or 16 mini muffins, top with the halves you had put aside, and bake for 12-15 mins, or until golden on top.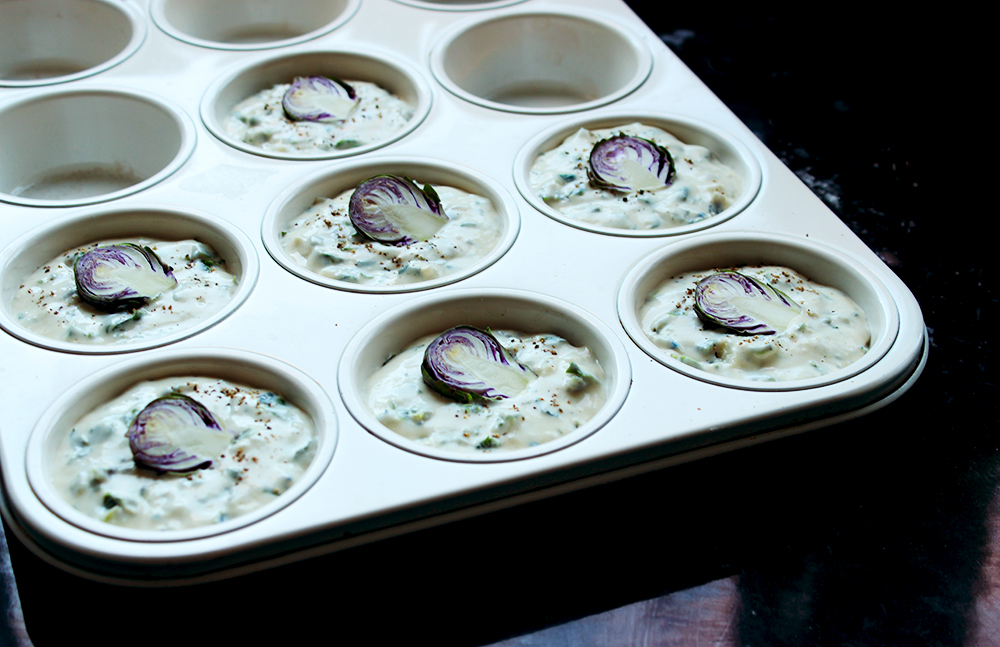 Last advice, if you don't want to burn your tongue as I did, wait until they cool a little before stuffing them all in your mouth!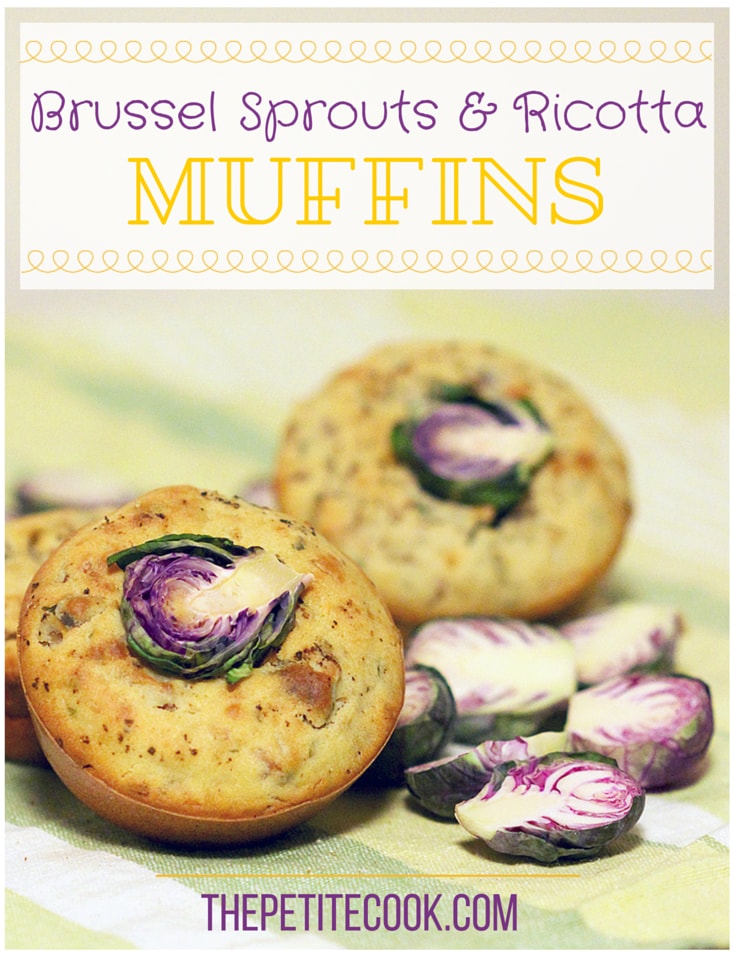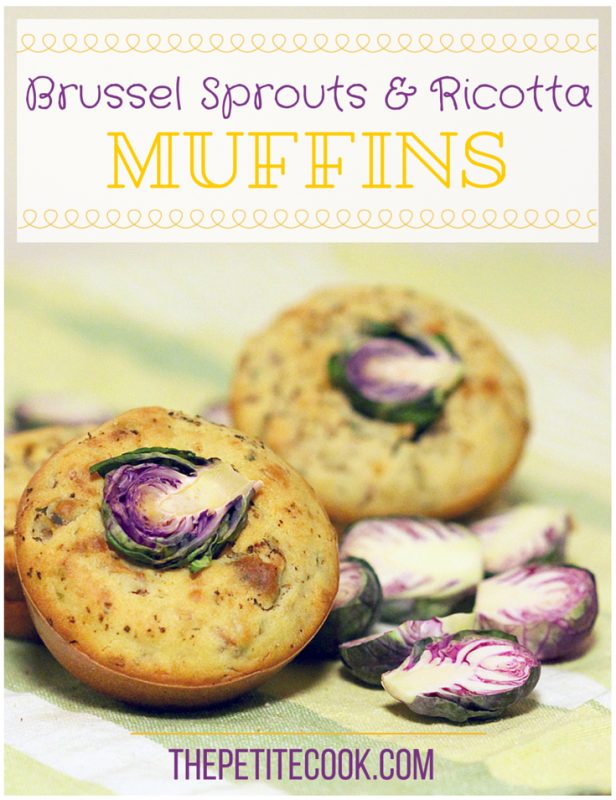 I really hope you try these delicious veggie-packed savory muffins. If you do, please leave a comment below and let me know how you enjoyed it, and what are your favorite muffin recipes. And don't forget to snap a picture, tag it #thepetitecook and share it with me on Instagram!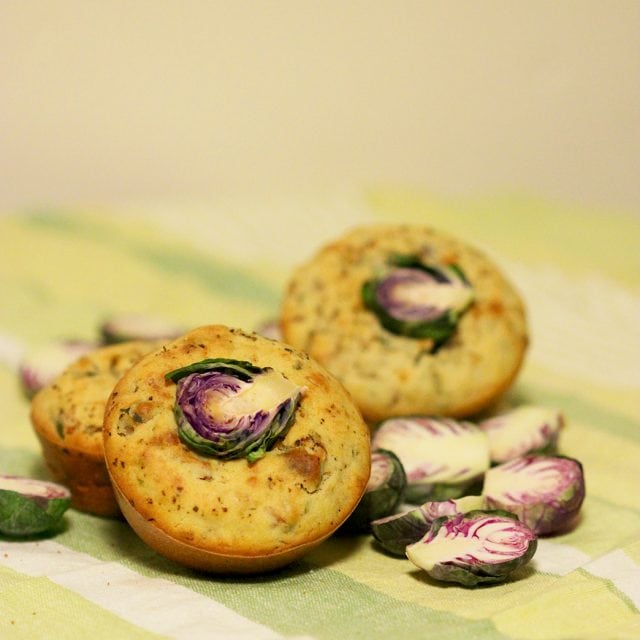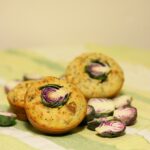 Print Recipe
Purple Brussels Sprouts & Ricotta Muffins
These little savory muffins make a great snack and are totally gluten free. Swap almond meal with regular flour if you don't have a gluten allergy. Makes 8 muffin or 16 mini muffins.
Ingredients
10

oz/250gr Brussel sprouts

cut in halves

2

large eggs

1-1/2

cups/ 150gr almond flour

or corn meal

1

tsp

baking powder

1

cup

ricotta cheese

well drained

2

tbsp

Greek yogurt

2

spring onions

finely chopped

3

tbsp

Extravirgin olive oil

Salt and pepper to taste
Instructions
Steam for 5 mins the Brussels sprouts.

Reserve 8 sprouts halves and finely chop the remaining ones.

In a large bowl mix together eggs, yogurt, extravirgin olive oil and ricotta. Add the sprouts and spring onions and mix until combined.

In another bowl mix almond flour with baking powder. Gradually pour the dry ingredients into the wet ones and mix just until combined.

Divide the mixture into a non-stick muffin tin and top each muffin with the reserved haves.

Bake in a preheated oven to 200C/400F for about 12 mins or until golden on top.

Allow to cool and serve. Enjoy!