This traditional pannacotta dessert pays homage to the Italian style and its excellencies: fashion and food!
London fashion week happened recently and the city has gone all glamorous, celebrating the haute couture in the most stylish ways.
To celebrate the occasion, I've decided to combine my love for food with my  love for fashion ( I must confess I'm a helpless shoeaholic and bag-fanatic). Being a true Italian, my main source of inspiration came from the iconic Italian fashion designer Valentino Garavani. A beautiful romantic dress from one of his older spring/summer collections catched my eye, and it was love at first sight. Back in the kitchen, I thought this Valentino dress had the perfect colors to become a pretty, refreshing dessert.
I've decided to opt for a traditional Italian desserts, pannacotta. It's a very simple recipe, and paired with fruits makes a fantastic treat to enjoy during these sunny spring days.
To make the perfect pannacotta you need only 3 ingredients and less than 10 mins. The recipe couldn't be any easier :  mix together some cream, a little sugar, lemon peel or vanilla seeds, stir in the gelatine, and leave it to work its magic.
There are two different schools of thought on whether to add lemon peel or not in the pannacotta. I like the slight tanginess which helps to balance the rich sweetness of the cream, so I always add a large slice of lemon peel.
Fruits are pannacotta best friends, and mixed berries are the perfect pair. I've also added some plum puree and pomegranate seeds, which beautifully represents the dress decoration, and they both balance the sweetness from the berry coulis.
Enough talking, let's go on and make it. Enjoy this Spring Pannacotta with mixed berry and plum coulis – a prêt à manger dessert, so pretty you would be sorry to eat it!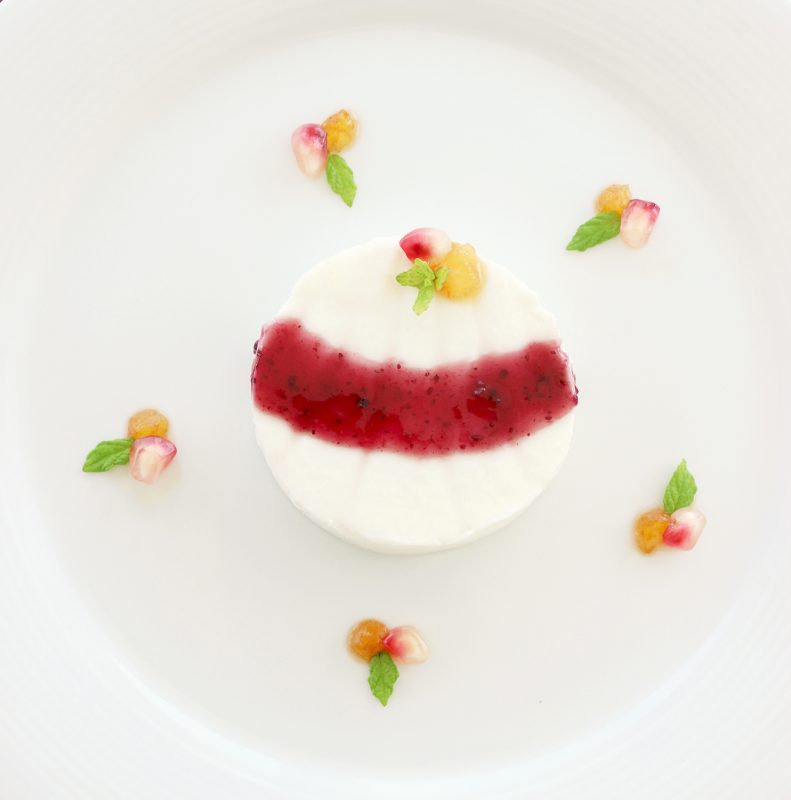 Ingredients:
18floz (500ml) fresh double/heavy cream
5oz (150gr) powdered sugar
1 large slice of lemon peel
3 gelatin leaves
For the Red berries coulis:
12oz (350gr) fresh red berries
5oz (150gr) powdered sugar
1 tbsp of lemon juice
For the Plum puree:
4 plums
1 tsp of lemon juice
To guarnish:
few mint leaves
1 tbsp of pomegranate seeds
Serves 4 Guests
Heat a saucepan with the heavy cream, sugar and lemon peel, on very low heat.
Meanwhile, in a large bowl of cold water, allow the gelatin leaves to soften for about 4 mins. Once ready, squeeze them with your hands to dry them up.
Add the gelatin into the pan and whisk until dissolved. Remove the pan from the heat, remember to never bring to a boil the heavy cream.
Strain the pannacotta through a sieve into a bowl.
Divide the mixture among four ramekins and leave to cool. Place into the fridge for at least 2 hours, until set.
For the red berries sauce: Blend the berries until smooth, then sieve through a strainer into a bowl. Add sugar and lemon juice and whisk until combined. Set aside until needed.
For the plum puree: remove stones and skin from the plums and blend with the lemon juice until smooth.
To serve, turn each panna cotta out onto a serving plate. Spoon over the sauce and garnish with the plum puree, pomegranate seeds and mint leaves. Enjoy!