Creamy, delicious, full of flavor and incredibly easy to make. This squash and ricotta pasta bake is vegetarian comfort food at its best.
This creamy butternut squash pasta bake is really easy to whip up and only requires simple ingredients. From start to finish, this  recipe takes only 40 min, and with very little effort you'll be sitting down enjoying a mouth-watering comfy meal.
Squash + ricotta is one of my favorite flavor combinations, and makes this simple pasta bake heart-warming and rich but still very light and fresh. Just the perfect meal for these fall days.
By now you should have realized I'm kind of obsessed with this italian cheese. It's just so simple, so fresh and so versatile, I end up using ricotta in most of my cheesy recipes.
Plus, ricotta is healthier than other store-bought cream cheeses, and it's low-fat if you choose a light version. most importantly, a cup of half-skimmed ricotta helps you reach your daily recommended intake of several nutrients, including protein, calcium, vitamins and minerals.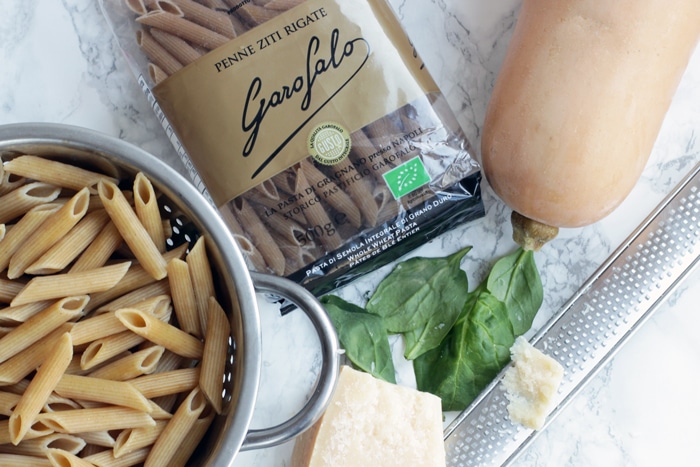 To pack this squash and ricotta pasta bake with extra healthy goodness, I opt for Garofalo whole wheat penne. I'm a big fan of Garofalo pasta in general, and I  love their whole wheat organic range even more. The pasta is made with durum whole wheat semolina, and then shaped with the traditional bronze die, giving to the final product an unique texture and flavor. Did I mention that it keeps amazingly al dente? Even after being baked, the penne don't lose a bit of their great texture, and deliver a crave-worthy super satisfying pasta bake.
Besides the incredible taste, there are so many other good reasons to eat whole wheat pasta. In fact, it has more nutritional value than normal pasta. It's a complex carb, so it gives you long-lasting energy compared to the simple carbs contained in other pasta. Whole wheat pasta is also known to improve digestion health and it's a good source of protein (it contains the double amount compared to regular pasta).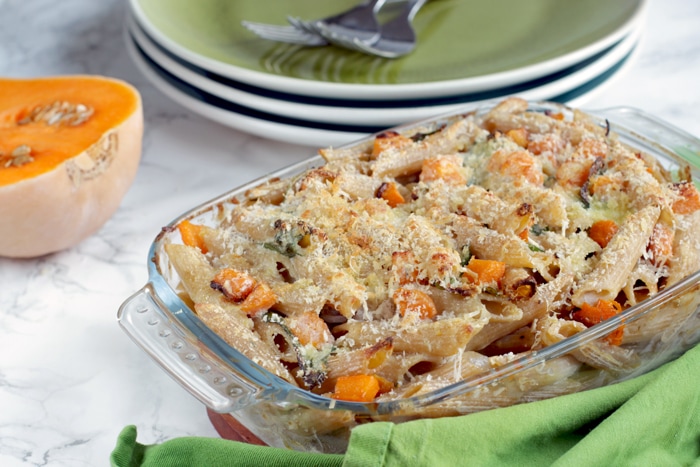 Baked pasta is a personal favorite comfort food (I'm still dreaming about this mac and cheese made the other day) but let me tell you a secret. This squash and ricotta pasta is delicious both baked and UNbaked.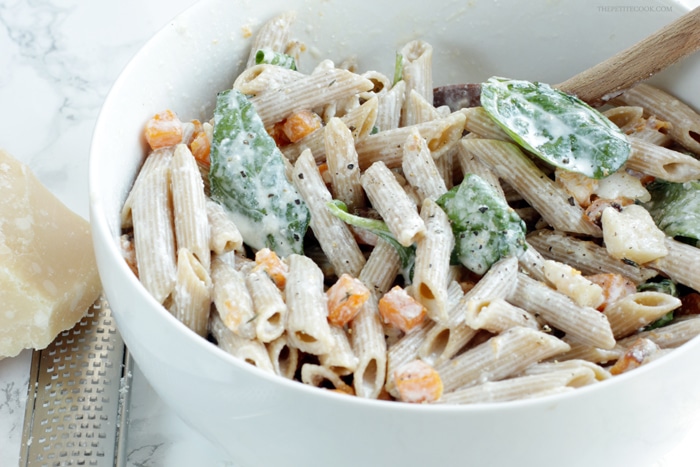 For a light lunch/brunch version, just combine all ingredients together and simply serve it as it is. It's so versatile it can also be served cold as a pasta salad, making a healthy vegetarian lunch box and picnic idea.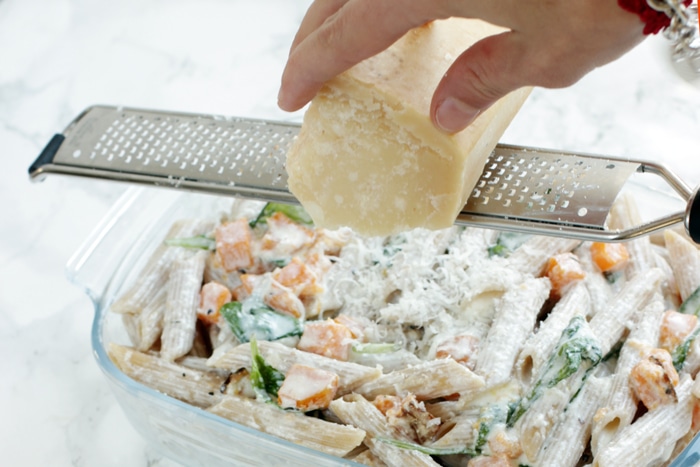 If it's one of those days when all you need is a comforting meal, lay down the pasta+squash+ricotta mix in an oven dish. Cover the top with grated umami-rich parmesan cheese and crunchy panko breadcrumbs and pop the dish in the oven for a quick bake.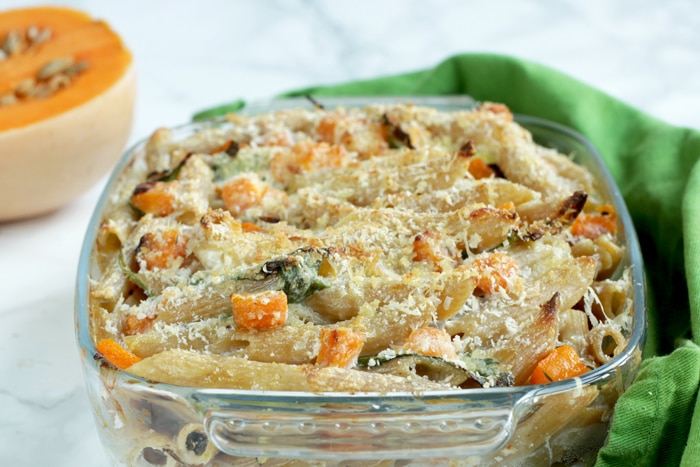 Crispy on top, and oozing with creamy and gooey ricotta cheese, you'll smell this tasty casserole coming before it's even out of the oven.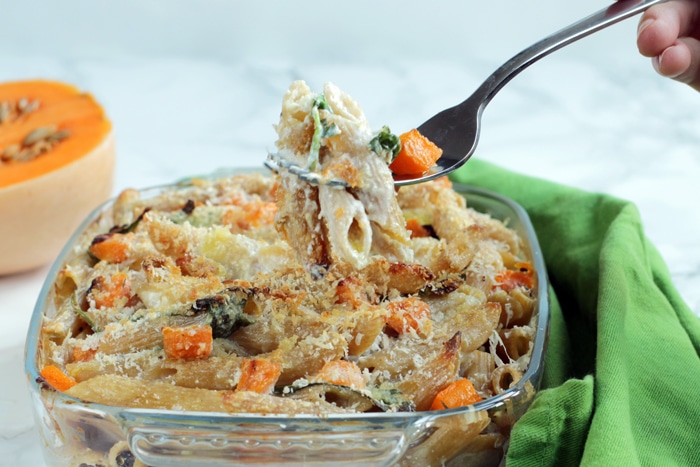 Whether you're a veggie or not, this delicious and awesomely healthy squash and ricotta pasta bake is great way to celebrate fall. Seasonal, made with simple and fresh ingredients, this is comfort food at the very best!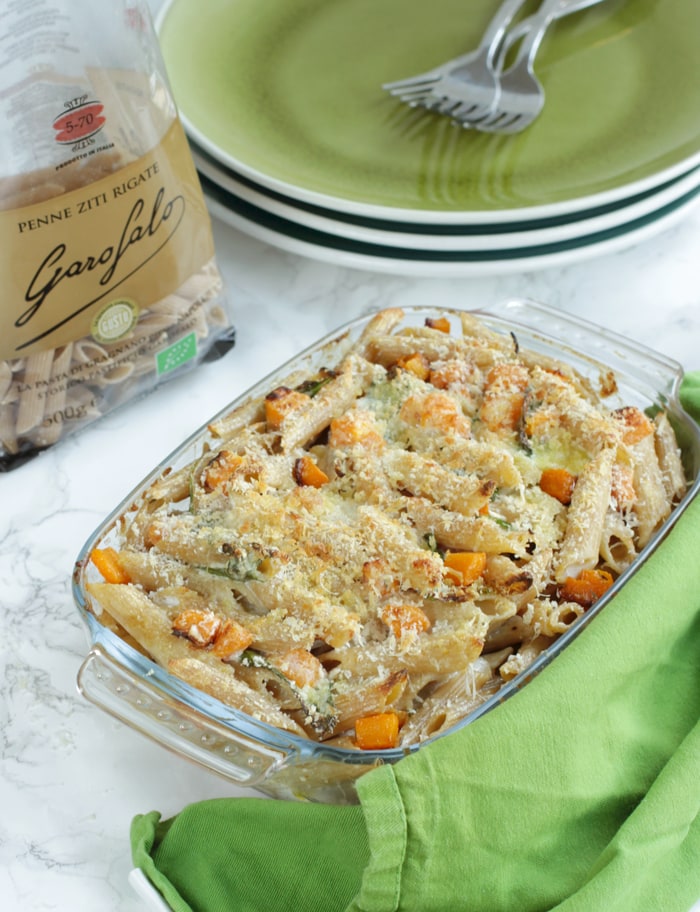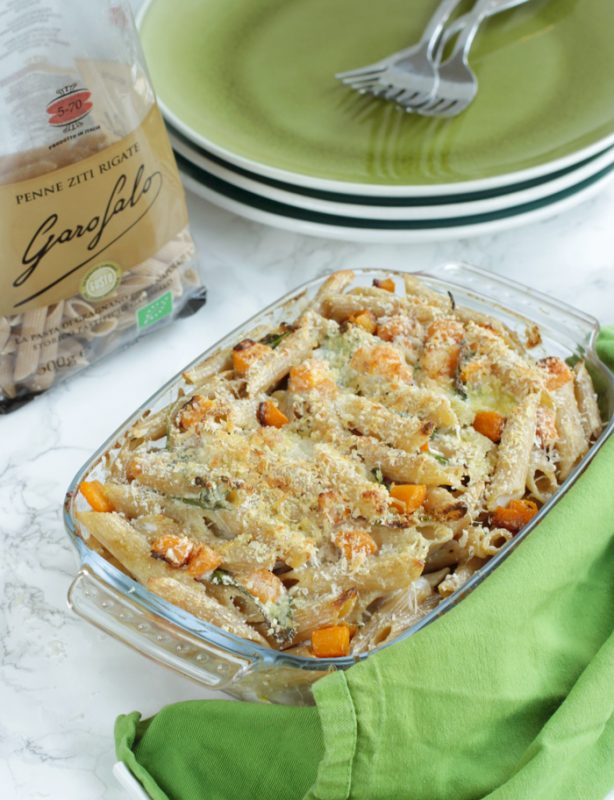 I really hope you give this tasty pasta bake a try. If you do, please leave a comment below and let me know how you enjoyed it, and what are your favorite pasta-bake ingredients. And don't forget to snap a picture, tag it #thepetitecook and share it with me on Instagram!
Squash and Ricotta Pasta Bake
Ingredients
1

medium-small butternut squash

,

peeled, deseeded and chopped into small cubes

1

garlic clove

extra virgin olive oil

salt & pepper

500

g

/1 pack Garofalo whole wheat penne

1

bunch of fresh spinach leaves

,

roughly chopped

freshly ground black pepper

1

cup

/ 250gr creamy ricotta cheese

2

handful grated Parmesan cheese

2

sprigs of thyme

3

tablespoon

panko breadcrumbs

salt & pepper to taste

extra virgin olive oil
Instructions
Arrange squash on a baking tray covered with parchment paper.

Drizzle a little olive oil over the top and add thyme sprigs and garlic.

Roast in a preheated oven to 360F/180F for about 20 min or until soft and cooked through.

In the meantime prepare the pasta. In a large pot of lightly salted boiling water cook the pasta al dente, about 2 mins before cooking time.

Drain pasta and transfer in a large bowl. Pour in the creamy ricotta, half parmesan cheese, spinach leaves and a glug of olive oil. Season and miix until combined.

Divide pasta mixture into a large baking dish or individual casserole dishes, Scatter over the top remaining parmesan cheese and breadcrumbs .

Bake in a preheated oven to 360F/180C for about 20 min or until crispy and golden on top.

Serve immediately and store leftovers in an airtight container. Keeps well until the next day.
The information shown is an estimate provided by an online nutrition calculator. It should not be considered a substitute for a professional nutritionist's advice.