Super refreshing 4-ingredient vegan mango sorbet is a light, delicious frozen treat that comes together in just 5 minutes, and no ice cream maker required!
---
This 4-ingredient vegan mango sorbet is pretty much all I want to eat for the rest of the summer.
I absolutely love this little frozen treat. It's SO incredibly refreshing and incredibly quick to make.
Trust me, this luscious frozen treat has all it takes to become your new favourite summer dessert!
**This post is sponsored by Hermesetas. All opinions are my own**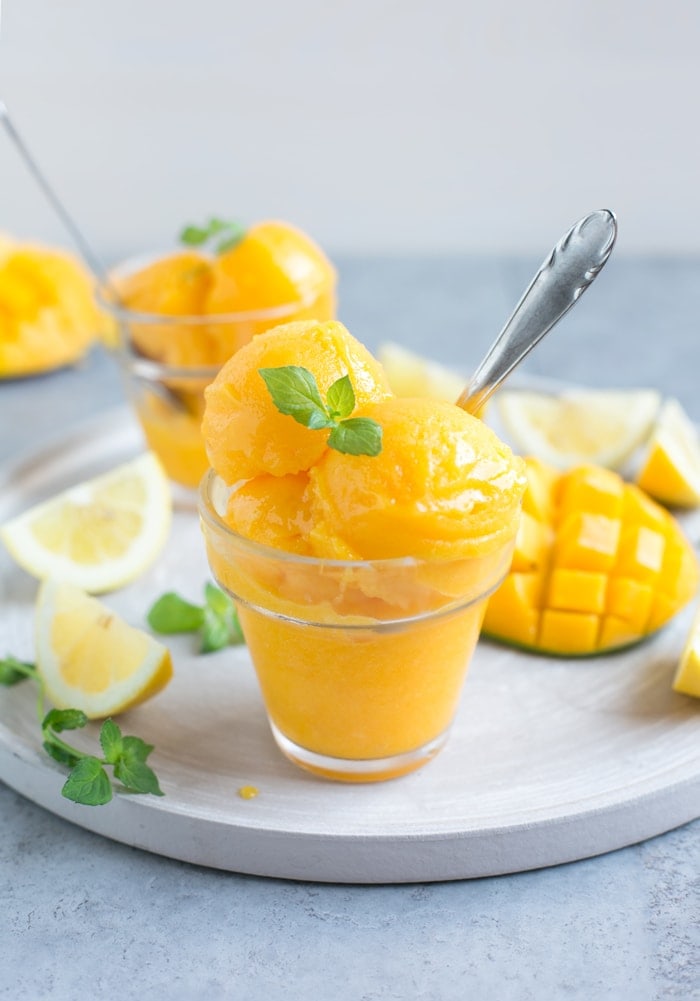 Recipe Highlights
Here are a few reasons to love this vegan mango sorbet:
Only 4 ingredients required
Ready in just 5 minutes
Incredible velvety texture
No ice cream maker needed
Awesomely gluten-free and dairy-free
Best of all, this vegan mango sorbet is probably one of the easiest desserts on earth. And it's pretty is lighter than ice cream too!
Difference between Sorbet, Sherbet and Ice Cream
Sorbet is a frozen dessert made with a base of water + fruit + sugar, and it's naturally gluten-free, dairy-free and vegan.
Sherbet is similar to sorbet, however, it does contains a small percentage of dairy to give it a richer texture, therefore is not dairy-free/vegan.
Ice cream (and gelato), instead, have a base of milk/cream + sugar + fruit (or other flavourings), so it's not naturally vegan/ dairy-free.
Of all the above, sorbet is definitely a lighter choice when it comes to frozen desserts, and has the highest percentage of fruit. So, if you crave a frozen treat, go for the sorbet!
The secret for the perfect sorbet texture
The secret to reach the perfect consistency when making sorbet comes down to the sugar content.
Using too little sugar will turn your sorbet very icy, using too much will make it slushy and syrupy.
In the traditional Italian sorbet recipe, you make a water-sugar (in equal parts) based syrup, that gives a rich unique texture to the sorbet.
Make a lighter sorbet
So, traditional sorbet is really sugary, but there's a way to make dreamy creamy sorbet without all that unnecessary calories.
Lately, I've been trying to cut sugars and I've been working hard to find a way to recreate the velvety sorbet texture without using all that sugar.
I won't lie, it took several experiments and loads of sorbets testing, but I was not going to give up.
Finally, I ditched the sugar altogether and sweetened things up with Hermesetas Liquid sweetener, and that was it.
My vegan mango sorbet turned out velvety, rich and creamy with a fraction of the calories!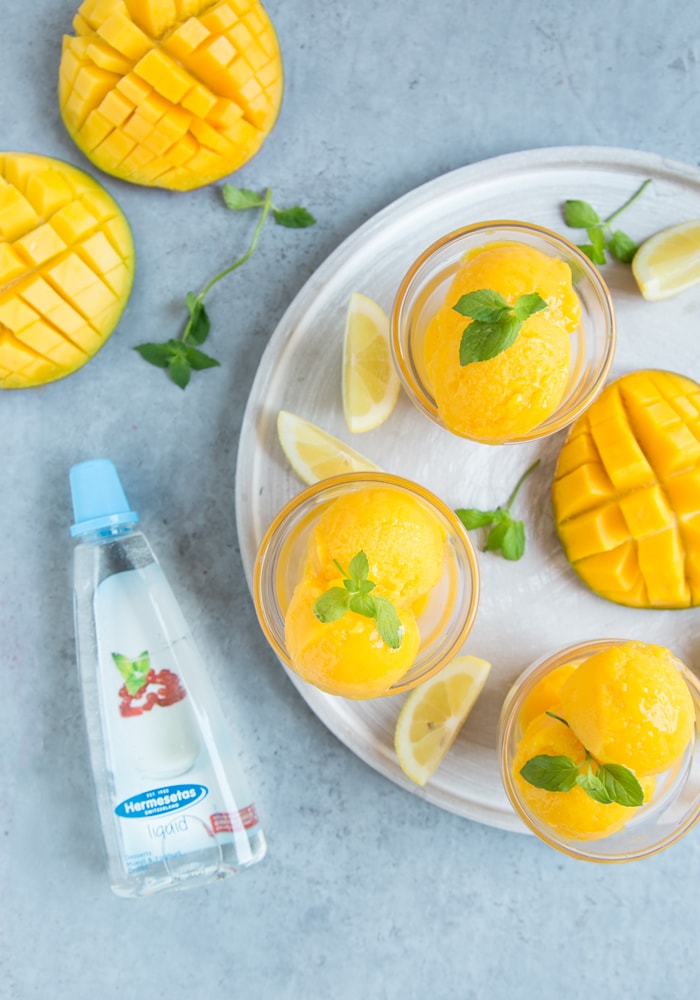 It is heat and freeze stable, and has great testing, meaning it makes a great alternative for cooking, baking and everyday use, and adds zero calories.
You can of course also use regular sugar if you like. Place the water and sugar in a small pot and heat until the sugar has been dissolved. Allow to cool and proceed with the recipe.
Vegan Sorbet in 5 minutes!
What's my secret behind this super quick vegan mango sorbet?
Frozen mango chunks!
You can find organic chopped mango chunks pretty much in any large superstore these days, or you can chop a couple of mangos and freeze in one layer the night before.
All you have to do is add frozen mango chunks in a powerful food processor.
Press high-speed and slowly pour in the prepared water & sweetener mixture.
Keep mixing, until the chunks turn into a velvety luscious mango sorbet, about 3-4 minutes.
I like to eat my vegan mango sorbet straight away -sometimes directly from the food processor.
If you like a more dense consistency, transfer your sorbet into a large freezable container, let it freeze for a couple of hours, and just let it soften a bit before you start scooping.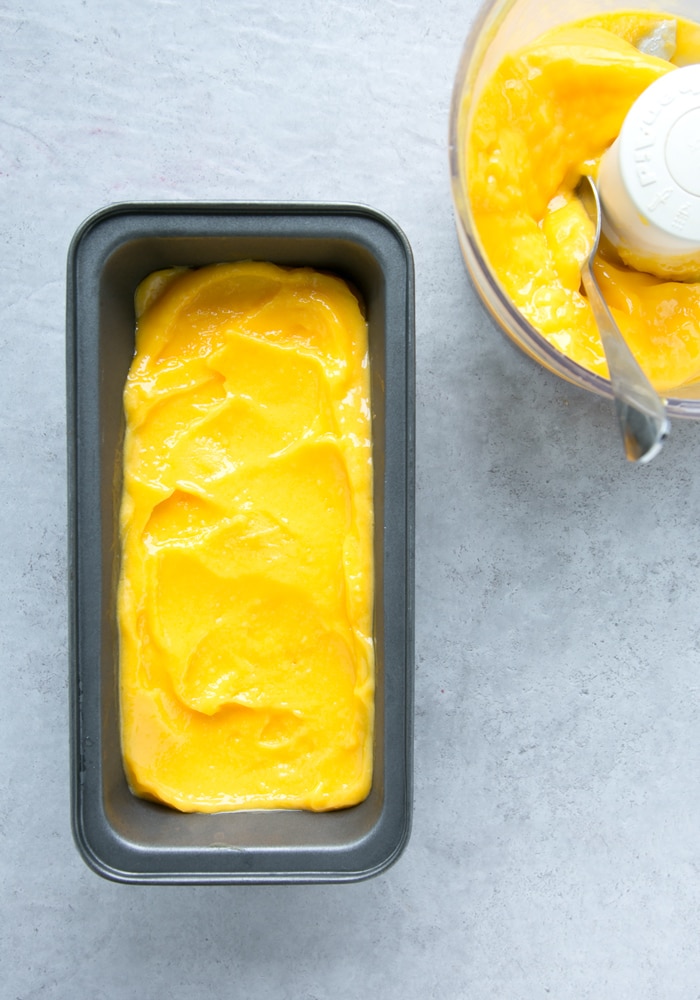 Make sorbet with any fruit!
You can make a delicious vegan sorbet with pretty much any fruit you like! Some of my favourite fruit sorbets include:
Peach & Amaretto Sorbet (just substitute peach in the recipe below and add 2 tablespoon of amaretto liqueur)
Strawberry Sorbet
Cantaloupe Sorbet
Blueberry & Blackberry Sorbet
Looking For More Summer Desserts?
If you're hungry for more delicious frozen treats to enjoy all summer long, make sure to check these favorite desserts:
DID YOU MAKE THIS RECIPE?
Please let me know how you liked it! Leave a comment below and share a picture on Instagram with the hashtag #thepetitecook! Looking at your pictures always makes me smile *and super hungry*!
Recipe
Vegan Mango Sorbet ( Ready in 5 Min!)
This 4-ingredient Vegan Mango Sorbet is the perfect frozen treat that comes together in just 5 minutes, and no ice cream maker required!
Ingredients
600

g

frozen mango chunks

1

tablespoon

lemon juice

240

ml

water

150

g

sugar

,

(or 1 tablespoon of Hermesetas liquid sweetener)
Instructions
In a small bowl combine together water, sweetener and lemon juice.

If you use regular sugar, add water and sugar in a small pot, and heat on medium heat until the sugar has been dissolved, about 5 minutes, then allow the water mixture to cool down.

Add mango chunks and ½ cup of water mixture in a powerful food processor.

Blend until the mango chunks are completely smashed, pouring the remaining water mixture as you blend.

Bend for about 3-4 minutes, until the sorbet reaches a creamy dense consistency.

For soft-serve, scoop the sorbet directly from the food processor into small bowls and serve.

For a dense consistency, transfer the mango sorbet into a freezable container and freeze for 1-2 hours.

Before serving, let the mango sorbet soften for 5 minutes, then scoop into bowls
Nutrition
Calories:
118
kcal
|
Carbohydrates:
30
g
|
Protein:
1
g
|
Fat:
1
g
|
Saturated Fat:
1
g
|
Sodium:
2
mg
|
Potassium:
126
mg
|
Fiber:
1
g
|
Sugar:
29
g
|
Vitamin A:
812
IU
|
Vitamin C:
28
mg
|
Calcium:
8
mg
|
Iron:
1
mg
The information shown is an estimate provided by an online nutrition calculator. It should not be considered a substitute for a professional nutritionist's advice.
This post was originally published in August 2018 and updated with more info.