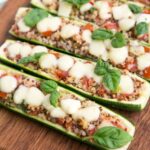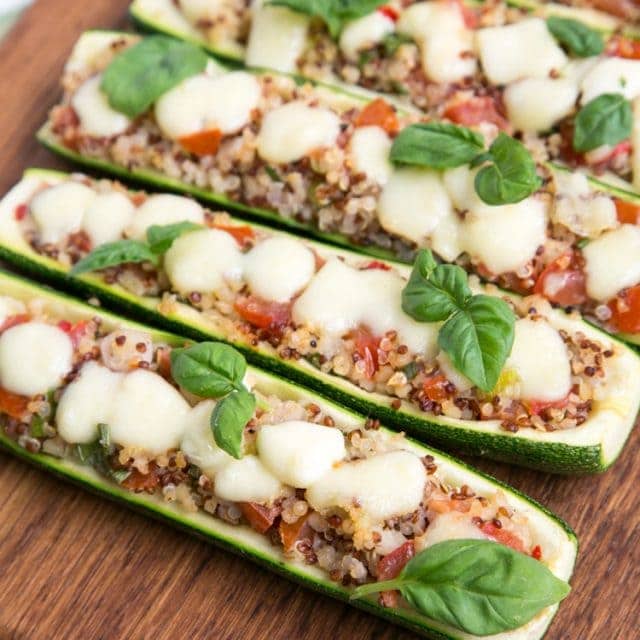 Stuffed Zucchini Boats With Quinoa and Pico De Gallo
A simple filling of quinoa, pico de gallo and melted mozzarella cheese makes these quinoa stuffed zucchini boats a delicious, super easy vegetarian meal to share!
Print Recipe
4

zucchini

1

cup/ 250gr cooked quinoa

a glug of extra virgin olive oil

1

small mozzarella ball

drained and cubed

fresh basil leaves

optional

sea salt and black pepper
For the Pico de Gallo:
2

large salad tomatoes

seeded and diced

1

small red onion

minced

2

spring onions

finely chopped

juice and zest of 1/2 lime

zest of 1/2 lemon

(optional)

a bunch of fresh cilantro

finely chopped

1/2

jalapeno red chilli

finely minced

sea salt and black pepper
Preheat the oven to 375°F /190°C. Lightly grease with oil a 13 x 9 baking tray and set aside.

For the Pico de Gallo: In a bowl, combine diced tomato, red onion, chopped cilantro, zest of 1 lemon, zest of 1 lime, scallions and lime juice. Mix it up, season and set it aside.

In a large bowl mix cooked quinoa and pico de gallo. Add a glug of olive oil and season to taste.

Trim the zucchini ends and cut them in half lengthwise.

With the help of a melon scoop, scoop the flesh out of the zucchini (you can add it to the quinoa filling or in salads).

Fill the zucchini boats with the quinoa mix, and arrange them on the prepared baking tray.

Sprinkle with mozzarella cubes on top and a drizzle with little extra-virgin olive oil.

Bake in the oven for about 10 minutes, until the cheese is melted and the zucchini are slightly crispy.

Allow the zucchini boats to cool for 5-10 minutes then top them with fresh basil and serve. Store leftovers in an airtight container for up to 2 days.