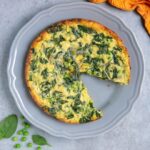 Italian Frittata With Spinach and Peas
Italian Frittata with Spinach and Peas is the perfect, easy and quick meal to feed your family on busy days – Ready in just 20 minutes and only 6 simple ingredients required!

Print Recipe
3

tbsp

extra-virgin olive oil

1

small

red onion

finely chopped

150

gr

baby spinach leaves

6

free-range large eggs

2

tbsp

Parmigiano Reggiano (parmesan cheese)

finely grated

150

gr

frozen or fresh peas

Sea salt and freshly cracked black pepper
Heat a 6-inch (16 cm) skillet over medium heat, and drizzle evenly with 2 tablespoons of extra-virgin olive oil. Fold in the finely chopped onion, followed by the spinach leaves and cook with the lid on for about 2-3 minutes, stirring occasionally, then season with salt and black pepper to taste.

In a medium-sized bowl, beat the eggs together with the Parmigiano Reggiano cheese.

Fold the cooked spinach and frozen/fresh peas into the egg and cheese mixture, and give it a quick mix, then season with sea salt and freshly cracked black pepper.

Return the skillet over medium-low heat, and drizzle with the remaining 1 tablespoon of extra-virgin olive oil. Pour in the frittata mixture, cover the skillet with a lid and cook for 10 minutes, gently shaking the pan every now and then.

When the surface of the frittata looks cooked through, the frittata is almost ready. To give your frittata that golden colour, you can transfer the skillet (in this case, make sure you're using a cast iron skillet) into a hot oven and broil for 2 minutes.


Alternatively, you can go the traditional route, and flip the frittata. Slide a spatula beneath the frittata to separate it from the skillet, then place a plate with the same diameter of the frittata, on top of the frittata, and flip the frittata onto the plate. Slide the frittata back into the skillet, and cook without the lid, for a further 2 minutes, then remove from the heat.

Carefully slide the frittata onto a serving plate and serve nicely hot with your favorite salad or sides.