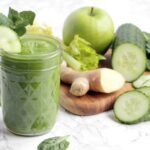 Morning Green Juice
This vitamin-packed refreshing green juice is loaded with nutrients, and naturally dairy-free, vegan and gluten-free. A great energy boost to start your day at the best!
Print Recipe
Green Juice in a juicer recipe:
Green Juice in a blender recipe:
Put celery, cucumber, apple, ginger and half a glass of water into your blender, then pulse until liquefied. Add the spinach and mint leaves and pulse until liquefied. Pour into a glass and serve.