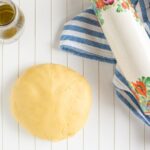 Italian Olive Oil Shortcrust Pastry (Dairy-free)
Soft, crumbly and made without butter, this magic 5-ingredient Italian Olive Oil Shortcrust Pastry is a light dairy-free alternative to the classic version.
Print Recipe
Place the flour in a mixing bowl and make a small hole in the center. Beat in the eggs, lemon zest and sugar, then add the extra-virgin olive oil, salt and bring together with a wooden spoon into a dough.

Alternatively place the ingredients -following the same order- into an electric mixer, and mix the dough for about 2-3 min or until comes together.

Transfer the dough to a work surface and continue to work with your hands until you have a smooth even dough. Flatten into a thick disc, cover with cling film and chill for 30 min.

Use this Italian olive oil shortcrust pastry as you would use the traditional one, to make tart crusts, simple cookies, or pies.

For later use, simply wrap the pastry with cling film and freeze for up to 1 month.