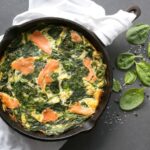 Crustless Salmon and Spinach Quiche
This Crustless Salmon and Spinach Quiche makes a quick, comforting no-fuss meal - Ready in 30 min, it's a great gluten-free breakfast, lunch or dinner option.
Print Recipe
Preheat the oven to 180°C.

Melt the butter in a cast iron or ovenproof skillet over medium heat. Add the extra virgin olive oil, followed by the sliced onions and garlic. Cook the onions over medium-low heat until golden-brown, and starting to caramelize. Add a splash of water if you see they're browning too much.

Remove the pan from the heat and distribute evenly the onions across the bottom.

In a bowl, with the help of a fork beat the eggs lightly with the milk, crème fraîche, parmesan cheese, 1/2 teaspoon of sea salt, and 1/2 teaspoon of pepper (or to taste). Fold in the spinach leaves and chopped salmon and lightly combine all the ingredients.

Pour the mixture over the onions, distributing evenly the spinach and salmon.

Transfer the crustless quiche to the oven and bake for 20-30 minutes. The quiche will be fully cooked when both edges and surface are lightly brown.