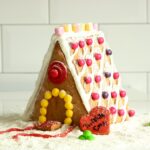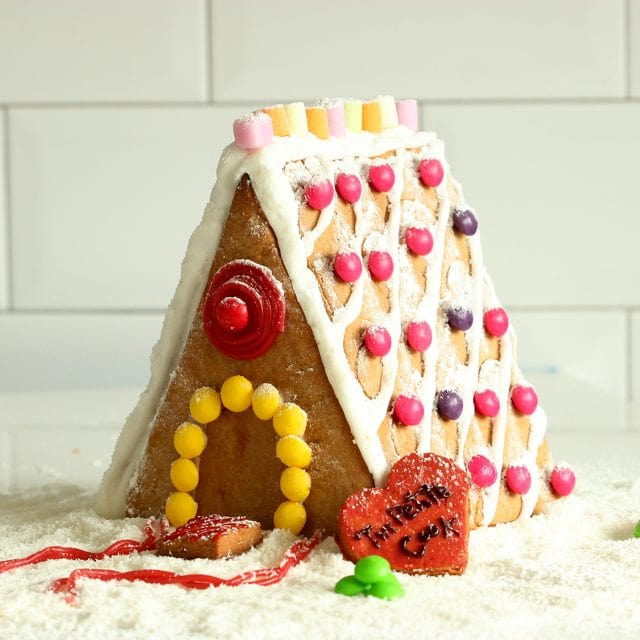 The Petite Gingerbread House
Total Time:
3
hours
12
minutes
Making your own homemade Gingerbread House couldn't be any easier!
Print Recipe
Melt the butter, sugar and syrup in a pan, over low heat.

Mix the flour, bicarbonate of soda and ground ginger into a large bowl, then stir in the butter mixture to make a stiff dough.

Divide the dough into 2-3 balls and refrigerate for half an hour.

Roll the dough between 2 sheets of parchment paper, arrange the template on top ad cut the house out of it.

Arrange on a baking tray covered with parchment paper. Bake in a preheated oven to 350F/180C for about 12 min, or until lightly brown.

Allow the cookies to cool, in the meantime prepare the icing.

Put the egg whites in a large bowl, sift in the icing sugar, then stir to make a thick, smooth icing. Spoon into a piping bag with a medium nozzle. Pipe generous snakes of icing along the wall edges, one by one, to join the walls together. Use a small bowl to support the walls from the inside, then allow to dry, ideally for a few hours.

Once the gingerbread house is set, decorate with your favorite sweets, marshmallows, chocolate.Use the remaining icing to glue your decorations on top.

Use coconut to make the snow base and arrange the house on top.

Merry Christmas!