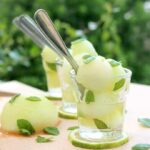 Melon and Tequila Cups
Boozy, fruity and refreshing, these Melon and Tequila Cups are dressed to impress! An unbelievable flavor combination served in pretty cups for the easiest ever summer dessert!
Print Recipe
1

honeydew melon

3

tablespoon

cold high-quality tequila

juice and zest of 1 lime

3

tablespoon

organic honey

a pinch of sea salt flakes

Few mint sprigs

chopped (or basil) + extra to decorate
Cut the honeydew melon in two and remove the seeds.

With the help of an ice cream scooper (or melon baller), carve the melon and form neat balls.

In a large bowl, mix the tequila, lime zest and juice, honey and salt together. If the mix is too sour, add in a little more honey.

Fold in the melon balls and mix all ingredients together.

Cover and chill for about ½ hour.

Serve ⅔ melon balls per person with some of the juice. Decorate with extra mint leaves and serve immediately.