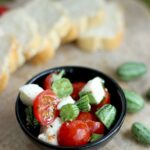 Caprese Salad With Micro Melons
Print Recipe
Cut tomatoes and micro melons into halves and add them into a bowl.

Cut the mozzarella in small cubes and fold into the bowl with the other ingredients.

Season with salt and pepper to taste and drizzle with extravirgin olive oil. Tear the basil leaves up and sprinkle them over before serving.

Serve with toasted bread for some delicious bruschettas or in a plate as a salad. Enjoy!