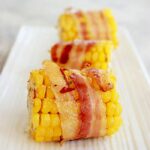 Bacon Wrapped Corn On The Cob
Simple and easy, these yummy bacon wrapped corn are ready in less than 15 min, and they promise to be the star of your next BBQ!
Print Recipe
2

ears corn on the cob

husks and silk removed

6

thin smoked bacon strips

salt & pepper to taste
Bring a large pot of cold water to a boil.

Cut each corn into 3 large chunks. Fold them into the pan and bring the water back to a boil on high heat (covered or not).

It will take approximately 3 to 4 minutes to bring the water back to a boil.

Once water comes back to a boil, cook for 2 more mins, then remove the corn chunks from the water.

Pat the corn dry and season a little, and wrap a bacon strip around each one. If needed, secure the bacon to the corn with a toothpick.

Transfer the corn on baking tray covered with foil.

Grill in a preheated oven on grill setting at 400F/200C for abut 5 mins, or until bacon is crisp and golden-brown.