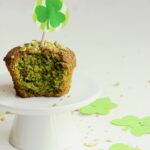 Matcha Green Tea & Pistachio Muffins
Matcha Green Tea & Pistachio Muffins - The best way to celebrate St Patrick's day is adding a touch of green on your daily muffin income!
Print Recipe
Cream the butter and sugar until light and fluffy, then slowly add the eggs with a little flour.

Fold in the remaining flour, banana, matcha tea, pistachio, orange zest, a pinch of salt and baking powder.

Pour the mixture into a prepared muffin tin, filling almost to the top each mould. Top each muffin with extra chopped pistachio and a pinch of caster sugar.

Bake for about 5 mins at 425F/200C, then lower to 360F/180C and continue to bake for 10 mins, or until a skewer comes out clean.

Cool in the tin for 10 mins, then remove to a wire rack and serve. Enjoy!