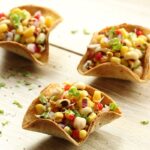 Mexican Taco Bowls with Mixed Bean Salsa
These Mexican Taco Bowls with Mixed Bean Salsa are a fantastic snack for a cozy movie night on the sofa, or even better, for a Friday night party!
Print Recipe
With the help of a large food ring, cut the tortillas into circles.

Heat the tortillas until warm. Turn a muffin tin upside down and spray with cooking spray oil.

Place the circle on the muffin tin. Bake in a preheated oven to 320F/160C until golden and crisp, about 15 mins.

In the meantime, in a large bowl combine all the ingredients to make the salsa. Season well with salt and pepper and refrigerate until ready to serve.

When ready, remove the taco bowls from the oven and allow to cool down.

Serve the mixed bean salsa into the taco bowls and either keep it natural, or drizzle with your favorite sauce. Enjoy!