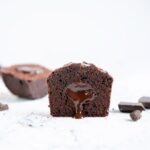 Vegan Chocolate Muffins
These one-bowl Vegan Chocolate Muffins are ready in just 25 minutes and only require 7 simple everyday ingredients!
Print Recipe
200

g

all-purpose flour

2

tsp

baking powder

a pinch of sea salt flakes

(optional)

40

g

cocoa powder

(about 6 tsp)

40

ml

light olive oil

110

g

brown sugar

200

ml

water

30

g

vegan dark chocolate

chopped into 6 small chunks
Preheat oven to 180°C / 360°F and arrange a baking rack into the middle shelf.

Sift the flour and baking powder into a bowl, then add a pinch of sea salt if you like.

Sift the cocoa powder into the bowl with the flour.

Add in the brown sugar, the pour the olive oil into the bowl.

Mix all the ingredients gently with a whisk, then slowly incorporate the water and continue to mix until all the ingredients are just combined and your have a smooth lump-free batter.

Divide the batter among a muffin tin greased with a little extra oil (I don't use paper liners, but if you do, you can skip the greasing step), filling each mould by half. Place a small chunk of vegan dark chocolate into the center of each mould, then pour the remaining batter on top until filling 3/4 of the mould. You can also omit the chocolate chunks and simply fill 3/4 of each mould with the batter.

Bake the vegan chocolate muffins in the oven for about 20 minutes, or until a toothpick inserted into the center comes out clean.

Remove the muffin tin from the oven, allow to cool slightly, then remove the muffins and serve at room temperature. Store leftovers into an airtight container for up to 2 days.