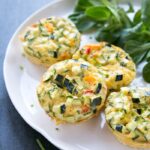 Veggie Omelet Muffins
These healthy protein-packed Veggie Omelet Muffins can be easily made in advance and are naturally gluten-free and vegetarian – The perfect healthy bite-sized breakfast for busy mornings!
Print Recipe
Preheat oven to 180C/360F and arrange a baking tray in the middle shelf.

Spray with oil a muffin tin and set aside.

In a large bowl, whisk together the eggs, then whisk in the milk and season with salt and cayenne pepper to taste.

Fold in chopped zucchini, bell peppers and onion and mix until combined.

Pour 1/2 the omelet mixture into each muffin cup.

Bake in the oven for about 15 min or until crispy on the sides and golden on top.

Remove from the oven, allow to cool before removing the muffins from the cups, then serve.