Last year in November, I had the amazing opportunity of visiting Doha, the capital city of Qatar, located on the east coast of the Qatar Peninsula in the Persian Gulf.
Everything started back in April, when Qatar Airways organized a live cooking challenge in London. We had to remake a Qatar-inspired dish created by Chef Theo Randall, and to my surprise, I actually won the challenge! The top prize was a 3-day holiday in Doha, courtesy of Qatar Airways and Qatar Tourism Board.
Qatar is one of the world's richest countries, and Doha of course is exceptionally luxurious, like none of the cities I've ever been. I've never ventured in the Arabian gulf before, so I was really excited to tour the fast-growing metropolis.
Based on all the fun experiences I was able to enjoy (including loads of foodie ones!), I made this Doha mini guide with all my top tips to make the most of your next holiday in Doha.
Top Things To Do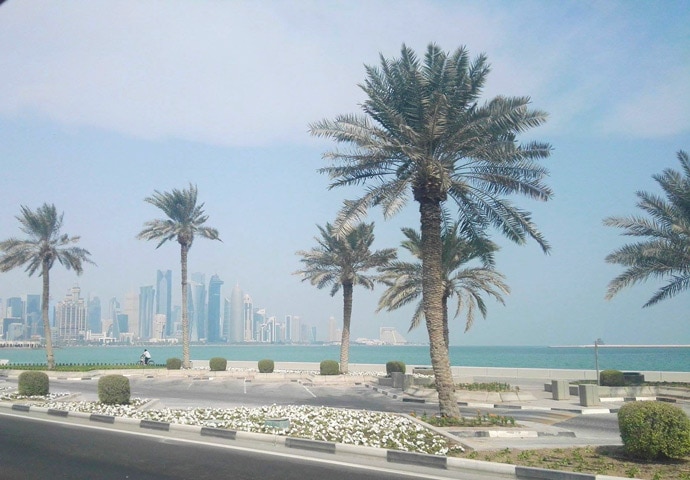 For a glimpse of tradition, head down to Souq Waqif, the historic heart of Doha. Here, you'll find the most authentic Arab shops (especially if you like jewelry and fabrics), restaurants and bars. If you're a foodie like me, make sure to head over the Spice Market and sample a traditional coffee.
The Museum of Islamic Art is one of Qatar's most iconic buildings, and definitely worth a visit. The unique geometric architecture designed by architect IM Pei hosts the world's finest collection of Islamic art and culture.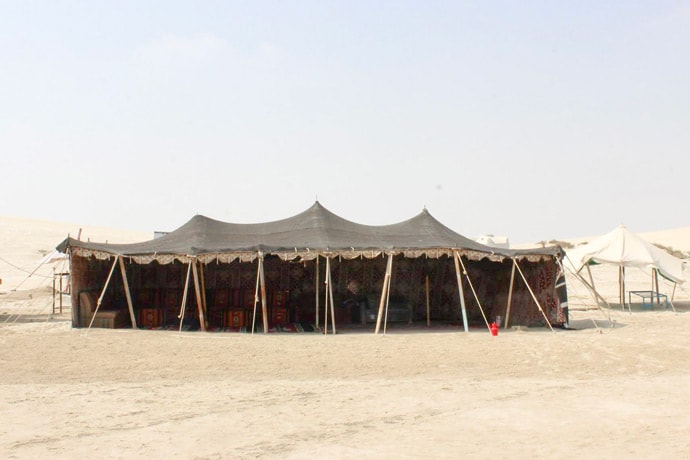 If you're looking for a bit of adventure, the desert is the place to go to. A breathtakingly beautiful area surrounded by endless golden sand dunes, offering a stunning view of the Inland Sea. Get around on a camel for a tranquil stroll, or experience a heart-racing ride over the dunes on one of the 4X4 vehicles.
For a bit of extra leisure time, visit The Pearl of Qatar, built on an artificial island, it's a small city itself. Packed with luxury stores, attractions and amazing hotels & villas, you're sure to have a great time here.
Top Places to Eat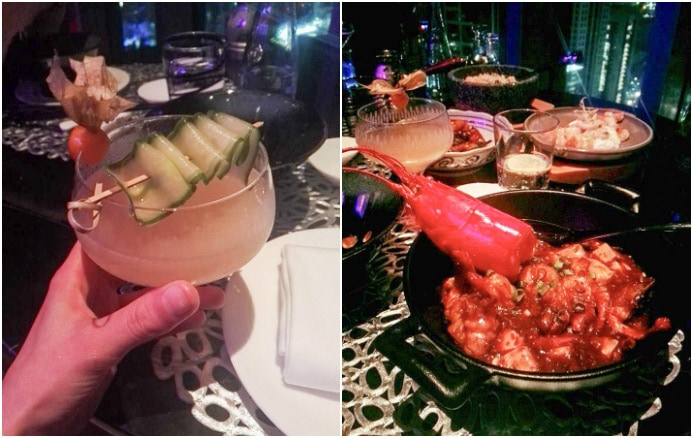 Shangai Club at Shangri-la offers an unique chinese dining experience. In fact, it was of the best meals I've ever had. Highlights from the extensive menu include their famous dim sums, hand pulled noodles with Sichuan braised beef, Shangai Club Lobster Mapu Tofu, and of course their signature Pecking duck. The mind-blowing vista of Doha from the restaurant and the delicious and creative cocktails are a top bonus.
Mykonos at Intercontinental offers great laid-back greek-style lunch or less formal dinner options. The menu is filled with staples of Greek cuisine, from traditional moussaka and chicken souvlaki, to grilled tiger prawns and lamb chops.
Sabai Thai at Westin is a fantastic option if you want to sample authentic Thai flavours in Doha. Som Thai Tam ( shredded green papaya salad) is one of the menu must-tries, together with Pla Grapong Ob Smoonprai (Baked marinated whole sea bass and Thai herbs), and you will certainly not regret ordering one of the curries either. The vibrant food is gracefully complemented by an exciting wine list and unique, delightful decor.
Top Place to Stay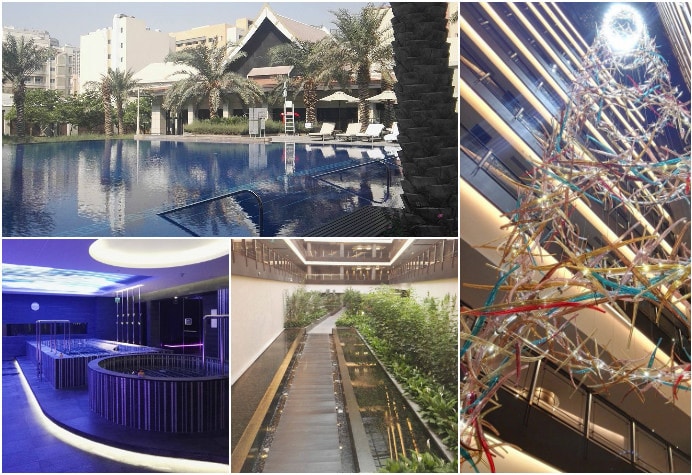 At The Westin Hotel & Spa you're sure to get a first class experience, whether your stay in Doha is for leisure or work. Located in the heart of Doha, the hotel amenities include 6 bars and restaurants and a poolside cafe. There's also an upscale spa, a gym, indoor and outdoor pools, plus squash courts.You'll be able to find total relaxation at The Heavenly Spa, which offers sauna, jacuzzi and an array of treatments dedicated entirely to well-being. My favorite part of staying at The Westin was the very caring and committed staff, here customer focus is always a priority. One of the things I enjoyed the most among others, was the hotel SuperFoodsRX™ menu designed to treat guests to exceptional food combinations rich in nutrients and flavour.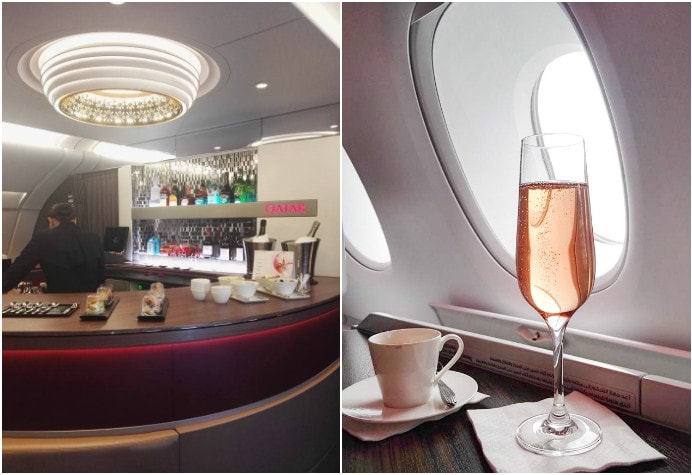 Qatar Airways flies from London Heathrow, Manchester, Birmingham and Edinburgh to Doha with return fares starting from £557 in Economy Class and £3,496 in Business Class.
To make the most of your flight I can only recommend to upgrade. If you're flying on Qatar Airways A380 business class, be sure to head to the Lounge bar and relax on the comfortable sofas with a glass of champagne , or sample one of their creative cocktails and canapes.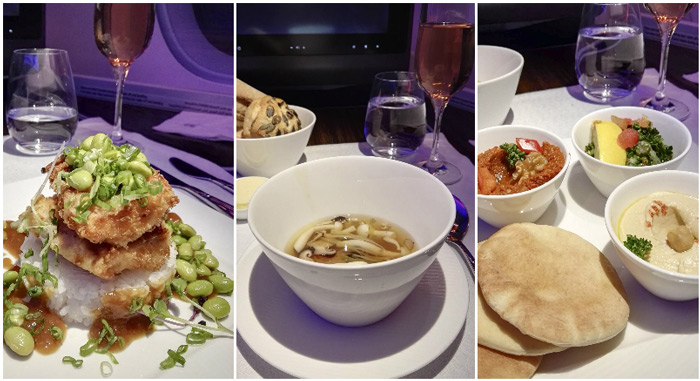 I had a fantastic experience on board, the cabin crew was friendly and super attentive, making the whole journey really relaxing. Beside the incredibly comfortable seat with plenty of leg room, the food of course was my favorite part. The business menu offers traditional meals from the Middle Eastern cuisine such as the Arabic mezze, and international fine dining dishes, including exclusive options created by world-famous michelin-starred Chef Nobu Matsuhisa. Make sure to get a taste of their impressive selection of Champagne and vintage red and white wines, or sample one of and their alcohol-free cocktails.
This holiday was the top prize I won at a cooking competition hosted by Qatar Airways and Qatar Tourism Authority. All views here are my own. For more information on Qatar: www.visitQatar.qa. For flights information visit the Qatar Airways website.