These easy Peach Muffins make a great breakfast option! Ready in less than 30 minutes and made with just few simple ingredients.
---
There's nothing better than waking up to the warm smell of freshly baked muffins, right?
These peach muffins smell incredible but they taste even better.
They're really soft and sweet with just a hint of cinnamon & ginger coming through, and the homemade buttermilk adds extra tenderness.
Loaded with healthy goodness, they definitely promise to be a hit at the breakfast table!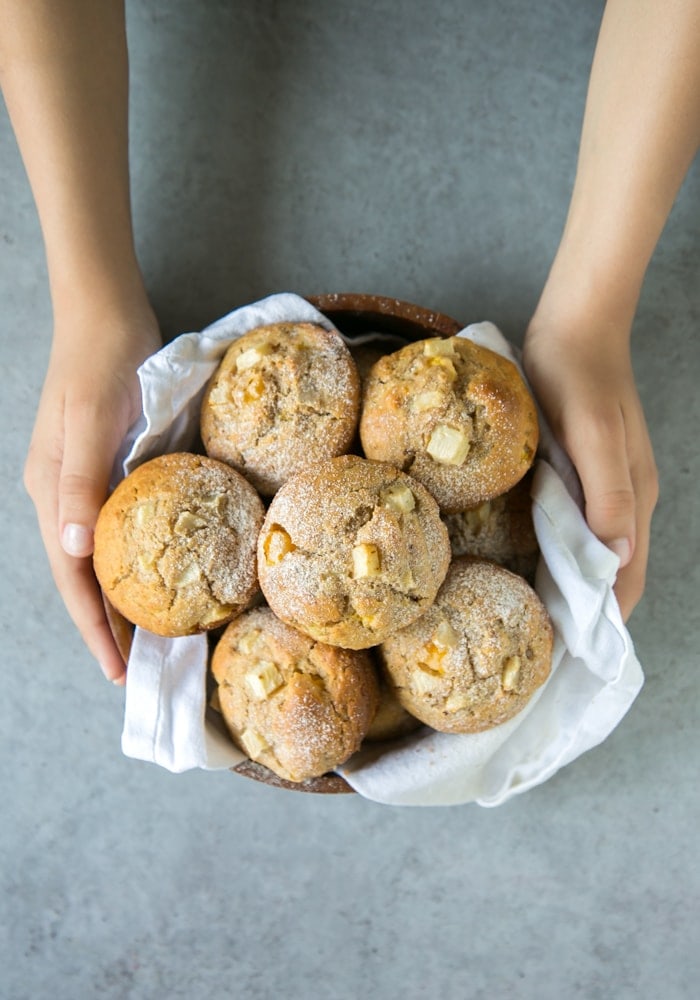 They have quickly become the latest family obsession.
I've been baking a batch every weekend for weeks now, and none seems to get bored - au contrarie.
My toddler gets super excited every time is around the kitchen and there's a muffin in sight!
This easy muffin recipe takes just 10 minutes to prepare. The biggest effort you'll make is measuring up the flour. REALLY.
Muffins Ingredients
Ready in 25 minutes from bowl to table, these easy fruit muffins require only a handful of simple everyday ingredients:
fresh peaches
a mix of organic white and whole wheat flour
1 egg
honey
extra-virgin olive oil
homemade buttermilk
orange zest
baking powder
a pinch of cinnamon & ginger (optional)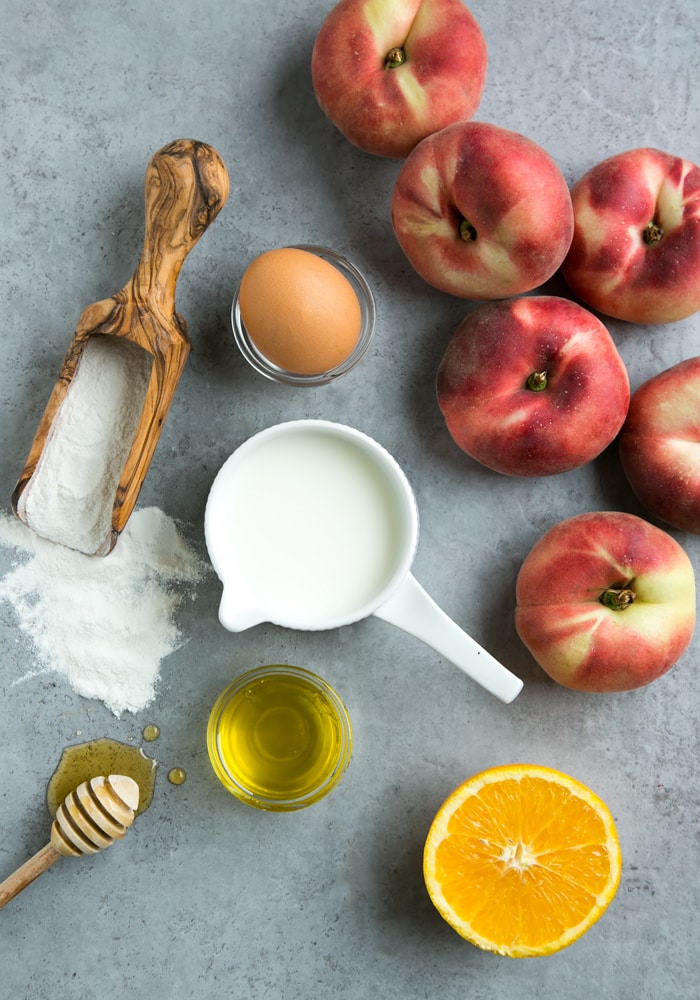 For the peaches, go for your favourite variety. I've found a batch of juicy white flat peaches at the farmers market, so that's what I used here.
Luscious, sweet white peaches have a delicate flavour, making them the perfect fruit for these healthy peach muffins.
I wanted my muffins SUPER peachy, so I also added an extra yellow peach.
The combo is perfect, the balanced sweetness and the more compact texture coming from the yellow peach give both a delicious contrast.
BUT, your peach muffins will totally taste amazing if you use white peaches only, or just yellow peaches.
I'm pretty confident you can use nectarines too here, just choose them as ripe as you can.
I also used a mix of two organic flours, white and whole wheat.
I also made these muffins with rice flour, and they had a somehow more cakey texture, but they tasted just as great.
The extra spices give a lovely pop of flavour to these peach muffins, but are totally optional.
So, if you don't have any good reason to omit them, I encourage you to give it a go.
Make Your Own Buttermilk
For the buttermilk, I'm definitely old school, so I make my own. It's so convenient!
If you've been to my blog before, you know how much I love baking with it.
Buttermilk adds the same moisture to your muffin batter as extra butter or oil but for a fraction of the calories.
Plus, it's totally easy to make at home in 5 minutes.
All you only need 2 ingredients: fresh milk & lemon juice.
Mix then together, let the mixture sit for a few minutes, and before you know it your homemade buttermilk is ready.
How To Make Peach Muffins

Once you have gathered all the ingredients, it's incredibly quick to assemble your muffins.
Mix all the dry ingredients together in a bowl, mix the wet ingredients in another bowl, then mix them together until JUST combined.
Never ever overmix your batter if you don't want to end up with dense, really dense muffins.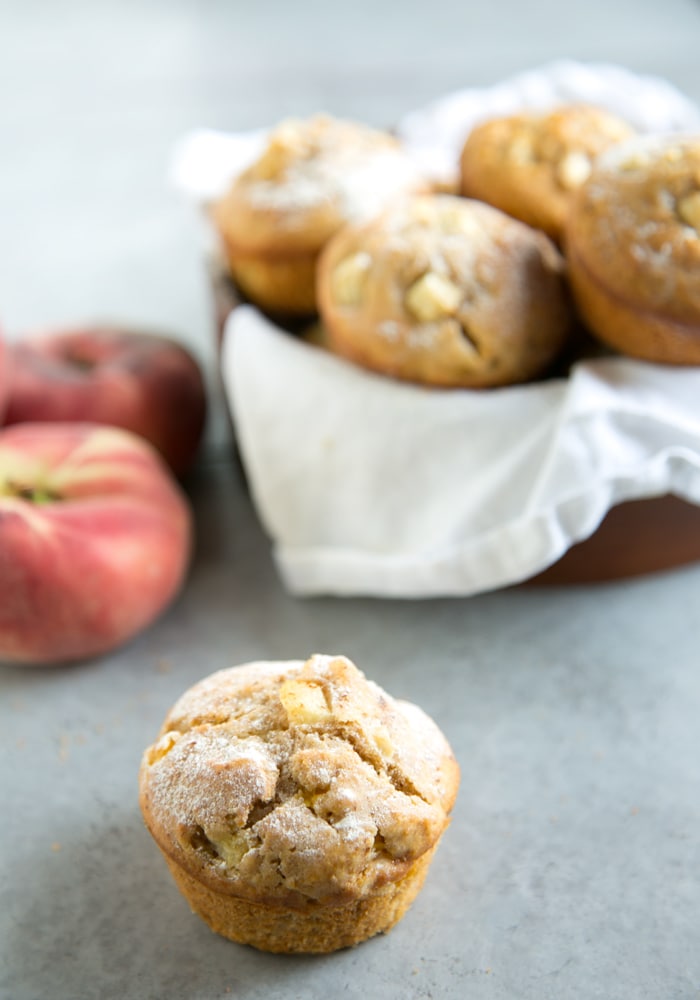 Divide the batter among your muffin tin, and they're ready to hit the oven.
About 15 minutes later, you'll be sitting at the breakfast table biting on a warm, delicious peach muffin.
Tips for the best muffins
Pat dry the chopped peach on kitchen paper, to absorb excess moisture
Add chopped peaches into the dry ingredients, this will prevent them from sinking to the bottom
Do not over mix your batter, or you'll end up with dense, dry muffins
Let me know what's your favourite fruit muffin in the comments below, I can't wait to try different flavour combos.
Happy baking friends!
DID YOU MAKE THIS RECIPE?
Please let me know how you liked it! Leave a comment below and share a picture on Instagram with the hashtag #thepetitecook! Looking at your pictures always makes me smile *and super hungry*!
Recipe
Easy Peach Muffins
Sweet, luscious and healthy Peach Muffins make a great and quick grab-and-go breakfast option! Ready in less than 30 minutes, and only simple ingredients required.
Ingredients
150

g

organic white all purpose flour

,

(1 cup)

100

g

organic whole wheat flour

,

(⅞ cup)

2

teaspoons

baking powder

a generous pinch of sea salt

⅛

teaspoon

ginger powder

⅛

teaspoon

cinnamon

3

1-½ cup large peaches, chopped (I used 2 large white peaches and 1 yellow peach)

240

ml

buttermilk

,

(1 cup) see notes for homemade a2 Milk™ buttermilk

4

tablespoons

extra-virgin olive oil

1

large egg

4

tablespoons

organic honey

zest of ½ orange

1

teaspoon

almond extract

,

optional

spray oil
Instructions
Preheat oven to 220 C / 450 F, and arrange a baking tray into the middle shelf. Generously spray with oil a muffin tin and set aside.

In a large bowl, whisk together white flour, whole wheat flour, baking powder, salt, cinnamon & ginger powder (if using).

Pat the chopped peach dry on kitchen paper, then add into the flour mixture bowl and gently coat.

In another bowl, whisk together buttermilk, olive oil, egg, honey and orange zest until combined.

Pour wet ingredients into the dry ingredients and stir until just combined.

Using an ice cream scoop, pour a generous scoop of muffin batter among each muffin tin cup.

Bake in the oven for 5 minutes, then reduce the temperature to 200 C / 400 F and continue to bake for a further 10 minutes, until golden brown. To check if the muffins are ready, insert a toothpick in the center, if it comes out clean they're ready.

Remove from the oven and eat warm. Store in an airtight container in the fridge for up to 2 days.
Notes
* To make homemade buttermilk: In a large bowl place 250 ml of a2 Milk™ and mix in 1 tablespoon of fresh lemon juice. Allow to sit for 5 min and use as needed.
The information shown is an estimate provided by an online nutrition calculator. It should not be considered a substitute for a professional nutritionist's advice.