Skip the grocery store and start making homemade mayonnaise! It is surprisingly quick & easy to make at home in just 5 minutes!
Making your own mayonnaise is not only very easy, it has a more genuine and overall better flavor than store-bought version. Once you taste it, you'll think twice about making a trip to the supermarket.
It takes less than 5 min to make a basic mayo and a bunch of simple ingredients you most probably have already in the kitchen.
Ingredients:
2 large egg yolks
1 tsp white vinegar
A pinch of salt
A pinch of white/black pepper
2 tbsp lemon juice
7 fl oz (200ml) vegetable oil
Place the egg yolks in a large bowl or in a high container ( depending if you use an immersion blender or a regular egg beater). Add salt & pepper and vinegar.
Beat the egg yolks, then start adding the oil first drop by drop.
While whisking, continue to add oil in a slow but steady stream, until is fully incorporated and you have a thick sauce. You may need to add more oil, so have a spare 2 fl oz on hand.
While whisking, finally add the lemon juice and beat in until combined. Adjust with salt and pepper to taste.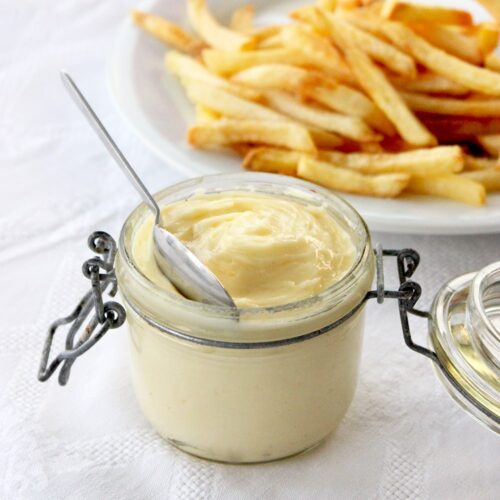 Mayonnaise can be stored in the fridge in an airtight container for a couple of days; you can use it for delicious deviled eggs, glorious dressings or simple as it is as accompaniment of your favorite french fries!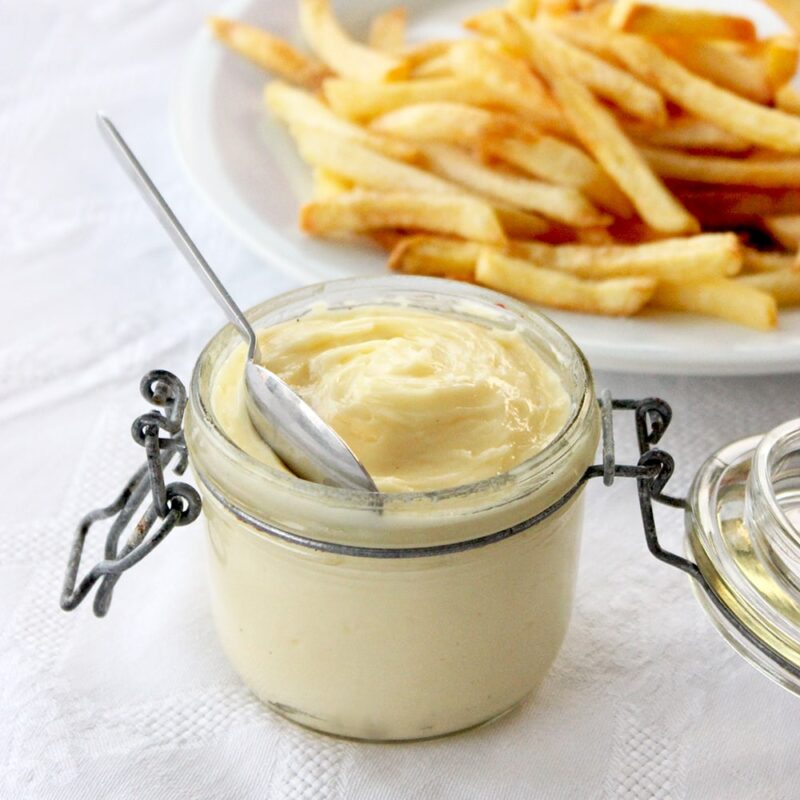 Print Recipe
How to Make Easy Homemade Mayonnaise
Ingredients
2

large egg yolks

1

tsp

white vinegar

A pinch of salt

A pinch of white/black pepper

2

tbsp

lemon juice

7

fl oz

200ml vegetable oil
Instructions
Place the egg yolks in a large bowl or in a high container ( depending if you use an immersion blender or a regular egg beater). Add salt & pepper and vinegar.

Beat the egg yolks, then start adding the oil first drop by drop.While whisking, continue to add oil in a slow but steady stream, until is fully incorporated and you have a thick sauce. You may need to add more oil, so have a spare 2 fl oz on hand.

While whisking, add the lemon juice and whisk until combined. Adjust with salt and pepper to taste. Use straight away or refrigerate until ready to serve.

Mayonnaise can be stored in the fridge in an airtight container for a couple of days