There's no pasta more iconic than Spaghetti with Meatballs - This Italian comfort food is an all-time favorite among kids and grown-ups!
Meatballs are a staple dish of Italian cuisine, we eat them simply stir-fried in olive oil or in a mouth-watering simple tomato sauce, often always accompanied by pasta.
Growing up, when my mum was making spaghetti with meatballs, it was always a feast around the table. I can tell you she makes some of the best meatballs in the world. Luckily, I had the chance to witness her making this recipe thousands times, and during the years I've practiced the art of making meatballs.
This healthy version of Italian Spaghetti with meatballs is lighter than the traditional one, so that you can enjoy a plate of comfort food without feeling guilty at all. This recipe is also quicker since I love to cook the tomato sauce for a shorter time than usual, to better preserve at the best the refreshing flavors of tomatoes and basil. The meatballs are also smaller not only they cook faster this way, but it's also a great trick to keep an eye on portion-sizes.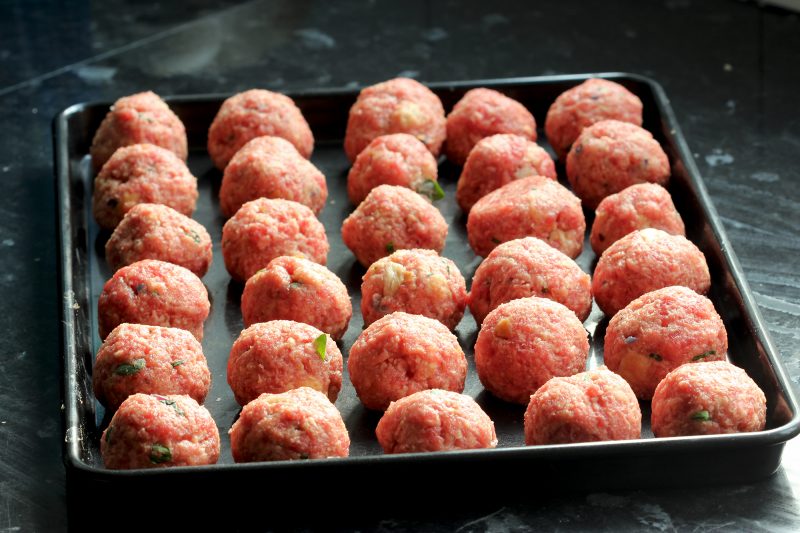 If you have time, you can also make homemade fresh pasta. I guarantee it's an experience worth trying. It's the perfect treat for a Sunday meal or if you want to really impress your guests. Once you try it, you'll soon see that it's not difficult at all.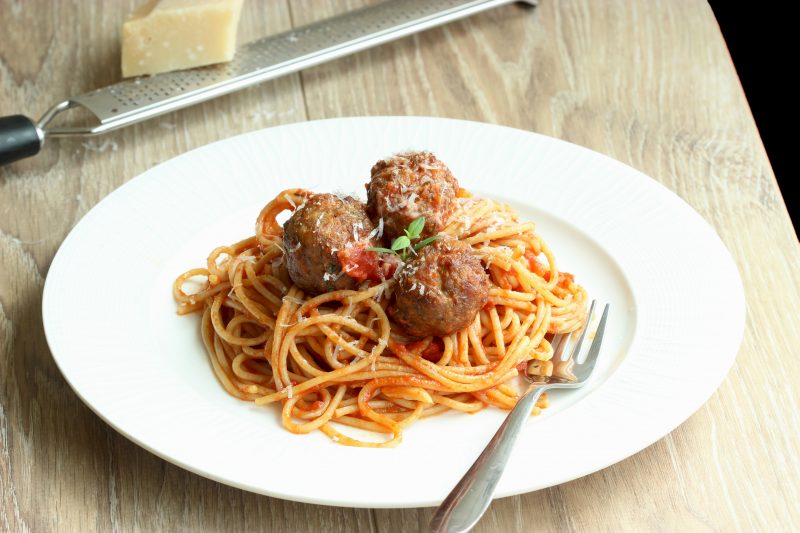 Another favorite way to eat meatballs is simply as they are, screaming hot and utterly tasty. One of my favorite versions comes from my foodie friend and Masterchef winner Luca Manfè. Check out his recipe for the best meatballs in the world, and they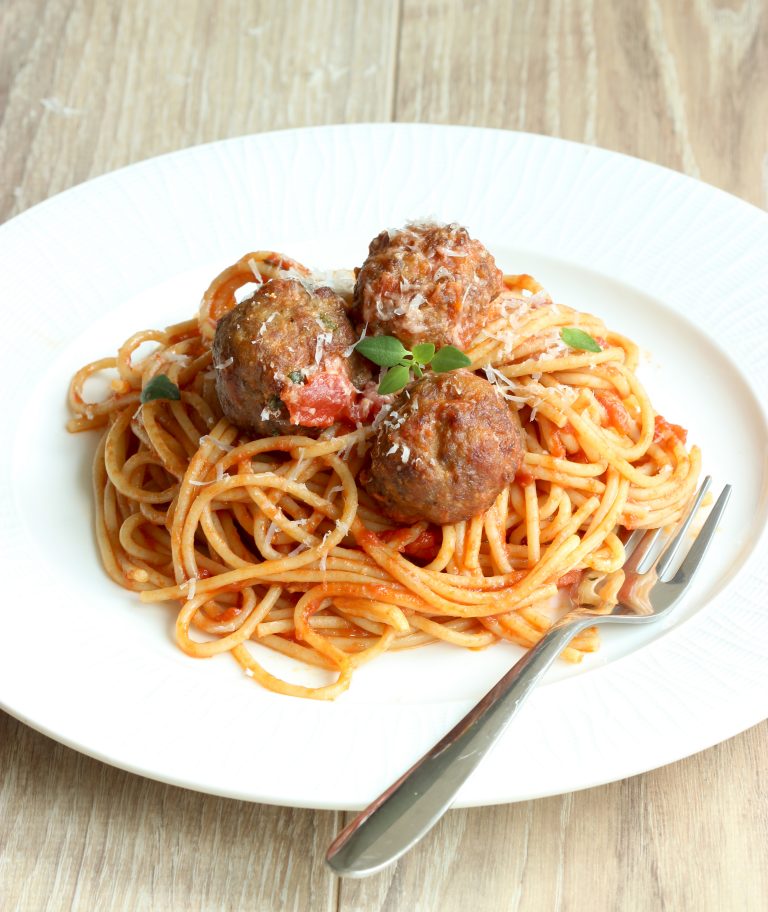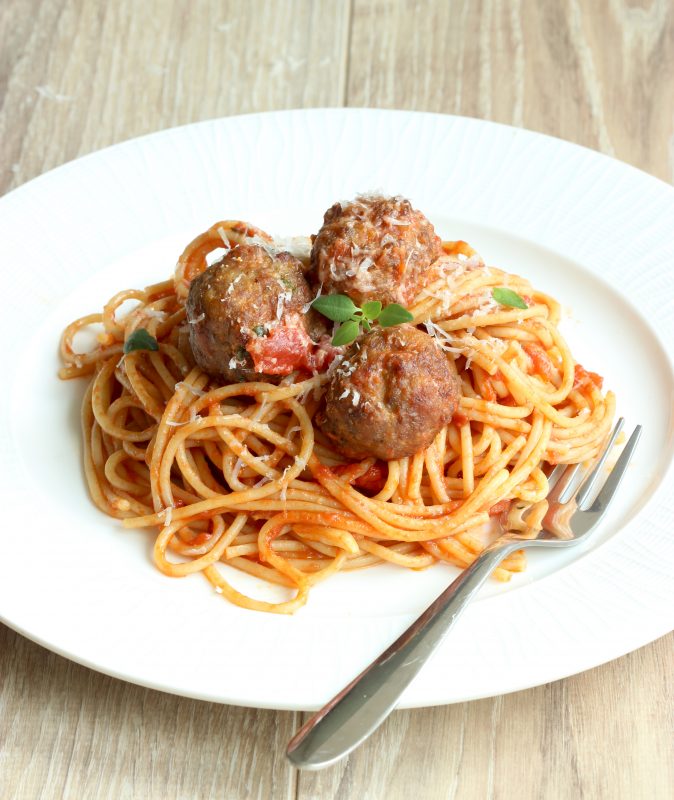 Recipe
Healthy Italian Spaghetti with Meatballs
Ingredients
For the meatballs:
1

lb.

ground lean beef

1

ciabatta roll

Milk

½

cup

/100gr grated Parmesan

1

small minced white onion

1

tablespoon

fresh thyme leaves

1

egg

2

yolks

2

tablespoon

finely chopped basil

1 ½

teaspoon

lemon zest

2

teaspoon

salt

1

teaspoon

black pepper

2

tablespoon

Extravirgin Olive Oil
For the tomato sauce
2

cans peeled tomatoes

,

chopped, seeds and juice discarded

a bunch of basil leaves

1

bay leave

1

garlic clove

,

gently crushed

2

tbp extravirgin olive oil
Instructions
For the meatballs, take the ciabatta roll and cut it in small cubes. Put in a bowl, cover it with milk and let soak for a while.

In a large bowl mix all the remaining ingredients beside the olive oil.

Grab the bread and squeeze it to release most of the milk. Then add it to the bowl and mix all together until all ingredients are combined.

Form the meatballs. Use around 2oz of meat. Put the meat in the palm of my hand, make it round and then press it to make it a bit flat.

Take a very large frying pan. Add the olive oil and get it screaming hot. Add the meatballs and don't touch them for at least 3 minutes. You want a nice crust before turning them otherwise they'll fall apart.

Turn them on the other side and let cook for 3 minutes. Use the juice that is coming out from the meat to baste the meatballs When you have seared both sides, turn the heat off. They will continue to cook with the sauce.

Meanwhile, prepare the tomato sauce: heat a sauce pan with 2 tablespoon of oil and garlic.

Gently stir-fry the garlic until golden then discard, reduce the heat and add chopped tomatoes and a couple of basil leaves. Season with salt, pepper and a pinch of sugar, and cook for about 10-15 mins.

half-way through cooking time, add the meatballs and finish to cook all the ingredients together.

In the meantime cook the spaghetti in a pot of lightly salted boiling water, for about 8 mins or al dente, according to pasta type.

Drain the pasta and toss into the pan with the meatballs sauce. Stir all together, grate fresh Parmesan cheese on top and serve immediately. Enjoy!
The information shown is an estimate provided by an online nutrition calculator. It should not be considered a substitute for a professional nutritionist's advice.