A few weeks ago, I was lucky enough to be invited to the inaugural voyage of Harmony of the Seas, the biggest cruise of the world.
I have been cruising many times in the past, but let me tell you, it had nothing to do with this. My trip on Royal Caribbean's Harmony of the Seas was truly an unforgettable experience.
The ship is impressively huge. At 1,188 feet long, it's longer than the Eiffel Tower, 5 times bigger than the Titanic, and the 226,963 gross tons makes it the largest cruise ship in the world. Once you get on board, it barely seems to be on a ship at all.
Beautiful, brighten contemporary interiors, a huge radiant indoor park filled with trees and flowers, and as many pools as you can dream about, it would be an understatement to simply call it a "ship", as it definitely resembles more like a floating dream-city.
Foodie Experience
Of course, being the foodie that I am, my mission was to try as many of the 20 restaurants available on board. My first day was entirely dedicated at the exploration and tasting of the endless variety of food the Harmony has to offer. And to be honest, the second day was not different.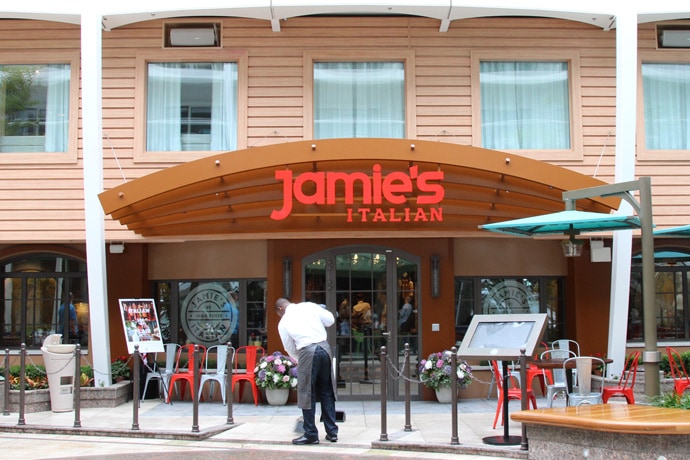 The Central Park hosts some great restaurants, including The Grill, which is specialised in meat, and a Jamie's Italian, where you can always get delicious hearty Italian food.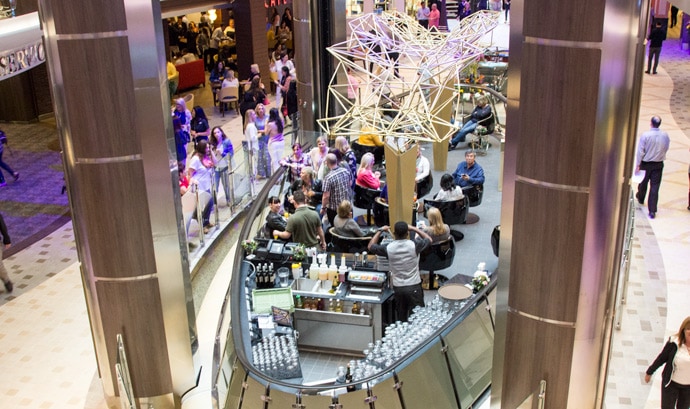 In the park's central piazza, you can hop on board of The Rising Tide Bar – the world's first moving bar at sea – an engineering feat that spans three decks and allows cruisers to enjoy a cocktail as they slowly move between Central Park on deck eight and the Royal Promenade on deck five.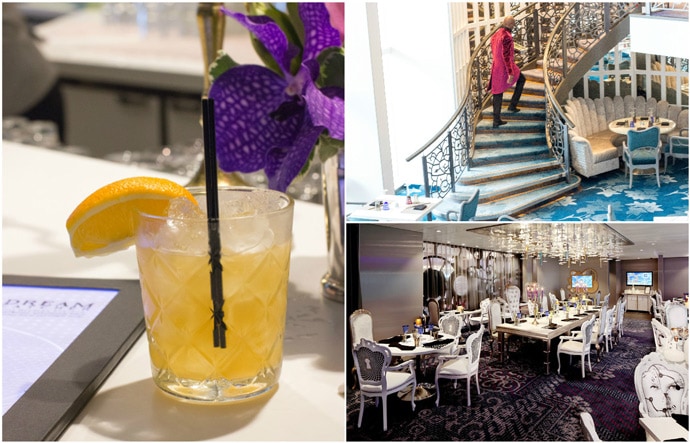 The speciality restaurants (which you need to pay an extra for) include Wonderland Imaginative Cuisine. There wasn't another restaurant I was looking forward to try more than Wonderland. At this avant-garde venue, food becomes a multi-sensory dining experience. The presentation of the dishes in this place is extraordinary, and sure to make your jaw drop. Buffalo Chicken Eggs, Liquid Lobster, Tempura Caviar, Vanishing Noodles and Cuban Pork Shank are just a few of the unique choices available from the À la carte menu. It's worth mentioning that the cocktails are equally delicious, and burst with vibrant unusual flavors.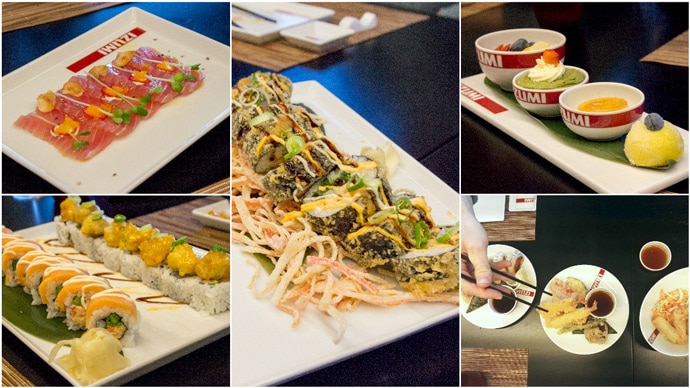 If you're a sushi fan just like me, you'll find your personal Japanese "wonderland" at Izumi. Here you'll enjoy a wide variety of hot and cold appetizers, entrees, desserts and more, all made-to-order with intense flavors, the best responsibly sourced ingredients and impeccable presentation. I was astonished by the quality of the fish, last time I saw such a high-quality salmon (you can easily recognize it by the slightly orang-ish colour, and the lack of white strips of fat) was in Japan, and Izumi made me feel like I was in Tokyo all over again.
The food at Izumi overall left me more than enthusiastic. Some of the highlights from the menu include Tuna Wasabi - tuna sashimi, house ponzu olive oil, wasabi aioli and topped with masago smelt egg, garlic chips and jalapeño pepper; Izumi Spider Roll - tempura soft-shell-crab with avocado, cucumber, sprouts and asparagus. Sprinkled with unagi sushi sauce, sesame seed and masago roe and Truffle Creamy Tempura Lobster Roll- Kanpachi, salmon, asparagus, topped with lobster tempura chunk tossed in house ponzu olive oil and spicy mayo with scallion and truffle oil.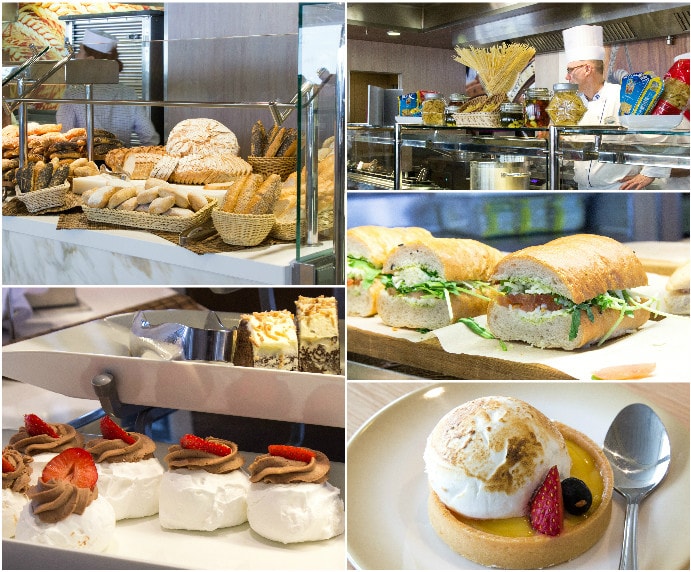 Windjammer is a complimentary buffet restaurant, and is just the right place for breakfast/brunch. With so many options available, you're spoilt for choice here. From freshly prepared pastries, cakes and tarts - I personally had one of the best lemon tarts of my life, healthy salad bar stations and infinite meal options from all around the world, the Windjammer has it all. I really loved the pasta station, were chefs prepare deliciously fresh pasta with exciting ingredient combinations.
Welcome to The Bionic Bar, where robots make you Cosmopolitans, Margaritas and anything else you fancy!

Posted by The Petite Cook on Friday, May 20, 2016
If all of the above wasn't already enough to WOW you, then head to the futuristic Bionic Bar.
A technology-forward venue complete with two robotic bartenders that shake, muddle and mix a wide variety of drinks that you order through a gigantic Ipad. It's a bit of a novelty, but it's absolutely fun to watch!
Things to Do
Besides the many foodie experiences you can enjoy on board, there are loads of other activities that will keep you busy during your holiday.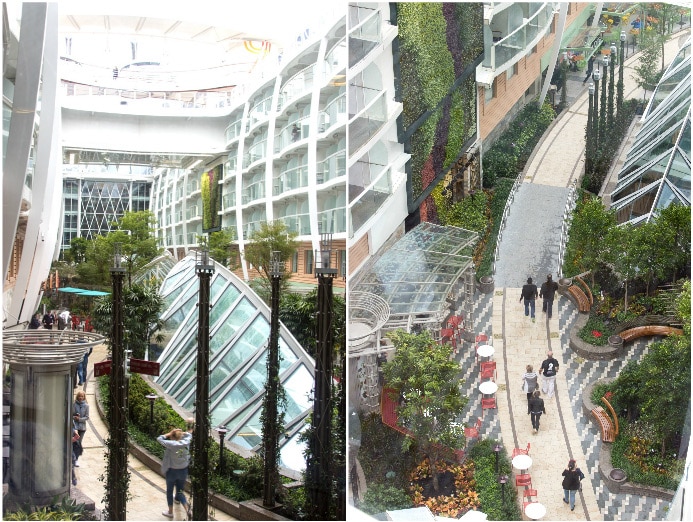 A long stroll around the Central Park is a must. With 12,000 lush, green trees and seasonal flowers, this exquisite public gathering place features serene pathways, and provides quite places for reading and relaxing, as well as dining and retail outlets.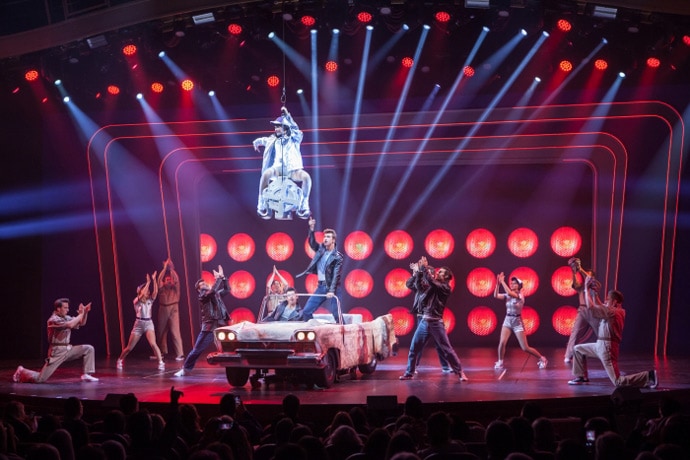 The famous Broadway Grease show is a classic, and one of the most entertaining things I had the pleasure to enjoy. If musicals are not your thing though, a huge ice rink (yes! An ice rink on a cruise ship!) will keep you entertained with its spectacular and highly technological shows.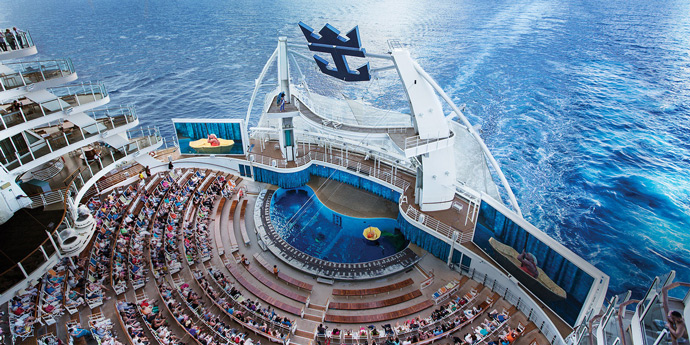 There's also a huge AquaTheater, an amphitheater-style entertainment space celebrating water with a full spectrum of activities, including water and light shows, professional aquatic acrobatic and synchronized swimming performances.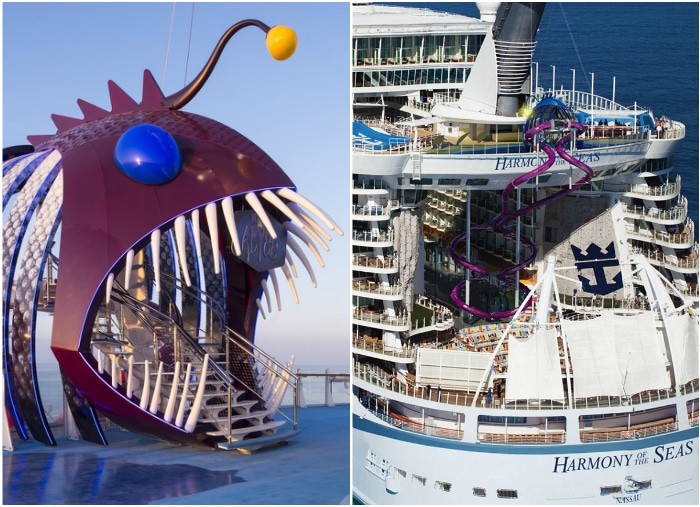 Probably the most unmissable of all activities is the Ultimate Abyss, the tallest slide on the high seas. Towering more than 150 feet above sea level, the pair of side-by-side slides will give you an adrenaline boost while you go from deck 16 to deck 6 at a scary but incredibly fun speed. It's also a very quick way to avoid the over-filled escalators.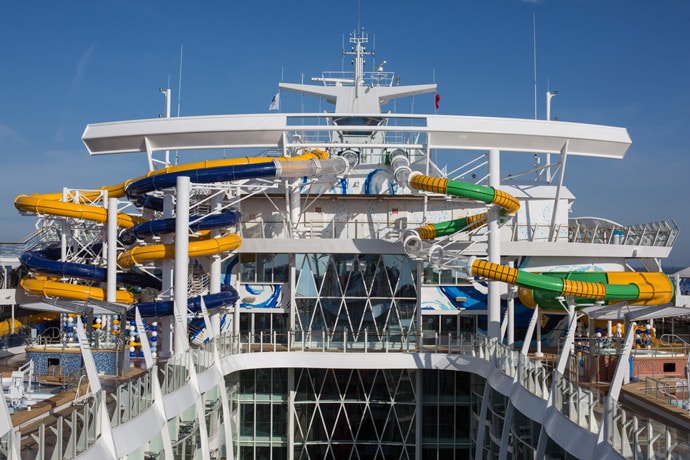 If you're more of a tranquil soul, fear not. There are loads of other things to do on board, that don't require climbing, surfing, riding through the zip line, sweating your way down at the Fitness center, or running through one of the many serpentine slides (although all of these are available). I had a truly fantastic time strolling around, up and down & back and forth, hunting for the numerous art pieces located through the decks.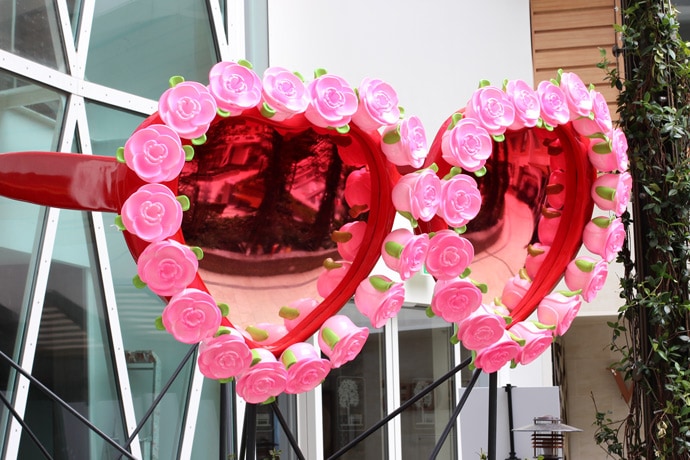 Harmony of the Seas indeed showcases an impressive and rather eclectic art collection. It's no surprise that you'll find art almost everywhere you turn, including unique pieces from some of the most notable contemporary artists of the world.
Some of the works I loved the most was Rose Colored Glasses, an extravagant work from Desire Obtain Cherish located in the Central Park.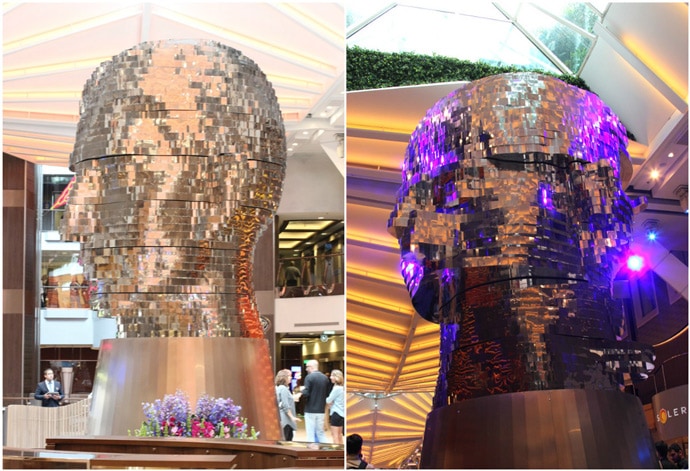 But what really stole my heart was Head, a masterpiece from the well-known sculptor David ?erný. You may know him for his Metamorphosis, a similar work representing Kafka's head located in Prague. Head is made from five tons of stainless steel connected to motors which move, creating a constantly changing artwork. You can find ?erný's hypnotising work in the Royal Promenade.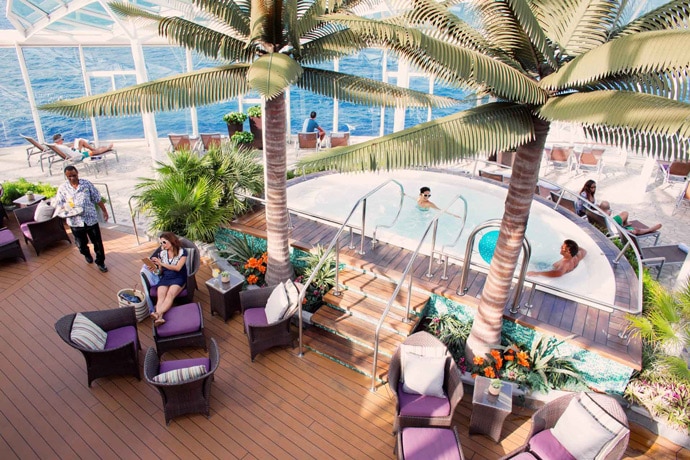 If you just want to sit back, relax and fully enjoy all the luxury care Harmony has to offer, The Spa is going to become your favorite place. The Vitality at Sea Spa includes a Thermal Suite, saunas and steam rooms; 29 treatment rooms including three couples massage suites and seven individual treatment rooms – the largest collection at sea. The solarium is also worth a visit. This is adults-only and provides the perfect escape from the crowd for some relax time.
For the little ones, highlights include Royal Babies & Tots Nursery, Splashaway Bay kids' water park, the ImagineOcean! Puppet show and DreamWorks character experiences. While older kids will love the dedicated Teen Space, a science lab and the many art workshops.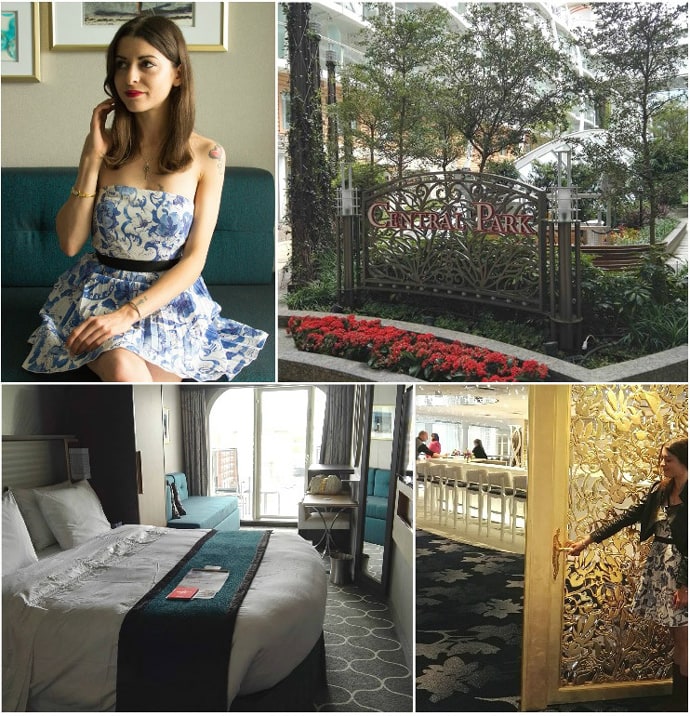 Overall, Harmony of the Seas offered me a fantastic experience, and I could not recommend it enough. This astonishing floating city would appeal to families, couples, singles and groups alike. I thoroughly enjoyed every second of my time on board, and only wish I could have stayed for longer to experience all it has to offer.
I was invited, together with other bloggers, to this cruise trip courtesy of the Royal Caribbean Harmony of the Seas. All opinions in this post, as usuals are my own.