If you're looking for the perfect luxurious place to stay in Vienna, look no further than the Park Hyatt Vienna. Centrally located in Vienna's oldest square, it's an ideal base to explore this beautiful city and offers an unforgettable stay in a unique location.
---
Vienna has been on my bucket list for a long time, and I finally had a chance to visit with my family in November, just in time for the popular Christmas markets season.
This is the perfect time of the year to visit one of the most beautiful places in Europe, and staying at The Park Hyatt Vienna, definitely made our holiday weekend a special, unforgettable experience.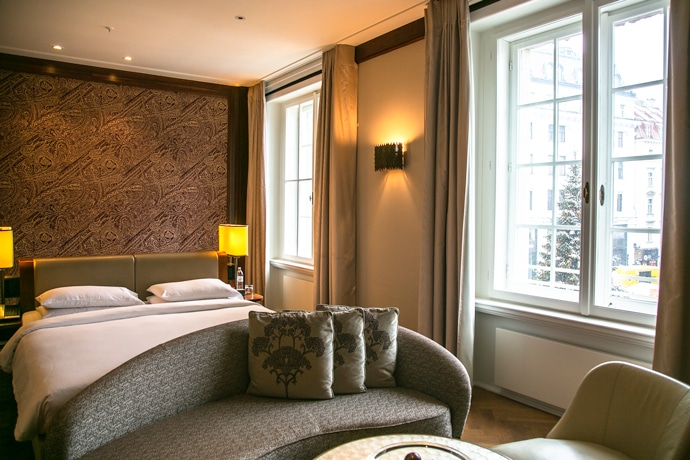 The Park Hyatt Vienna is centrally located in the heart of the city, close to the Goldenes Quartier shopping district, and just a short walk away from St Stephen's Cathedral, and Vienna's popular museums and historic monuments.
The hotel opened in June 2014 following an extensive renovation of the former Bank of Austria building, dating back to the early 1900s. The restoration has been carried out with a great eye for detail, and most of the features of the ancient building were superbly preserved.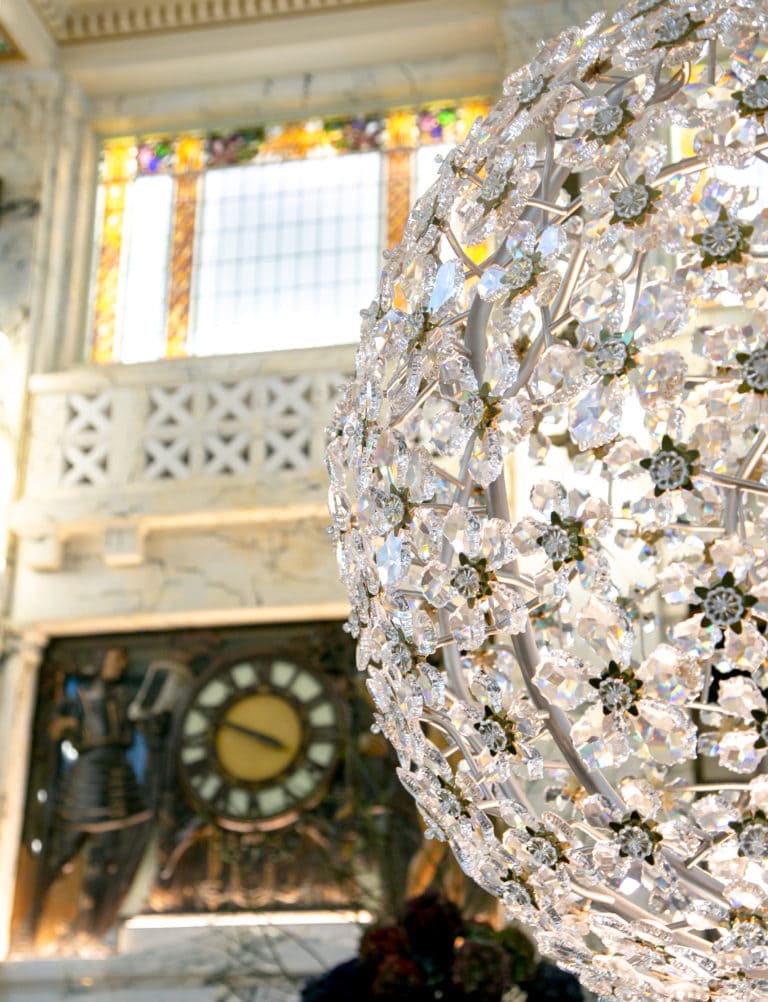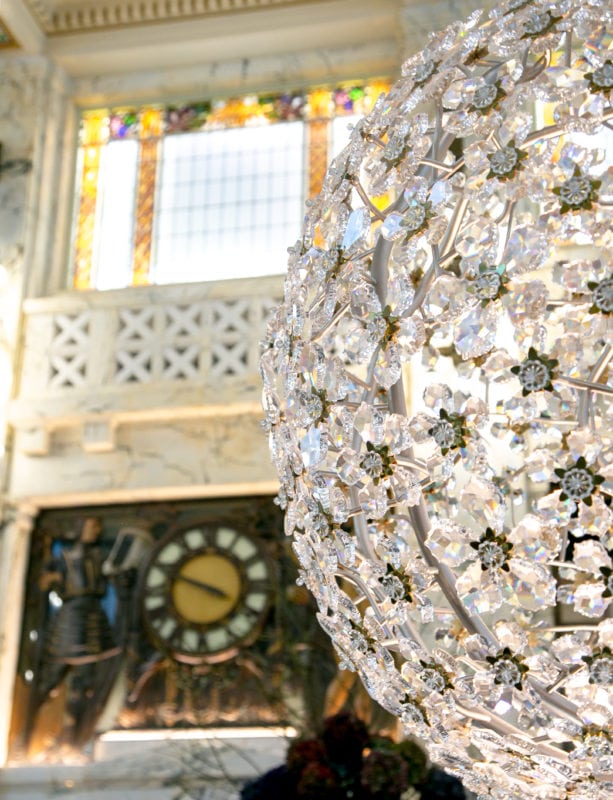 Sumptuous marble interiors, elements of wood, crystal, mother-of-pearl and Viennese sophisticated Art Nouveau décor blend flawlessly to create a unique atmosphere that it's hard to describe - it almost makes you feel suspended in a different époque.
The Park Hyatt Vienna features 143 guest rooms, including 41 suites (some of the largest suites in Europe!).
It also offers a luxurious wellness area with an indoor swimming pool, a cutting-edge fitness centre, a 24-hour reception and concierge service, a sophisticated à la carte restaurant and different lavish cafes and lounges options.
I loved taking the time to appreciate the history of the building, so if you have the chance, I recommend taking a little tour of the hotel. The Bel Etage, located on the first floor, is definitely worth a visit.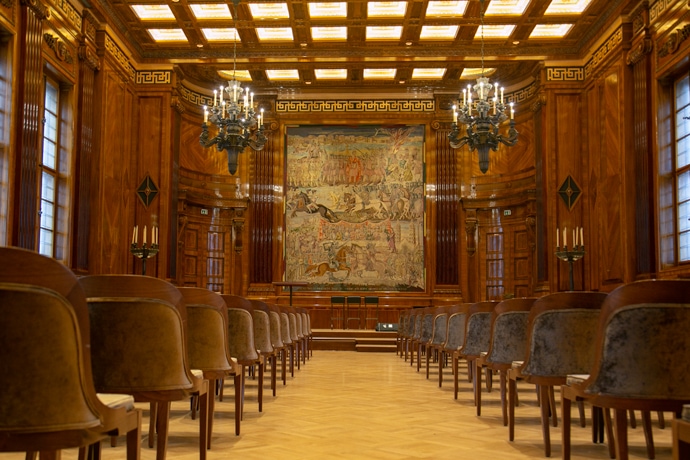 This was formally the bank's director floor, and is now a prestigious private events area.
The meeting and reception rooms are simply stunning, and have been beautifully and meticulously restored to reflect the original sumptuous design.
Park Hyatt Deluxe Room
Our deluxe room was nothing short than perfect. It was generously proportioned and decorated harmoniously with fine materials like dark wood, marble, gold-accented Art Nouveau pieces and mother-of-pearl elements.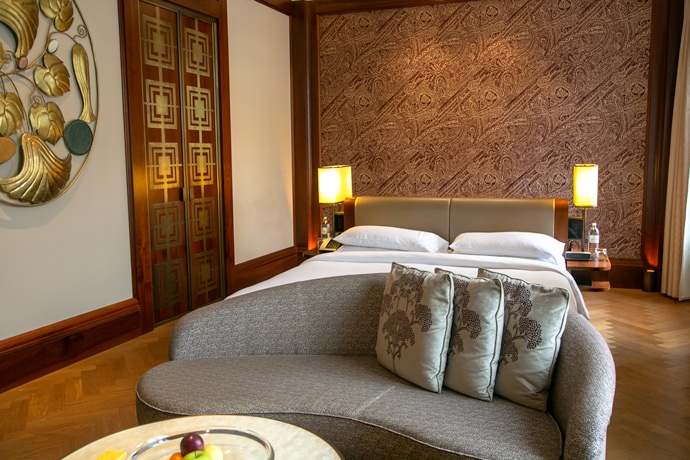 The room offers a comfy luxurious bed, and a spacious seating area with a sofa, harmchairs and a stunning mother-of-pearl table.
There is also a beautiful large desk with hidden power sockets, and a large flat-screen TV cleverly hidden behind a mirror.
A fully-equipped mini bar (including a coffee machine for an early morning espresso) is tastefully hidden in an exquisite wood cabinet. All lights, blinds and curtains can be controlled from two touch-sensitive switch panels.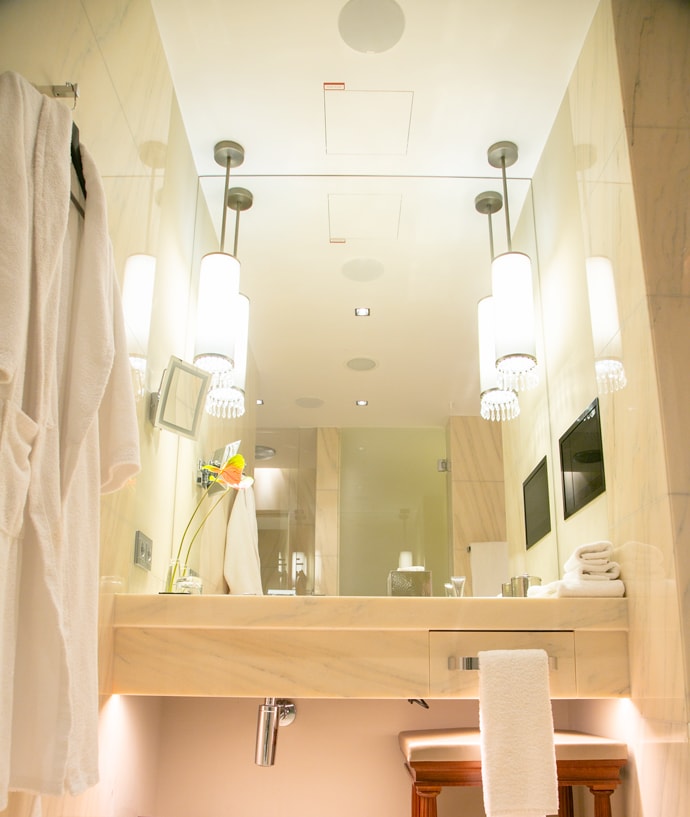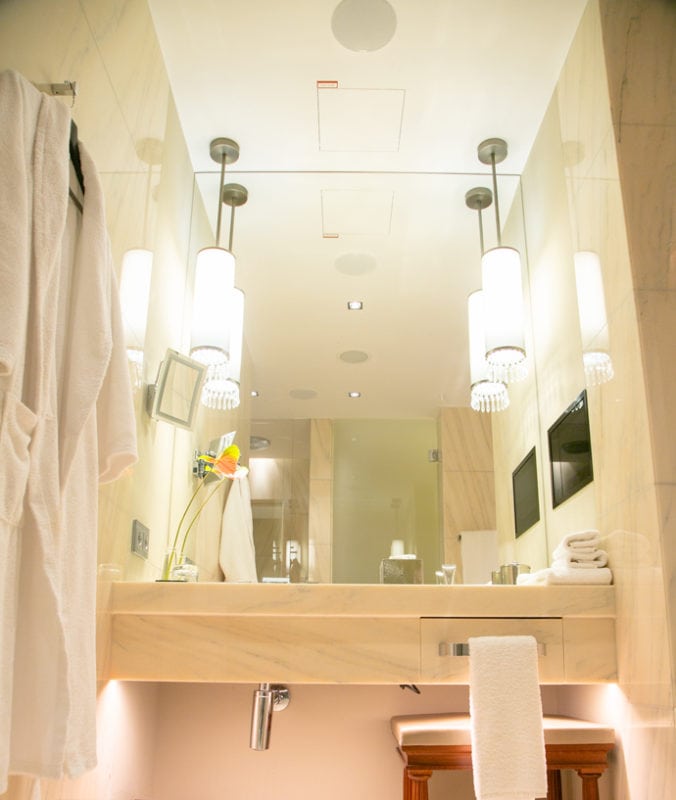 I'm a huge fan of luxury hotel bathrooms, and this one certainly had the wow-factor.
The marble bathroom is huge and fully equipped with anything you might need, including a powerful hair-dryer, soft towels and bathrobes.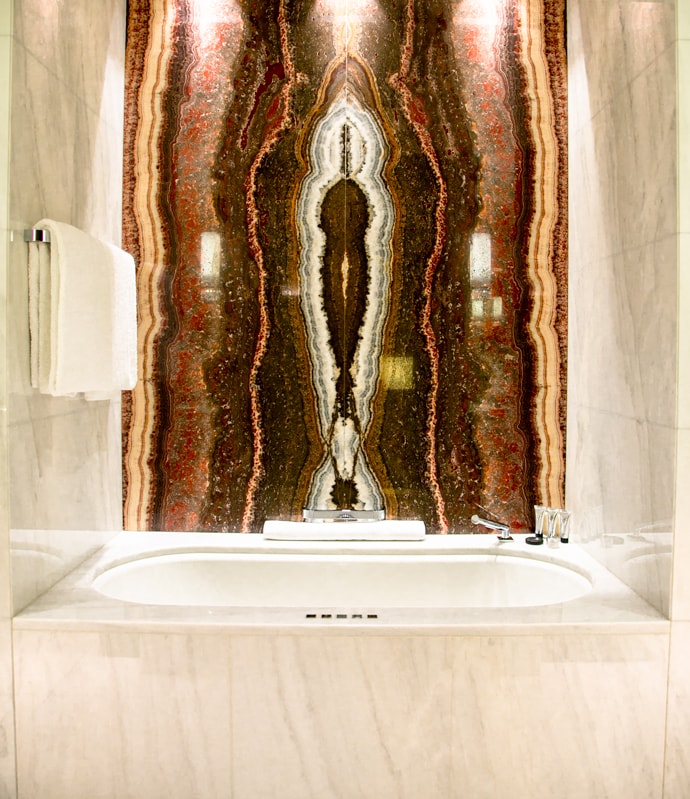 The bathroom also includes a spacious bathtub with digital temperature control, a large walk-in rain shower and toiletries from Blaise Mautin.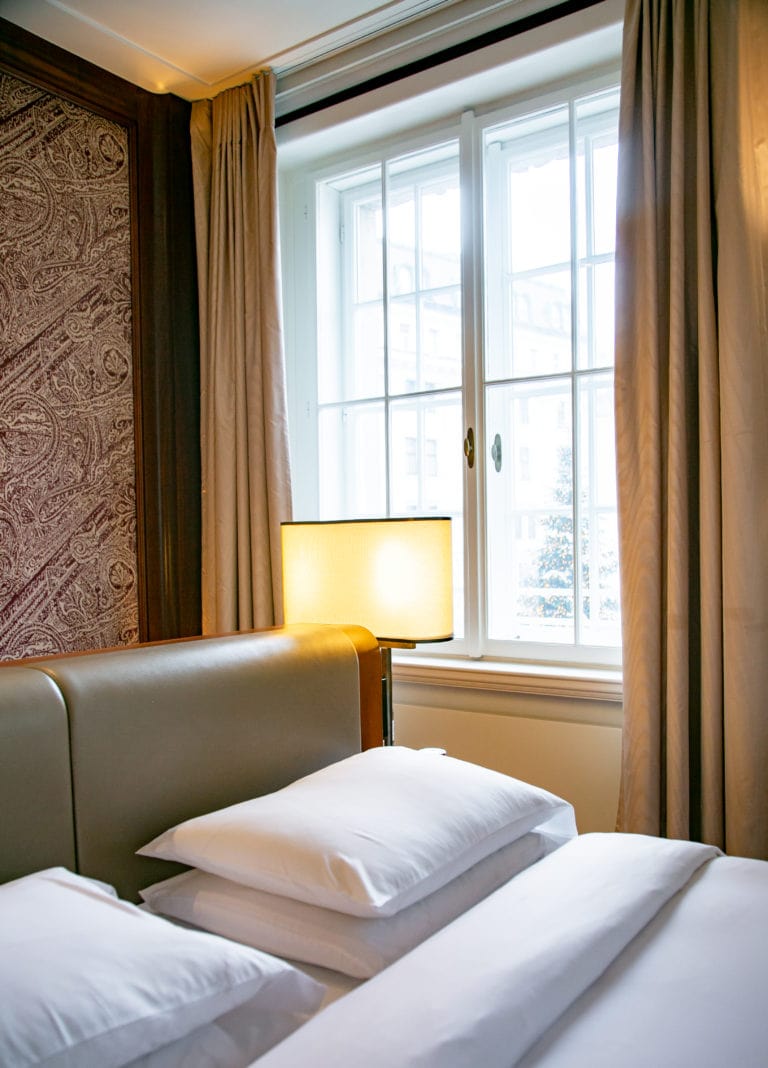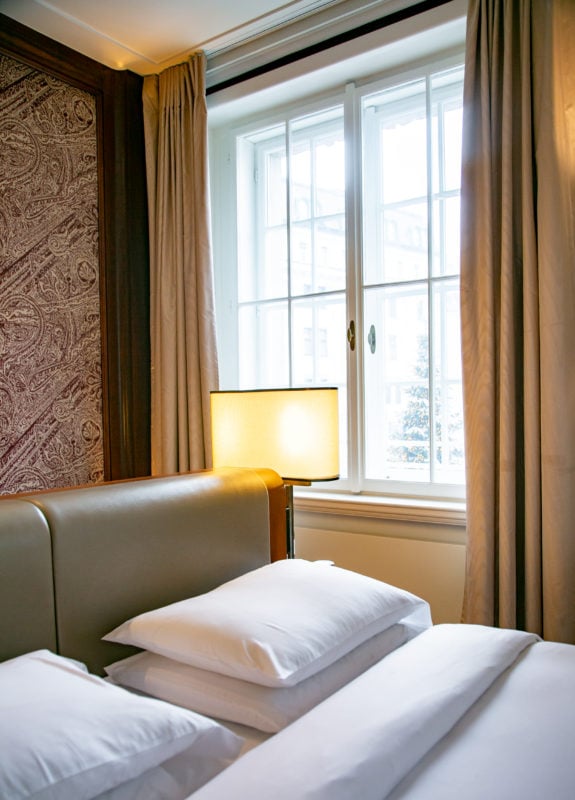 Overall I loved every bit of our room! If you're visiting over the Christmas season, the only thing I'd recommend is to book a room with a view of the charming Am Hof Christmas Market in Vienna's oldest square.
Relax At Arany Spa
If you're looking for a place to relax, you can't go wrong by visiting the unique hotel spa.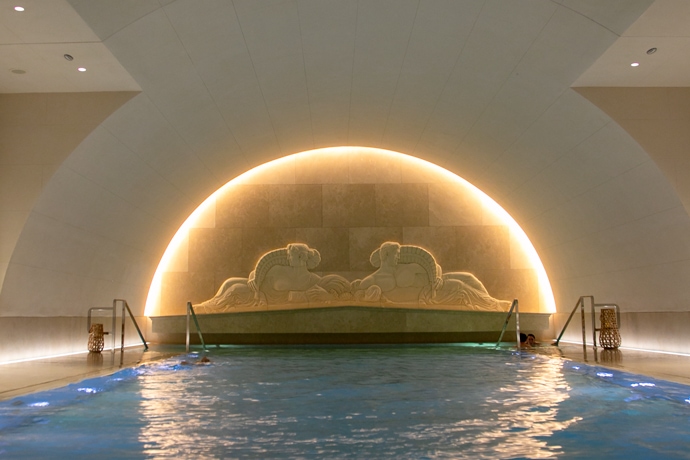 Located in the former bank vault space -where the gold was once kept- you'll find the Arany Spa (The name means "gold" in Hungarian), an intimate relaxing space beautifully decorated with gemstones, gold and mother-of-pearl elements.
Behind the the bank vault's original three-ton door, there's a 50-foot long pool lined with gold-bar-shaped tiles and relaxing underwater music.
Apart from the stunning pool, the spa also includes a well-equipped gym, relaxing rooms, sauna, steam bath, and 6 luxury day spa suites (including a couple spa suite).
Breakfast At Park Hyatt Vienna
Breakfast is served at The Bank Brasserie every morning from 6.30 am until 10.30 am (11 am over the weekend).
The open kitchen is transformed in a spacious buffet area filled up with responsibly sourced seasonal ingredients, speciality breads and pastries, antipasti, freshly-pressed juices and sparkling wine, to start your weekend breakfast with a kick.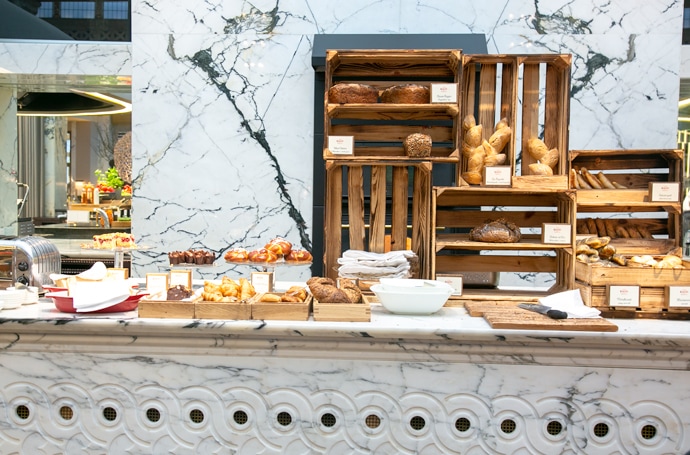 You can also order à la carte from the menu, which includes loads of nourishing and Instragram-worthy breakfast options.
If you're staying over the fall season, make sure to order poached eggs topped with a generous serving of truffle shavings. Breakfast goals!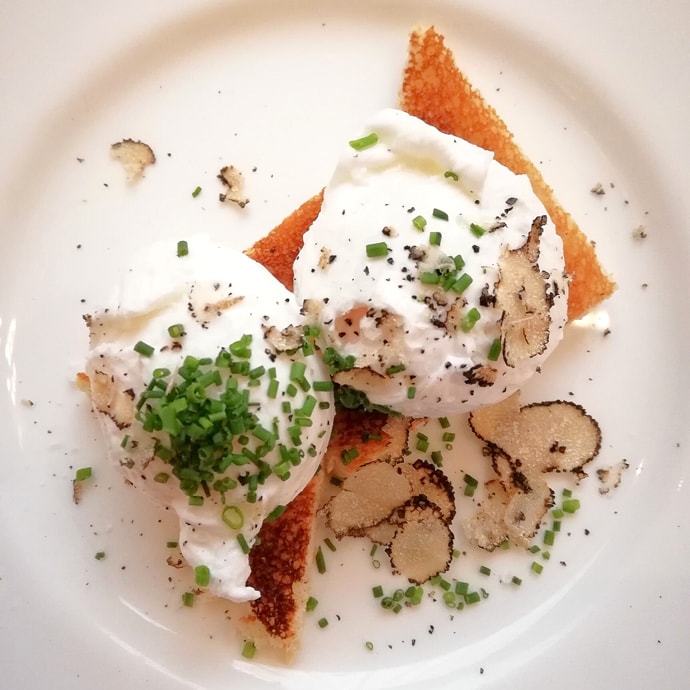 If you're looking for a cozy relaxing breakfast in bed, you are in for a treat with the in-room breakfast service.
View this post on Instagram
From homemade granola, to pumpkin waffles, freshly-made energizing juices, and perfect hot pastries, the in-room breakfast service at the Park Hyatt Vienna is a royal experience!
Eat & Drink At Park Hyatt Vienna
The hotel is home to some of the most exquisite restaurants and cafes in the area: The Bank Brasserie & Bar, Living Room, Lounge and Café am Hof.
Inspired by the charming coffee house culture of the 19th century, Café Am Hof offers a vast selection of Viennese coffee specialities, homemade cakes, desserts and modern seasonal breakfast/lunch options.
The Lounge is the perfect intimate space for a glass of champagne, whilst cigar and whiskey connoisseurs will surely appreciate the sophisticated intimate atmosphere of The Living Room.
The Bank Brasserie & Bar
The Bank Brasserie & Bar is located right in the heart of the hotel. If you're looking for one of the best fine dining experiences in Vienna, look no further, this is the RIGHT place.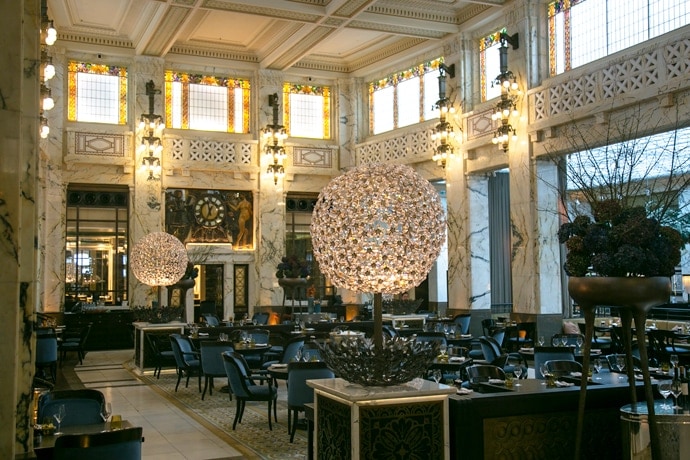 The restaurant is sublimely decorated with marble interiors, stained glass and tree-like crystal chandeliers - It's hard to image this used to be the cashiers hall of a bank!
The menu offers seasonal brasserie classics with a modern twist, created with responsibly sourced ingredients.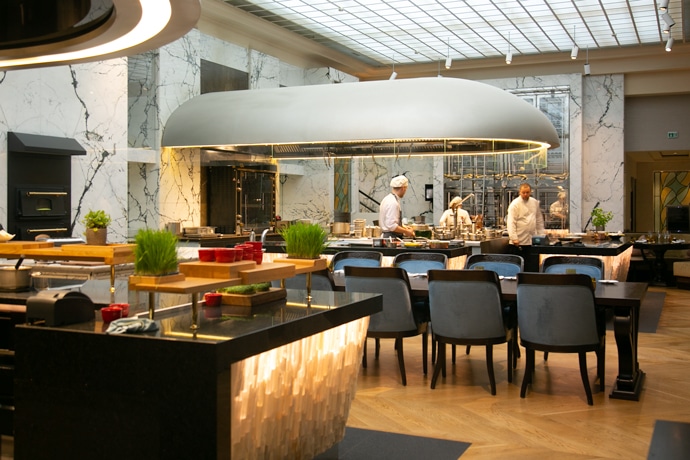 As an added bonus, there is also a showstopping open kitchen where you can watch the chefs creating your dishes.
View this post on Instagram
Highlights from the menu include the refreshing lobster cheviche and the beef tartare with truffle, the delicate seabream with barley risotto, chorizo & fennel salad, the luxurious Rossini burger (with foie gras & truffle) and the organic veal liver.
If you have room for dessert, make sure to order the classic Sauerrahmschmarrn (traditional Austrian pancakes).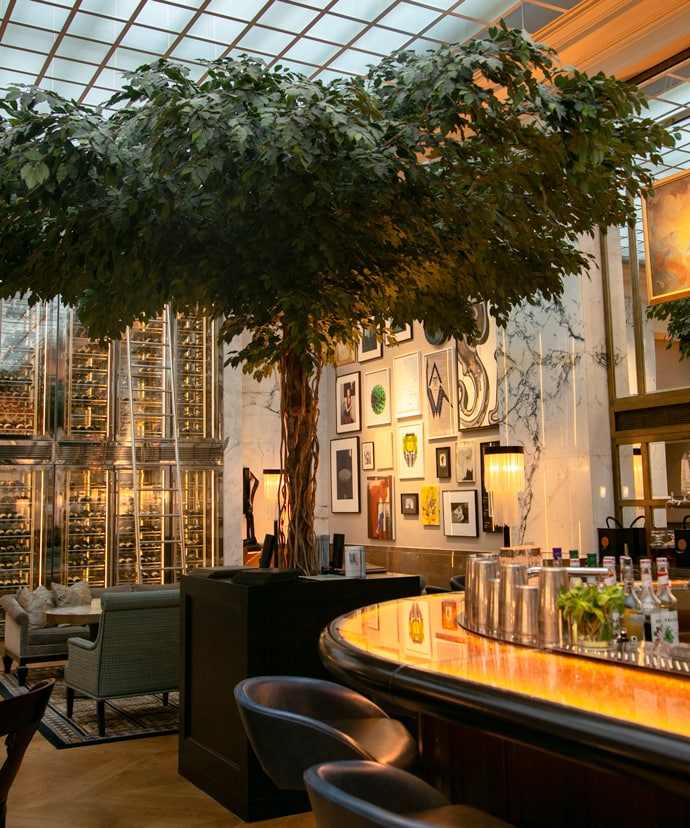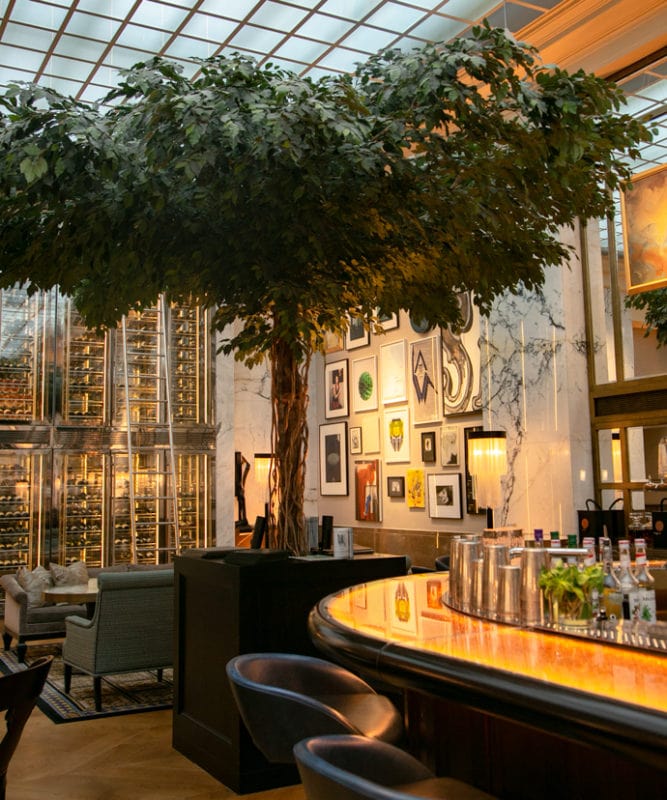 The bar is right next to the restaurant, making it an excellent choice for after-dinner drinks. It's artfully decorated and offers an exhaustive wine list, and exquisite signature cocktails from The Bank Sparbuch.
I had the refreshing Deposit Certificate on the first night, and the spicy and cozy Fund made with ginger liqueur and chili on the second night, both cocktails were superbly made and bursting with incredible flavours.
Excellent Service At Park Hyatt Vienna
The whole staff at Park Hyatt Vienna were gracious, friendly and highly professional.
I was travelling with my other half and our baby, and during our entire stay the staff made sure we were all well-taken care after.
From check-in to check-out, the front of house staff went above and beyond to make our stay extremely memorable.
Speaking of the incredible service at Park Hyatt Vienna, the hotel also offers two exclusive services for guests: the VID (Very Important Dog) program, and the VIB (Very Important Baby) program, which I had the pleasure to test first-hand.
Travelling with a toddler is not an easy task, and Park Hyatt Vienna ensured our little one was pampered all the way through his stay.
Baby Noah received fun toys to play with, natural baby products for a lovely bath, and a spacious comfy baby cot for a dreamy night sleep.
The hotel also offers a handy childcare service (available even on a Sunday evening and on very short notice!).
My Stay At Park Hyatt Vienna
Overall, I loved every bit of our weekend at The Park Hyatt Vienna, and I cannot recommend it enough. It was a fantastic and luxurious stay and we will definitely return to this hotel.
If you fancy a relaxing weekend away with romantic walks and museum visits, Vienna is a perfect choice, and The Park Hyatt makes an excellent base to explore the city!
**My stay was offered by The Park Hyatt Vienna. All views and opinions are my own as usual.**