Located in a lovely position on the east coast of Mauritius on the tranquil and beautiful bay of Trou d'Eau Douce, Shangri-La Le Touessrok reopened in November 2015, after an extensive renovation. This world renowned luxury hotel is definitely the top place for a holiday on the paradise island of Mauritius.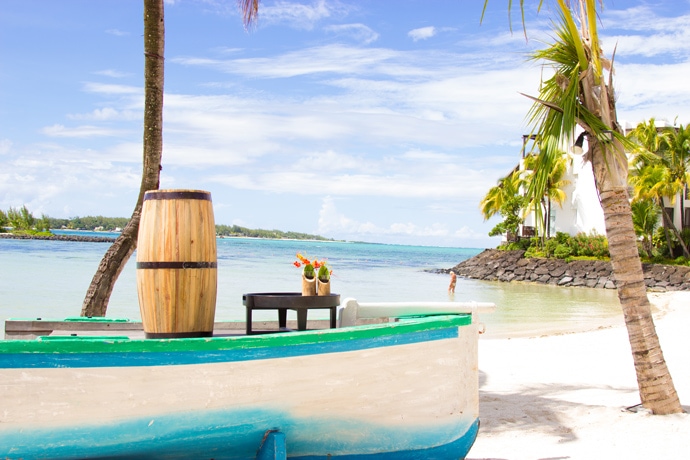 I had the opportunity to explore the resort early last month, and let me tell you, it was one of the best hotel experiences I had in my life.
Room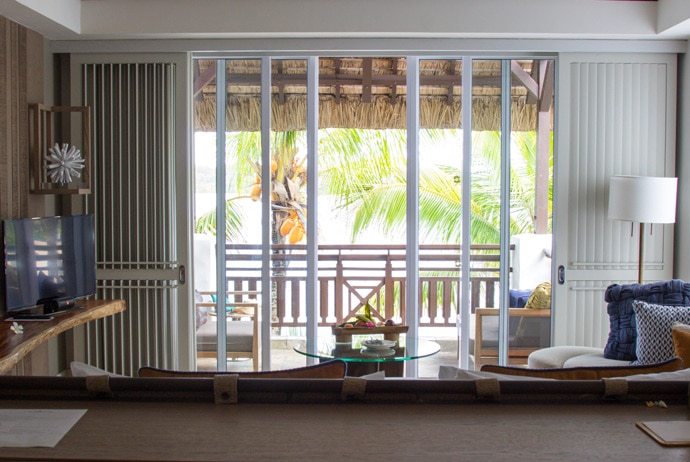 As soon as I entered my beautiful room, located in the Frangipani wing of the hotel, the incredible view from the front balcony took my breath away.
The room itself had a gorgeously contemporary design with light wood, modern furnishings and a comfy sofa to sit and relax. I love that local materials and contemporary style are flawlessly fused to complement the surrounding natural beauty and local culture.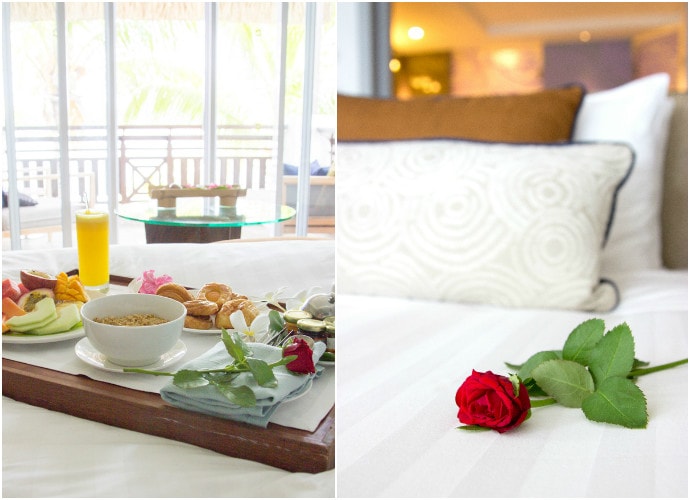 The complimentary mini-bar, bottle of champagne on arrival and daily fresh fruit platter, were just the perfect addition to make it the room of my dreams. Plus, the in-room service is absolutely top notch.
Relaxing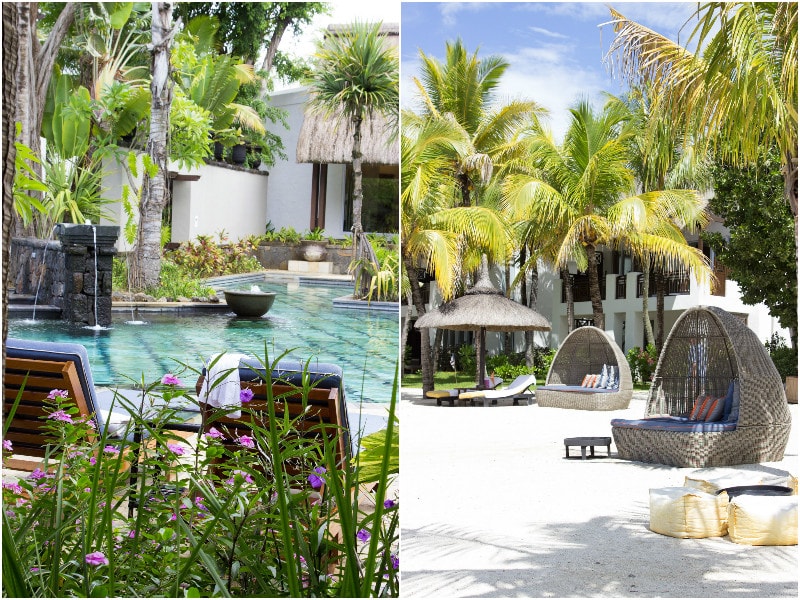 Shangri-La Le Touessrok is definitely a place where you can relax, but if you think you'll get tired of just lying on the beach, or enjoy a calm swim in one of the beautiful pools, you're far to be right. For a bit of adventure, the hotel offers an array of activities, especially water sports: para-ceiling, water ski, snorkeling and more others can all be booked at the reception.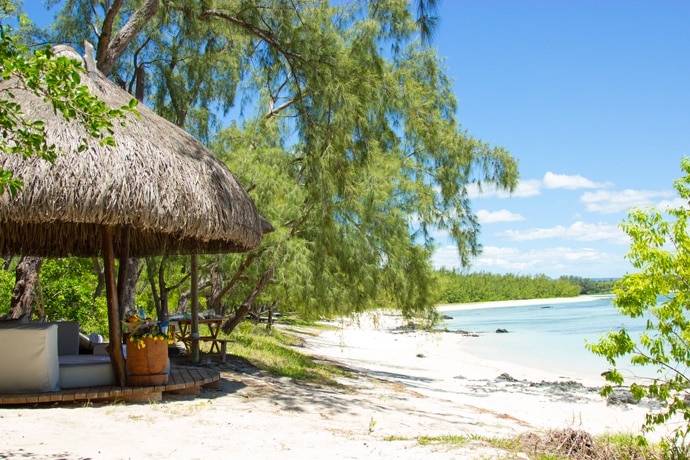 Just off the resort's shore, there are two paradisiacal islands. Ilot Mangénie is open exclusively to Shangri-La's guests and features a relaxing private beach with your own butler, and a delicious beach-style seafood restaurant and bar.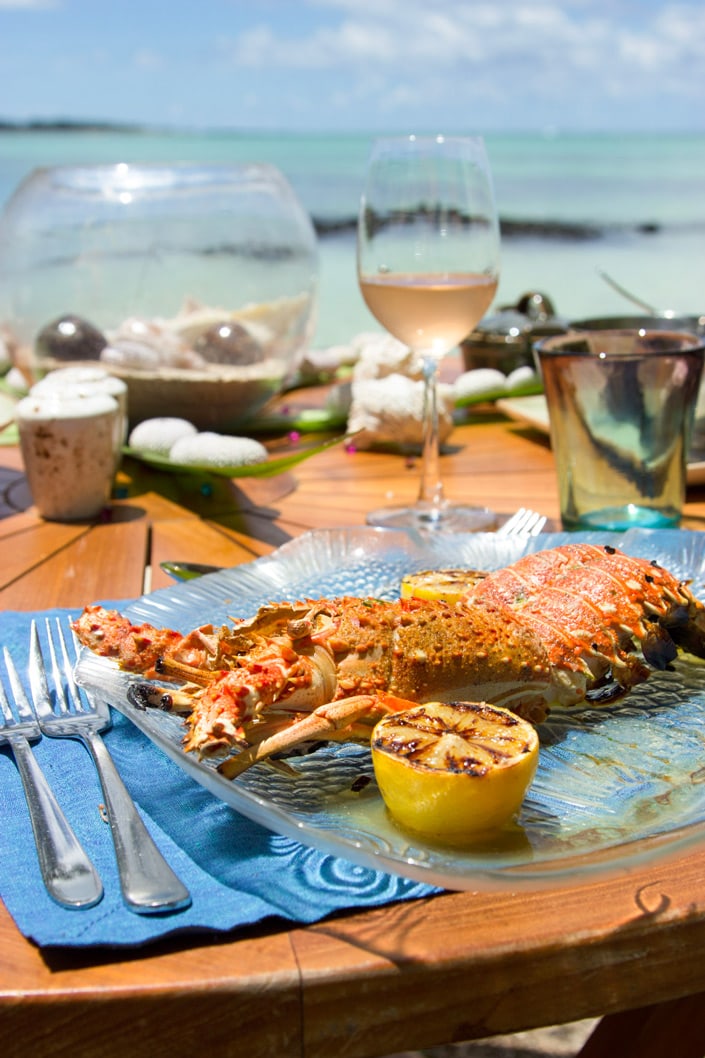 I've spent a beautiful day here relaxing in a peaceful environment, the beach is simply gorgeous! I was very well taken care of by my own butler, who brought me a delightful lunch (including an outstanding freshly grilled lobster) and made sure I never run out of fresh water, champagne and fruit.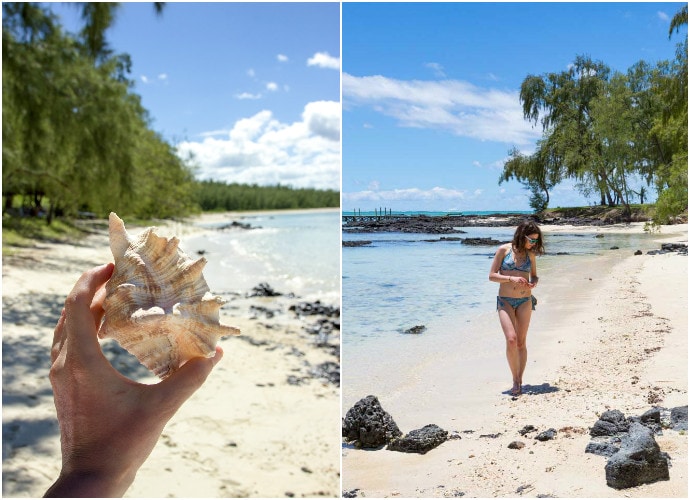 The other island, Ile aux Cerfs, showcases a spectacular 18-hole championship golf course – the perfect place if you want to give this traditional sport a try.
Dining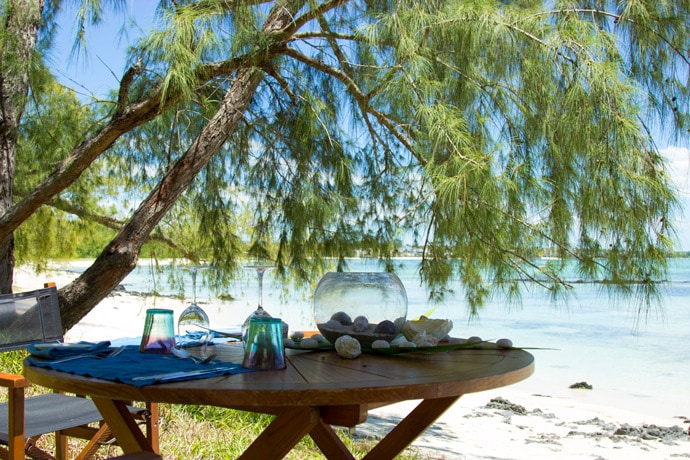 Now, let's talk about my favorite part, the food! I've extensively tasted all the fantastic dining options the resort has to offer, and I had the chance to chat with the chefs behind the dining venues of the hotel. Food at Le Touessrok is a serious matter, and the quality of the ingredients is nothing but outstanding. It was absolutely delightful to learn that all chefs try to keep the ingredients as locally sourced as possible, and when they're not they're the best quality available on the market.
Shangri-La Le Touessrok features four restaurants that serve the finest International and Asian cuisines. From the authentic Indian flavors to the traditional fresh ingredients of Japan, there is something to please every taste and occasion at the resort's numerous dining venues.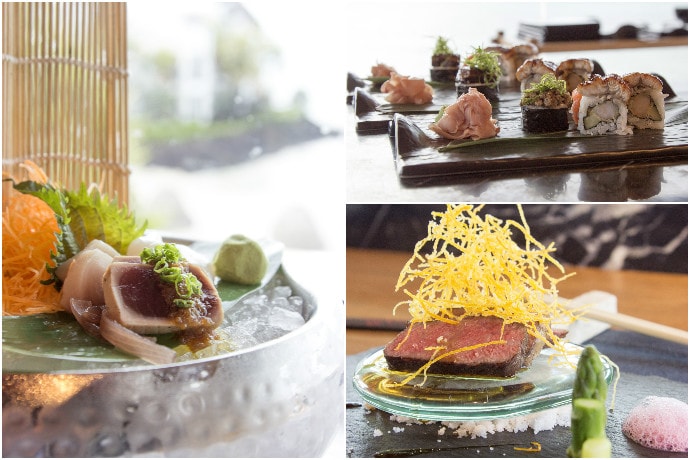 Kushi is one of the few specialized Japanese restaurants of the island, offering an elegant yet minimalist design, which perfectly represents the Japanese culture. The extensive menu showcases some of Japan signature ingredients such as kobe and wagyu beef and premium sashimi, all accompanied by a wide variety of sake and international wines.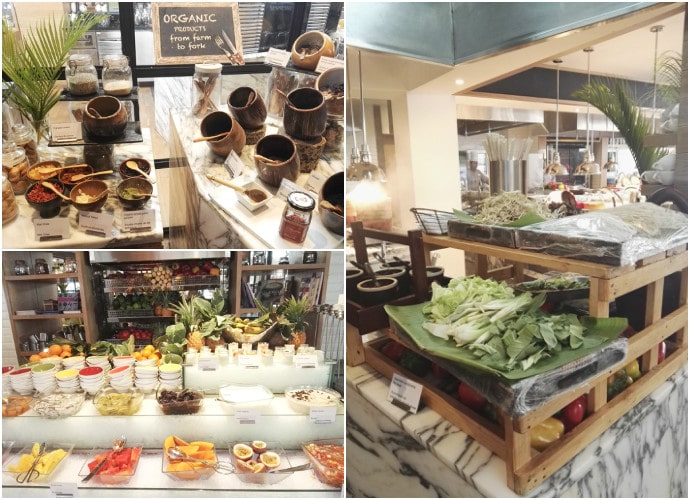 Le Bazar has a laid-back cozy atmosphere, perfect to enjoy a casual meal. The bistro-style restaurant showcases Asian and international cuisine and is open all day, from breakfast till dinner time. Highlights include a noodle bar, an open kitchen, and a fantastic juice bar with freshly made fruit & veggie concoctions.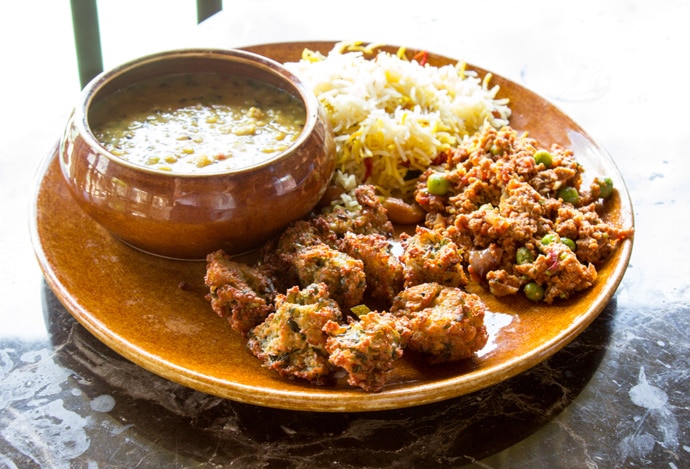 Safran is a refined dining restaurant offering authentic Indian cuisines, prepared in the open kitchen at the entrance. The menu offers traditional popular Indian dishes with a modern vibe, all served family- style. The tandoori salmon and prawn curry are just a few of my favourite dishes from the menu wisely conceived by internationally acclaimed Chef Ramesh Bundi.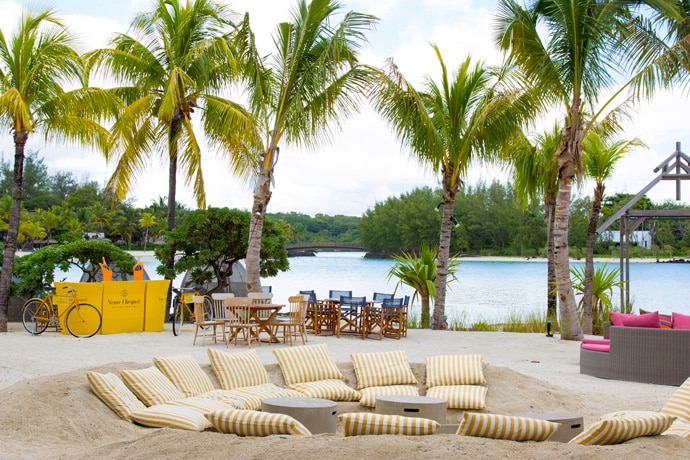 Republik Beach Club & Grill, is a contemporary venue, offering Mediterranean-style cuisine and a trendy beach bar with live music, theme nights and performances by local and international DJs.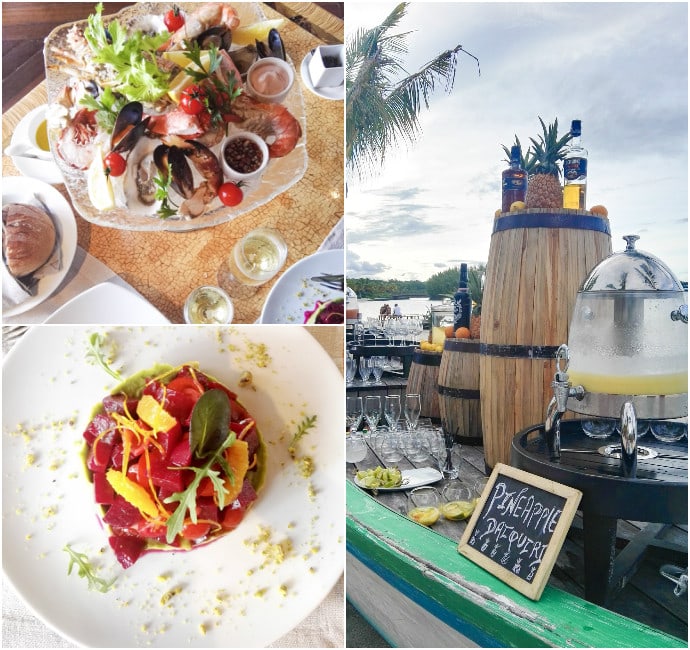 The popular beach club is the perfect spot for happy hours, and for a beautiful breakfast/lunch/dinner directly on the beach. Highlights from the menu include incredible seafood platters, light yet exciting salads and their famous signature lobster.
Overall, I absolutely loved my stay at Shangri-La Le Touessrok in Mauritius, and I could not recommend it enough. I truly believe the service is one of the best highlights of the resort: friendly and warming, always with a smile on their face and impeccable, with great attention to detail. If you're looking for a laid-back but luxurious experience in Mauritius, look no further, Shangri-La is definitely the place to go to.
Room rates at Shangri-La's Le Touessrok Resort & Spa are from US$358.37 (approx.£293) per night. This is based on double occupancy and includes all taxes and fees. To book, please visit www.shangri-la.com/mauritius/shangrila, or call 0800 028 3337.
This holiday was gently offered by Shangri-La Le Touessrok. All views and opinions here are as usual my own.