Winter holidays are almost here and it's time to think about the festive menu – So, whether you're looking for a chic entrée for Christmas and New Year's eve dinner parties, or you just fancy a fuss-free elegant meal, this champagne risotto will make an excellent choice.
Risotto is the classic Italian way to serve a rice dish, which it's easy enough to make for a large crowd and can be customized with your favorite ingredients and flavors.
If you ask me, you can't go wrong with Champagne Risotto. The sparkling aromatic notes of champagne add elegance and make this classic dish a luxurious dinner course with very little effort.  Plus, it's quick enough to put together in less than half an hour, leaving you plenty of time to be with your guests.
[easy-tweet tweet="Champagne Risotto – Elegant Italian Classic Ready in 20 Mins Only #glutenfree and #vegetarian " user="PetiteCook" hashtags="#champagne"]
This delicate yet rich champagne risotto is awesomely gluten-free and vegetarian, and requires 15 mins only and less than 10 ingredients, including of course your favorite champagne.
Not a champagne fan? No worries, you can substitute with your favorite cava or prosecco, they're both equally delicious.
It's not easy to master the Italian art of making risotto, but if you follow these few basic rules I promise it will be easier than you think.
The first time you cook it can be challenging, so for extra help have a look at my step-by-step risotto recipe and just swap the ingredients with the ones you will be using, whether it's simply champagne or your favorite ingredients.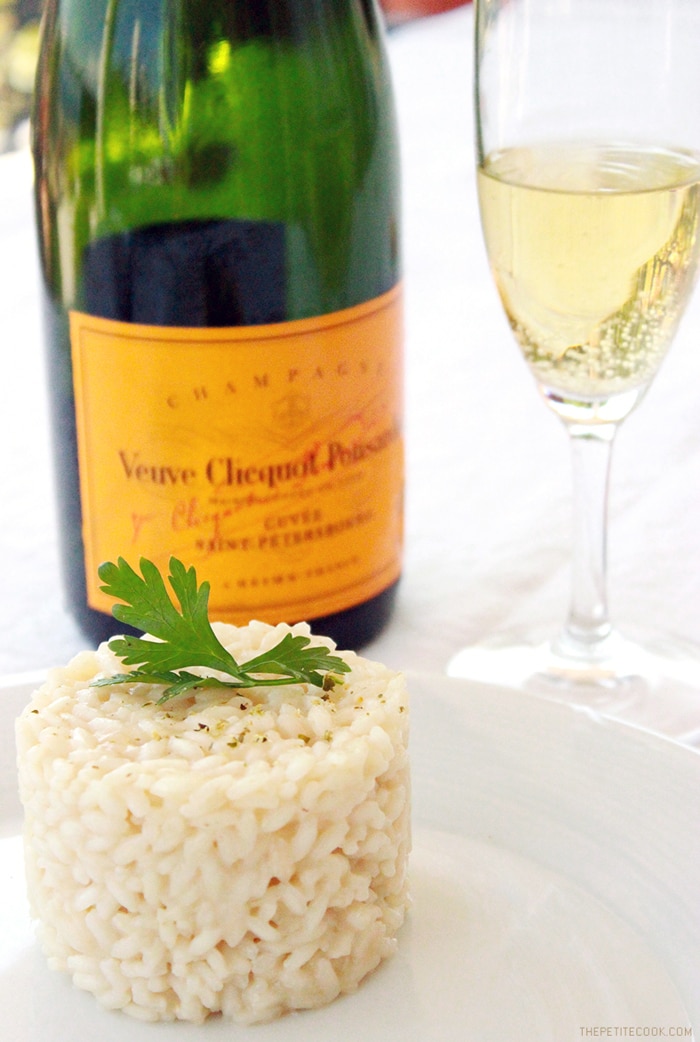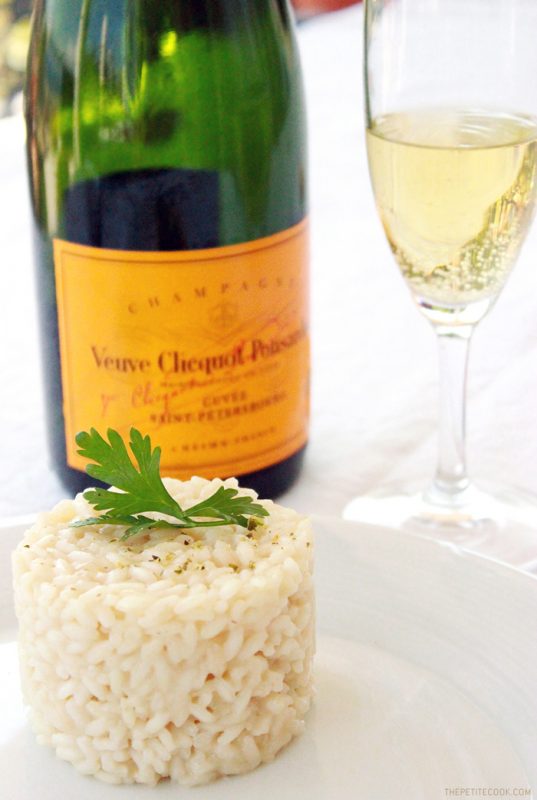 This chic champagne risotto is a fantastic way to celebrate a special occasion, perfect to enjoy with your other half on Valentine's day, or to share with a large party of friends and family at the upcoming christmas holidays. Whether you're looking for a chic starter to add to your festive menu, or just want to enjoy a favorite wintery italian classic, this champagne risotto will sparkle up your dinnertime.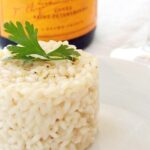 Print Recipe
Italian Champagne Risotto
Ingredients
<span class="mceItemHidden" data-mce-bogus="1"><span></span>500ml/ 2 cups vegetable stock</span>

<span></span>6oz /180gr Italian Carnaroli Rice

or Vialone Nano

<span class="mceItemHidden" data-mce-bogus="1"><span></span>500ml/ 2 cups champagne at room temperature</span>

1

medium white onion or 2 shallots

finely minced

2

knobs of butter

a handful of Parmesan cheese

finely grated

2

tbsp

fresh parsley

finely chopped

2

tsp

grated lemon zest

to serve

Sea salt & white pepper

freshly cracked, to taste
Instructions
<span class="mceItemHidden" data-mce-bogus="1"><span></span>Heat a knob of butter in a large skillet over low heat and sautée the onion for 2 minutes, until softened but not browned.</span>

Turn the heat slightly up, add the rice and toast until translucent, about 2 mins.

<span class="mceItemHidden" data-mce-bogus="1"><span></span>Pour in the champagne and let the alcohol evaporates, stirring once or twice.</span>

Keep cooking the risotto, stirring continuously, by adding a ladle of stock when needed. Cook for about 15 min.

When the risotto is almost ready, stir in fresh chopped parsley.

<span class="mceItemHidden" data-mce-bogus="1"><span></span>Take the pan off the heat and add grated Parmesan and the remaining knob of butter and sttir until you reach the perfect creamy consistency.</span>

Season to taste, sprinkle with freshly grated lemon zest and serve.
Hope you guys will love indulging into this luxurious risotto! Let me know how you liked it by leaving a comment below. Even better, snap a picture, tag it #thepetitecook and share it on Instagram! Looking at your foodie pics always makes me hungry :)!