These Espresso Brownies are what breakfast dreams are made of – Soft, fudgy and loaded with delicious and indulgent chocolate and coffee flavor!
---
It's no secret that I am super proud Italian girl, and neither is that Italians love a good cup of espresso to start their mornings.
So, I'm bringing together two of my favourite things in the world, chocolate & coffee, to make the most delicious brownies I've ever made.
These Espresso Brownies have everything you could possibly look for, they're gooey and dense, but still quite soft and spongy. And they're loaded with amazing coffee aroma.
Choosing the perfect coffee is what really brings this recipe to the next level. You want a robust, premium-quality coffee that doesn't overpower but indeed complements the chocolate flavour.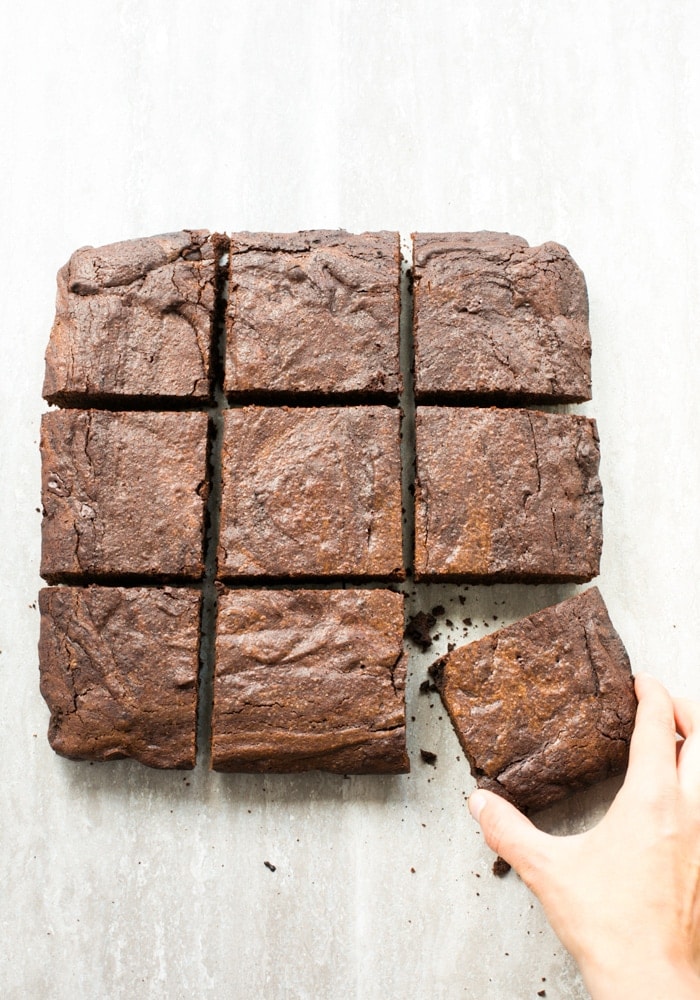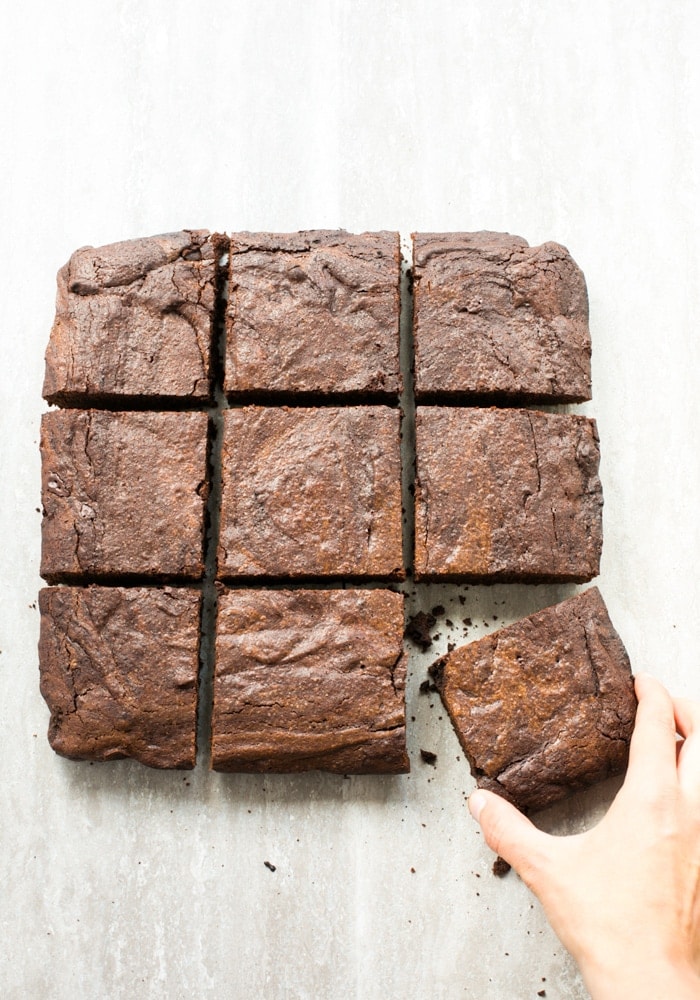 That's why I partnered up with Pact Coffee for this recipe – I've been testing out the different coffees they offer and I'm totally in love with all of them! The team behind Pact Coffee sources all their coffee directly. They travel the world, meeting with the growers and uncovering hidden coffee gems.
They taste hundreds of coffees every year to bring the best to their customers. Pact roast the beans themselves in Bermondsey in south east London. Coffee is sent out to customers within seven days of roasting – because that's when it is at its freshest and tastes the best.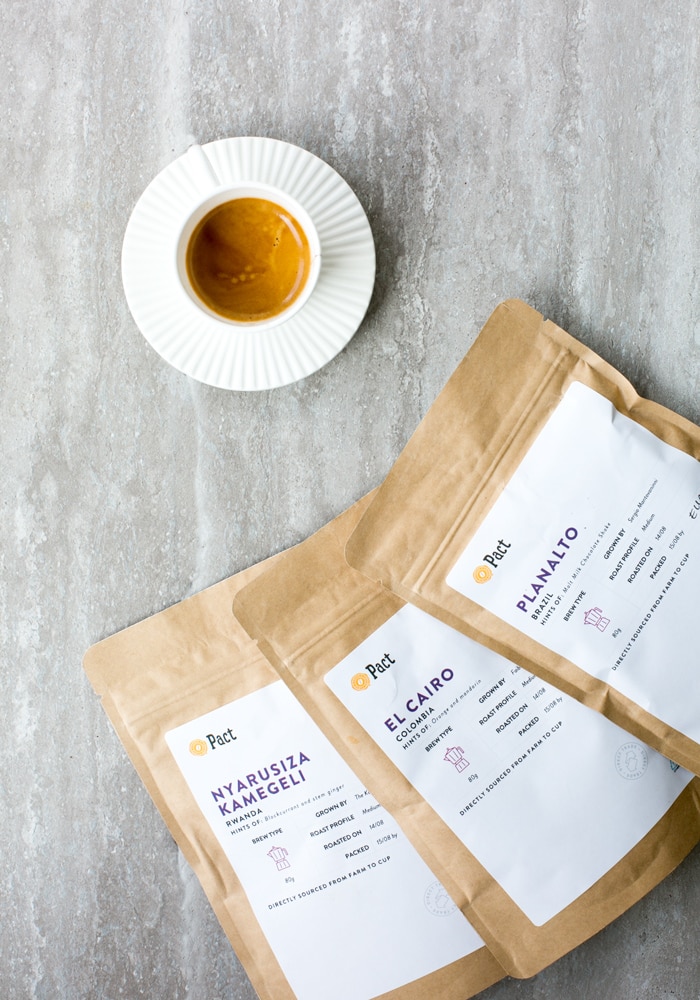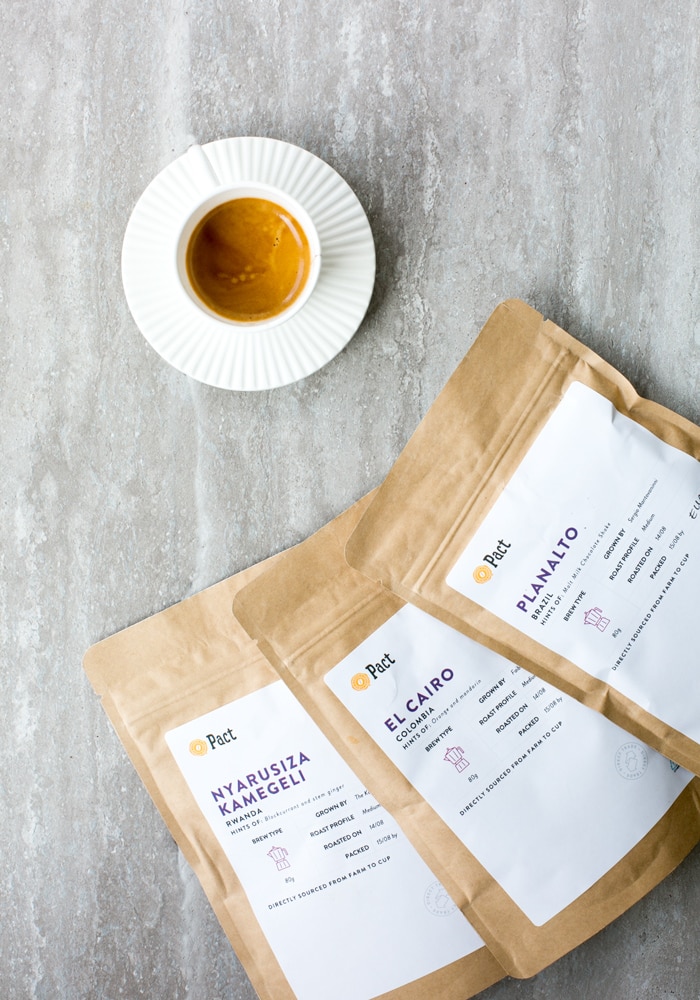 If you're a coffee lover like me, then you should definitely give Pact Coffee a try – They're offering all The Petite Cook readers an awesome Starter Kit which includes: 1x250g bag of coffee, a Hario v60 kit (including 40 filters) and free delivery – All for just £6.95! Simply click here where the discount is already applied or use the code PACTANDREA at www.pactcoffee.com and get ready to enjoy an unbelievably good cup of coffee.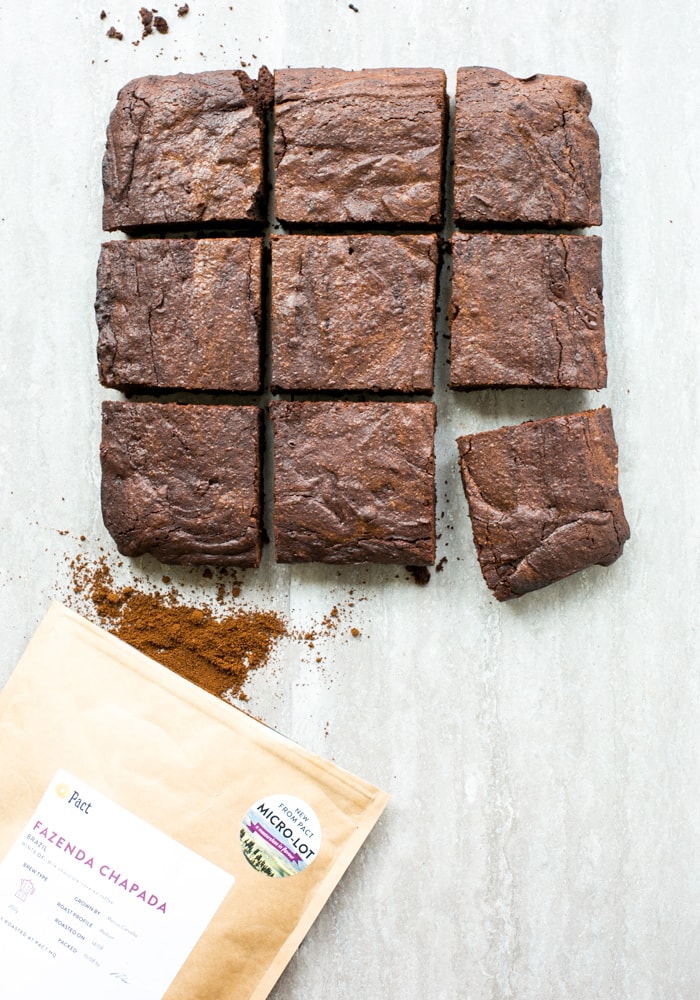 For these brownies I used Pact's Fazenda Chapada coffee which was ground finely for espresso machines. It has a lovely milk chocolate aroma, revealing hints of lingering, creamy, toffee sweetness and flavour. It's simply great on its own, and incredibly good for baking treats such as these brownies.
Once you've got the right coffee, all you need to make these delicious fudgy Espresso Brownies is less than 10 super simple ingredients: organic unsweetened cocoa powder, organic dark chocolate, eggs, flour, sugar, butter, maple syrup, a hint of vanilla extract and a pinch of sea salt.
They come together in a blink, and all it takes is 1 bowl, 1 baking dish and 40 mins of your time.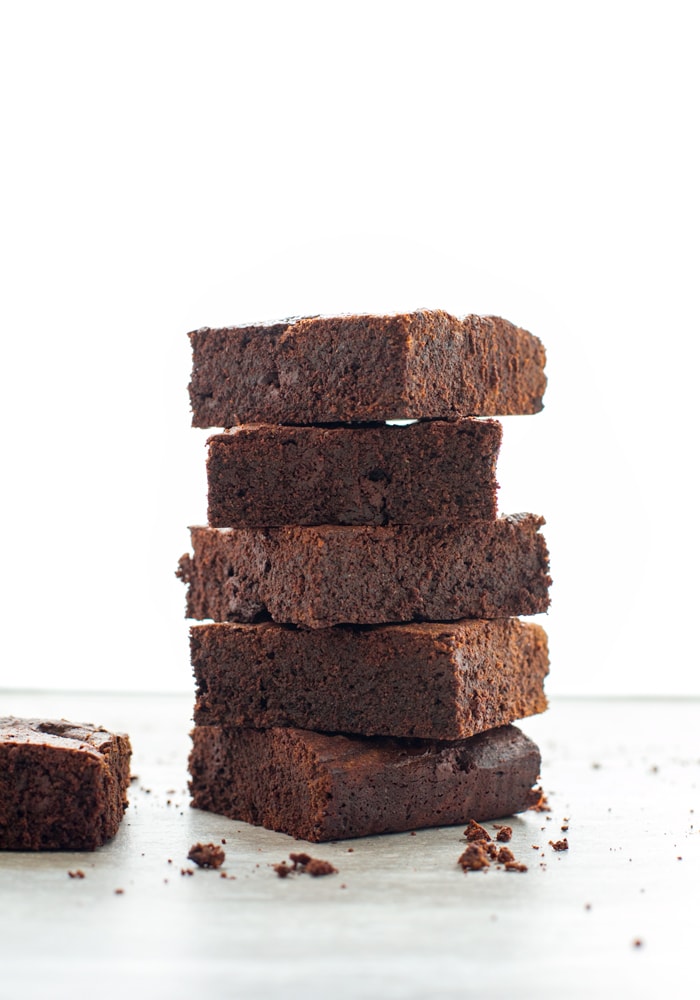 I can't stop talking about how good these Espresso Brownies are – The whole family loved them and devoured them in less than 1 hour. I have the feeling this will quickly become a weekly staple!
These melt-in-your-mouth chocolatey fudgy Espresso Brownies are incredibly soft and rich – Sure to satisfy your dessert cravings in a bite.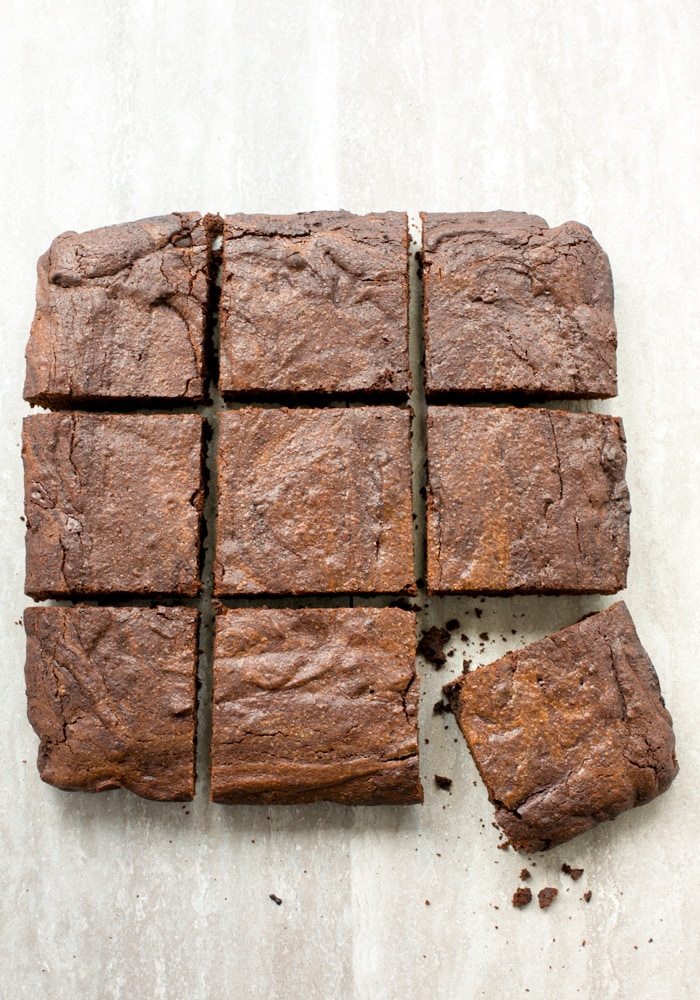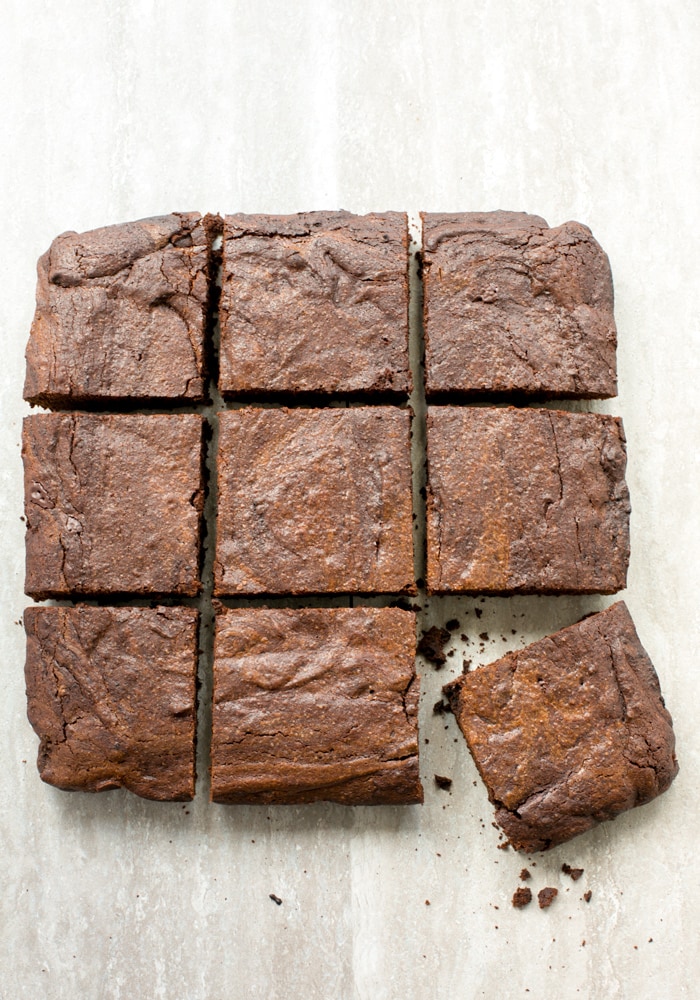 Don't forget to make the most of Pact Coffee offer and order your Starter Kit for just £6.95 using the code PACTANDREA.
DID YOU MAKE THIS RECIPE?
Please let me know how you liked it! Leave a comment below and share a picture on Instagram with the hashtag #thepetitecook! Looking at your pictures always makes me smile *and super hungry*!
**This post is sponsored by Pact Coffee. I truly recommend this brand and I'm really proud to collaborate with their team. Thank you for supporting the brands that support The Petite Cook!**

Espresso Brownies
These melt-in-your-mouth chocolatey fudgy Espresso Brownies are incredibly soft and rich - Sure to satisfy your dessert cravings in a bite.
Ingredients
160gr unsalted butter
150gr 70% dark chocolate
210gr caster sugar
3 tbsp organic maple syrup
1 tsp vanilla extract
3 large free-range eggs
50gr unsweetened cocoa powder
60gr ground premium-quality espresso coffee
100gr all-purpose flour
50gr dark chocolate chips
a pinch of sea salt flakes
Instructions
Preheat the oven to 175C/350F and line with parchment paper a 9x13 inch pan. Set the oven rack to the middle shelf.
In a large microwave-safe bowl, fold in the butter and 150gr of chopped dark chocolate. Melt for 30 second, give it a whisk, then melt for another 30 seconds, until fully smooth and combined, Immediately stir in the sugar, vanilla extract and maple syrup, and whisk until fully combined,
Stir in the eggs and give it a nice mix.
Add in the flour, cocoa powder, ground coffee, chocolate chips and a pinch of salt, and give it a quick mix, until all ingredients are combined.
Transfer the mixture into the prepared pan and spread it evenly.
Bake for 30 min, then insert a toothpick into the center of the pan. If it comes out wet, the brownies are not done, if it's just slightly wet, the brownies are done.
Remove from the oven and allow to cool on a wire rack, then cut into squares and serve.
Store in an airtight container for up to 3 days.