My favourite brownies ever. These melt-in-your-mouth healthy fudgy brownies are pure heaven in a bite.
You can't help but fall in love with these brownies, rich and moist, they irresistibly melt in your mouth. The best part is, they are totally good for you. Rich in antioxidants and fiber, these healthy fudgy brownies contain much less sugar and fat than you'd find in a traditional brownie recipe. Plus, they're 100% dairy-free and gluten-free. Basically almost everyone can eat them. They do contain eggs so substitute with a suitable alternative, like mashed banana, for a vegan version.
What makes these brownies incredibly decadent and fudgy is a secret ingredient, avocado. This superfood will give all the richness you want in your brownies, together with plenty extra healthy benefits, and you won't miss the butter at all. I love using avocado when making desserts, one of my favourite things to do in the world is these crazy delicious truffles. You'll be amazed on how versatile avocado can be when it comes to baking healthy treats. It's completely tasteless, but gives a rich texture to the mixture, allowing you to skip other fats like butter or oil.
They come together in about 20 minutes and require simple ingredients that you probably have in your kitchen already. Blend all the ingredients in the mixer, fold them into a brownie pan and bake for 20-25 mins. That's it. Yes, seriously.
You still need to be a little patient, and leave the baking tray  to cool down completely before removing your brownies. Once the job is done, cut the brownies into big chunks and stuff them all in your mouth.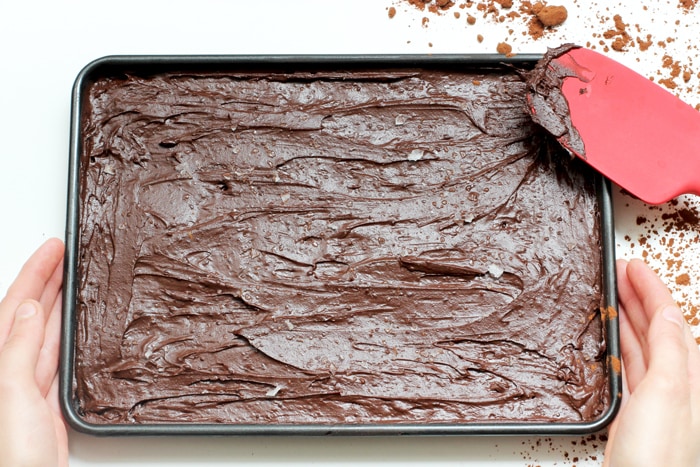 The sweet note comes from demerara sugar and manuka honey. I love the deep and rich flavors both ingredients have, not to mention the extra nutritions of manuka honey. You can play with your favourite sweeteners of course, and use only caster or brown sugar for instance, but I reckon a combo of sugar+honey works best to keep the sugars amount down. And don't forget to sprinkle a little sea salt flakes on top of your brownies before baking them. You don't want to miss the delicious sweet & salty combination.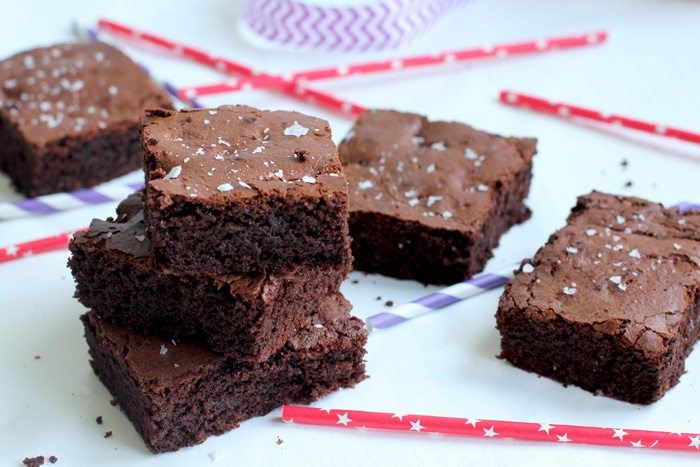 The star of these brownies is obviously chocolate. Both in dark chocolate chunks and cocoa powder version, my tip is to choose the best chocolate you have available. Go for a 65-70% organic dark chocolate and use high quality cocoa powder if possible.
Being completely gluten-free, there is no flour in the brownie mixture, so it's super important that you choose your cocoa powder wisely. Common rule is: if you're using baking soda go for raw cocoa powder, if using baking powder choose Dutch cocoa powder instead. Remember not all baking powder brands are gluten-free, so double-check the ingredients before use.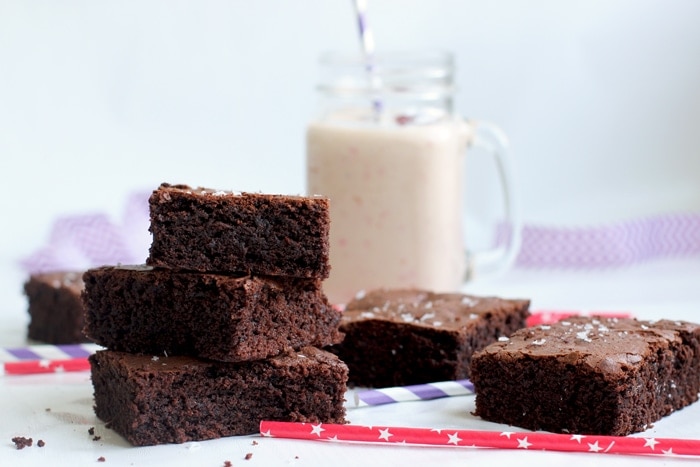 If you're looking for something more indulgent, add without shame some homemade salted caramel sauce over the top of your brownies. A ridiculously good combination of flavors and textures with a fudgy melt-in-your-mouth heart.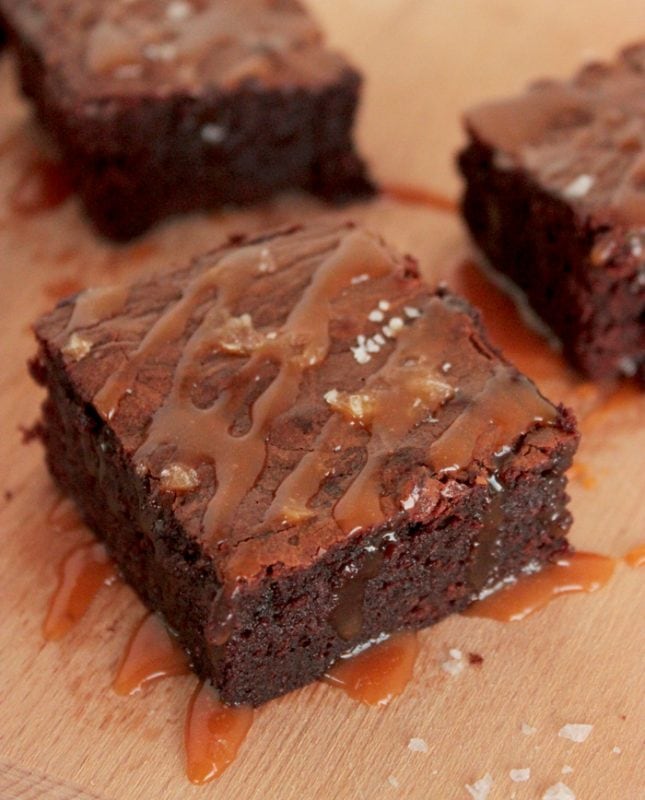 These brownies make a fantastic sweet treat  nad being so healthy they are great to enjoy all-year-round. They're also perfect for parties, birthdays and any other kind of celebrations. If you're planning a party, make sure you get plenty of inspiration and check more party recipes.

Healthy Fudgy Brownies
These melt-in-your-mouth healthy fudgy brownies are pure heaven in a bite. Plus they're gluten free and dairy free!
Ingredients
200g avocado flesh ( about 2 avocados)
2 eggs
½ vanilla pod
1 tbsp water
100g/3.5 oz bar of 65-70% dark chocolate
85g/3oz Dutch cocoa powder
50gr demerara or brown sugar
1 tbsp honey ( like Manuka honey), optional
½ tbsp baking soda
Pinch of sea salt flakes
To serve:
Instructions
Preheat oven to 180C/360F. Grease with a little olive oil a 8" baking pan.
Melt the chocolate in a heat-proof bowl over a pan of boiling water. Once melted, let it cool a little.
Add the avocado flesh into a mixer, then fold in eggs, vanilla and water. Blend all ingredients until creamy.
Add in sugar, cocoa powder, honey if you like and a pinch of sea salt. Mix all ingredients, fold in baking soda and stir until just combined.
Transfer the mixture into your prepared pan, levelling out the top and spreading well out the mix to all of the edges.
Sprinkle with sea salt flakes and bake in the oven for 20-25 min, or until a toothpick inserted comes out clean.
Allow to cool completely before taking out of the pan. Cut into square and drizzle with caramel sauce if you like. Enjoy!
Notes
These brownies are very fudgy, add 2 tbsp of flour into the mixture to get a bit of cake-like texture. You can also add 2 tbsp almond flour to keep it gluten free.