Learn how to make Italian Chocolate Hazelnut Spread at home with just 5 simple ingredients. It's easy to make, and tastes absolutely incredible!
Growing up in Italy, one my favourite merenda (afternoon break in Italian) was 2 thick slices of ciabatta bread smothered with as much as chocolate hazelnut spread I could put on them.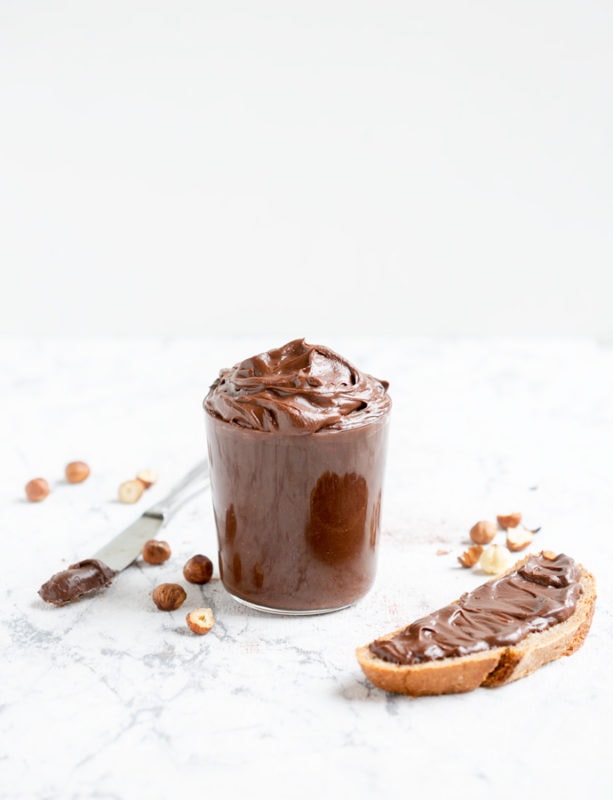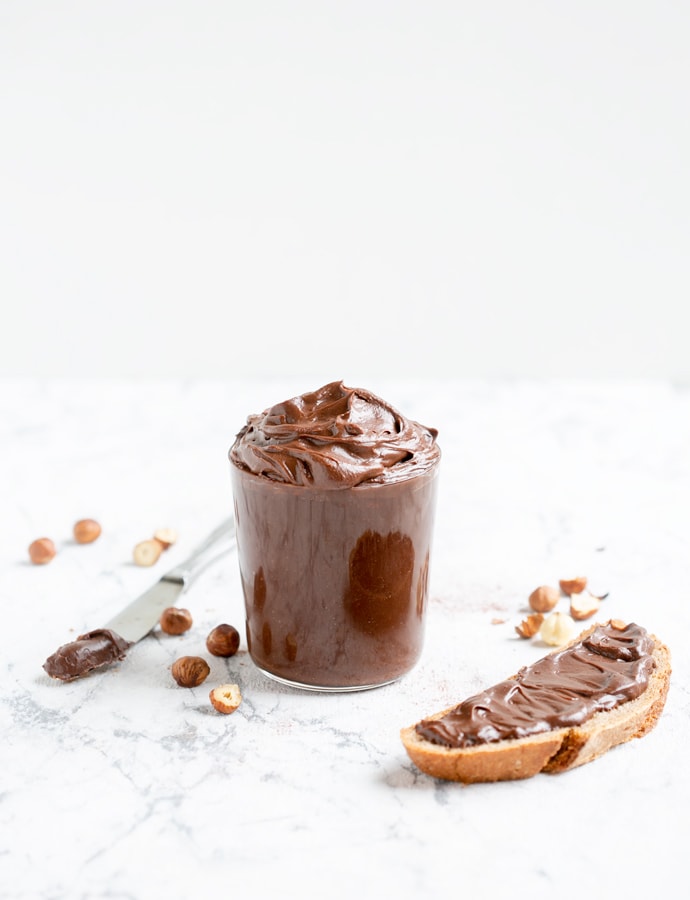 This Italian chocolate hazelnut spread is a fantastic alternative if you have troubles finding the store-bought version at your local store.
Did I mention it tastes absolutely incredible? Chocolaty, full of nutty flavour, creamy and rich, this Italian chocolate hazelnut spread recipe is absolutely a keeper!
All You Need Is Just 5 Ingredients!
This Italian chocolate hazelnut spread only calls for 5 simple everyday ingredients I'm pretty sure you have in your pantry already:
- hazelnuts
- dark chocolate
- organic brown sugar
- olive oil
- and fresh milk. YEP. That's it!
Hazelnuts
Use whole unpeeled hazelnuts, they're cheap and easy to peel once you roast them in the oven. To make things quicker however, you can also use hazelnut flour.
Sugar
Use unrefined organic brown sugar for a great result. You can also use regular sugar, and even brown confectioner sugar (I use it occasionally, and can be easily found online).
Oil
Adding a tiny little bit of oil into your hazelnut spread will add up extra richness and a smooth result.
You can use a mild-flavoured oil such as a light olive oil and sunflower oil, or go for hazelnut oil for a deeper flavour. You can also skip it altogether.
Milk
High-quality fresh milk is the key for a rich delicious hazelnut chocolate spread.
Go for whole fresh milk for the best results, however, you can also use semi-skimmed milk if you like.
Dark Chocolate
High-quality dark chocolate will give all the amazing chocolaty flavour in this hazelnut chocolate spread, so make sure you get the best you can.
I always opt for 70% organic dark chocolate, because it is made with only cocoa butter, cocoa beans and a hint of vanilla.
How To Make Homemade Hazelnut Chocolate Spread
Making this delicious chocolate treat is easier than you think!
Once you have roasted your hazelnuts, this amazing spread comes together in less than 10 minutes.
Check below my easy to follow step-by-step recipe pictures for fool-proof results.
Place the hazelnuts on a tray and roast them for 10 minutes or until the nuts are nicely toasted.
Halfway through baking time, give them a good stir and pop them back in the oven until they turn golden brown and smell delicious.
Let them cool a couple of minutes then place them in a tea towel and give them a nice rub to peel them as much as possible.
It's OK if you don't peel all of them, but the more the better.
Of course, if you have bought roasted hazelnuts (some stores sell them), you can skip this step altogether.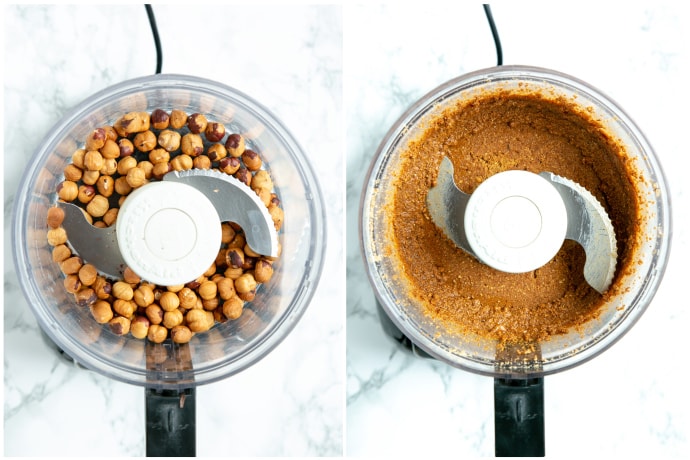 Place the roasted hazelnuts in a powerful food processor (I use a KitchenAid) or blender (I use a Vitamix), together with the sugar of your choice (I go for organic raw brown sugar or confectioner brown sugar).
Mix until smooth and the hazelnuts are reduced to a fine paste.
This may take about 2-5 minutes depending on the kind of appliance you're working with.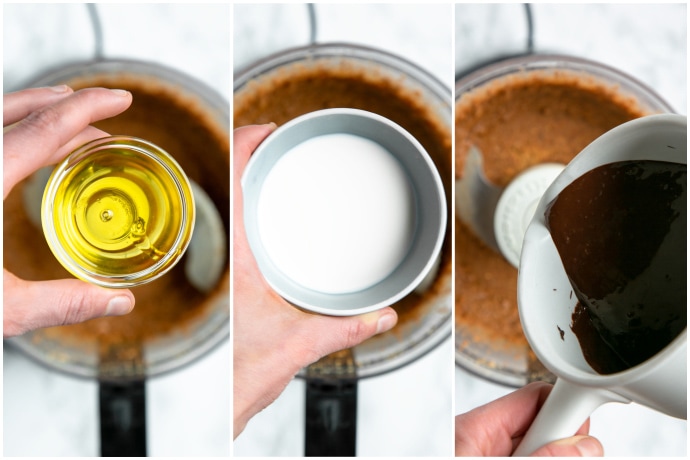 At this point, with the motor running, slowly add in warm melted dark chocolate, followed by warm milk, and finally a little bit of oil.
This will help to thin out the spread just enough to make it smooth and spreadable as it is supposed to be.
And, that's pretty much it! Your Italian chocolate hazelnut spread is all ready!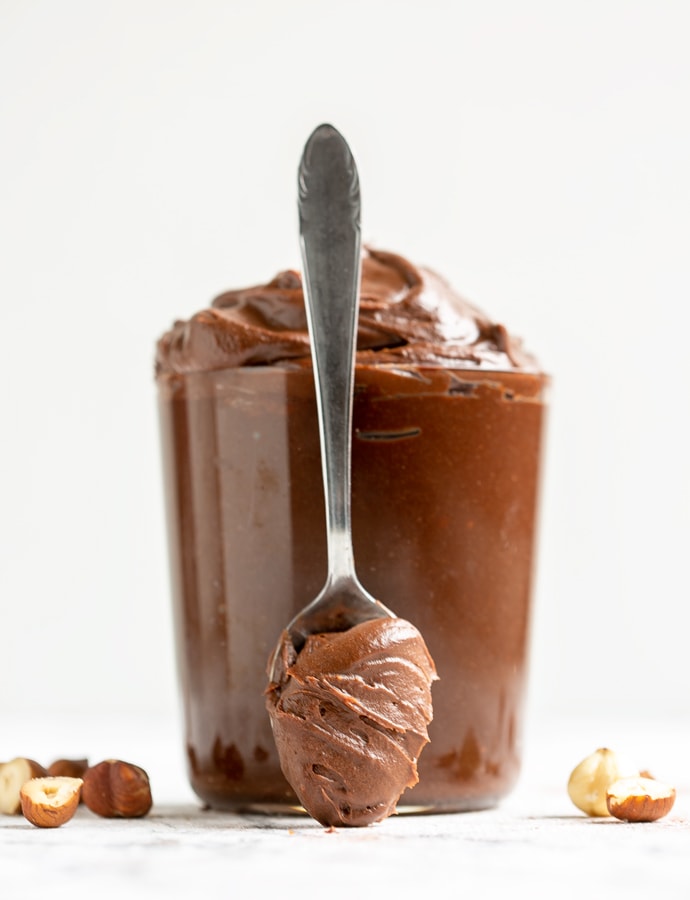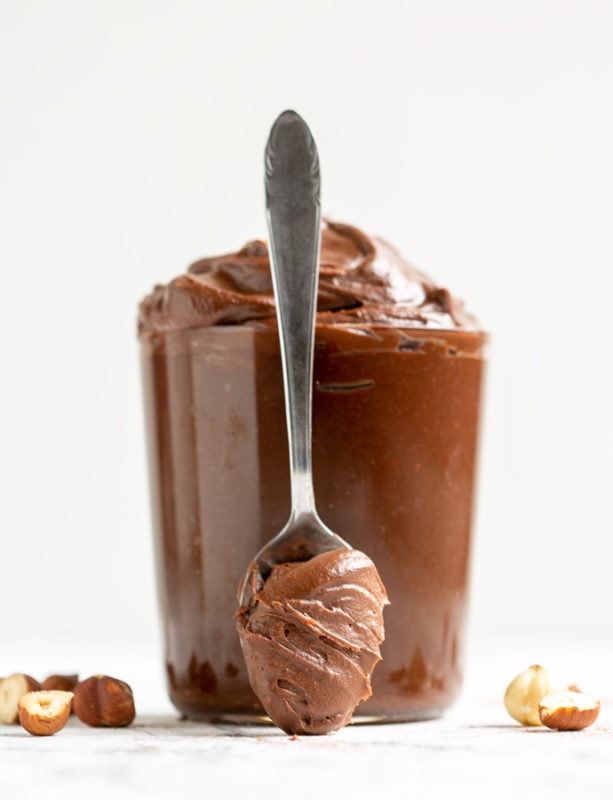 Store in a sterilized airtight jar and it will keep well in the fridge for about 1 week, but I bet it won't last that long - In our household, it disappears within a couple of days!
What do You Put Italian Chocolate Hazelnut Spread On?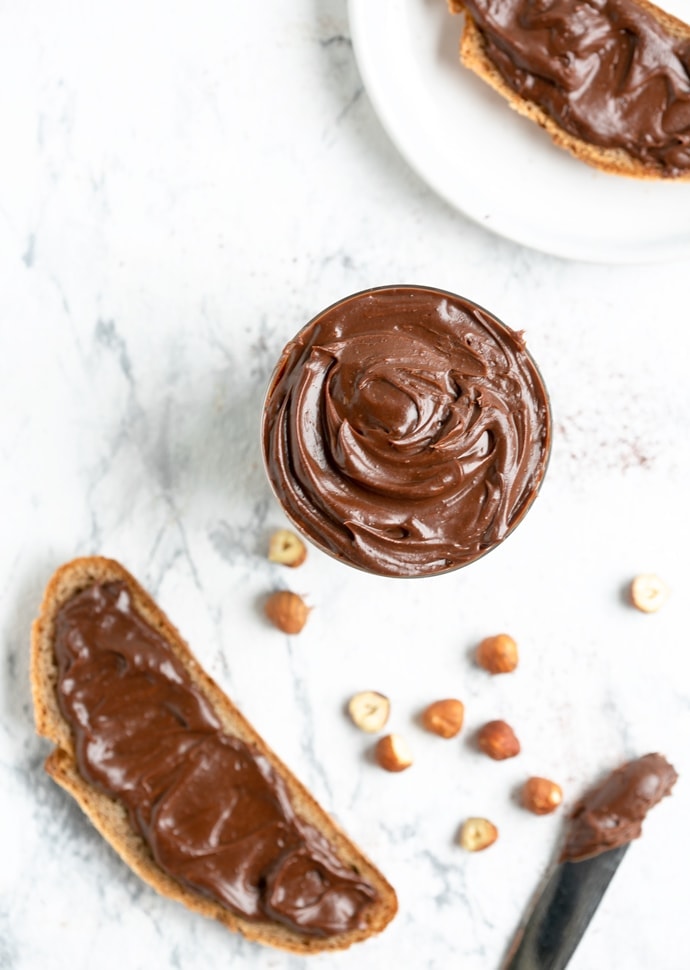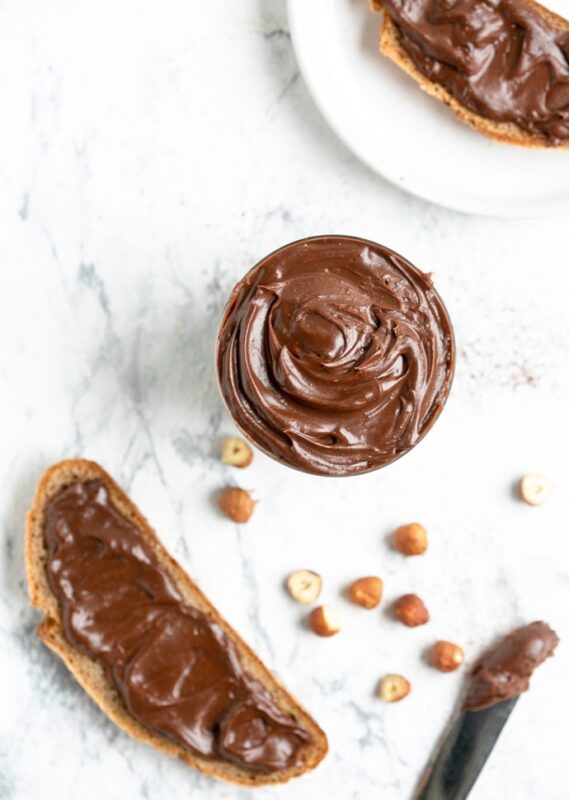 There are endless ways to enjoy your homemade chocolate spread, but here are a few favourites:
DID YOU MAKE THIS RECIPE?
Please let me know how you liked it! Leave a comment below and share a picture on Instagram with the hashtag #thepetitecook! Looking at your pictures always makes me smile *and super hungry*!
Recipe
Italian Chocolate Hazelnut Spread
Learn how to make Italian Chocolate Hazelnut Spread at home with just 5 simple ingredients. It's easy to make, and tastes absolutely incredible!
Ingredients
120

g

raw unpeeled hazelnuts

120

g

organic raw brown sugar

80

ml

mild olive oil

,

(or hazelnut oil)

150

g

organic dark chocolate

,

chopped

200

ml

warm fresh whole milk
Instructions
Spread the hazelnuts on a baking tray and roast them in a preheated oven to 350ºF (180ºC), stirring them halfway through cooking time, for 10 to 15 minutes, until the hazelnuts are golden brown.

Place the chocolate in a microwave-safe bowl and heat for 30 seconds, then stir with a spoon until the chocolate is fully melted and keep the chocolate warm.

Once the hazelnuts are roasted, place them in a clean tea towel and rub them to loosen the skins. Remove as much of the skins as possible then transfer the warm hazelnuts into a food processor or powerful blender.

Add the sugar into the food processor and blend the ingredients until smooth, depending on your food processor it may take 2 to 5 minutes. Blend until you have a smooth paste.

With the motor still running, pour the oil into the food processor, followed by the warm milk and warm chocolate and blend until smooth and fully combined.

Pour the chocolate hazelnut spread in a large sterilized airtight jar and store in the fridge up to one week.
Notes
*Make sure both the milk and melted dark chocolate are warm, otherwise the chocolate hazelnut spread won't come together.
Thermomix Chocolate Hazelnut Spread recipe: I've made this recipe in my Thermomix and the result is a much smoother, rich chocolate hazelnut spread, so if you have it, I encourage you to try this recipe below. Note: You don't need to warm the chocolate and milk for this version.
1. Place the roasted hazelnuts and sugar into the Thermomix bowl, and blend for 30 seconds on speed 7.
2. Add the chocolate chunks and blend for 30 seconds on speed 6.
3. Pour in the milk and oil and blend for 6 minutes on speed 4 at 50°C.
4. Pour the chocolate hazelnut spread into sterilized air-tight jars and store in the fridge for up to 1 week.
The information shown is an estimate provided by an online nutrition calculator. It should not be considered a substitute for a professional nutritionist's advice.