Learn how to make the popular Japanese Pancakes – Incredibly fluffy and light, these soufflé-like pancakes are super fun and easy to recreate at home!
Weekends were made for pancakes in bed, am I right? So let's talk about my all-time favourite weekend breakfast: super delicious fluffy Japanese Pancakes.
The first time I tasted Japanese Pancakes was on my trip to Japan last year, and I've been wanting to remake them at home ever since.
They're quite similar to American Pancakes in terms of ingredients, but very much different in terms of texture.
They're way taller and softer, with a soufflé-like texture, almost like the famous jiggly Japanese cheesecake.
Why Japanese Pancakes are so fluffy?
There are two main ingredients that make these Japanese pancakes SO fluffy.
The first ingredient is plain and simple buttermilk.
I know it's easily available in-store, but I make my own buttermilk every single time.
It's such an easy thing to prepare, and you can make just the right amount you need for your recipes.
All you have to do is mix the milk with a spoonful of lemon juice or white vinegar.
The second and a little special ingredient is Japanese mayonnaise. I know what you're thinking – WHAT?! Mayo in my pancakes? NO, THANKS! But trust me on this.
Adding a little mayo into your batter will ensure extra fluffy Japanese Pancakes every single time. And I promise you won't taste it at all.
I usually use the Kewpie brand for the Japanese mayonnaise, but you can use any Japanese brand really.
You can also simply omit the mayo completely ( but you will end up with a denser and less fluffy pancake, although still delicious).
Once you got all the ingredients, making these Japanese Pancakes is not a difficult task, but you need to put a little more effort than you would usually do with regular pancakes.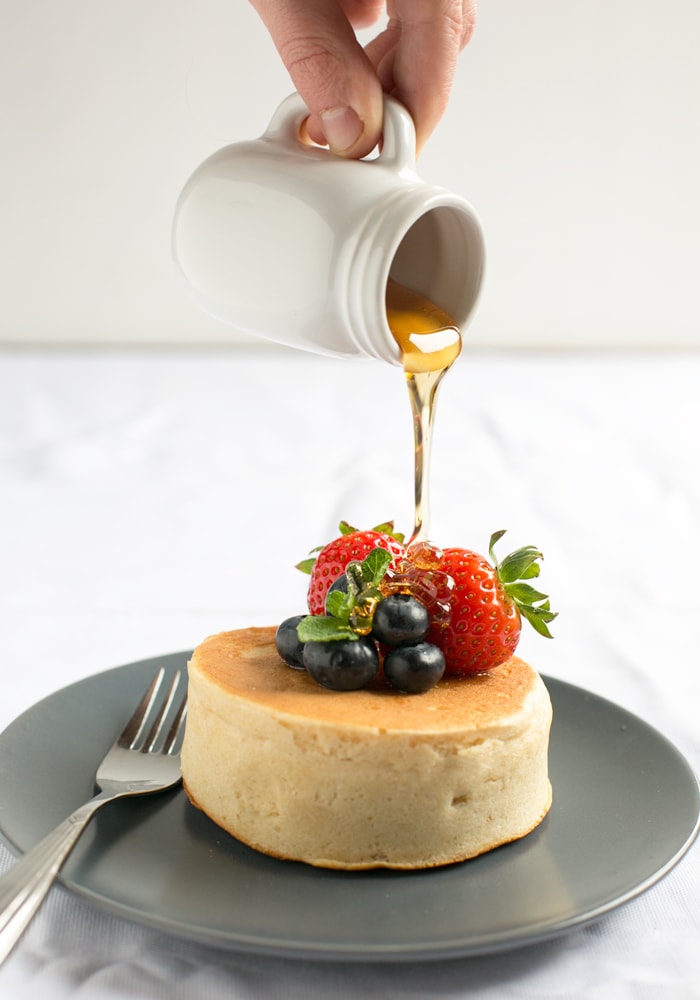 The most important step is beating the egg whites.
To achieve that amazing jiggly, airy texture, you need to beat the egg whites until stiff peaks form and then gently fold them into your batter, just like you would do with a soufflé.
Don't let this extra step put you off, because the result is totally worth it!
The extra few minutes involved will make sure you get the most amazing, fluffy Japanese Pancakes.
Pancakes Toppings
Once your pancakes are ready, top them up with all your favourite toppings! Here are some of my favourites:
all sort of fruits
dark/white/milk chocolate
a spoonful of maple syrup
All the above would work wonderfully with these lovely jiggly Japanese Pancakes.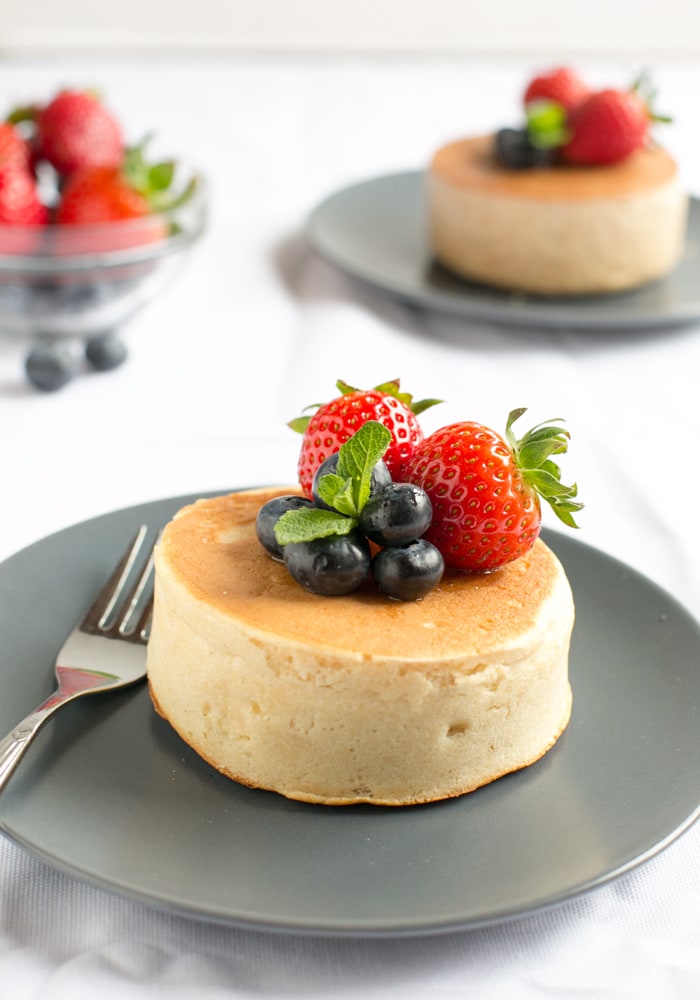 More Pancake Recipes:
If you're looking for more ideas for a delicious weekend breakfast, check out these other pancake recipes:
DID YOU MAKE THIS RECIPE?
Please let me know how you liked it! Leave a comment below and share a picture on Instagram with the hashtag #thepetitecook! Looking at your pictures always makes me smile *and super hungry*
Recipe
Easy Fluffy Japanese Pancakes
Learn how to make the popular Japanese Pancakes – Incredibly fluffy and light, these soufflé-like pancakes are super fun and easy to recreate at home!
Ingredients
2

large free-range egg yolks

200

ml

buttermilk

,

see notes for homemade buttermilk*

4

tablespoon

white sugar

¼

teaspoon

vanilla extract

1

tablespoon

Japanese mayonnaise

,

optional

210

g

all-purpose flour

1+½

teaspoon

baking powder

2

egg whites

,

chilled

vegetable oil

,

for cooking
Instructions
In a large bowl, whisk together egg yolks, sugar, buttermilk, vanilla, and mayonnaise. Sift in flour and baking powder. Gently mix with a whisk until batter is creamy and smooth.

Beat the chilled egg whites in another large bowl with an electric mixer on medium-high speed until stiff peaks form, about 2 minutes.

Scoop out one third of the beaten egg whites and add to your batter. Gently fold from the bottom the beaten egg whites into the batter. Then gently fold in the remaining egg whites and carefully mix until you have a foamy smooth batter.

Cut 4 strips of parchment paper the same size of four 3-inch (about 2 ½-inch-high) ring moulds. Lightly grease the inside of the rings with cooking oil spray. Line the inside of each ring with the prepared strip of parchment paper, so that the pancake won't stick to the ring.

Heat a large skillet over medium heat and spray it lightly with cooking oil. Arrange the prepared moulds on to the pan, leaving enough space between them.

Fill each ring mould about ⅔ full with batter. Cover with a lid and cook until the batter rises to the top of the ring moulds and is cooked on the bottom, about 4 minutes.

Using a spatula and an oven glove, carefully place the spatula under the pancake and, whilst holding the ring, gently flip it on the other side.

Cover and cook for a further 4 minutes until the pancakes are completely cooked and golden on both sides.

Carefully push the pancakes out of the moulds onto a serving plate.

Top the pancakes with your favourite toppings and serve immediately.
Notes
* To make homemade buttermilk: In a large bowl place 200 ml of milk and mix in 1 tablespoon of fresh lemon juice. Allow to sit for 5 min and use as needed.
The information shown is an estimate provided by an online nutrition calculator. It should not be considered a substitute for a professional nutritionist's advice.