What would the world be without Nutella? Good news for you, homemade Nutella is healthy, crunchy and impossible to resist!
Nutella is one of the most delicious Italian things known in the world. Creamy, smooth and mouthwatering, this famous chocolate spread is the perfect companion for croissants, crepes, pancakes, bread and... spoons. Think about a layer of thick scrumptious Nutella between two sliced of lightly toasted baguette. It sounds just like breakfast heaven, right?
Nutella as delicious as it is, doesn't make a very healthy breakfast option though. It's not only a matter of calories and sugars, but also the unnecessary added ingredients. The original Nutella is made with: Sugar, vegetable oil, hazelnuts (13%), cocoa powder (7.4%), non-fat milk solids, emulsifier (soy lecithin), flavour (vanillin).
Homemade Nutella is the best gift you can make for yourself! It's healthy, crunchy and yummy, and made with 4 ingredients only: hazelnuts, chocolate, milk and sugar. Simple and delicious.
To make this easy homemade Nutella, all you need is a food processor, and before you know you'll be already toasting the bread and screaming Breakfast is ready! ( or better, don't tell anyone and enjoy it all by yourself).
There are few easy steps to follow in order to make this fantastic Nutella, follow them closely, and I promise you'll have your own jar of homemade crazy-choco-nutty-goodness in less than 15 min.
1. Lightly toast the hazelnuts in a preheated oven to 350F/180C for about 10 mins, until shiny and golden. Be sure to stir them every 3-4 minutes to keep them from burning. Once toasted, cool them off a bit before use.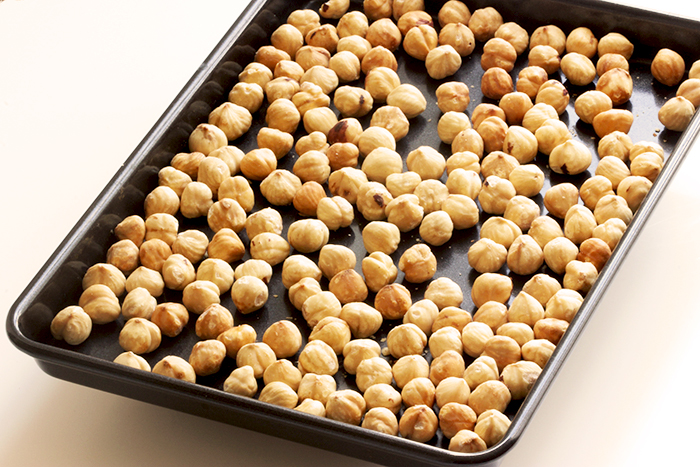 2. Put the toasted hazelnuts in a food processor and pulse until crumbled. Keep blending the hazelnuts, in a matter of minutes they will reach a creamy but still dense buttery texture. At this point you can stop and keep a nice crunchy texture to the homemade nutella, just like I did. To make your Nutella smoother, keep processing the hazelnuts a little bit longer, for about 5 more mins, until you reach a shiny glossy texture.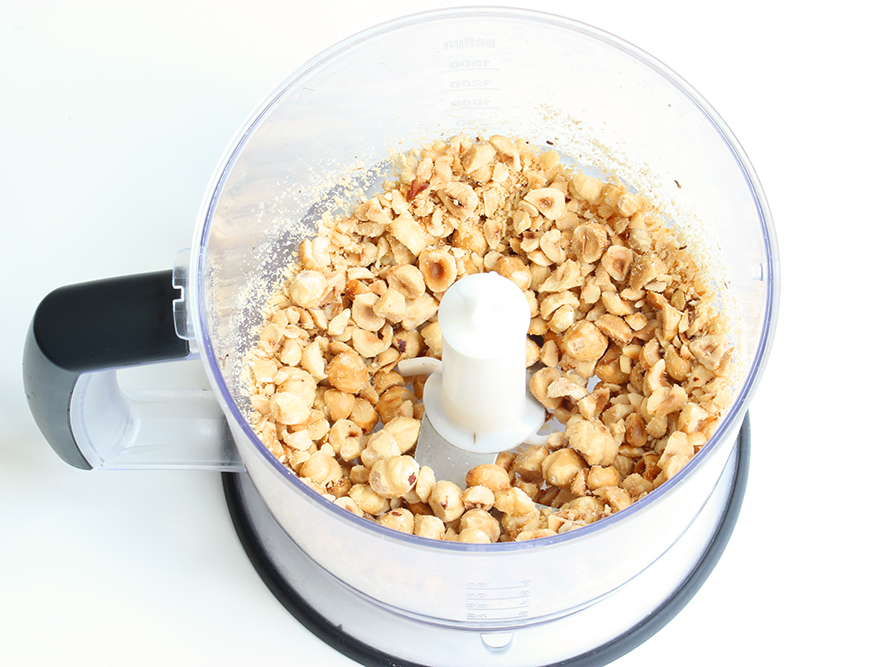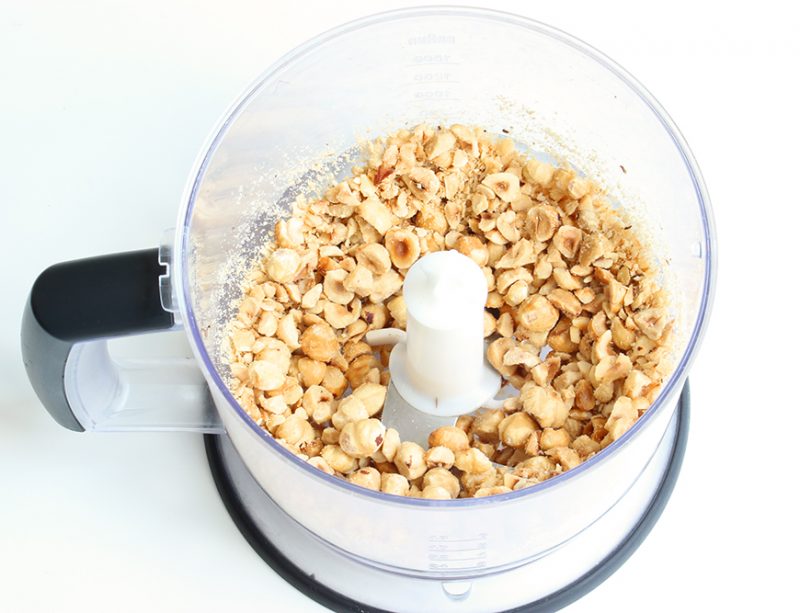 3. Put chocolate, sugar and warm milk in a microwave-safe bowl and heat for 30 seconds only. Remove from the microwave and stir well until all the chocolate has melted and you have a glossy texture.Then pour the melted chocolate and milk mixture into the food processor with the hazelnuts.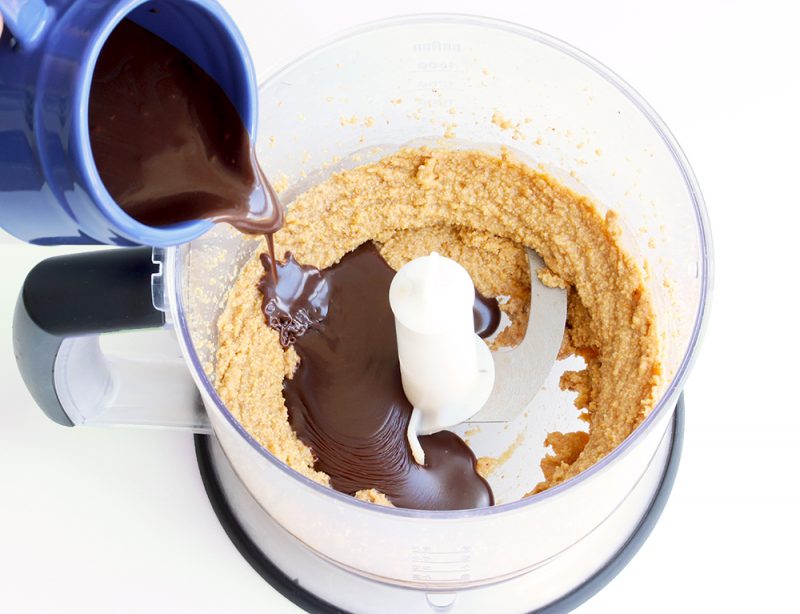 4. Now, you only need to process all ingredients together for 1-2 mins, until the nutella gets shiny and smooth and absolutely mouth-watering.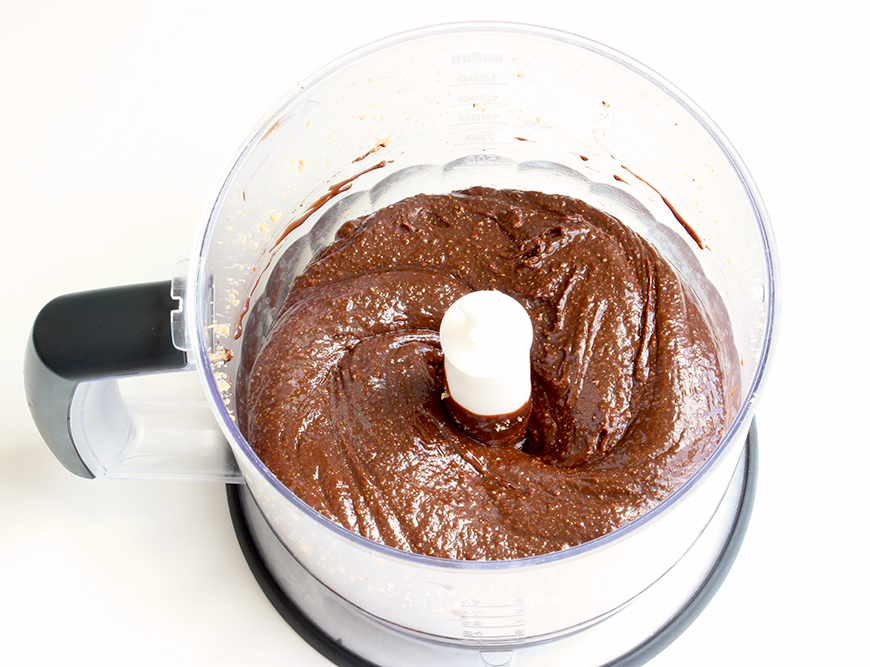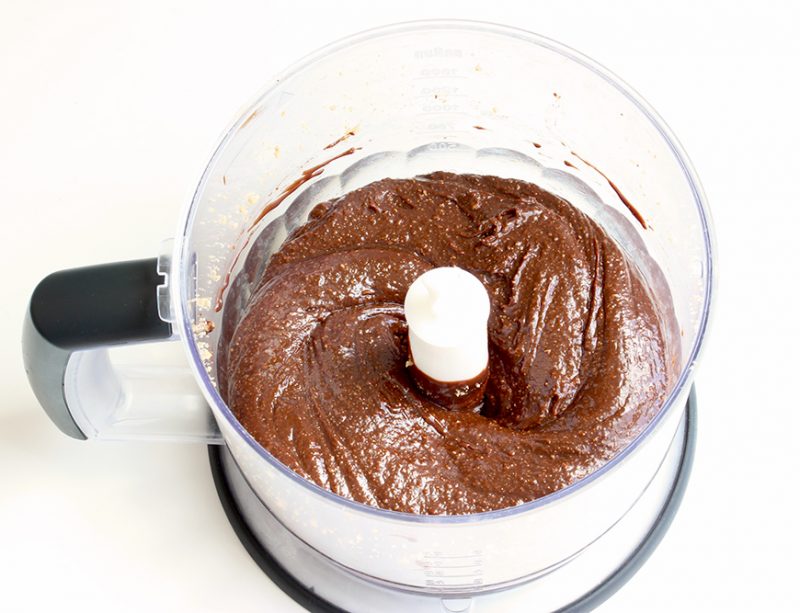 This is the basic homemade Nutella recipe, but having made it a millions times, I've tested a few variations and they all taste delicious.
You can add a pinch of sea salt in the mixture, the salty-sweet combo is always a win for me. You can also substitute sugar with honey or agave nectar, my favorite choice. You can also make it 100% vegan by skipping the milk altogether and adding 1 tablespoon of light organic olive oil.
Once you're happy with your own homemade Nutella, make all kind of delicious desserts. A few of my personal favorite recipes include this showstopping Nutella tart inspired by Pierre Hermé, these crunchy Nutella & Coconut Samosas, and this health-ish No-bake Nutella Cheesecake!