Happy Pancake Day my dear friends!
To celebrate, a big batch of freshly homemade pancakes is a must. This fool-proof super fluffly buttermilk pancakes recipe is simple, easy and ready within minutes. No matter how busy your morning looks, it won't get in the way of your early celebrations.
When you see how easy it is to make delicious, light pancakes from scratch, you'll wonder why you never tried this recipe before! The buttermilk gives them a wonderful flavor, and they are light, airy and SO yummy.
These simple buttermilk pancakes require very little effort to make and are ready in just 10 mins. The best part? You only need 6 simple ingredients: all-purpose flour, buttermilk, baking powder & soda, eggs, butter and of course your favorite toppings.
For me strawberries, banana, blueberries and fruits in general make the best toppings, and are an easy way to get at least 1 portion of your 5 a day. But if you want to scatter some chocolate chips on top, who am I to judge? Go ahead!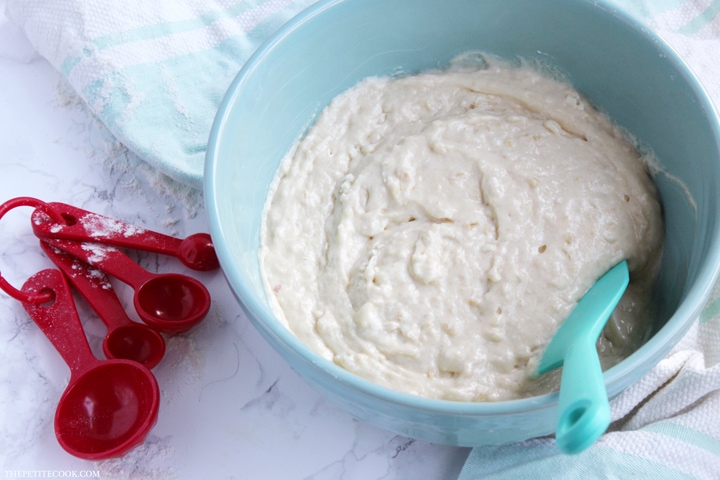 When making buttermilk pancakes, the key to success is to not overmix your batter. Don't panic if the batter isn't smooth, it's supposed to have some tiny lumps. Once cooked, your pancakes will be light and fluffly. I promise.
Start by mixing all the ingredients together to make your pancake batter. First mix the dry ingredients, then fold in the beaten eggs, buttermilk and butter. Give it a quick stir, just enough to combine everything together.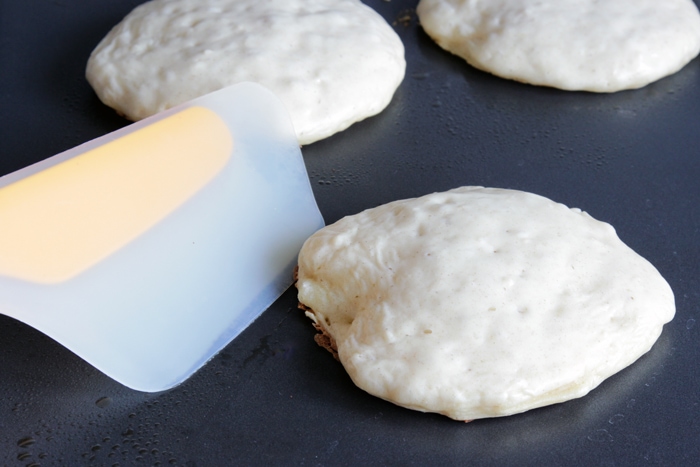 Heat a large non-stick frying pan lightly sprayed with oil or brushed with butter. To make sure the surface of your pan is hot enough, test the skillet with drops of water; they should "dance" lively before dissolving. Pour about three spoonful of batter per pancake on the hot surface and allow to cook for 2 min.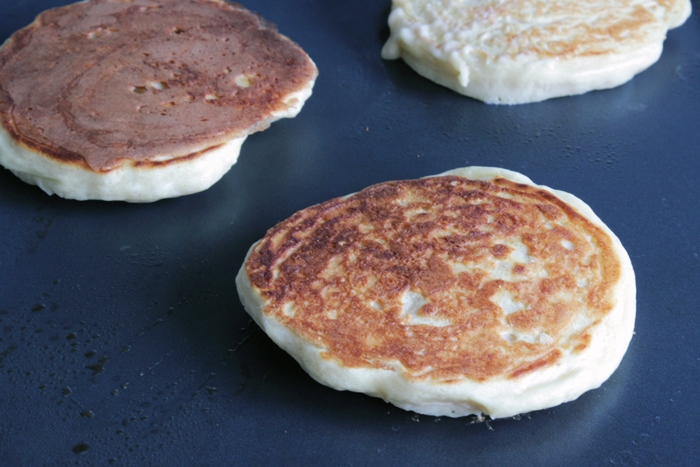 Then, simply flip the pancake on the other side and cook for a further 1-2 min. Once ready, pour all over a generous amount of maple syrup, as the tradition calls. Don't forget to top them with your favorite ingredients, whether is chopped fruits, chocolate chips, homemade nutella, bacon or anything else you can think of!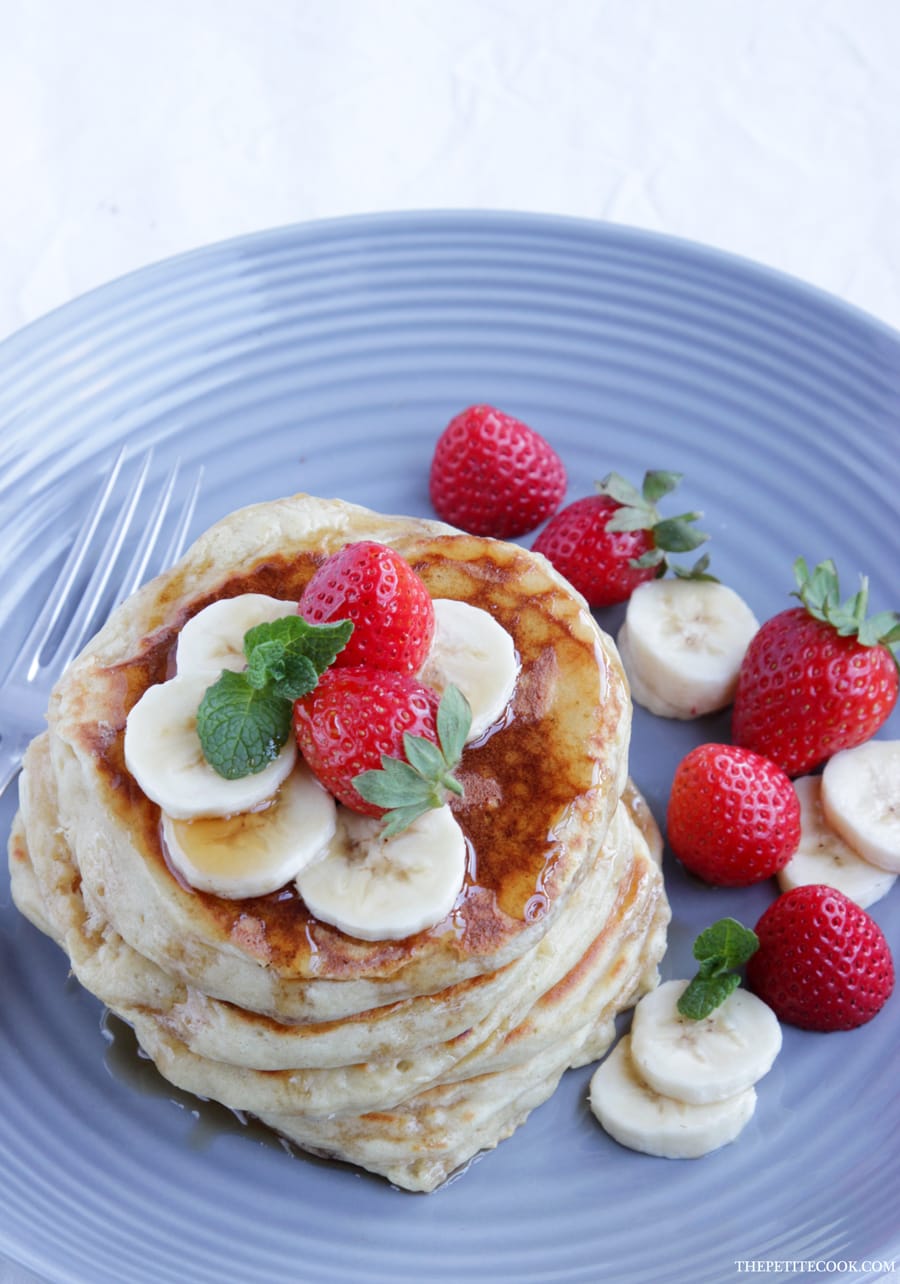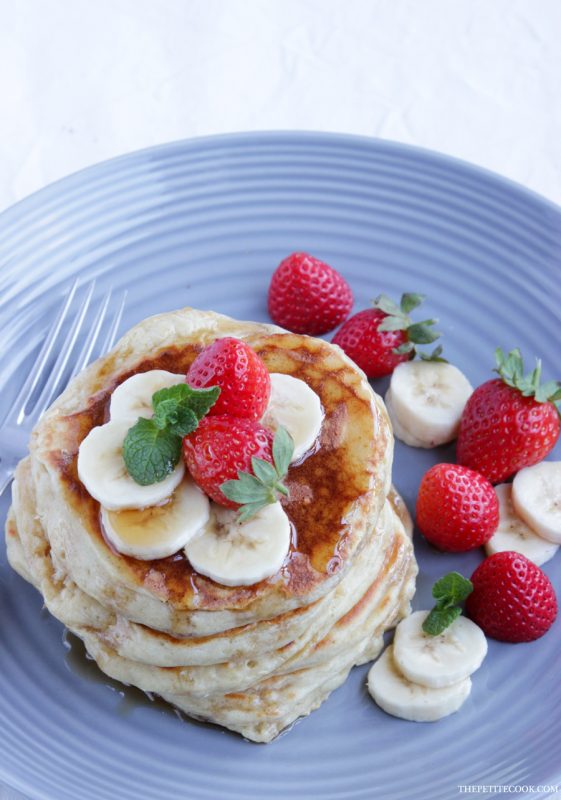 Nothing says breakfast like homemade american-style pancakes. This easy basic buttermilk pancakes recipe will help you recreate this weekend favorite in less than 10 minutes!
Recipe
Basic Buttermilk Pancakes
This easy basic buttermilk pancakes recipe will help you recreate a weekend favorite in less than 10 minutes!
Ingredients
200

g

/ 7oz all-purpose flour

2

ttsp baking powder

1

teaspoon

baking soda

a pinch of salt

2

large eggs

,

lightly beaten

2

cups

buttermilk

2

tablespoon

melted butter

spray oil for griesing
For serving:
bluberries

,

strawberries, banana, chocoate chips

maple syrup

knob of butter

maple syrup
Instructions
In a large bowl whisk together flour, baking powder, baking soda, salt.

Add eggs, buttermilk, and melted butter; whisk to combine. It's ok if the batter has small lumps.

Heat a non-stick frying pan over med-high heat and spray with oil.

Pour 3 large spoonful of the batter on the hot surface, and spread a little with the back of the spoon to form a round.

Cook for about 2 min, then flip the pancake on the other side and continue to cook for a further 1-2 min.

Transfer on a serving plate and serve with maple syrup and fresh fruits on top. Enjoy!
The information shown is an estimate provided by an online nutrition calculator. It should not be considered a substitute for a professional nutritionist's advice.