Weekend breakfast doesn't get better than homemade Fluffy American Pancakes – This basic recipe will get you guaranteed fluffy results every time!
---
Pancake's day is coming up next week – Did you really think I would leave you without a new pancakes recipe for the occasion? Of course not. And what's better way to celebrate than a HUGE stack of classic super fluffy American pancakes?
I'm usually a fan of easy and quick recipes when it comes to breakfast, but I would never EVER say no to pancakes over weekend!
These classic Fluffy American Pancakes are incredibly easy to prepare and ready in just 15 min.
Best of all, you only need simple ingredients you most probably have in your kitchen already: egg, milk, flour, baking powder and sugar. It really doesn't get easier than this.
Once you your pancakes are ready, top them up with anything you like. Think nuts, fruits, chocolate, maple syrup or honey. I love to use any fruit I have on hand and a bit of maple syrup, and when I'm feeling indulgent a little of chocolate sauce.
This is such a basic recipe, so just make sure you follow it accurately. Here below are some simple tricks to get guaranteed fluffy results every single time!
3 Tips To Make The Best American Pancakes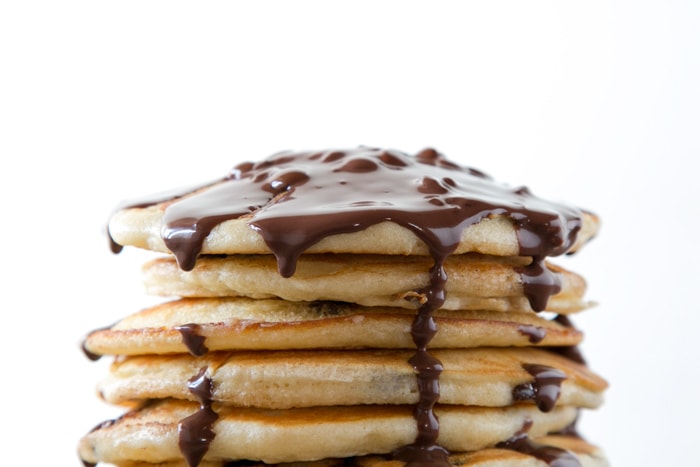 1. Do not Over Mix The Batter
It's super important to mix the dry & wet ingredients in two separate bowls, and just mix together all the ingredients at the very end, to avoid the risk to over-mixing the batter. If you over-mix the batter the pancakes will be somehow denser and flat, not really what you expect from a fluffy American pancakes recipe, right?
2. Rest The Batter
To get that fluffy and tender result, the batter needs to rest a little time before cooking. resting the batter for a minimum of 5 min allows the gluten in it to "relax", resulting into smooth and better pancakes.
3. Set The Right Temperature
The next important thing to remember is to keep an eye on the temperature of the griddle when you cook your pancakes. The more you cook your pancakes the dryer they become, so getting the temperature right is a MUST.
Make sure to preheat your skillet/griddle to 375F/190C. If your griddle doesn't have a thermometer or you use a regular skillet, keep your temperature to "medium" and heat for about 10 min before adding the batter. If you're not quite sure you have reached the right temperature, just test with a small pancake first and adjust the heat accordingly.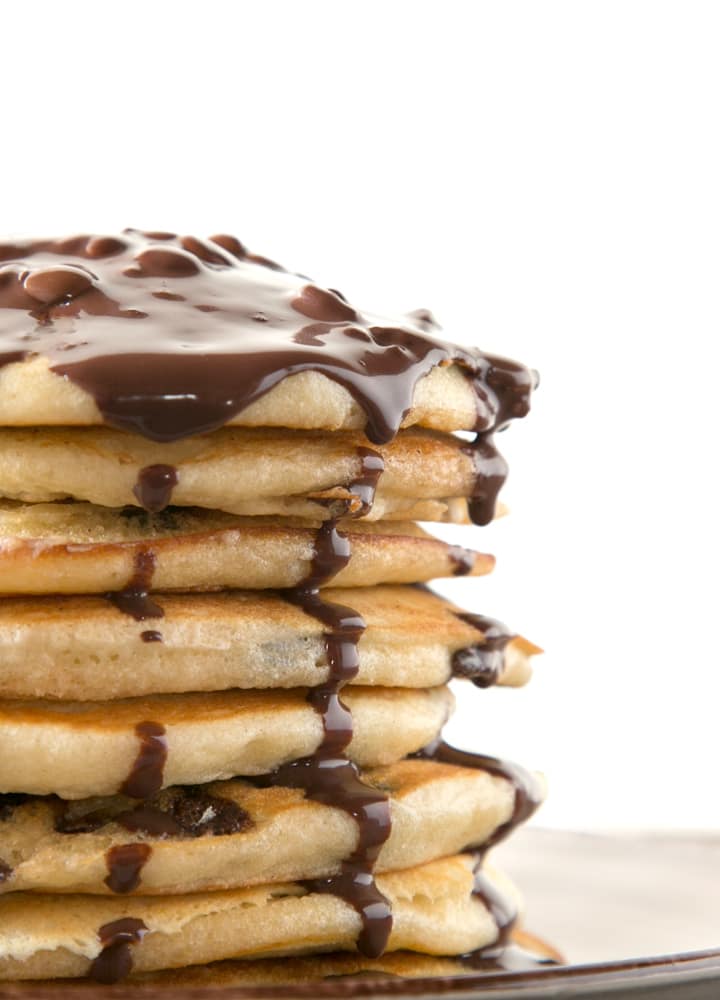 Did you make this recipe?
Please let me know how you liked it! Leave a comment below and share a picture on Instagram with the hashtag #thepetitecook! Looking at your pictures always makes me smile *and super hungry*!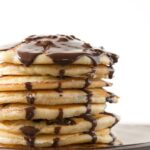 Print Recipe
Fluffy American Pancakes
Weekend breakfast doesn't get better than homemade Fluffy American Pancakes - This basic recipe will get you guaranteed fluffy results every time!
Ingredients
195

gr

all purpose flour

2

tbsp

sugar

2

+1/2 tbsp baking powder

a pinch of sea salt

295

ml

whole milk

1

large egg

3

tbsp

butter

I use homemade butter, melted

vegetable oil or butter

for cooking
Instructions
In a bowl, mix together egg, milk and melted butter until combined.

In a large bowl mix the flour, sugar, baking powder and a pinch of salt together until well combined.

Incorporate the wet ingredients into the dry ones, and mix well until just combined.

Rest the batter for at least 5 mins, in the meantime, preheat a large no-stick skillet or griddle over medium heat (or until it reaches 190C/375F).

Grease the pan with a little butter. With the help of an ice cream scooper or small ladle spoon, pour the batter onto the skillet. Gently spread the batter into a small circle and cook until the edges start bubbling.

Flip on the other side and continue to cook until golden and cooked through. Repeat until all batter has been used.

Once all your pancakes are ready, top them up with your favourite toppings and serve immediately.