Forget the canned stuff, homemade dulce de leche is super easy to make – All you need is just 2 basic ingredients and one pot!
Homemade dulce de leche (which literally means milk jam) is one of the most popular desserts in Latin America, and for all the good reasons.
Made with really simple inexpensive ingredients, this luscious sauce has a nutty brown colour and deep caramelised toffee flavour that will totally win you over.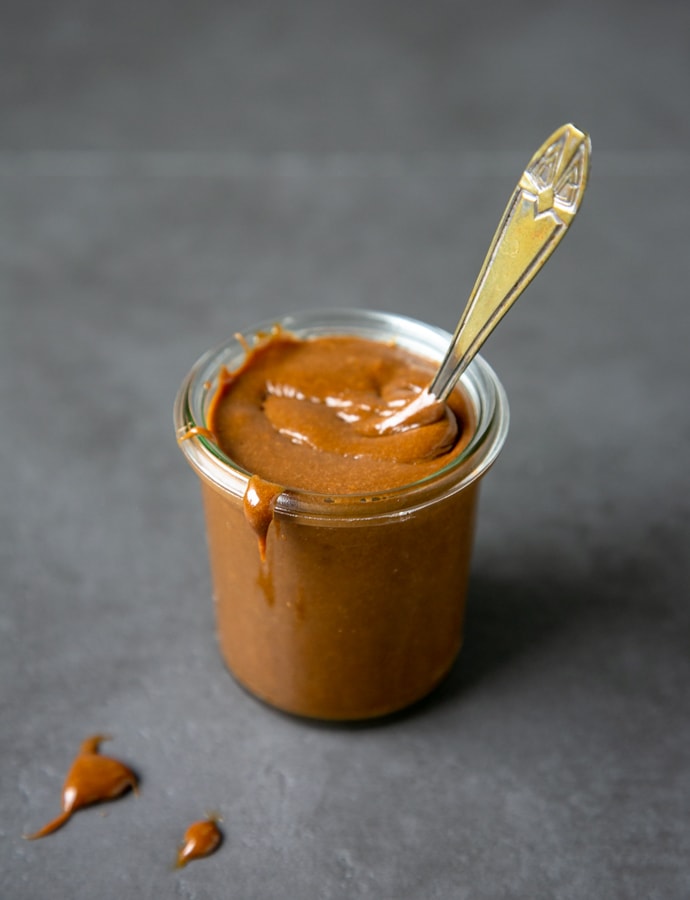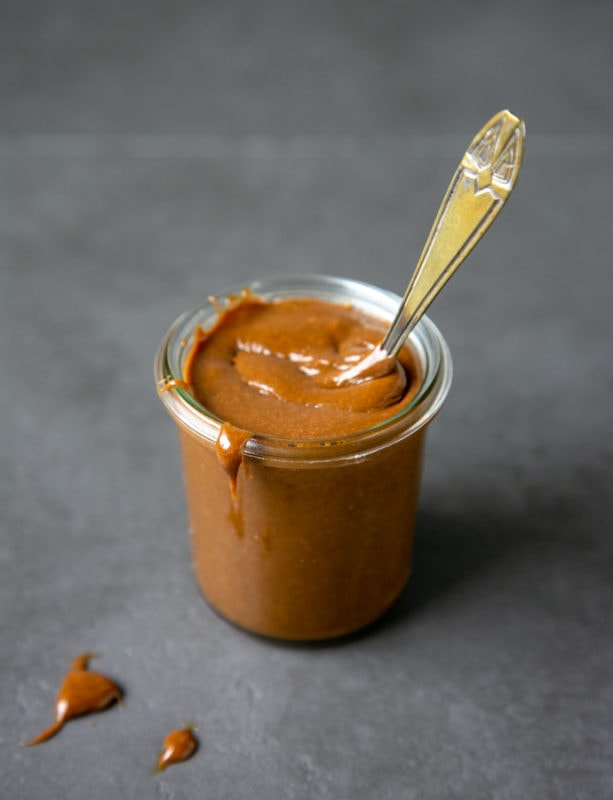 Just as caramel sauce, dulce de leche can be drizzled over pretty much anything you like.
Think brownies, ice cream, cookies, muffins, cheesecakes, cakes, pie (hello banoffee pie!), and almost any other dessert you can think of.
Other mouth-watering ways to totally rock your homemade dulce de leche include stirring it into a luxurious Italian hot chocolate, or using it as a dip for apple slices, for a health-ish treat.
But you know, the best way to eat it is with a spoon directly from the jar *careful when trying this at home, it's totally addictive*!
Differences between Dulce de Leche and Caramel Sauce
You may think caramel sauce and dulce the leche are the same things but in fact, they're not.
Although they share a similar process of caramelisation, they have different ingredients and timings.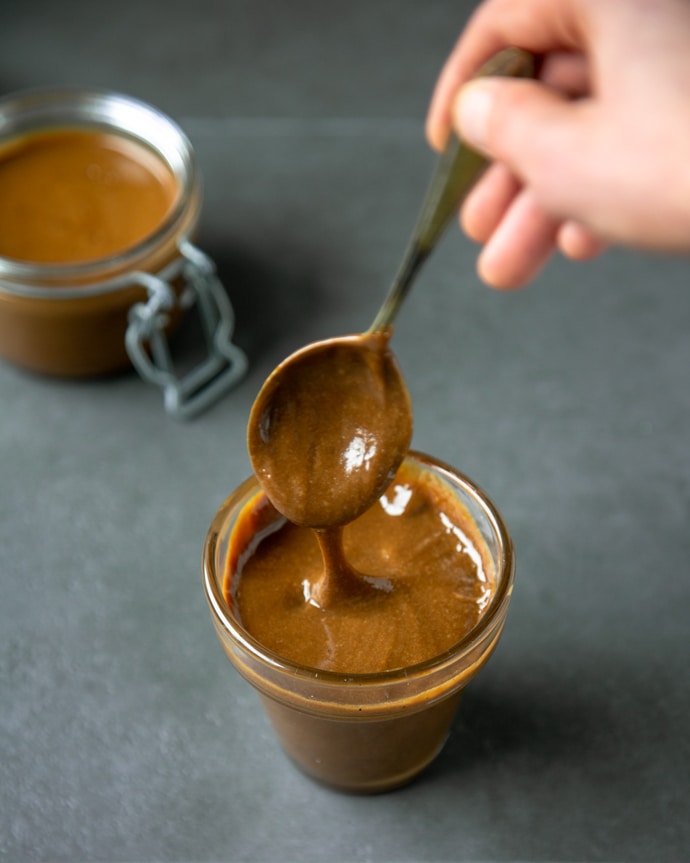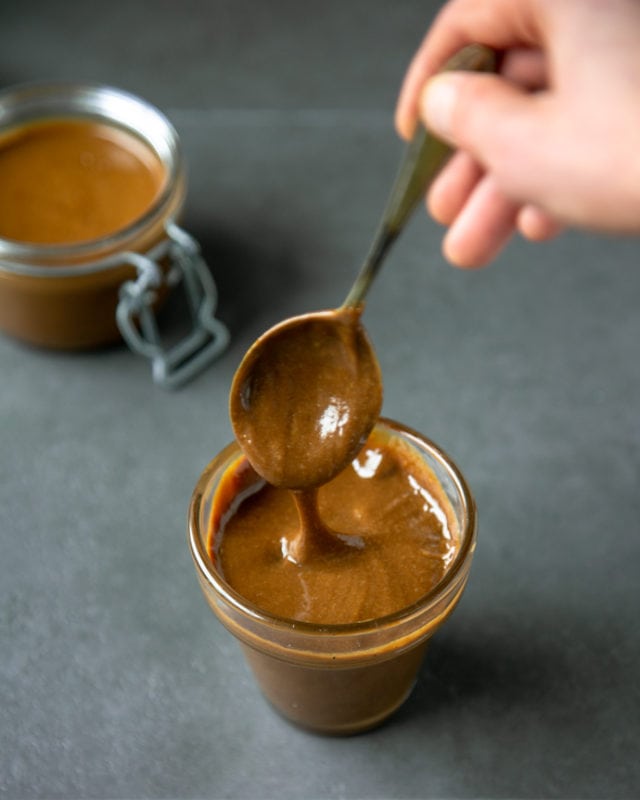 Dulce the leche is mainly made with cows' milk (or goats' milk for a Mexican version) and sugar.
The two ingredients are slowly cooked until the mixture turns first into condensed milk, then into a thick nutty-coloured spreadable mixture.
The classic recipe for caramel sauce, on the other hand, calls mainly for three ingredients: sugar, water and cream (but there's also Chef Ramsay's version made with butter in place of water).
With caramel sauce, the caramelisation process is quicker and the risk of burning is higher, so it needs a tiny bit more of attention.
For me, it's dulce de leche all the way, even if it takes a little more time. The fresh milk and the slow process give it such a deep luxurious flavour and a gooey, totally drool-worthy texture.
Dulce De Leche Ingredients
Making homemade dulce de leche requires only one pot and super basic ingredients - milk and sugar (and optional baking soda), so make sure to choose them wisely.
MILK
The choice of milk for this recipe is absolutely critical. You will need fresh whole cows' milk.
SUGAR
I like to use organic turbinado sugar (or muscovado sugar) when making homemade dulce de leche, which adds a deeper colour and a richer aroma.
You can of course substitute with white sugar, but your dulce de leche will be lighter both in colour and flavour.
BAKING SODA
Once the milk is heated and the sugar dissolved, even though is not necessary, you can add a pinch of baking soda.
The baking soda helps to prevent lumps and encourages the Maillard reaction.
Be careful when adding the baking soda, as the mixture will briefly bubble quite violently.
Step-by-step video recipe
Once you've got your ingredients covered, making this dessert recipe couldn't be easier.
Milk, sugar and optional baking soda are slowly simmered until most of the water evaporates and, with the help of Maillard reaction, the sauce reaches a gooey texture and a rich golden-brown colour.
Take a look at my video recipe below to make dulce de leche at home.
How to store:
You can store prepared dulce de leche in an airtight container, in the fridge for up to 2 weeks.
Recipe
Homemade Dulce De Leche
Forget the canned stuff, homemade dulce de leche is super easy to make – All you need is just 2 basic ingredients and one pot! 
Ingredients
1

lt

fresh whole milk

200

g

muscovado or turbinado sugar

½

teaspoon

baking soda
Instructions
Place the milk and sugar into a large saucepan, and heat over medium-low heat just below a simmer.

Stir the ingredients until the sugar is fully dissolved, then add the baking soda and stir (it will bubble briefly then it will stabilize).

Keep the mixture just below a simmer over low heat, stirring every 10 minutes for about 2 hours.

Once the mixture begins to turn brown, start stirring it continuously and lower the heat to a minimum.

The homemade dulce de leche is done when it reaches a deep caramel colour and a thick but gooey texture.

If not perfectly smooth, strain through a fine mesh strainer or give it a quick mix with an immersion blender.
Video
Notes
You can store prepared dulce de leche in an airtight container, in the fridge for up to 2 weeks.
Nutrition
Serving:
37.5
g
|
Calories:
178
kcal
|
Carbohydrates:
31
g
|
Protein:
3.9
g
|
Fat:
4.9
g
|
Saturated Fat:
3.3
g
|
Sodium:
129
mg
|
Sugar:
31
g
|
Calcium:
149
mg
The information shown is an estimate provided by an online nutrition calculator. It should not be considered a substitute for a professional nutritionist's advice.