Happy Halloween! Are you dressing up for tonight? Did you bake some delicious treats?
Halloween is such a fun and festive time with all its creepy creatures, there are so many cool things you can prepare for the perfect spooky party. But if you're out of time and looking for a last-minute halloween treat, look no further, these cookies are quick and super easy to make.
What's so great about this shortbread cookies recipe? Super sweet and aromatic, buttery, extremely crumbly, light and airy. You can't simply say no to these shortbread cookies. They make a great dessert for the scariest night of the year and for the upcoming holidays. Think about festive tea times, homemade foodie gifts, a delicious after-dinner treat or a fast way to satisfy your cookie cravings.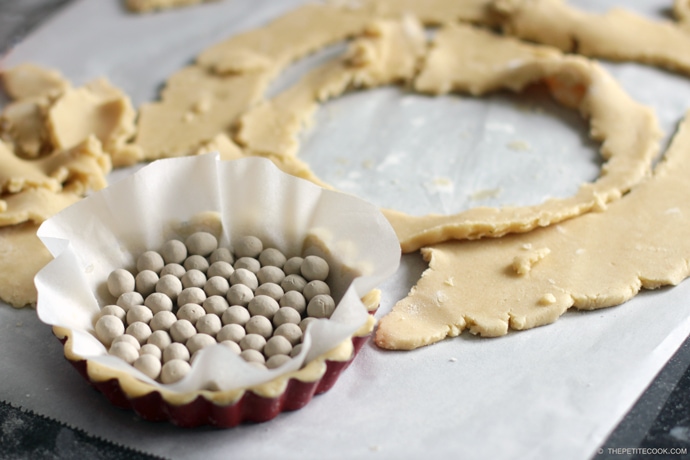 Shortbread or "pasta frolla" is a basic italian buttery and aromatic sweet dough. Made with 4 simple ingredients only, it's extremely versatile and traditionally used for cookies and pies.
These shortbread cookies are delicious on their own, but you can also add different aromas or nuts in the dough, vanilla, orange, coconut are just a few of my favorites. Top your cookies with any flavoring you like, from peanut butter, royal icing, to homemade nutella and jam. If you ask me, a pinch of pumpkin spice in the dough and some organic food gel are just the perfect addition to these cute Halloween shortbread cookies.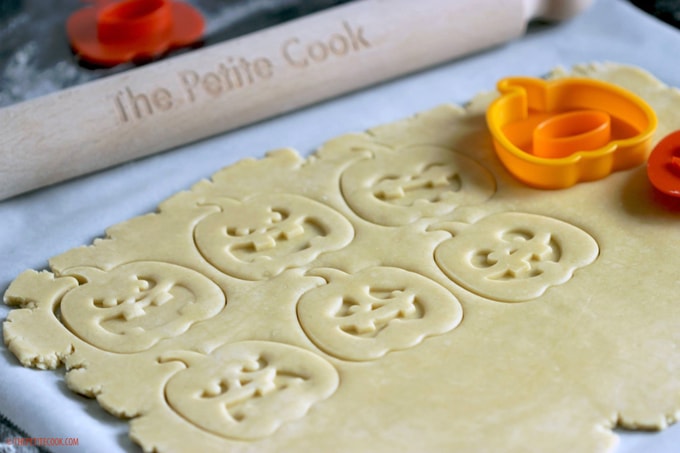 This shortbread dough is my favorite to use for baking cookies. The butter + flour + sugar combo produce a fragrant cookie that's ridiculously easy to make and super delicious. Also, I like the cookies to be thick (1/2 inch) so that they do not dry out when I bake them.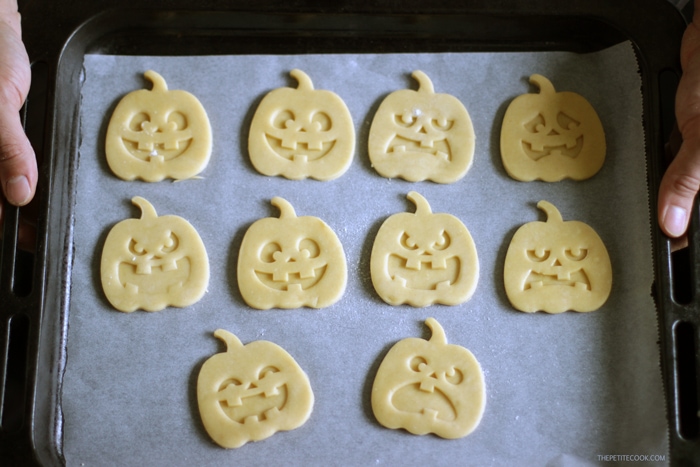 These cookies are very quick to make and don't require any special technique, just a little work with your hands, a quick chilling time in the fridge and 10 mins in the oven. Those spooky pumpkins will be ready before you say "Boo!".
The Best Italian Shortbread Cookies are quick and super easy to make!
Use you favorite cutters to shape the cookies in the form that you like and celebrate any special occasion -or none, because cookies are a good enough reason to celebrate on their own.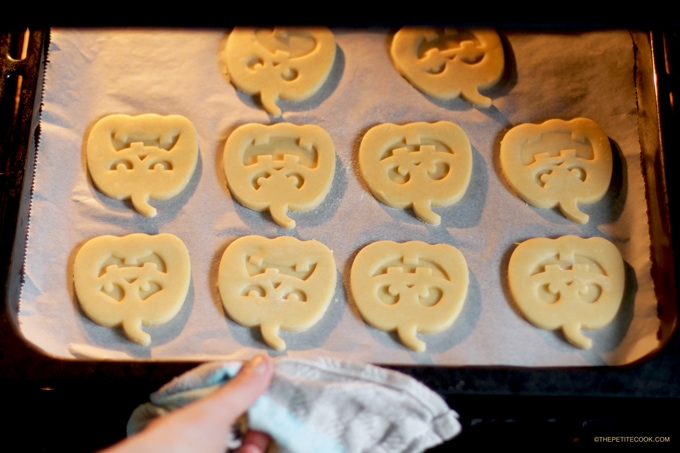 Bake up a big batch of these crisp, buttery and fragrant cookies and you'll see why it's my go-to for basic shortbread recipe. They're incredibly addicting and make a fantastic homemade treat for yourself or a cute gift for the people you love.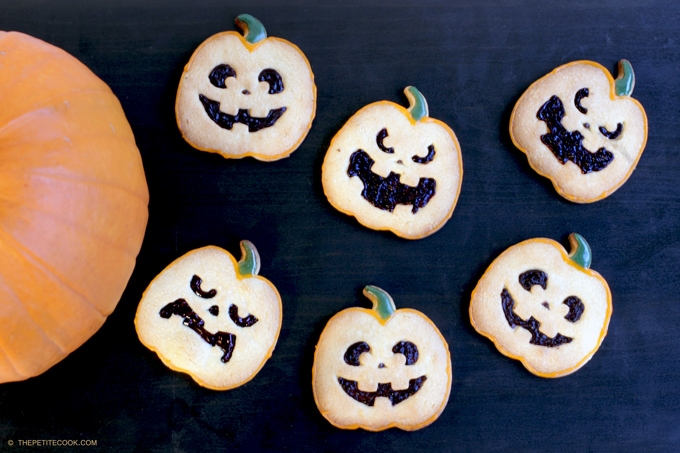 I really hope you enjoy making these shortbread cookies! If you do, or have any doubts, just leave a comment below and let me know how you liked! Even better, snap a picture and tag it #thepetitecook on Instagram – I can't wait to see your creations!

Halloween Shortbread Cookies
Ingredients
500gr / 17.6oz all purpose flour
250gr / 8.8oz extra cold butter, cut into small cubes
200gr / 7oz sugar ( I use confectioner sugar)
4 egg yolks
Flavorings (optional):
zest of 1 lemon or
zest of 1 orange or
1 tsp pumpkin spice
Instructions
Preheat oven to 360F/180C/160C fan.
In a food processor, blend flour and cold butter until you have a sandy fine texture, about 30 sec.
Arrange the mixture on a work surface (or a large bowl).
Add the confectioner sugar and any flavoring if using. Make a hole in the middle of the mixture and fold in the egg yolks.
Work very quickly all the ingredients until you have a even dough.
Refrigerate the dough for 5 min if it becomes too warm and sticky to roll.
Roll the dough between two sheets of parchment paper, about ½ inch thick.Cut into rounds or using your favorite cookie cutters.
Place the cookies on a baking tray covered with parchment and place in the refrigerator for about 5 mins. This will firm up the dough so the cookies won't lose their shape while baking.
Bake for 10 mins until fragrant and lightly golden. Remove from the tray and allow to cool. Serve immediately or decorate with food gel, royal icing or chocolate.
Notes
You can use normal coarse sugar or confectioner's. I prefer the latter as it makes it easier to work the dough without over-warming it.
Wrap the shortbread dough in cling film and store in the fridge for up to 3 days or in the freezer for up to 2-3 months.