This classic Italian Calamarata Pasta is LOADED with seafood flavour and made with 7 simple ingredients! Ready in 20 minutes and SO tasty, if you love pasta and seafood this is sure to become a favorite.
---
The authentic Italian Calamarata pasta recipe takes its name by the two main ingredients: calamarata pasta & fresh calamari rings.
Calamarata pasta is a typical Neapolitan pasta shape, which inherited its name for its shape that resembles calamari (or squid) rings. This specialty pasta has the ability to absorb all kinds of condiments, making it the perfect companion for this simple but incredibly delicious seafood sauce.
Being a proud Italian, I love cooking Italian recipes– There's something magical in the way simple inexpensive ingredients turn into mouth-watering delicacies, and the classic Italian calamarata pasta is a perfect example.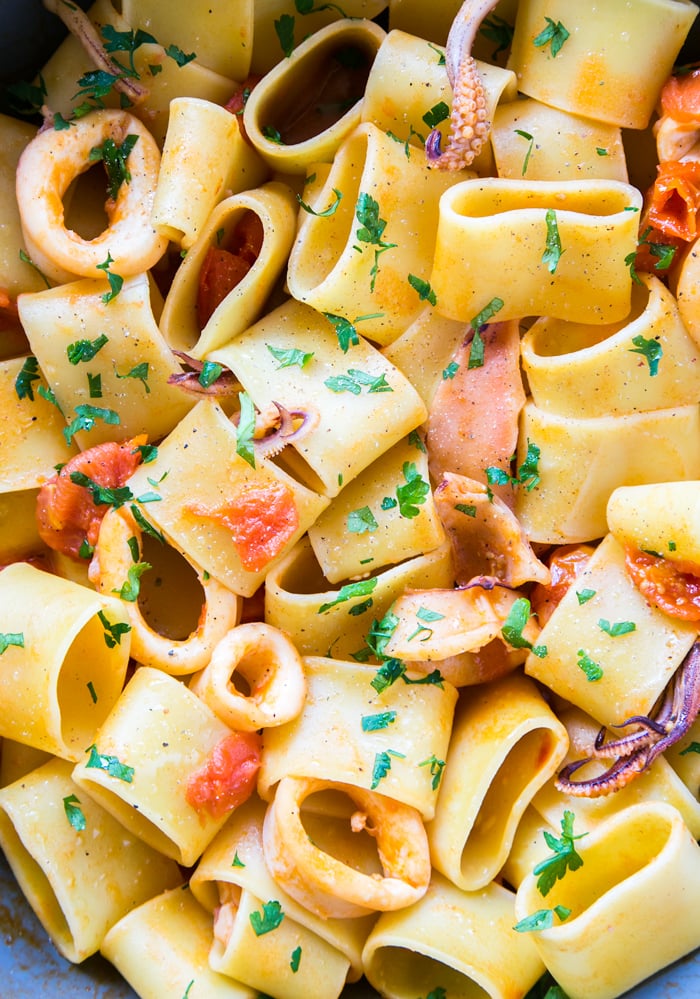 Made with calamarata pasta and fresh calamari rings cooked in a delicious tomato sauce, the pasta is cooked al dente and finished off with fresh aromatic chopped parsley just before serving.
In typical Italian style, the recipe for the classic Calamarata pasta couldn't be easier.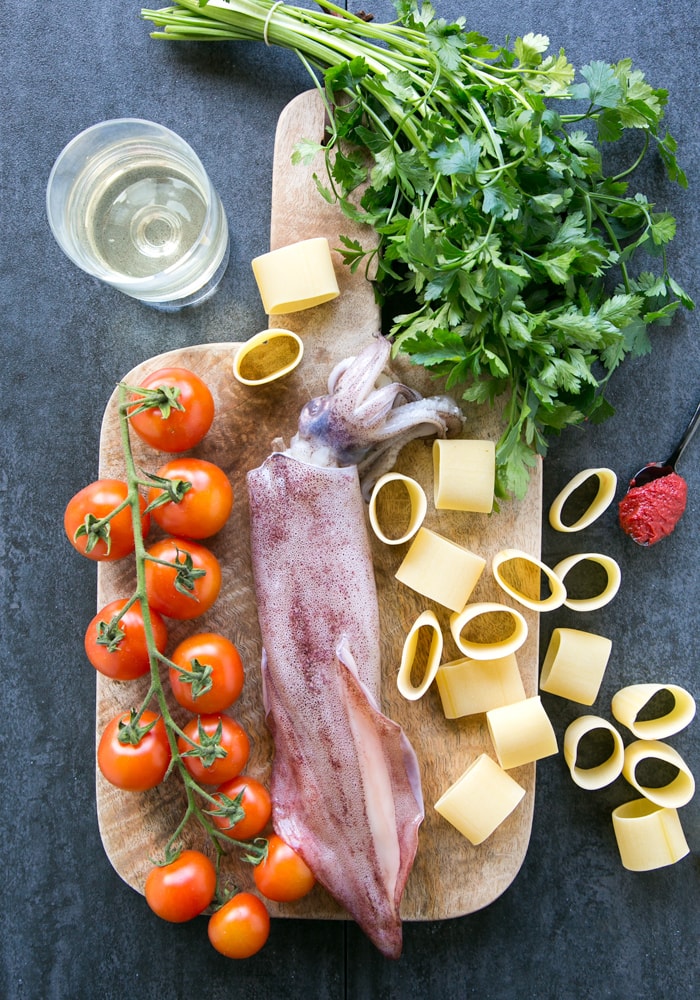 Ready in just 20 minutes start to finish, it only requires 7 simple ingredients: fresh calamari (or high-quality whole defrosted calamari), calamarata pasta (but paccheri or mezze maniche would work well too), white wine, garlic, cherry tomatoes, tomato concentrate, and fresh parsley.
There are loads of variations around, including using mixed seafood, tomato sauce instead of fresh tomatoes & concentrate, or baking the pasta in the oven in foil parcels.
I'm sticking to the original Italian calamarata pasta recipe, which is crazy easy and quick to make.
I've deliberately kept mine basic, but a pinch of dry chili to spice things up, or a few fresh basil leaves for a fragrant note, are just a few favorite add-ons that would make your pasta even tastier.
Classic Italian Calamarata Pasta Is Super Easy To Make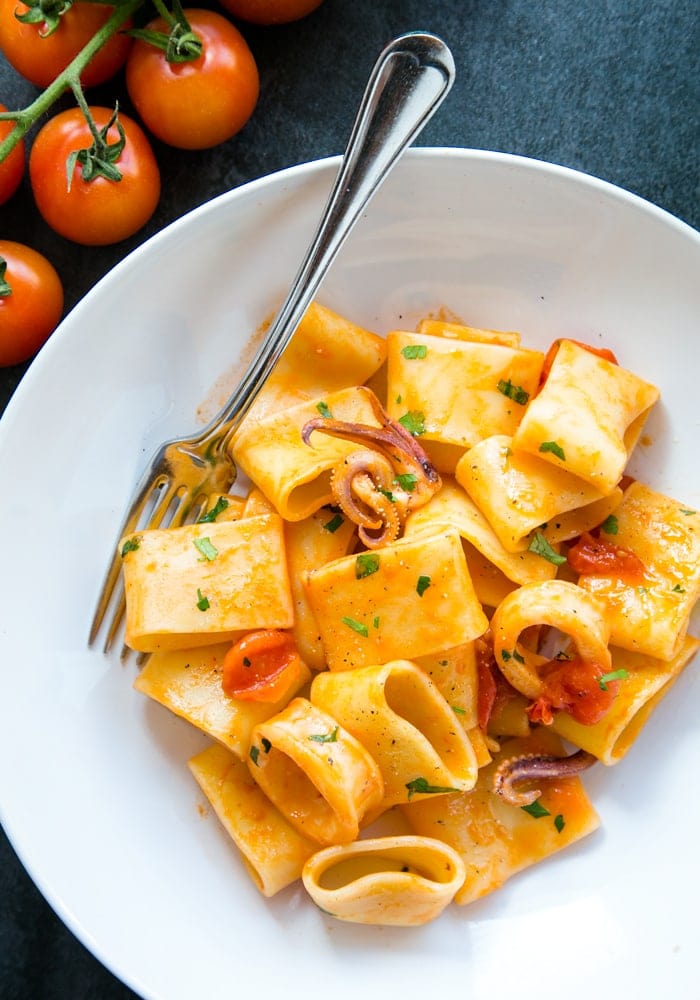 Once you've cleaned your calamari (you can ask the fishmonger to do it for you), then cut into rings and sauté them together with garlic with a bit of oil.
Add white wine & tomato paste, and once the alcohol is evaporated, fold in the tomatoes and cook for 10 minutes over gentle heat.
Fold in the pasta al dente, add a little bit of cooking water, then mix all ingredients, season with loads of black pepper and a bit of parsley and serve straight away.
Calamarata pasta is best eaten straight away, so I wouldn't suggest to store leftovers in the fridge as it would just lose most of its flavour and texture.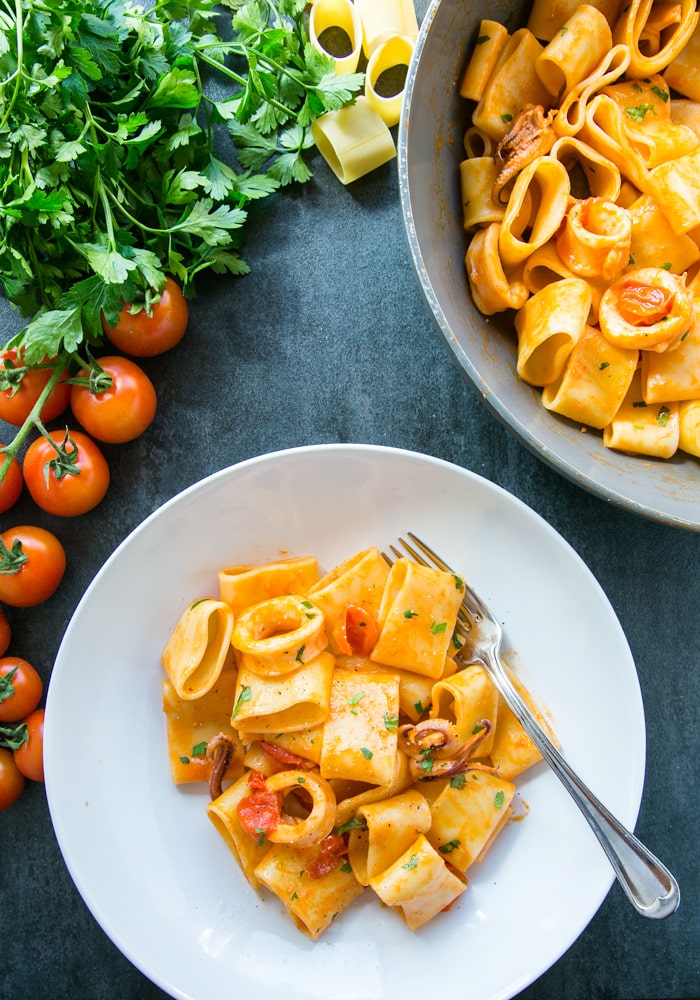 If your looking for a fresh speedy dinner that requires simple ingredients and it's also packed with nutrients, then this classic Italian Calamarata pasta definitely fits the bill.
Perfect for summer weather, but it's a great and super easy seafood recipe to make all-year-long!
More Tasty Italian Pasta Recipes You Need To Try:
Caprese Pasta Bake: This 30-min vegetarian pasta bake is simple yet satisfying, great for a weeknight supper.
Pea Pesto Pasta with Prawns: A light dairy-free pasta recipe that's packed with spring flavour!
Spinach & Ricotta Stuffed Pasta Shells: Creamy, crunchy, fresh and easy to make, this stuffed pasta will steal the show at your next dinner party!

Classic Italian Calamarata - Pasta with Calamari & Tomato Sauce
Classic Italian Calamarata is LOADED with seafood flavour and made with super simple ingredients! Ready in 20 minutes and SO tasty, if you love pasta and seafood this is sure to become a favorite.
Ingredients
2 whole calamari (about 500gr fresh or defrosted)
400 gr calamarata bronze-died pasta (or mezzi paccheri)
2 tablespoons extra-virgin olive oil
1 garlic clove, finely minced
60 ml white wine
1 tablespoon double-concentrated tomato paste
300 gr cherry tomatoes, halved
2 tbsp fresh parsley leaves, finely chopped
sea salt & freshly ground black pepper, to taste
Instructions
Start by cleaning the calamari: rinse them under running water, remove the head (cut eyes and mouth off) and the tentacles and keep them aside, remove the pen of the internal cartilage and the insides. Then peel the skin off with your hands or a small knife.
Cut the calamari into rings, in a similar size to the calamarata pasta.
Cook the calamarata pasta in a large pot of lightly salted boiling water, al dente, about 2-3 min less than package instructions.
Whilst te pasta cooks, prepare the sauce: heat the olive oil in a large pan, over medium heat.
Add chopped calamari and garlic and sautee for 2 minutes.
Mix the tomato paste with the wine, pour over the sides of the pan and allow the alcohol to evaporate.
Fold in chopped tomatoes, season with salt and pepper and cook over low heat for about 5 minutes.
Drain the pasta al dente, keeping some cooking water aside.
Add a ladle of cooking water to the pan with the calamari sauce, then add the pasta and mix well
Season the calamarata pasta with fresh chopped parsley and extra freshly ground black pepper, and serve immediately.
DID YOU MAKE THIS RECIPE?
 Please let me know how you liked it! Leave a comment below and share a picture on Instagram with the hashtag 
#thepetitecook
! Looking at your pictures always makes me smile *and super hungry*!