These simple linguine with clams and lemon are light, quick to make and packed with vibrant summer flavours!
Linguine alle vongole, linguine with clams, is a classic Italian summer dish. Every region has its own slightly adapted local version, and they're all insanely delicious, whether you go for the "red" (with tomatoes) or "white" (without) version.
These linguine with clams and lemon are a favorite in my family, and they always make lunch incredibly easy. They're ready in just 3 simple steps, and  in only 15 mins!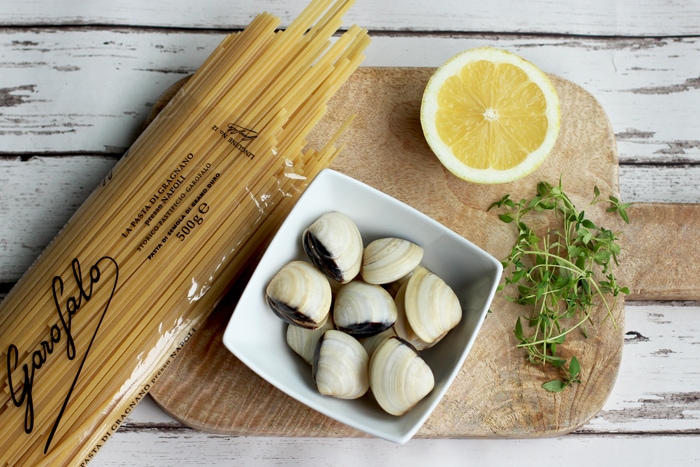 The 4 essential ingredients you need are: linguine pasta, fresh clams, extra virgin olive oil and lemon. Then you can play around with add-ons like garlic, chili, aromatic herbs. I've added all of three because they're all great traditional italian flavours, and I've also opted for fresh thyme, but parsley is a popular choice.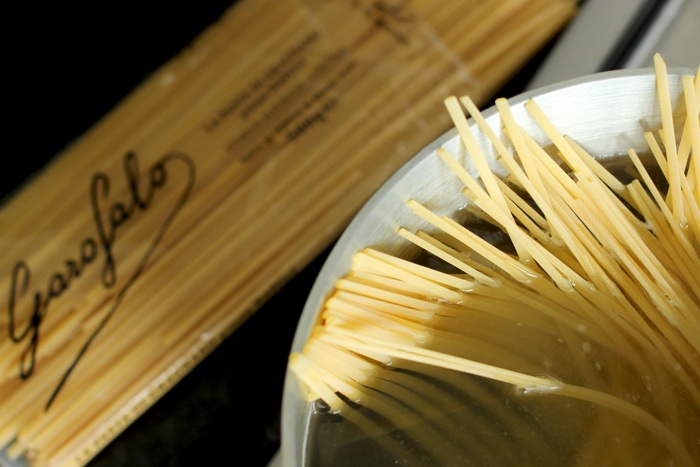 First, cook your linguine in a pot of boiling lightly salted water. While the pasta cooks you have just about the right time to prepare the clams.
To get the best al dente result, I choose Garofalo linguine ( available in UK and US). Their unique texture binds perfectly with the clams delicate juices, delivering that extra flavours that usually go missing with other store-bought pasta brands.
I don't eat pasta often ( a typical italian has pasta every day, I usually have it once or twice a week), but when I do, I always look out for 3 things:  good-quality ingredients, made in Italy with bronze drawning process. Garofalo pasta and with its great texture & taste fits all my needs, so they're hands-down my first choice.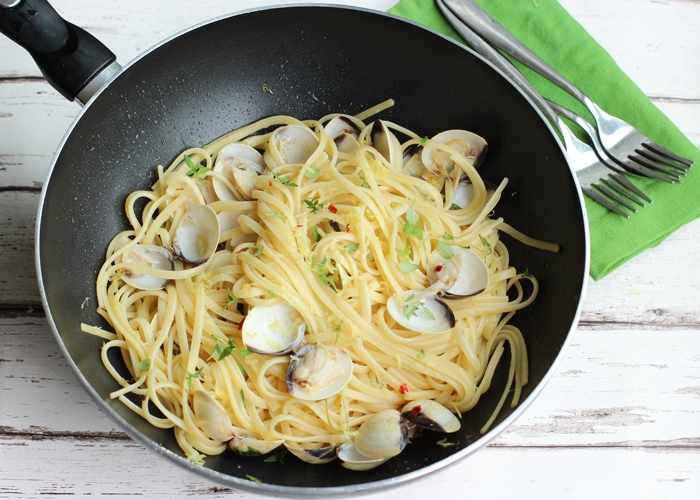 Preparing the clams couldn't be easier. While your pasta cooks, toss the fresh clams in a pan with extra virgin olive oil, garlic and chili if you like, lemon juice and part of the thyme.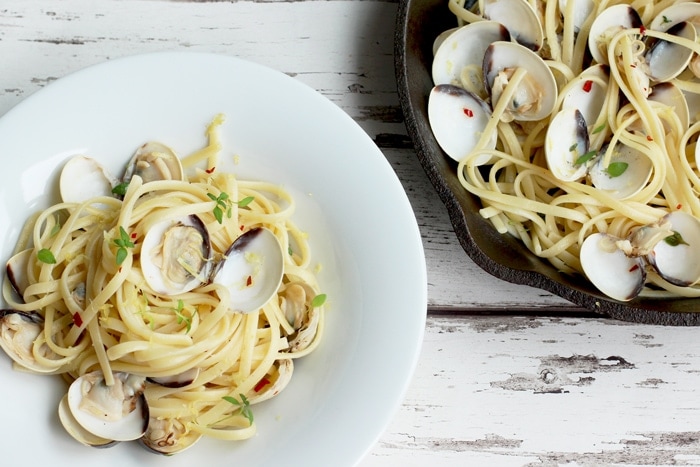 By the time the clams are cooked, the linguine should be ready. Drain them al dente, 2 mins before they're fully cooked ( about 11 mins). Toss the pasta with the clams, their juices and the other ingredients, sprinkle with lemon zest and remaining fresh thyme and serve immediately!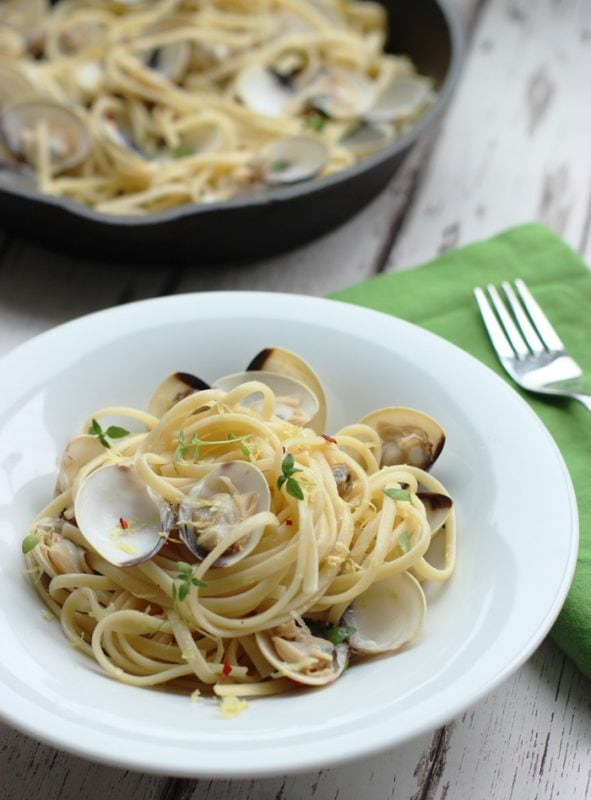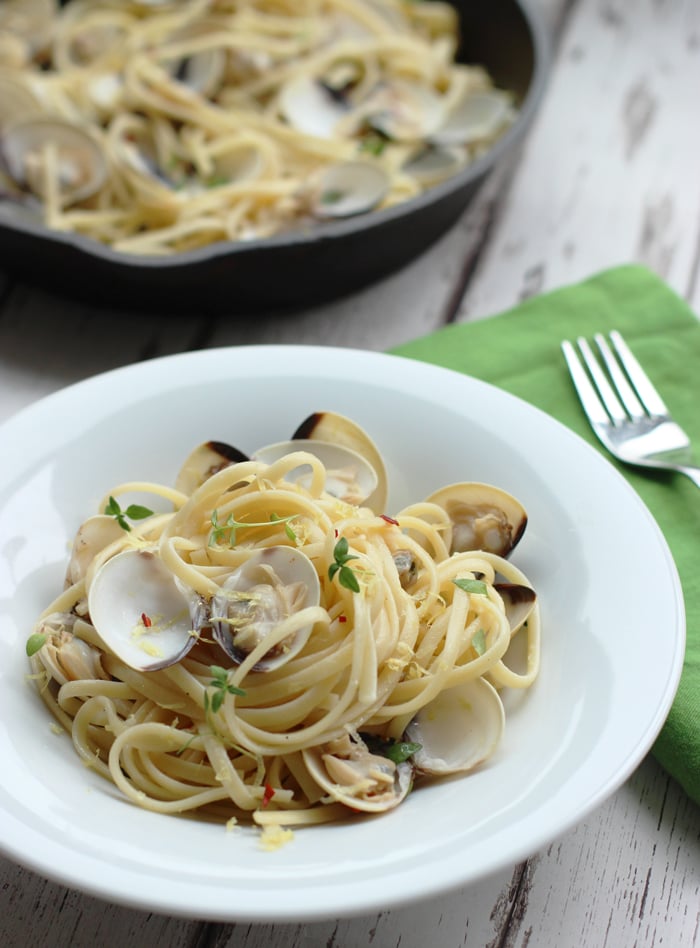 These Linguine with clams and lemon is a light, summery dish, so keep it as simple as possible. The lemon zest is the final touch that gives a refreshing tangy kick to the linguine. I promise, they taste just as good as they look. If you need to impress someone, that's the dish you can count on!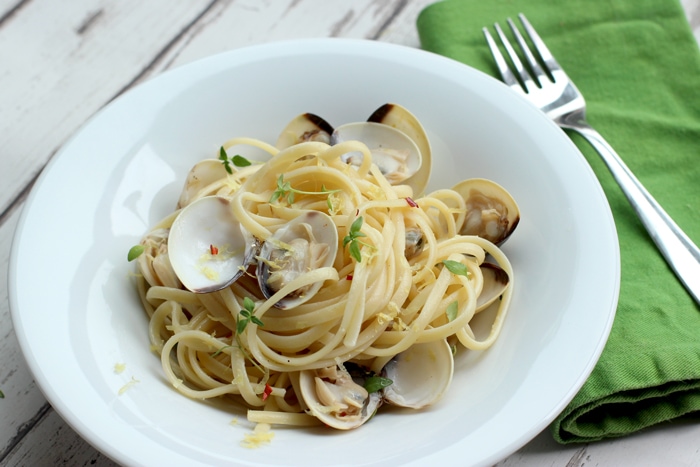 Linguine with clams and lemon- Light, quick and packed with vibrant #summer flavours!
Linguine with Clams and Lemon
Ingredients
450gr/ 1 pound Garofalo linguine
4 tbsp extra-virgin olive oil
1 garlic clove, cleaned (optional)
1.3kg / 3 pounds fresh clams ( I used white clams), scrubbed and cleaned
4 tbsp fresh thyme leaves or chopped parsley
½ fresh red chili (optional)
4 tbsp fresh lemon juice
2 tbsp fresh lemon zest
Instructions
Cook linguine in large pot of boiling lightly salted water. Cook until al dente, about 9 mins, stir every now and then to prevent pasta from sticking.
While the linguine cook, put a large frying pan over med-high heat. Drizzle with extra virgin olive oil, add garlic and chili if you like. Fold the freshly cleaned clams and sautee for 2 mins. Add fresh lemon juice, half of the thyme, cover and simmer until clams open, about 4 minutes (discard any clams that do not open). Discard garlic and chili.
Drain the pasta, transfer into the pan with the clams and toss to coat.
Sautee for 2 mins, to combine all the flavours, season to taste with salt and pepper. Add in lemon zest and remaining thyme and serve. Enjoy!
A big thank you to Garofalo for being one of The Petite Cook sponsors, I'm truly proud to collaborate with one of the best Italian pasta manufacturers and I can't recommend it enough!