Planning your next holiday in the Catalonian capital any time soon? Make sure to visit these must-try tapas bars in Barcelona!
---
The last time I visited Barcelona back in 2005, Instagram, TripAdvisor, foodie guides and food blogs were not a thing yet, at least not for me. I wasn't a foodie at all, just a teenager hungry for monuments, sunny beaches and Dalí modern artwork sculptures.
So I was extremely excited to get back in Barcelona last month, and see this amazing city through my new hungry foodie eyes this time.
Sadly, I didn't have much time to explore around (but I hope you enjoyed my Insta stories!), but I was still able to discover some incredible places to sample the local cuisine.
Long story short, I lived on tapas for two full days, and boy, I could have kept going for weeks!
Some of the places where I ate my weight in pintxos (Northern Spain's answer to tapas, ndr) were SO good, that I really had to share them with you.
If you happen to visit the capital of Catalonia soon, head over to these must-try tapas bars in Barcelona - You won't be disappointed!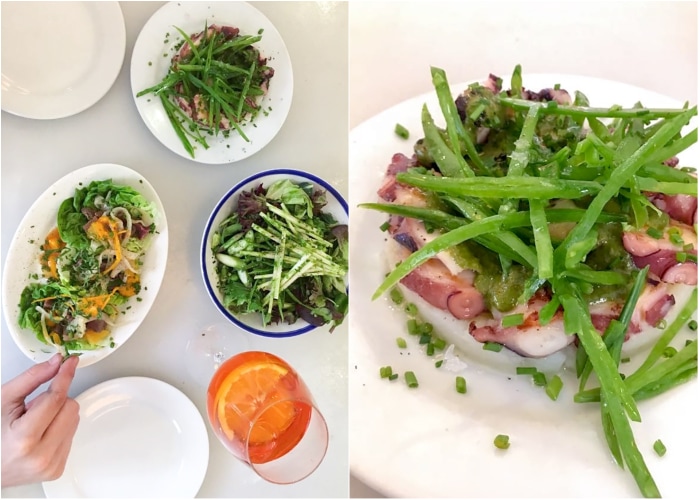 This lively and vibrant tapas bar is situated in a quiet street, just a few minutes away from the famous shopping street Passeig de Gracia. The family-run bar offers an exstensive and quite eclectic menu consisting in sandwiches (pepito), salads and instagram-worthy small plates to share. The dishes here are definitely not your ordinary tapas, each option on the menu combines traditional ingredients and recipes with modern cooking tecniques and international flavours.
What to eat: Do not miss the roasted octopus with green "mojo picon" sauce, potato mash and asparagus, super flavorful and deliciously refreshing, so it is the sirloin steak carpaccio and the green & white asparagus with ginger vinaigrette and cocoa. If you still have room for dessert, the corn ice cream with caramelized pop corn will definitely conquer your foodie heart!
Bar Boqueria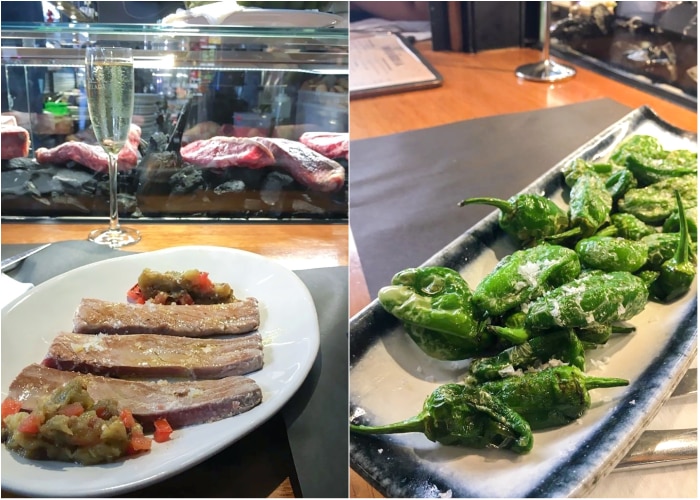 The world-famous La Boqueria Market is located right in the center of the busiest and most vibrant street of Barcelona, Las Ramblas.
If you're a foodie, you'll feel like Alice in Wonderland as soon as you enter La Boqueria.
The market stalls offer anything from fresh fruit, candy, charcuterie (you'll find amazing Jamon iberico here), fresh fish and seafood and aged steak and cheeses.
For a remarkable foodie experience at the market, head over to Bar Boqueria, where you'll be able to eat amazing food surrounded by the flavors, aromas and buzz of one of Europe's most iconic food markets.
What to eat: Start by snacking on the crunchy-to-perfection pimientos de padron (fried padron peppes), then try pulpo a la Gallega (Galician style octopus ), or sample the delicate yet flavoursome wild tuna filet.
Tucked away on a side street near the main road in Barceloneta, you'll find the tiny and cozy El Pintxo. It's not a fancy place but you'll be able to taste fantastic tapas at very reasonable prices.
What to eat: the tiny juicy ox burger is definitely worth a bite, so are all pintxos served. The real star of the menu is the atun encebollado, a fresh tuna steak stew with slowly roasted onion. I never had tuna like this, and was exceptionally surprised by its glorious flavour.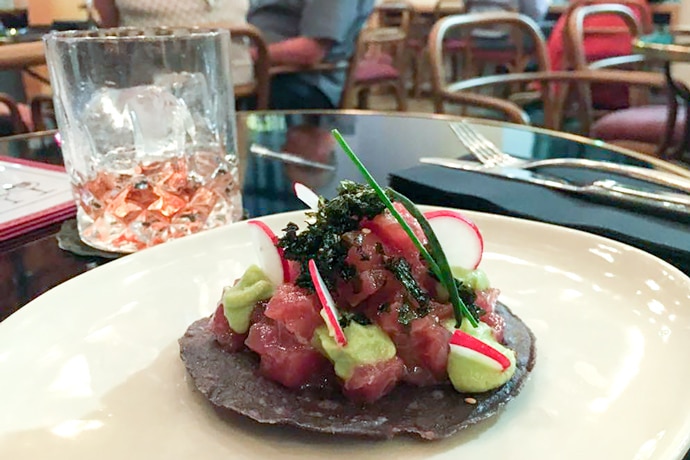 Located inside the uber chic boutique hotel Mercer Hotel, Le Bouchon is a sophisticated and peaceful spot in the heart of the gothic neighborough. Delightful modern decor make this tapas bar perfect for an informal lunch or to share a light dinner paired with a nice bottle of wine (they also have an incredible wine by the glass menu). Considering the location, prices are great and service is impeccable!
What to eat: The selection of top quality spanish charcuterie is to drool for, but the seafood & fish tapas are just as amazing. Highly recommended the tuna & avocado toastada, and the traditional spanish octopus with a modern twist.
Hungry for more? Check out my other foodie travels and get some inspiration for your next trip!
Pin & Save for later: