With Easter just around the corner, these pretty cheesecake chocolate eggs are a fun and quick treat to share with your family and friends!
Easter holidays always get me super excited. Mostly because, with spring breaking through, the weather is nice and the sun shining high. Plus, there's always A LOT of chocolate involved.
These cute passion fruit and orange cheesecake chocolate eggs are one of the most fun things to make during Easter time and I prepare them every year. You can even ask the kids to help you out, but trust me, grown-ups will love to make those too.
They taste absolutely delicious, with a sweet and aromatic orange and ricotta cheese filling and a refreshing gooey "yolk" of passion fruit pulp. In other words: pure spoonable goodness.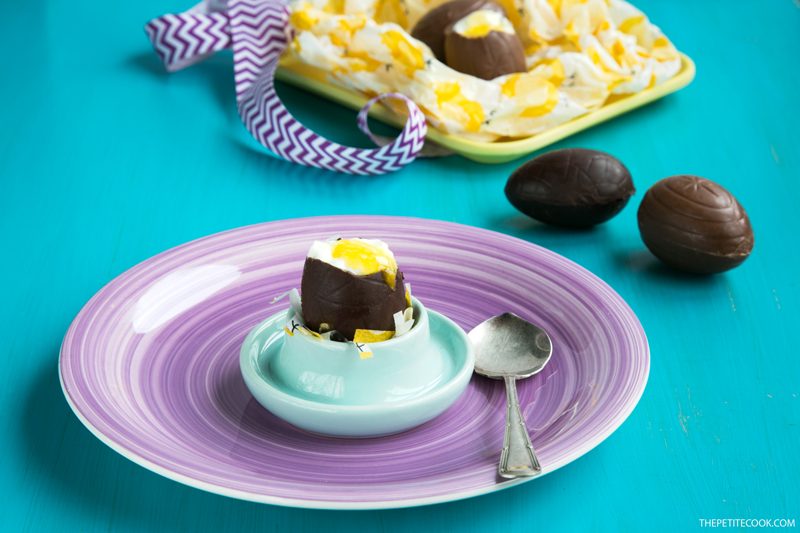 These showstopping cheesecake chocolate eggs require less than 30 mins to prepare, and all you need is 3 simple ingredients: dark chocolate, ricotta cheesecake filling and passion fruit pulp.
For the chocolate eggs I use this handy mould, it's cheap, easy to use and gets the job done. Melt the chocolate, and with the help of a brush spread it around each mould. If you spread it too thinly, you may need to brush them twice. Freeze for about 5 mins, then gently pop the shells out of their moulds.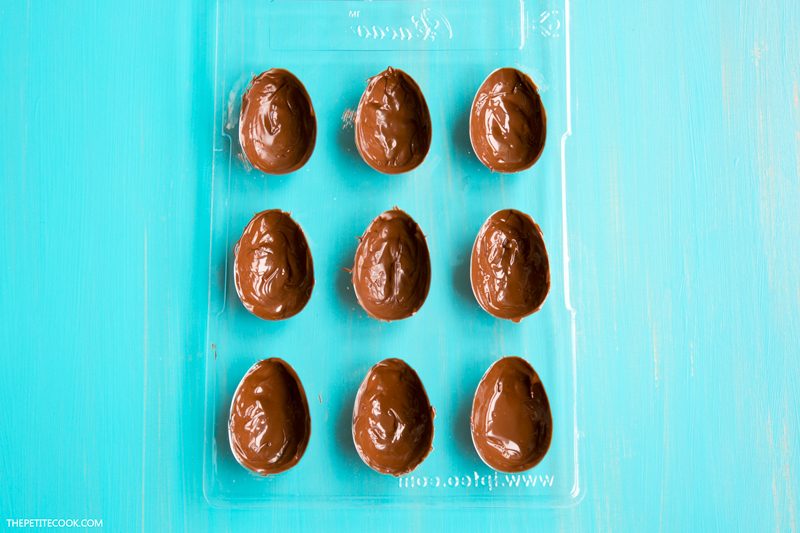 If you're short on time, skip this step and buy egg-sized hollow chocolate eggs. Be gentle and make sure to use a sharp knife when you cut them though, as they're very easy to break. I usually prefer to make my own eggs, so that I can choose my own chocolate. I've used both dark and milk chocolate, but you can choose your favorite chocolate, whether is dark, white, milk or flavored.
The cheesecake filling is delicious and quite healthy, using only wholesome ingredients such as fresh ricotta, orange zest and juice, demerara sugar ( but you can use confectioner sugar, agave nectar or honey too) and a drop of vanilla extract. You know I'm a sucker for cheesecakes, so if orange is not your thing, have a look at my cheesecakes collection and pick your favorite flavor!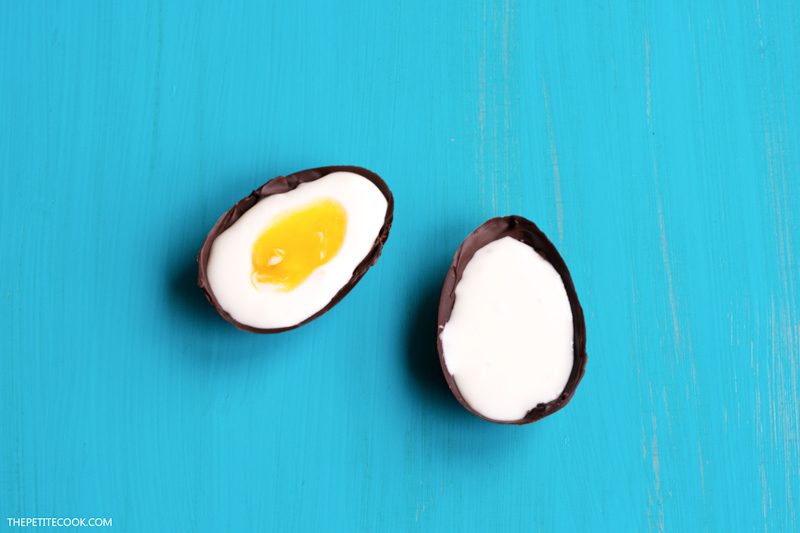 Fill the chocolate eggs with the cheesecake filling, then pour a little passion fruit pulp in the center. Use the remaining melted chocolate to glue the two half-shells together and freeze for a couple of mins to set. Et-voila! Your chocolate eggs are all ready!
Because I love these pretty eggs SO much, I've also made a special dairy-intolerant friendly version for a2Milk.  I've been collaborating with this rising-star milk brand since last year, and it's the only cow milk suitable for anyone with an intolerance to the a1 protein contained in regular milk. I love it and can't recommend it enough!
These orange cheesecake chocolate eggs make an egg-straordinary dessert that is sure to wow your friends at your Easter get-togethers and parties!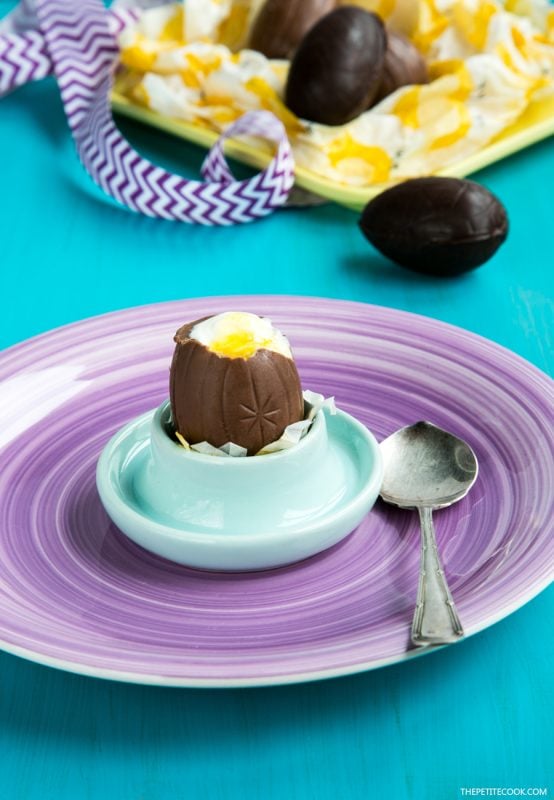 I hope you guys try these awesome cheesecake chocolate eggs! Don't forget to leave a comment below and let me know how you liked them! Even better, snap a picture, tag it #thepetitecook and share it on Instagram – I can't wait to see all your delicious creations :). Happy Easter to all of you friends!
Orange Cheesecake Chocolate Eggs
Ingredients
For the chocolate eggs:
200gr/7oz dark/milk/white chocolate chips
For the cheesecake filling:
200gr ricotta cheese, well drained
60gr demerara or icing sugar ( or honey)
zest of 1 orange
1 tbsp fresh orange juice
½ tsp pure vanilla extract
2 passionfruits, seeds removed
Instructions
To make the eggs, melt ⅔ of the chocolate in a heatproof bowl over a pan of simmering water. Once melted, remove from the heat and mix in the remaining chocolate chips.
With the help of a brush spread the chocolate around each egg mould. If you spread it too thinly, you may need to brush them twice.
Freeze for about 5 mins, then gently pop the shells out of their moulds.
Meanwhile, prepare the cheesecake filling. In a large bowl mix together ricotta, orange juice and zest, vanilla and sugar. Mix until smooth and creamy and refrigerate until ready to use.
Fill each shell with a little cheesecake filling and pour ½ tsp of passion fruit pulp in the center.
Use any leftover melted chocolate to brush the edges of each filled shell, then glue two half-shells together.
Freeze for about 5 mins, then serve. Store leftover eggs in the fridge for up to 3 days.