Bursting with Italian flavours, this Parmigiano pasta with wild Mushrooms makes a great option for a cozy holiday dinner.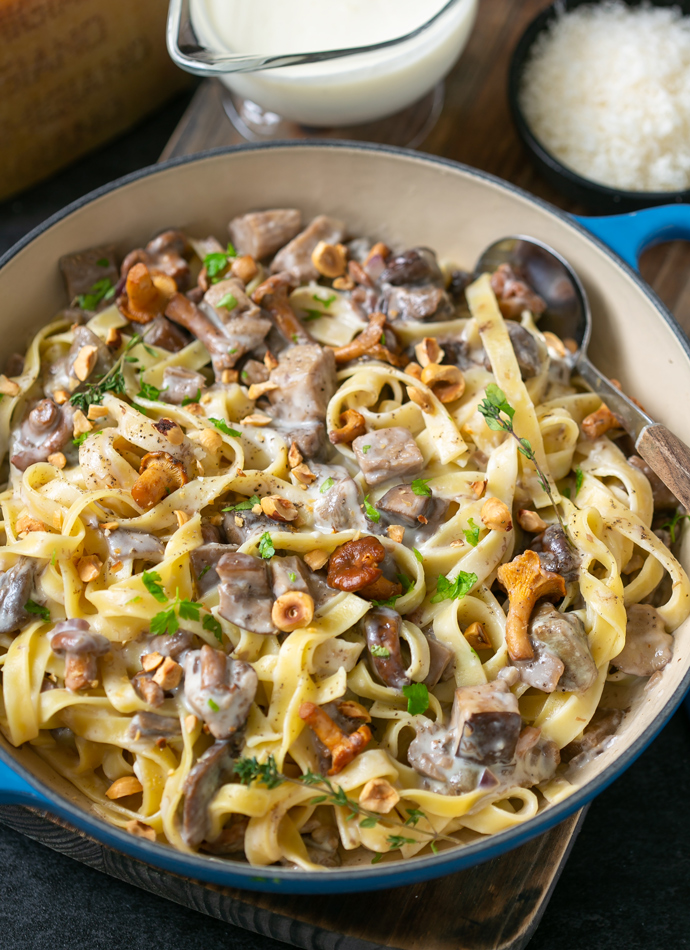 This post is sponsored by Parmigiano Reggiano. All opinions are my own.
This year I've been focusing mainly on meat-free Christmas recipes for my holiday menu.
I've had so many requests for holiday recipes that not include meat, so I'm sure you'll find this helpful!
This pasta recipe is inspired by a traditional Italian pasta dish called "pasta alla boscaiola", where al dente pasta meets sautéed mushrooms and sausage in a rich heavy cream sauce.
I skipped the meat altogether and replaced the cream sauce with a decadent and luxurious Parmesan cheese sauce (more on this delicacy later!).
The result is a delicious pasta dish that comes together easily in just about 30 minutes, making it a perfect holiday recipe that won't make you spend hours in the kitchen!
As an added bonus, it's so easy and quick you could make it any day of the week.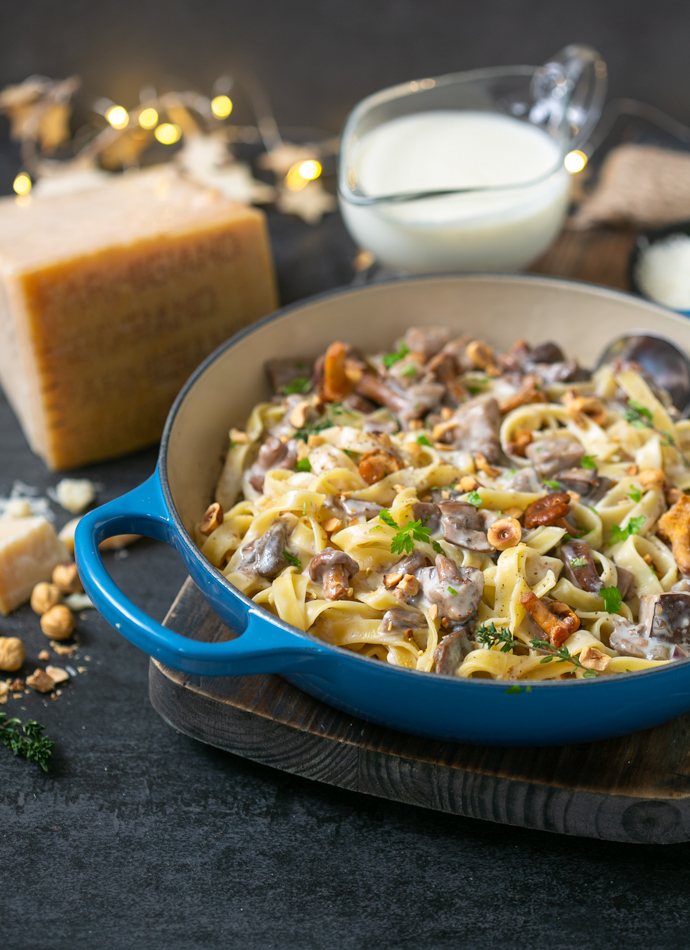 Ingredients Tips
In typical Italian fashion, you basically need just four main components and a couple of pantry staples such as milk, flour, butter and aromatic herbs to put this pasta together. Choose your ingredients wisely, quality is the key here!
Wild Mushrooms
Use your favourite mushrooms or a variety of flavourful mushrooms such as porcini, chanterelles, shiitake and king oyster. You can use fresh or dried mushrooms to make this pasta sauce.
Remember that dry mushrooms need to be soaked and re-hydrated before use.
So, place them in a large bowl with warm water, and let them rest for 30 minutes, before proceeding with the recipe.
Pasta
Most pasta shapes will go well with this sauce. Rigatoni, linguine, fusilli are some great options, you can even opt for fresh tagliatelle if you like. My only recommendation is to use high-quality pasta for best results.
Try to opt for bronze-cut pasta made in Italy (Gragnano pasta is the most popular and recommended), which is slightly coarser than usual commercial pasta. Its unique texture makes it the best vehicle for a great sauce
Roasted Hazelnuts
You can prepare them a few days in advance to optimize your cooking time. Just roast them, store them in a jar, and use within 3 days. If you're not a fan, substitute them with roasted pecans or walnuts.
Parmigiano Reggiano Sauce
Finally, the most important bit. This unique and cheesy white sauce is the star of this dish.
A tasty, aromatic and easy to prepare sauce that's very similar to classic bechamel sauce (aka white sauce).
This versatile sauce can be used for making delicious appetizers: for example, you can spread it on crostini, serve it in combination with meat main courses, to season risotto, gnocchi, lasagna, and of course, you can serve it with pasta.
Don't use any kind of hard cheese you find, its incredible flavour comes specifically from the Parmigiano Reggiano.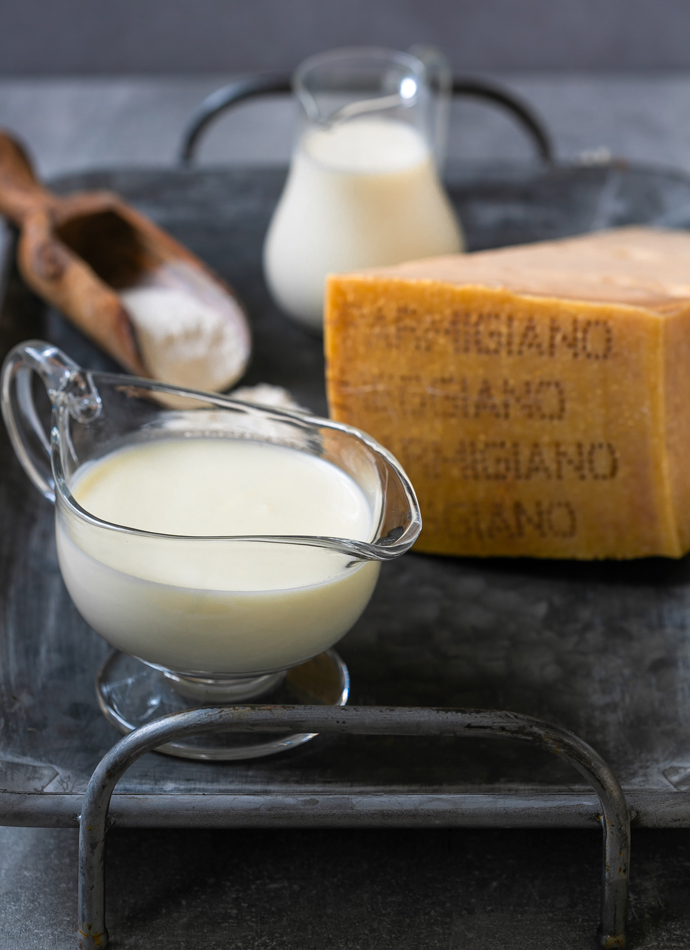 A little more about Parmigiano Reggiano
Parmigiano Reggiano is one of the oldest and most famous cheeses in the world. Its origin dates back to the Middle Ages, when monks first started producing it. They were driven by the quest to make a cheese that lasted for a long time, so they allowed it to mass dry, increased the wheel size, and Parmigiano Reggiano was born!
Only 3 ingredients are used to make Parmigiano Reggiano: raw unpasteurised milk, salt and rennet, with additives or preservatives strictly prohibited.
It's one of the most precious Italian products and it carries a Protected Designation of Origin (PDO) certification. To bear the designation "Parmigiano Reggiano PDO", the cheese must respect the following rules:
It must be produced in a small area of Northern Italy by more than 300 artisanal dairies
All stages of production must take place exclusively in the area of origin
It must be made using the artisanal and natural methods established by the product regulations.
The minimum maturation period of Parmigiano Reggiano is 12 months, but it can further mature to 24, 36, 40, or even 48 months, with each age acquiring different aromas and flavours!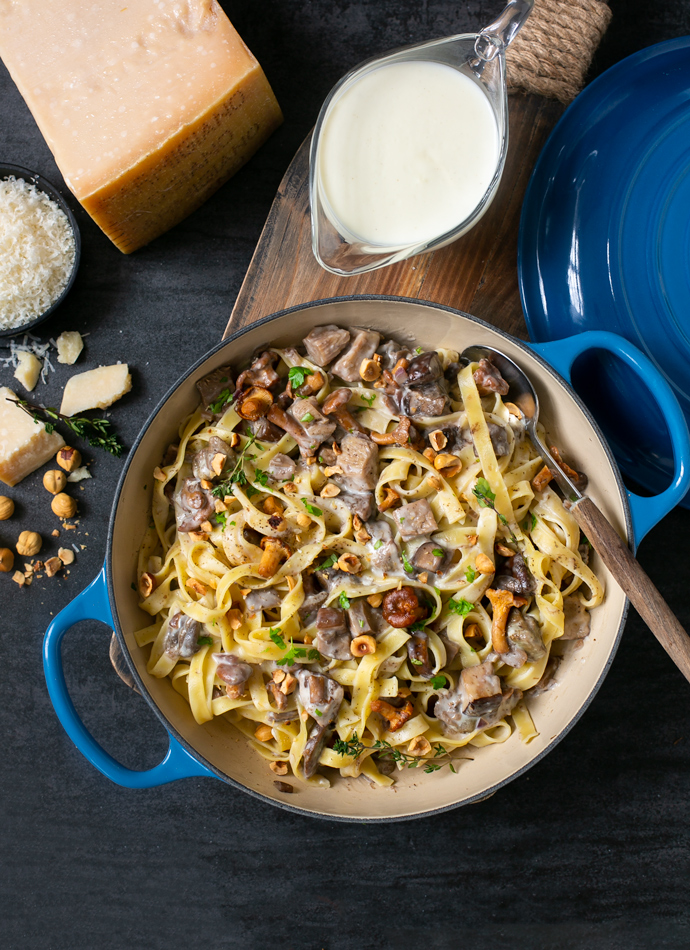 For this recipe, I'm using the 24-month aged Parmigiano Reggiano, which is the typical age at which the cheese expresses its full characteristics – it has a crumbly but still mild texture, and notes of fresh fruit, nuts, and meat stock, making it absolutely ideal to add flavour to recipes.
Add extra flavours to your cream
This homemade cheese cream is super easy to customize, here are some favourite options:
Black or white truffle: once the cream is ready just add a little freshly grated truffle.
Nutmeg: similarly to the bechamel, you can add a pinch of freshly grated nutmeg.
A Luxurious Christmas Pasta Recipe in 4 Steps
This incredible holiday pasta recipe is super simple to prepare in just 4 steps.
Step 1 - Roast the hazelnuts
Place them in a tray covered with parchment paper, and roast in the oven for about 20 minutes, until golden. Chop them roughly and set aside until needed (you can do this step a few days in advance).
Step 2 - Prep the white sauce
Warm the butter into a pot, add flour, then slowly mix in the warmed milk. Whisk gently until reaching your desired consistency, then turn the heat off, stir in the Parmigiano Reggiano and set aside.
Step 3 - Cook the pasta
Bring a large pot of lightly salted water to a boil, then cook the pasta al dente, about 9-10 minutes for regular pasta and about 3-4 minutes for fresh pasta.
Step 4 - Sauté the mushrooms
Heat the butter and thyme in a large skillet, add chopped mushrooms and shallots, and cook for about 10 minutes, stirring often.
Mix everything together & Serve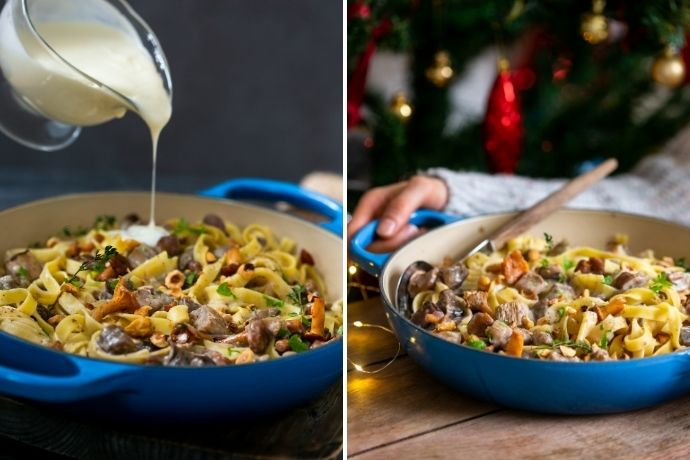 Drain the pasta, add into the pan with the mushrooms, then stir in the Parmesan sauce, roasted hazelnuts and chopped parsley.
Season generously with freshly cracked black pepper, et-voila, this delicious pasta is all ready to wow your guests.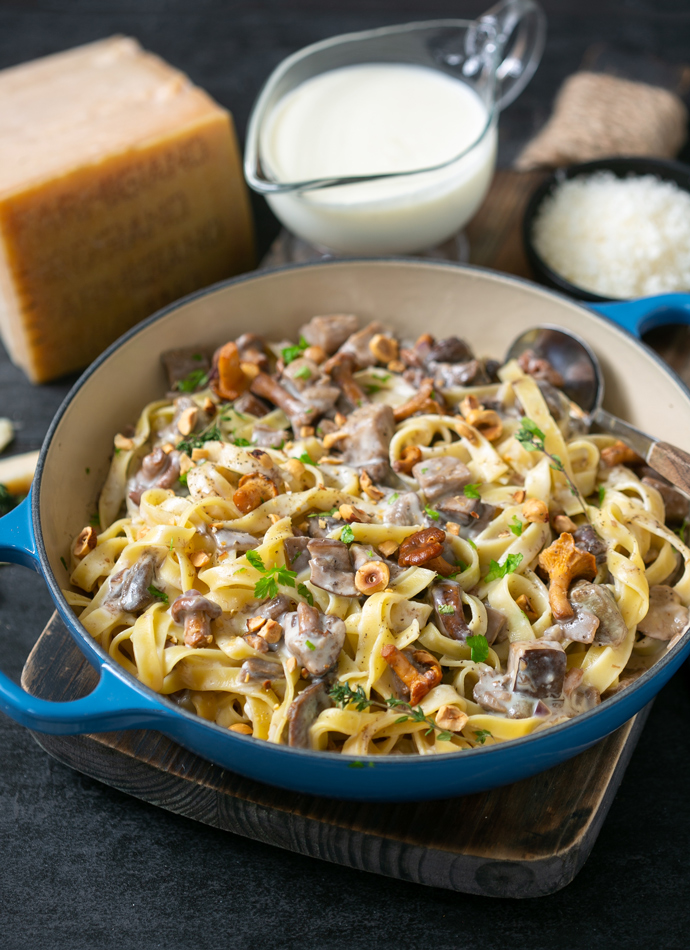 Extra veggies, protein and spices
This mixed mushroom pasta is extremely versatile, so you can easily customise it by adding extra ingredients if you like, these are some great options:
Baby spinach – sauteed with the mushrooms
Leek - finely sliced
Pumpkin or butternut squash - finely cubed
Prosciutto di Parma - finely chopped
Red chili flakes
More Italian Christmas Recipes To Try
Did You Make This Recipe?
Please let me know how you liked it! Leave a comment and/or a rating below, and share a picture and tag @thepetitecook on Instagram! Reading your feedback and looking at your pictures always makes me smile *and super hungry*!
Recipe
Pasta with Parmigiano Reggiano Sauce and Wild Mushrooms
Bursting with Italian flavours, this pasta with Parmigiano Reggiano sauce and wild Mushrooms makes a great option for a cozy holiday dinner.
Ingredients
80

g

peeled raw hazelnuts

370

g

pasta

,

tagliatelle, fettuccine, rigatoni

2

tablespoon

butter

400

g

mixed mushrooms

,

porcini, shiitake, chanterelles, king oyster, chopped

2

sprigs of thyme

1

tablespoon

fresh parsley leaves

,

finely chopped

Sea salt and freshly cracked black pepper

,

to taste
For the Parmigiano Reggiano Cream:
20

g

butter

20

g

all-purpose flour

500

ml

fresh milk

130

g

Parmigiano Reggiano 24 months

,

grated
Instructions
Preheat oven to 180°C/350°F and line with parchment paper a baking tray. Add the hazelnuts and roast for 15 minutes or until golden. Remove from the oven, chop them finely with a sharp knife and set them aside until needed.

For the Parmigiano Reggiano white sauce, melt the butter in a saucepan over medium-low heat. Sprinkle the plain flour over the butter to make a "roux", which is basically the base of the sauce.

Once you have cooked the roux for a minute (don't let it brown), slowly stir in the warmed milk, and stir, gently but continuously, until the sauce thickens, about 5-7 minutes.

If the sauce starts bubbling, turn the heat to low and continue to stir until the sauce has reached a silky creamy consistency.

Turn the heat off, whisk in the parmesan cheese, and set the sauce aside.

Place a large pot of water over high heat and bring to a boil. Lightly season with sea salt, then add the pasta and cook for about 7-9 minutes.

Look at the instructions on your pasta packaging. See how long it tells you to boil it for, and drain the pasta three minutes before this time to have it al dente.

In the meantime, prepare the mushrooms. Heat the butter in large pan over medium-low heat, add the mushroom, shallot and thyme, and sauté for 10 minutes or until cooked through, adding a splash of pasta water (or white wine) if necessary, then season with sea salt and black pepper to taste, and discard the thyme sprigs.

Drain the pasta al dente, add it to the pan with the mushrooms and sauté all the ingredients for one more minute.

Remove the pan from the heat, stir in the Parmigiano Reggiano sauce, chopped roasted hazelnuts and freshly-chopped parsley.

Season with freshly cracked black pepper and serve immediately.
Notes
Avoid adding salt to your white sauce, as the Parmesan will already give lots of flavor.
Feel free to add a pinch of nutmeg or freshly-grated black truffle to your white sauce.
Increase the amount of flour by 20 grams to make the sauce denser, which is great for finger food, quiche or crostini.
Transfer your prepared sauce in an airtight container and store in the fridge up to 3 days.
Nutrition
Calories:
824
kcal
|
Carbohydrates:
90
g
|
Protein:
34
g
|
Fat:
37
g
|
Saturated Fat:
15
g
|
Cholesterol:
67
mg
|
Sodium:
652
mg
|
Potassium:
852
mg
|
Fiber:
8
g
|
Sugar:
12
g
|
Vitamin A:
870
IU
|
Vitamin C:
3
mg
|
Calcium:
544
mg
|
Iron:
3
mg
The information shown is an estimate provided by an online nutrition calculator. It should not be considered a substitute for a professional nutritionist's advice.