Cheesy and rich, with a delicious pumpkin note - Homemade Pumpkin Mac and cheese is the perfect comfort food for the cold season.
A bowl of scrumptious pumpkin mac and cheese is all it takes to lift you up on one of those grey-looking days.
Creamy, gooey and so heart-warming, nothing can beat a GOOD mac'n'cheese on a chilled day.
Add roasted pumpkin and you will have the perfect dish to enjoy during the cold season.
I make mac and cheese for my family quite often, and I like to add a few add-ons every now and then to make things more fun. Today was just the perfect time to try out a pumpkin version.
This Pumpkin Mac and Cheese is simple and easy to make, and doesn't require too much time. All you need is very simple ingredients, that you probably have in your pantry already.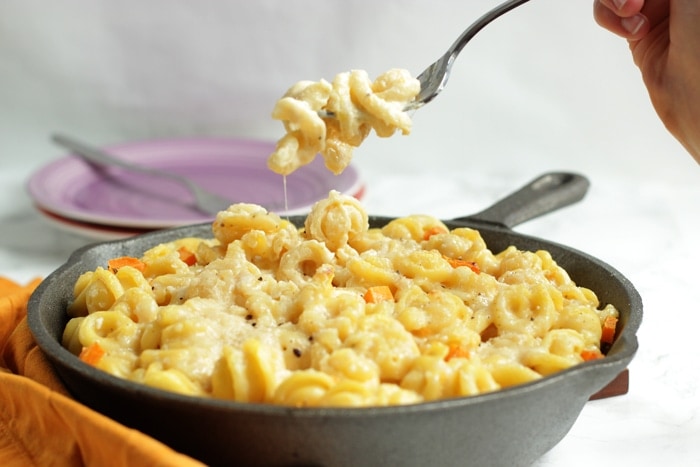 Traditional mac and cheese recipe usually calls for cheddar cheese.
For this luxury fall version I used french Comte cheese instead, a souvenir from my recent holiday in France ( but it's available in most gourmet food stores) and italian Parmesan cheese.
They both give a deep, rich cheesy note to the dish that really stands out.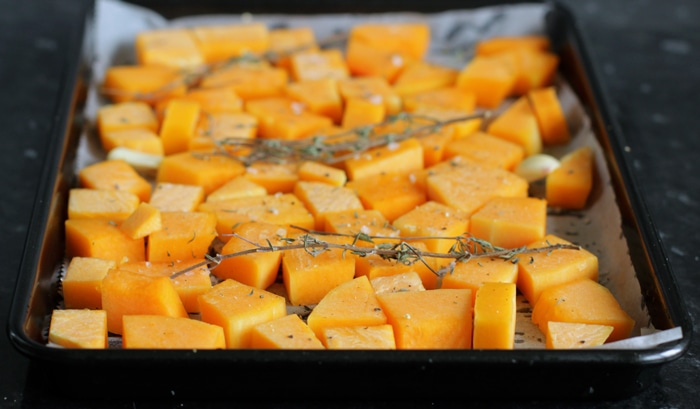 Last but not least, make the most of your pumpkin and nicely roast it in the oven, rather than boiling/steaming it.
It doesn't take any longer and brings out all the fantastic pumpkin flavor together with a delicious roasted aroma.
To make the job even faster, dice the pumpkin into small cubes, it will considerably reduce the cooking time.
Drizzle with extra virgin olive oil, add garlic and a few sprigs of dried thyme and it's good to go.
Once the pumpkin is roasted until soft, I put the cubes together with a simple bechamel sauce in my blender and mix until creamy and evenly combined.
Reserve a few pumpkin cubes aside, so you can scatter them over the top of your mac'n'cheese just before you put it in the oven.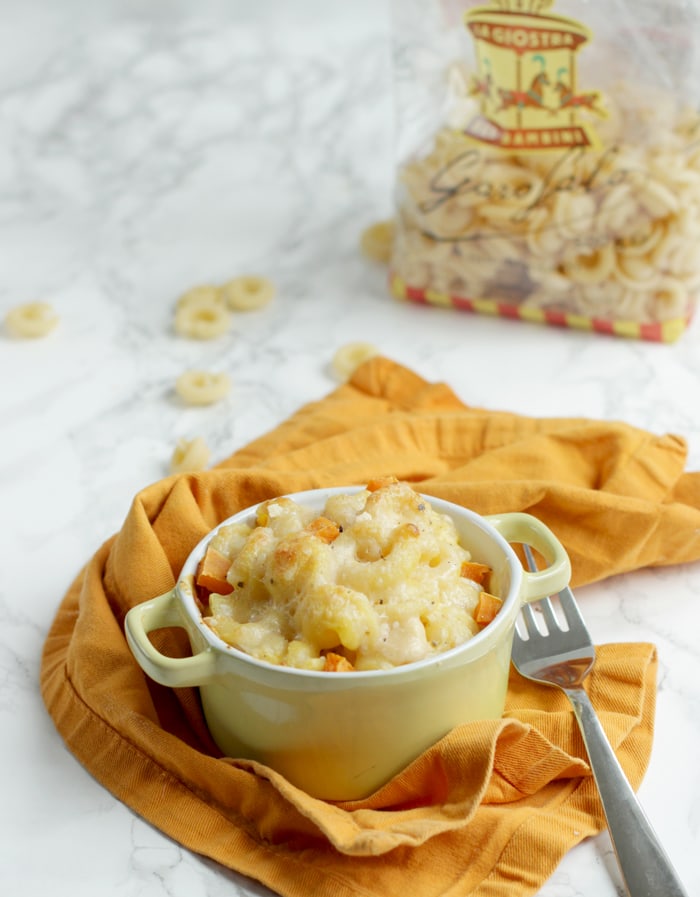 Serve this scrumptious pumpkin mac and cheese in a large iron skillet or in mini cute casserole dishes, either way it's guaranteed to be a crowd-pleaser.
More Pasta Bake Recipes To Try:
Vegetarian Lasagna with No-Cook White Sauce
Recipe
Pumpkin Mac and Cheese
Cheesy and rich, with a delicious pumpkin note - Homemade Pumpkin Mac and cheese is the perfect comfort food for the cold season.
Ingredients
500

g

short pasta

3

tablespoon

breadcrumbs
For the sauce:
200

g

pumpkin flesh

,

finely cubed

few sprigs of thyme

1

garlic clove

,

peeled

1

tablespoon

extravirgin olive oil

salt and pepper to taste

50

g

butter

3

tablespoon

all purpose flour

1

liter

whole fresh milk

,

warmed

150

g

comte cheese

,

grated

4

tablespoon

parmesan cheese

,

grated

a pinch of nutmeg

1

bay leaf

salt and pepper to taste
Instructions
Arrange the pumpkin cubes on a baking tray covered with parchment paper.

Drizzle the extra-virgin olive oil over the top and add thyme sprigs and garlic.

Roast in a preheated oven to 360°F/180°F for about 30 min or until soft and cooked through.

In a large pot of lightly salted boiling water cook the pasta al dente, about 2 mins before cooking time.

While pasta cooks, prepare the sauce. In a large sauce pan melt the butter over medium-low heat. Slowly add flour, while whisking the mixture until fully combined. Add the bay leaf in.

Gently whisk the milk in a little at the time, until you have a smooth even sauce. Continue to whisk and simmer on low heat until the sauce thickens a little, then turn the heat off. Season with a pinch of nutmeg and salt and pepper to taste.

Transfer the sauce and ⅔ of roasted pumpkin cubes (add the garlic if you like) in a blender or food processor. Pulse until creamy and fully combined.

Drain the pasta al dente and transfer back in the pot. Pour in the pumpkin bechamel sauce, add comte cheese and half parmesan cheese and mix until combined.

Transfer the pasta mixture into a large baking dish or individual casserole dishes, Scatter over the top the remaining parmesan cheese and pumpkin cubes, and the breadcrumbs.

Season with freshly-cracked black pepper and bake in a preheated oven to 360°F/180°C for about 20 min or until crispy and golden on top.

Serve immediately, store leftovers in an airtight container and refrigerate for up to 3 days.
Notes
You can also freeze your mac and cheese before baking – defrost thoroughly before cooking.
Substitute comte and parmesan cheese with your favorite cheese if you like - gruvyer, mature cheddar, fontina are all good options.
The information shown is an estimate provided by an online nutrition calculator. It should not be considered a substitute for a professional nutritionist's advice.