Traditional Sicilian recipe for Eggplant Caponata (Caponata Siciliana) - Perfect to share on its own, as bruschetta or with pasta.
Eggplant caponata has an irresistible crunchy and soft texture, with a delicate sweet and sour taste that will make your tastebuds rejoice. 
I grew up in Sicily with my mum's incredible caponata siciliana, so that's the one I'm sharing with you today.
My mum is originally from Palermo and sticks to the traditional eggplant caponata recipe, but she adds pinenuts into the mixture for extra texture and flavor.
This classic Italian recipe is naturally dairy-free, gluten-free and vegan, making it a fantastic option to serve at dinner parties and get-togethers.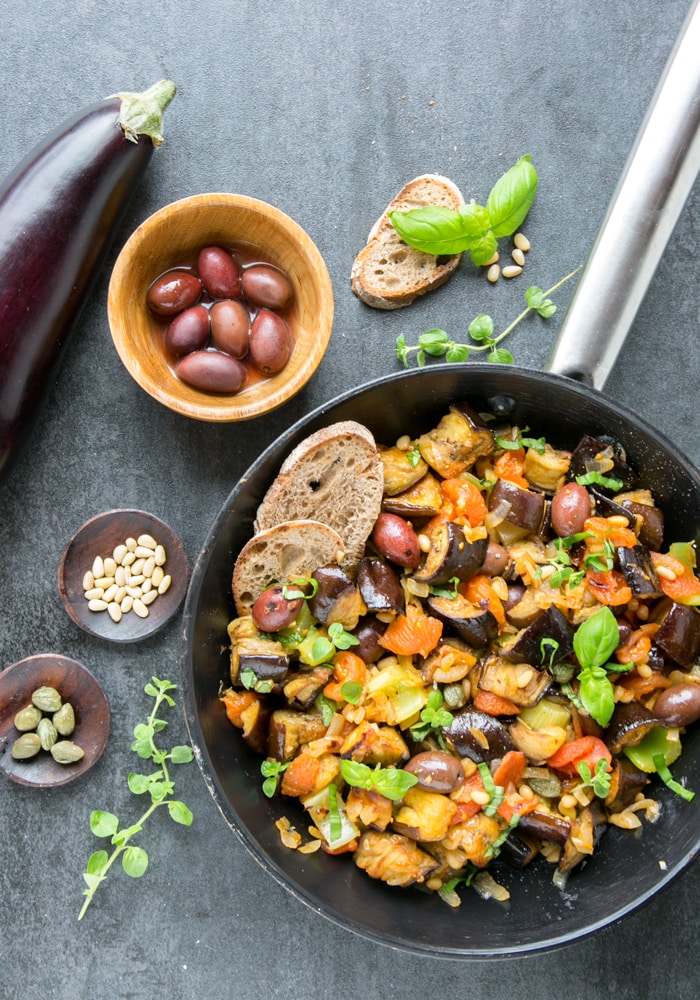 Jump to:
WHAT IS CAPONATA?
The classic eggplant caponata is a vegetable stew (similar to a relish) made with simple veggies simmered in a distinctive sweet & sour sauce.
In Sicily, the origin of caponata is traced back to the word "capone", which is a white fish that used to be consumed only by rich people.
Common people, on the other hand, replaced the fish with less-expensive eggplant, over time the use of fish disappeared completely, and only the vegetarian version remained.
CAPONATA INGREDIENTS
Every family in Sicily follow its own recipe, but this traditional eggplant dish should always include: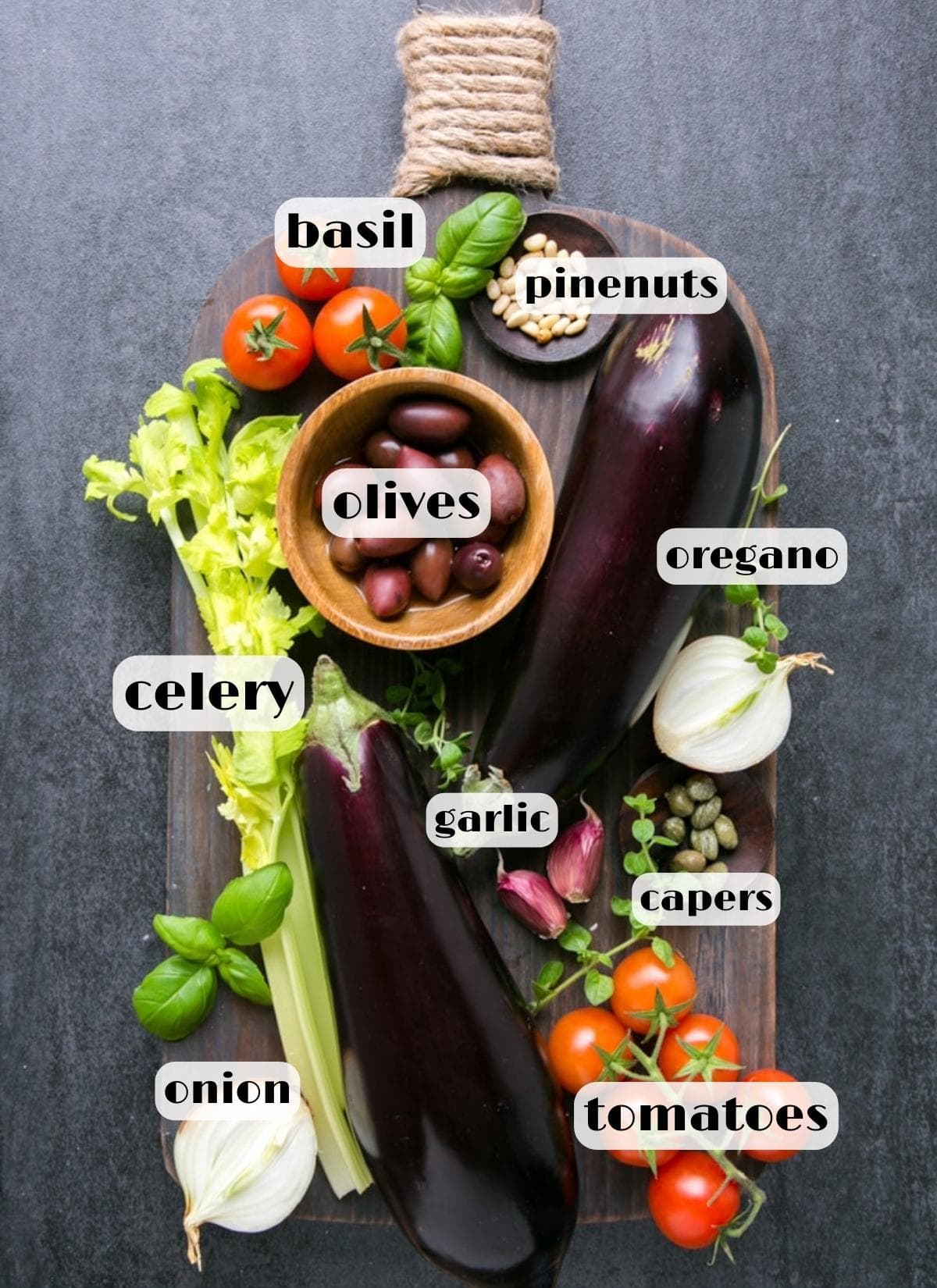 Eggplant: You can use the "Barbarelle" or "Beatrice" eggplant (big round and purple) or the "Galene" or "Nadia" eggplant (long, deep purple color)
Celery: you'll need the celery stalks for this recipe.
Tomatoes: You can use ripe San Marzano tomatoes, cherry tomatoes, tomato passata and/or tomato paste.
Olives: You can use pitted green or black olives. Although not strictly traditional, I personally like juicy and meaty Kalamata olives.
Capers: In Sicily we usually use capers preserved in sea salt, but if you can't find them use pickled capers. Both need to be washed well before use.
Vinegar: you'll need white wine vinegar for this recipe.
Sugar: You can use granulated sugar or raw cane sugar.
Garlic: This is totally optional and you can omit it for a more delicate flavor.
There are different variations, depending on the Sicilian region in which it is made.
Some popular additions include pinenuts, tomato sauce or paste, bell pepper, sultanas, or chopped almonds.
The main ingredients of the caponata di melanzane, eggplant and celery, are cooked separately to preserve their texture and flavour.
Then, they are mixed together with the rest of the ingredients at the very end of the recipe.
HOW TO MAKE EGGPLANT CAPONATA
Caponata is very easy to make and it comes together in less than hour. Here's a quick overview on how to make it step-by-step.
Scroll until the end of the post for the full printable recipe.
PREPARE THE EGGPLANT
Cut the eggplant into cubes, sprinkle them with coarse salt and place in a colander with a weight over it, so that it will release its bitter water.
Wash the eggplant cubes and pat dry with kitchen paper.
Deep-fry the eggplant cubes for 4-5 minutes, until lightly browned and cooked through.
Once ready, transfer them onto a plate covered with kitchen paper, to absorb the oil in excess, and proceed with the recipe.
PREPARE THE CELERY
Throw the chopped celery in a pot of boiling water and take it out after a minute or two.
I like celery on the crisper side, so I'd leave mine not more than one minute.
After a quick bath in ice-cold water, I'll let it dry over a sieve covered with a kitchen cloth.
This process keeps the celery crunchy and retains its vibrant green colour.
COOK THE CAPONATA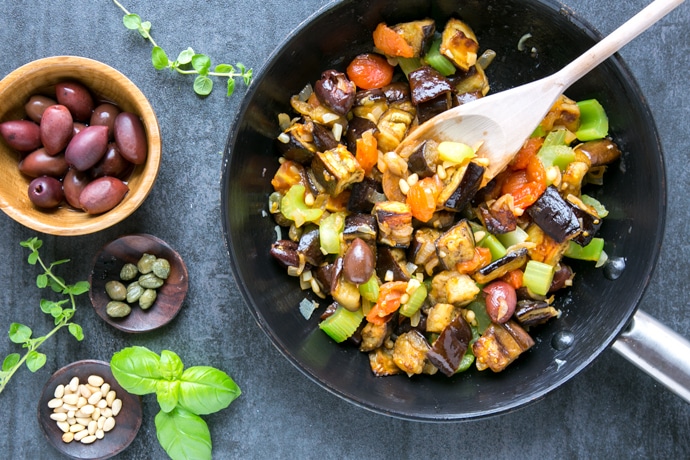 In a large pan saute onion, garlic and tomatoes, until soft and caramelized.
Add in the fried eggplant, celery, olives, capers and toasted pine nuts. 
GIVE THE CAPONATA ITS UNIQUE SWEET & SOUR TASTE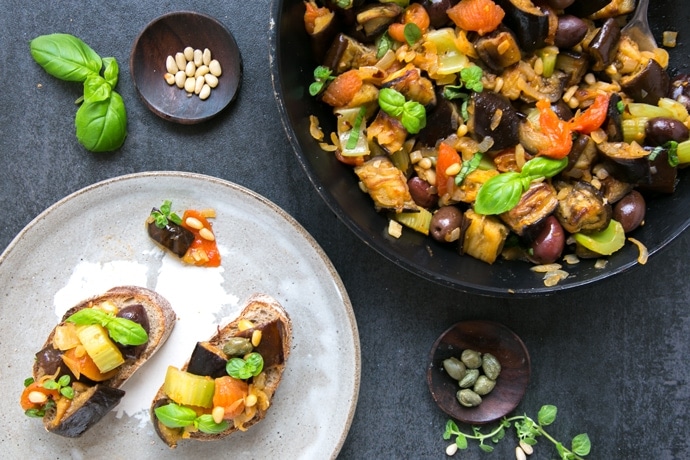 Add in sugar and vinegar and simmer for a few minutes, until all the ingredients and flavors combine to perfection.
Just before serving, top it off with loads of fresh basil and oregano.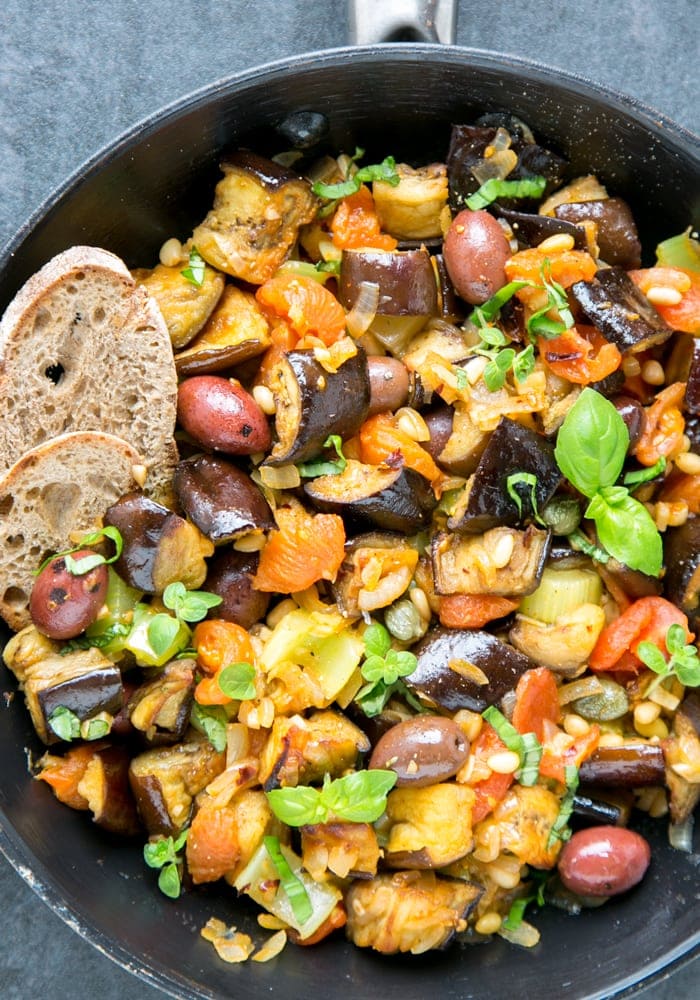 STORING TIPS
Once cooked, let your caponata rest for a few hours or overnight if possible.
Caponata siciliana is one of those dishes that tastes even better the next day.
Store your leftovers in an airtight container, and refrigerate for up to 3 days.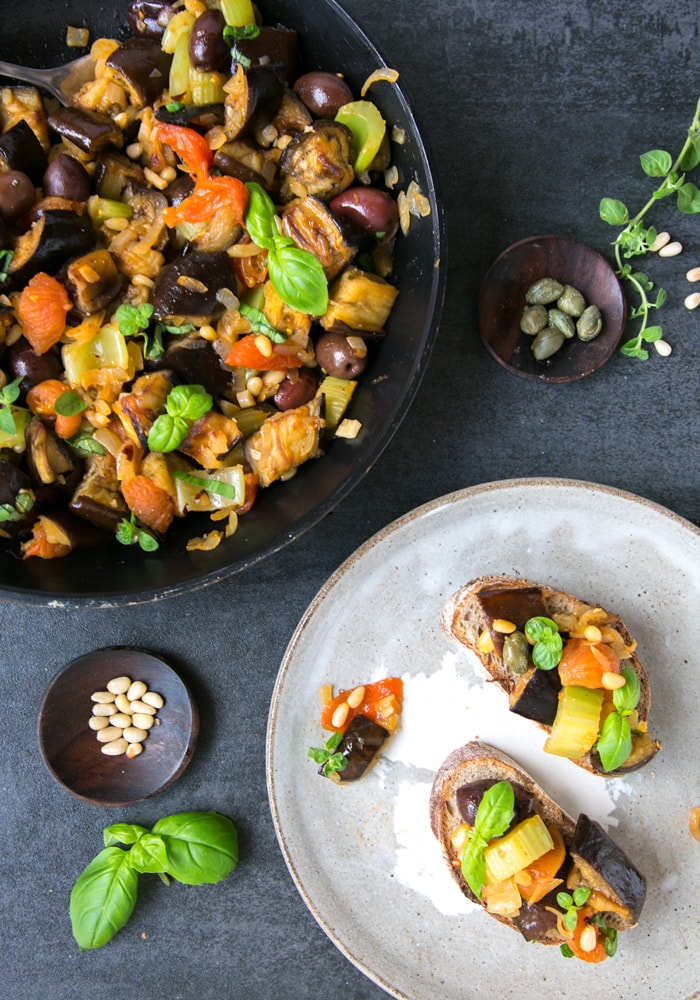 RECIPE FAQs
Can I freeze eggplant caponata?
Yes, you can! Caponata freezes beautifully. Simply transfer the prepared caponatina to freezer-friendly containers, and store it in the freezer for up to 1 month. Thaw in the fridge overnight before serving.
Do you peel eggplant for caponata?
No, there's no need to peel the eggplant for making caponata, just cut it into cubes.
HOW TO SERVE EGGPLANT CAPONATA
You can serve this traditional Sicilian dish with warm toasted bread as a bruschetta, for a great rustic appetizer to share.
If you want to make a meal out of it, you can make caponata pasta, or just pair it with your favourite protein!
Serve caponata as a side with grilled fish or chicken cutlets, classic meatballs or with a steak salad.
I often make an all-vegetarian meal and serve it with a classic potato frittata, and a large all-veggie quinoa salad.
DID YOU TRY THIS RECIPE?
Please let me know how you liked it! Leave a comment below and share a picture on Instagram with the hashtag #thepetitecook!
Looking at your pictures always makes me smile *and super hungry*!
Recipe
Eggplant Caponata - Original Recipe
Traditional Sicilian recipe for Eggplant Caponata (Caponata Siciliana) - Perfect to share on its own, as bruschetta or with pasta.
Ingredients
2

large eggplants

,

cubed

vegetable oil

,

for frying

2

celery stalks

,

sliced

2

tablespoon

extra-virgin olive oil

1

onion

,

finely cubed

2

garlic cloves

,

finely minced

200

g

cherry tomatoes

,

halved (or 4 large ripe tomatoes , roughly chopped)

1-2

tablespoon

capers

,

rinsed and drained

3

tablespoon

green or black olives

,

pitted

2

tablespoon

toasted pine nuts

1

teaspoon

double concentrate tomato paste

1

tablespoon

brown sugar

1

tablespoon

white wine vinegar

handful fresh basil leaves

handful fresh oregano leaves

sea salt and black pepper to taste
Instructions
Cut the eggplants into medium-sized cubes, sprinkle with coarse salt and leave to rest in a colander for at least 30 minutes, with a weight over them, then qwash under running water and pat them dry with a clean cloth.

In a large pan, fry the aubergines in abundant oil for 3 - 4 minutes, just enough time to have them golden brown. Use a slotted spoon to transfer the cubes on a plate covered with kitchen paper to absorb the oil in excess.

Place the sliced celery in a pot of slightly salted boiling water and blanch for 1-2 minutes. Drain and transfer to a sieve covered with a kitchen cloth.

Heat a large pan with the extra-virgin olive oil over medium-low heat. Add in chopped onion, garlic and tomatoes. Cook over low-heat until the onion is nicely caramelized and tomatoes are soft, about 5 minutes.

Add in the capers, olives, toasted pine nuts, fried eggplant and blanched celery. Add in the tomato paste and one tablespoon of water, if you feel it's getting too dry.

Sprinkle with sugar and drizzle with vinegar. Simmer until the vinegar has evaporated, then cover with a lid and cook for 10 minutes over low-heat, until all ingredients are cooked through.

Top your caponata with teared basil leaves and oregano, drizzle with extra-virgin olive oil and serve.
Notes
Storage tips:
Store caponata in an airtight container, it keeps well in the fridge for up to 3 days.
Nutrition
Calories:
254
kcal
|
Carbohydrates:
23
g
|
Protein:
4
g
|
Fat:
18
g
|
Saturated Fat:
2
g
|
Sodium:
57
mg
|
Potassium:
738
mg
|
Fiber:
8
g
|
Sugar:
14
g
|
Vitamin A:
339
IU
|
Vitamin C:
19
mg
|
Calcium:
41
mg
|
Iron:
1
mg
The information shown is an estimate provided by an online nutrition calculator. It should not be considered a substitute for a professional nutritionist's advice.