These Spicy Scallops with Pumpkin Puree are loaded with vibrant flavors – Easy and quick to prepare they make an impressive starter or main for any special occasion!
Welcome back pumpkin season, I've missed you so much! Being a massive pumpkin fan, I love to come up with new ways to enjoy this delicious veggie. This time around I've paired it with some tasty and juicy seared scallops.
Inspired by my recent trip to Japan, I've seasoned the scallops with shichimi, a common Japanese spice mix, to add a nice spicy kick and balance off the sweetness coming from the pumpkin. Shichimi is available in any Asian food store, but if you can't find, simply season with a bit of chilli powder. To add some contrast and a subtle tangy back-flavor, I've used a pinch of yuzu powder, a popular and rare japanese citrus, which can be easily substitute with lime zest.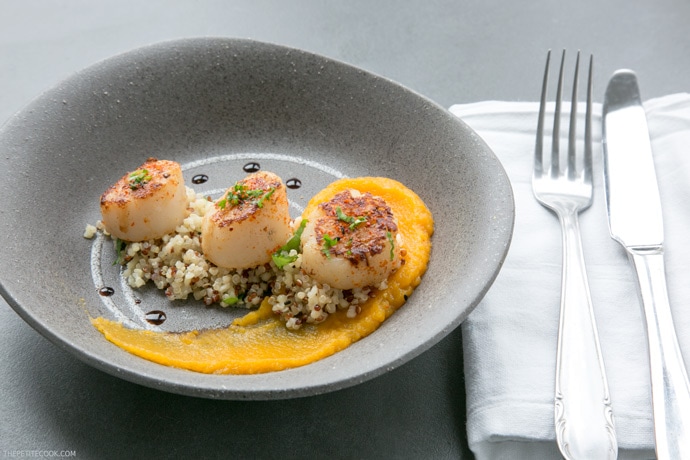 Paired with a refreshing quinoa salad (a simple mix of quinoa, basil and parsley), these delicious Spicy Scallops with Pumpkin Puree are fancy enough to be served as appetizer or main for a special occasion, but so easy and quick to enjoy on a weeknight dinner.
I'm a huge seafood & fish lover and I try to make sure I get the recommended 2-portions per week. I don't always have time to go to the fishmonger, so I often rely on top-quality frozen fish. In the past months, I've been collaborating with Iceland to raise awareness on the #PowerOfFrozen, to show all the amazing foods you can bring to the table with minimum efforts.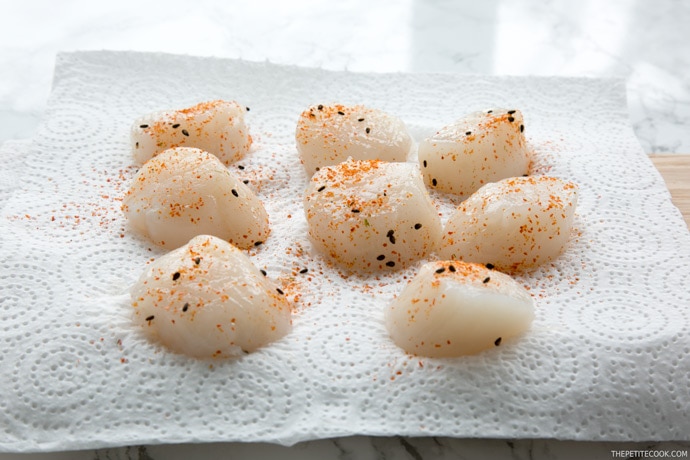 These extra large scallops at a mere £12 are such a bargain, and I can safely say they are just as good as the fresh ones. I've also had the chance to try their new Zuppa di Pesce (made in Italy and with no nasty additives in the ingredients list) on a lazy night in, and I was super impressed by the quality. Really delicious!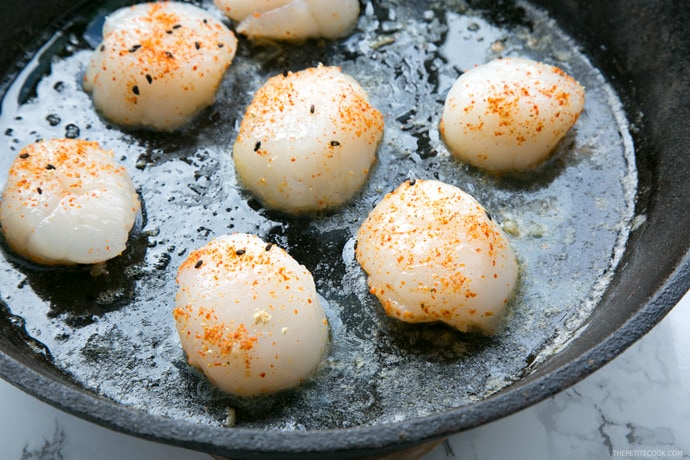 Personally, I go frozen as much as I can. Stocking up the freezer with plenty of veggies and fish options, saves me a lot of time (and money). Plus, it helps me cut down on food waste, because you only use what you need and store back in the freezer the rest for later use. More importantly, modern freezing methods lock in valuable nutrients while retaining the quality and taste you would expect from fresh products.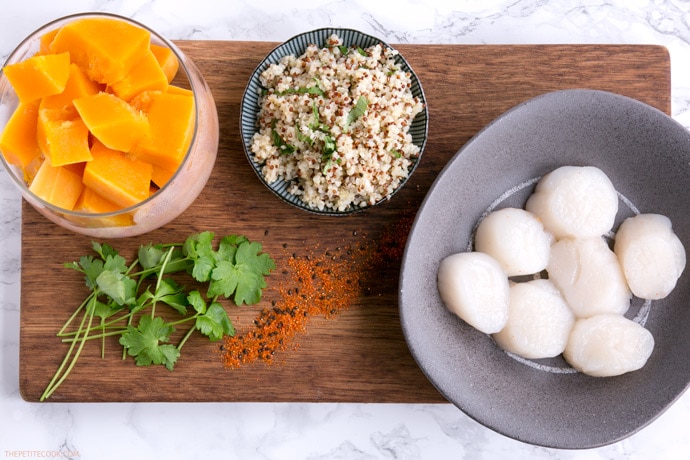 Back to these awesome Spicy Scallops with Pumpkin Puree. Ready in less than 30 mins, this recipe requires only 7 simple ingredients: pumpkin, frozen scallops, quinoa, yuzu or lime zest, shichimi and a bunch of basil and parsley leaves. I've deliberately decided to serve these scallops with quinoa (for an extra nutrients boost), but you can opt for any of your favorite grains.
Packed with nutrients and bold vibrant flavors, these Spicy Scallops with Pumpkin Puree make a lovely gluten-free starter and are sure to steal the show at your next dinner party!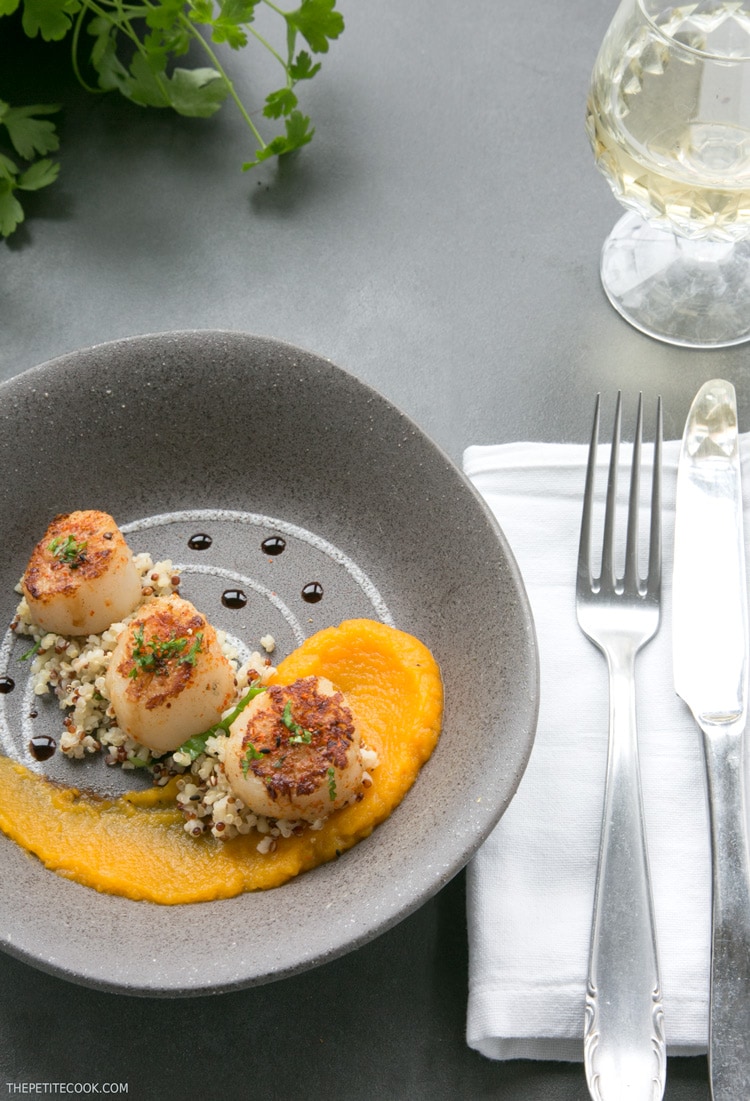 Did you make this recipe?
Please let me know how you liked it! Leave a comment below and share a picture on Instagram with the hashtag #thepetitecook! Looking at your pictures always makes me smile *and super hungry*!

Spicy Scallops with Pumpkin Puree
Packed with nutrients and bold vibrant flavors, these Spicy Scallops with Pumpkin Puree make a great gluten-free starter, and are sure to steal the show at your next party dinner!
Ingredients
8 large frozen scallops, defrosted and pat dry
a pinch of yuzu powder (optional)
shimichi, to taste
1 knob of butter
1 tbsp extra virgin olive oil
For the pumpkin puree:
450 gr / 1 lb pumpkin, cubed
¼ tsp ground ginger
sea salt and black pepper to taste
For the quinoa salad:
150gr / 5oz quinoa ( I used a mix of white and red quinoa)
1 tbsp extra virgin olive oil
½ tsp yuzu powder (or zest of ½ lime)
a bunch of fresh basil and parsley leaves, finely chopped
Instructions
Steam the pumpkin for 15 mins or until soft and tender. Season with salt, pepper and pinch of ginger to taste. Transfer in a food processor and blend until smooth. Set aside until ready to serve.
For the quinoa salad, simply cook the quinoa in a large pot of lightly salted boiling water for 9 mins. Drain in a sieve or fine colander and cool down.
Mix the quinoa with extra virgin olive oil, yuzu powder and basil & parsley. Season to taste.
In the meantime, prepare the scallops. Pat the scallops dry with kitchen paper and season with sea salt, yuzu and shimichi.
Heat a large skillet with olive oil and butter, then grill the scallops on each side for a minute on each side, or until they're cooked through and crispy and golden. Remove from the pan and rest on a warm surface for 2 min.
Serve the scallops on a bed of pumpkin puree with the quinoa salad on the side.
Notes
If you have more time, you may roast the pumpkin instead of steaming for extra flavor. Simply arrange the pumpkin cubes on a tray, season with salt and pepper and a glug of olive oil, and cook until tender, about 30 mins.
Looking for more inspiration?
Still hungry for more ideas on how to use your Iceland frozen fish and veggies? Check out these fantastic recipes from fellow food bloggers:
This post is sponsored by Iceland, and as usual all opinions are my own. I've been regularly shopping at Iceland for a long time, and can only recommend it to all of you! Thank you for supporting the brands that support The Petite Cook.