Super easy Blueberry and Yuzu Cheesecake - No bake, no fuss, with an unusual addition to make it irresistibly delicious!
Blueberry is one of my favorite fruit, actually, the whole family is nuts for these tiny pretty yummy berries, so we are never short at home.
Perfect for smoothies, ice creams, muffins and cakes ( or cheesecakes in this case), blueberries are a super versatile and delightful addition to any sweet treat.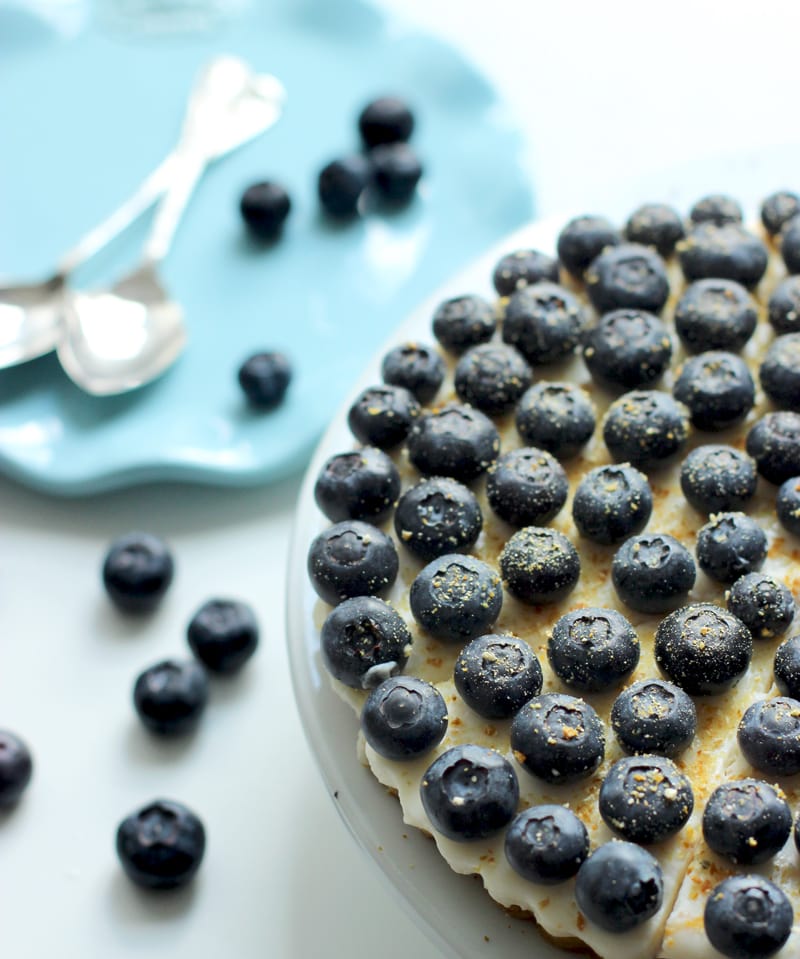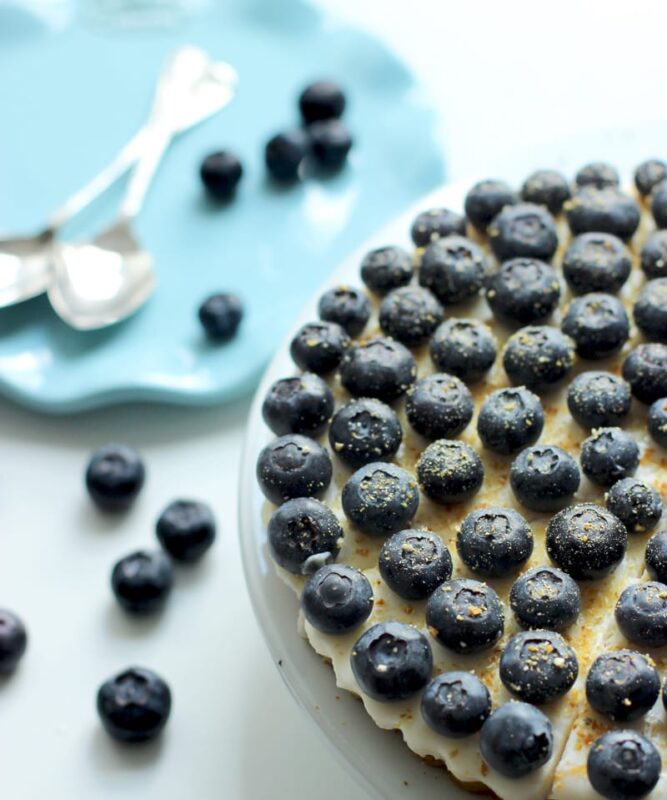 You can use frozen blueberries and enjoy this cheesecake all-year-round, but since they're in season now, stock up your fridge with some fresh organic berries.
This fantastic fruit is a great source of vitamin and antioxidants, so you can't possibly feel guilty when eating a cake slice... can you? Sounds a pretty good excuse to me.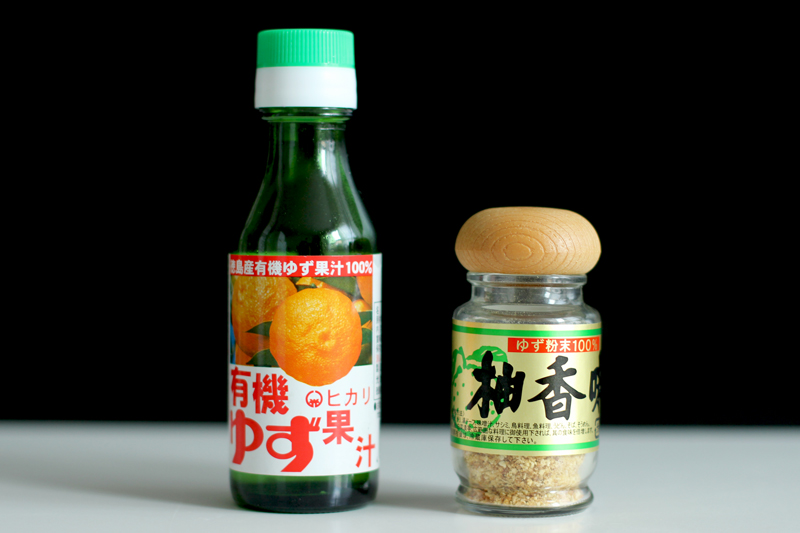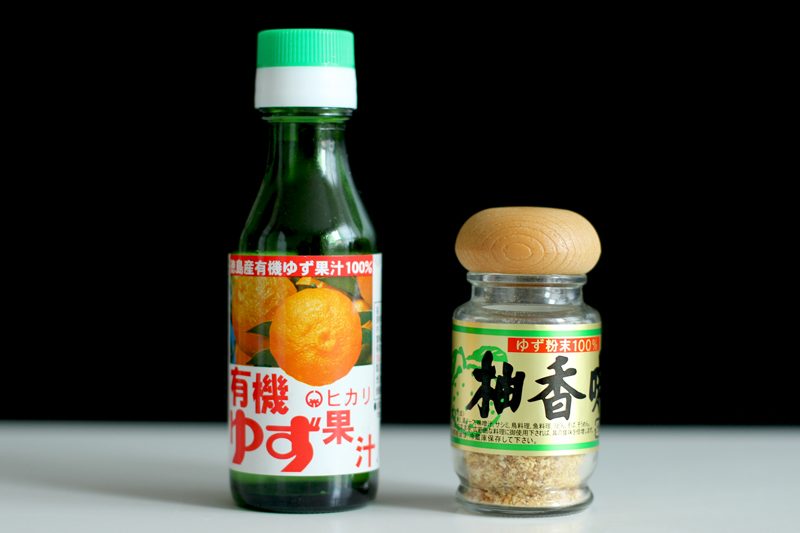 What is Japanese Yuzu?
This no-bake blueberry cheesecake is flavoured with an amazing ingredient: Yuzu.
This rare (and a bit pricey) Japanese citrus fruit tastes like a cross between a lemon, mandarin and grapefruit.
It is widely stocked in Asian food shops and you can either find it in the form of juice or powder.
I've discovered this amazing fruit just recently while I was on holiday in Japan, where is used to flavour anything from chewing gum to beer and even vinegar!
I can't blame the Japanese for such a wide use of this fruit, yuzu has a delicate tangy & sweet flavour, and is an amazing addition to both savoury & sweet recipes, drinks and cocktails.
And by the way, I did taste yuzu beer and was outrageously good!
If you are having a hard time to find yuzu (you can find it online too), my best advice is to substitute it with Mayer lemons or a mix of lime-lemon-grapefruit juice, it will taste amazing too.
Although I've sprinkled some powdered yuzu on top of the blueberries, you can totally leave it out or decorate with some fresh orange & lime zest. It may turn out even better!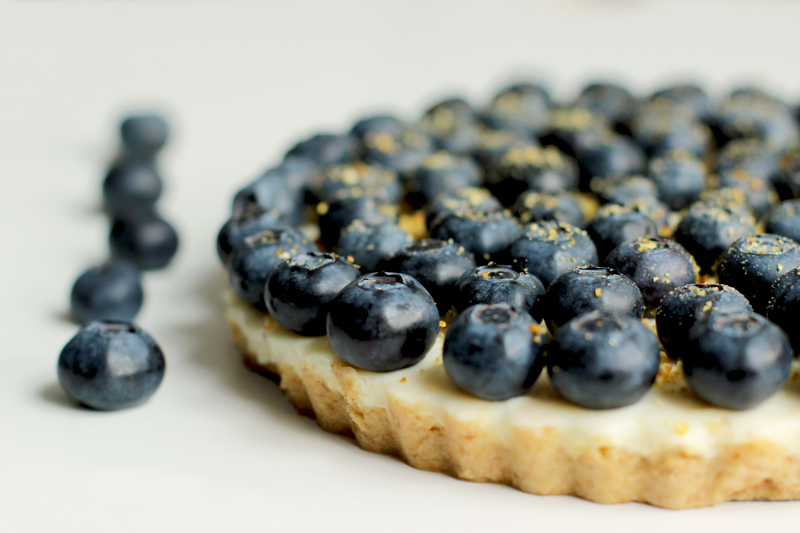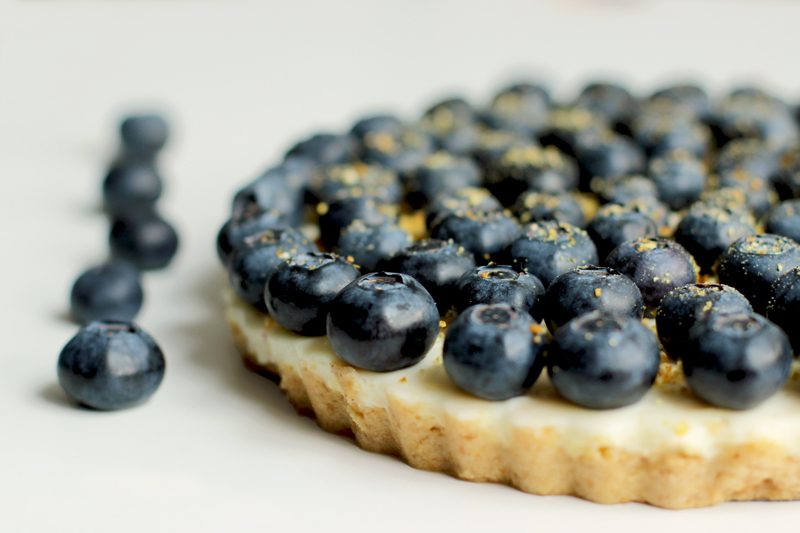 I've used a fantastic no-bake crust absolutely easy to make. It's soft and crunchy at the same time, delicate in flavour and really quick to prepare.
Plus, it has a lovely citrus hint, which compliments well to the tangy cheesecake. Don't forget to press firmly the crust on the bottom of the cake pan – otherwise, your crust will be crumbly and not really stick together.
The cheesecake filling is my favourite base for cheesecakes – the same recipe I use to make my all-time favorite mango mini cheesecake with brownie crust.
Have you tried it yet? If so, then you know why I'm deeply in love with it. Creamy, rich, and melt-in-your-mouth goodness!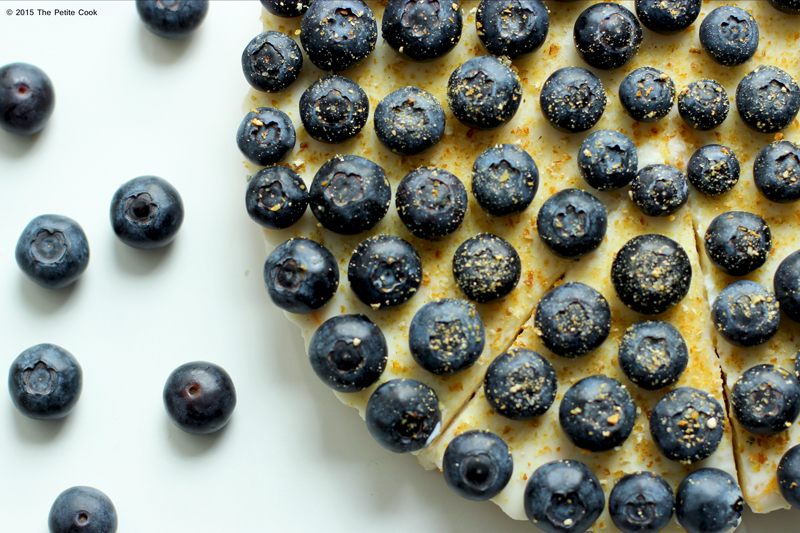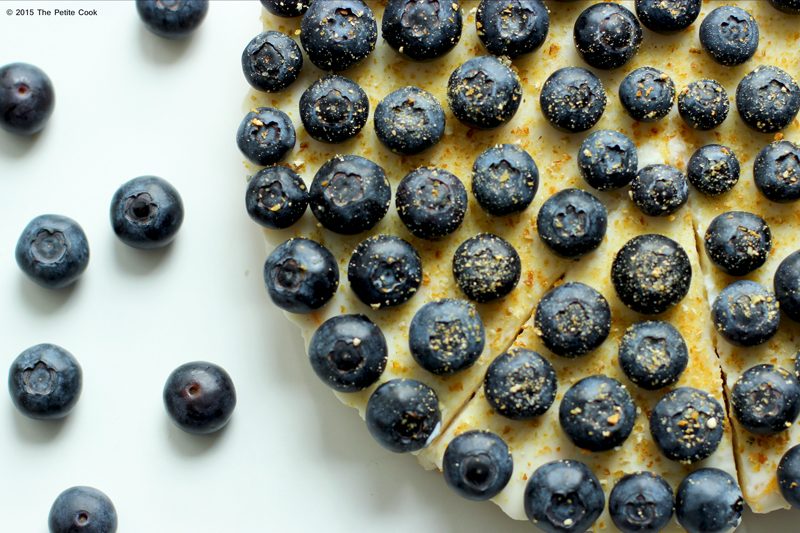 Enough said. Grab all ingredients and make this showstopper refreshing dessert now!
Recipe
No-Bake Blueberry & Yuzu Cheesecake
Super easy Blueberry & Yuzu Cheesecake - No bake, no fuss, with an unusual addition to make it irresistibly delicious!
Ingredients
For the base:
15

digestive biscuits

,

finely crumbled

2

+½ tablespoon butter

,

melted ( I've used coconut oil )

1

teaspoon

yuzu juice
For the filling:
500

gr/17.5oz ricotta cheese

,

well drained

150

gr/5oz granulated sugar

zest of 1 orange

1

tablespoon

yuzu juice

½

vanilla pod seeds

,

optional
To decorate:
1

cup

blueberries

yuzu powder

,

to sprinkle
Instructions
In a bowl mix together all the cheesecake base ingredients.

Put the mixture into a cake tin and use your fingers or the back of a spoon to spread it evenly, pressing it down in the tin to form the base.

Put the tin into the fridge to set for about 30 min.

In the meantime prepare the filling. Put ricotta and sugar in a large bowl and mix energetically with a spatula or hand blender until smooth and creamy.

Add in the orange zest,yuzu juice and vanilla bean, and mix by hand until combined.

Remove the cheesecake tin from the fridge. Pour the filling over the base and spread evenly.

Return to the fridge until set ( at least for 4 h). Decorate with fresh blueberry and yuzu powder and serve. Enjoy!
Notes
To make a lighter version, substitute butter with coconut oil.
Use a 9inch/23cm cake or tart tin.
The information shown is an estimate provided by an online nutrition calculator. It should not be considered a substitute for a professional nutritionist's advice.