These energy-packed vegan fruit flapjacks are made with super simple wholesome ingredients and, above all, are really easy to make.
---
Flapjacks are such a quintessentially British food. As many of you know I grew up in Italy, and I'm pretty sure no Italian there has ever heard of tried something like flapjacks.
So, the first time I had a bite of this delicious oat bar was few years ago here in London, and I absolutely loved it.
But I never attempted to make my own until a couple of days ago, and I'm so glad I did, these homemade vegan fruit flapjacks are a million times better than store-bought.
How To make flapjacks
These vegan fruit flapjacks are surprisingly easy to make, and simply great when you crave something sweet but kind of healty-ish.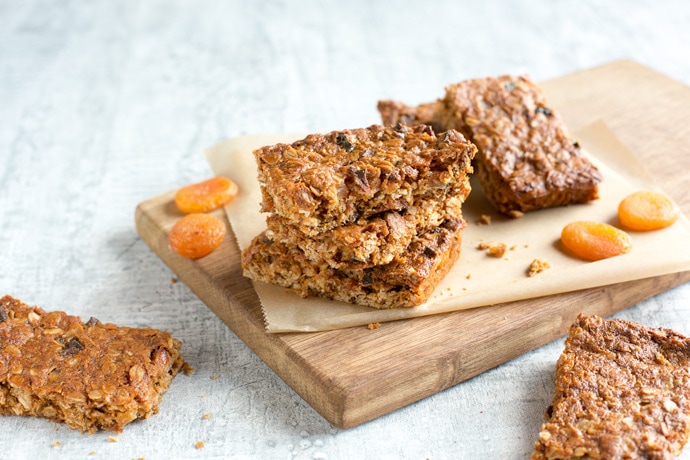 All you need for these vegan fruit flapjacks are super simple ingredients: flour, sugar, coconut oil, agave nectar, spices, and your favourite dried fruit.
For the spices, I used both ginger and cinnamon, which give a nicely spiced aroma, that definitely brings these fruit flapjacks to the next level.
For the dried fruit, I used a combo of dried apricots, pears, prunes and cranberries, but feel free to use your favorite mix.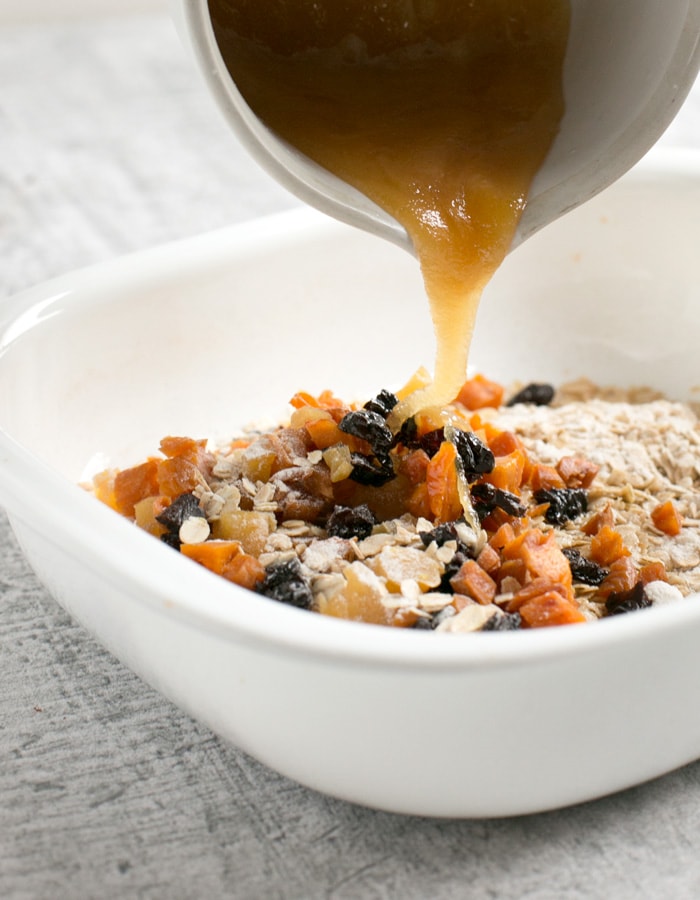 The recipe for making these vegan fruit flapjacks is just as simple as the ingredients used.
All you have to do is stir together sugar, coconut oil, and agave nectar, and heat until melted. Then, add in the remaining ingredients: flour, spices and dried fruits.
Once all the ingredients are stirred together, just transfer the mixture into a baking tray and bake for 30 minutes.
Et-voilà, before you know it, you'll have a batch of delicious, gooey homemade flapjacks to snack on during the week.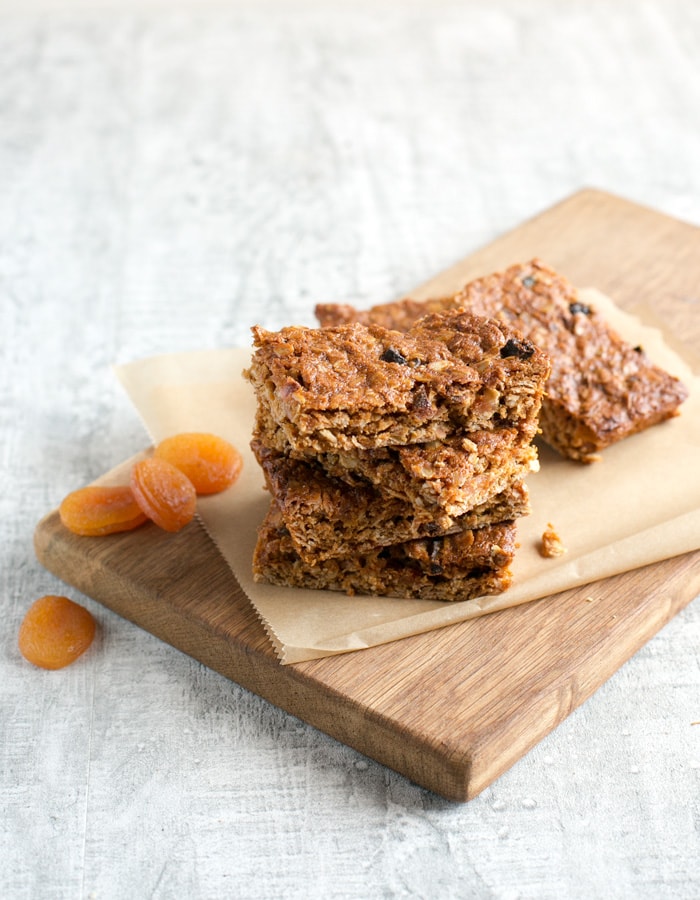 This recipe is deliberately inspired by the Ginger & Fruit Flapjacks made by a lovely food blogger friend, Izzie King from Coriander Queen.
She was the biggest ginger fan ever, and she always tried new creative ways to incorporate it into her recipes, including these flapjacks.
I made a few changes to her original recipe, to make it conveniently vegan and a bit more loaded in fruit.
Also, Izzie recommended to add glaced ginger pieces into the mix (which unfortunately I didn't have), so if you have it on hand, make sure to add it too.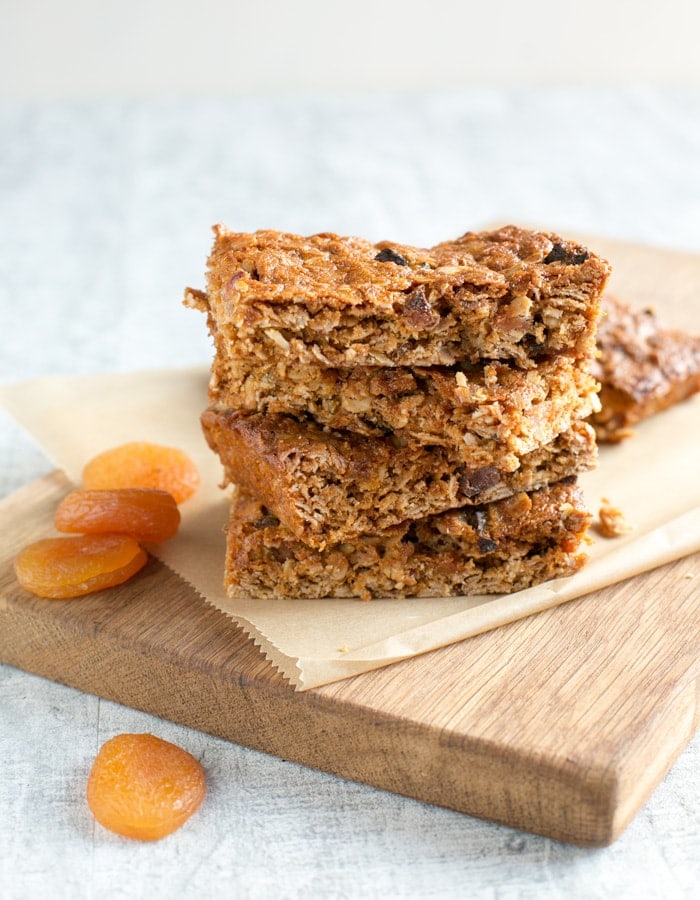 Recipe
Vegan Fruit Flapjacks
These energy-packed vegan fruit flapjacks are yummy, chewy and, above all, simple to make.
Ingredients
1

tablespoon

agave nectar

,

or date syrup

140

g

coconut oil

110

g

caster sugar

115

g

all purpose flour

150

g

rolled jumbo oats

2

teaspoon

ground ginger

1

teaspoon

ground cinnamon

½

teaspoon

bicarbonate of soda

140

g

dried fruit

,

finely chopped ( I used a mix of dried apricots, pears, cranberries and prunes)
Instructions
Preheat the oven to 160°C/ 320°F. Line a small square or rectangular baking tray or tin (about 18-20 cm large) with baking paper.

Add agave nectar, coconut oil and sugar into a medium saucepan and heat over a medium heat. Stir everything together until the sugar has melted and you have a syrupy consistency, then remove from the pan.

In a large bowl, mix together the flour, ginger, cinnamon, oats and mixed dried fruit until combined.

In a small bowl mix the bicarbonate of soda with a tablespoon of hot water, stir until dissolved and add into the bowl with the dry ingredients.

Pour in the prepared sugar mixture and mix all the ingredients together until evenly combined.

Spread the mixture into the prepared baking tray, using a wooden spoon to push the mixture into the corners and flatten the top.

Bake in the middle of the oven for about 20 minutes or until golden brown on top and nicely crisp on the edges.

Leave in the tray until cool.

Once cooled, cut into slices and serve. Transfer to an airtight box and store for up to 5-7 days.

Enjoy!
The information shown is an estimate provided by an online nutrition calculator. It should not be considered a substitute for a professional nutritionist's advice.
**This post was originally published in April 2017 and updated with new info**